Americans in the Bundesliga:
Tyler Adams thrives in new Leipzig tactical system
By Peter Weis @PeterVicey
After a jam-packed "Pokal Week" in German football, our deep-scout feature here on Bulinews returns with eight graded sections to assess all of the work put in by US internationals in both league and cup.

Joe Scally, Chris Richards, and USMNT captain Tyler Adams are the the three players for whom two matches are assessed. Adams happens to be the only one whose team made it through to the DFB Pokal semi-finals.

Timothy Chandler, Timothy Tillman, Ricardo Pepi, John Anthony Brooks, and trainer Pellegrino Matarazzo are also graded on their work from the latest league round.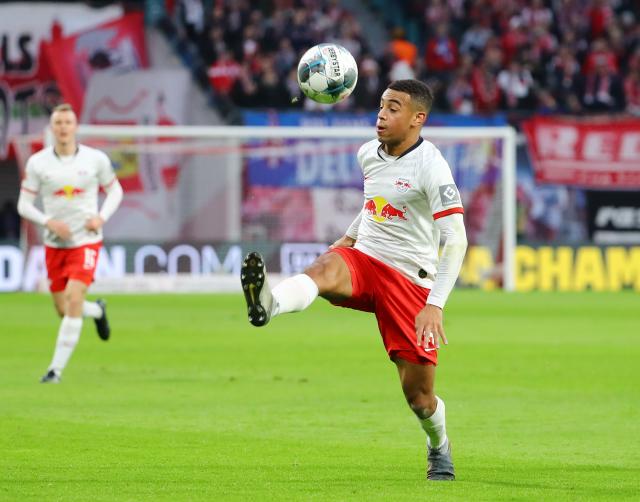 | | |
| --- | --- |
| Tyler Adams. | Photo: GEPA Pictures/Roger Petzsche |
Our second "Americans in the Bundesliga" feature of the new calendar year pulls double duty for three players. As always, we take the Pokal performances of U.S. actors into account. Hence, Leipzig's Tyler Adams, Hoffenheim's Chris Richards, and Joe Scally get scored not only on their league appearances last weekend, but their midweek work in German football's domestic cup.


The five remaining graded sections belong to the four footballers (and one trainer) who factored into the 2021/22 German Bundesliga's 19th round. In this installment, we're mostly looking at average to slightly above average performances. There wasn't a true standout body-of-work from any of the actors. That isn't to suggest that there's a death of interesting subject matter to discuss. On the contrary, tactical intrigue can be found within almost all the sections this time.

Timothy Chandler, Eintracht Frankfurt

Matches played 1/1, Matches started = 1/1

Minutes played = 81/90, Positions played = LW

Grade = A-

As one can easily infer from the Ansgar Knauff signing, the SGE coaching team isn't wholly satisfied with what our USMNT emeritus actor has to offer on the right flank. We should still see Chandler get some starts as part of the coming Europa League rotations, but the club wants a younger, faster, and more dynamic actor working opposite Filip Kostic in the constellation. When Kostic, along with keeper Kevin Trapp, both had to sit out the weekend encounter with "borderline" positive COVID tests, Timmy found himself with the unenviable task of taking Kostic's place on the left.

Lineup—Eintracht Frankfurt—Match 19 (3-6-1)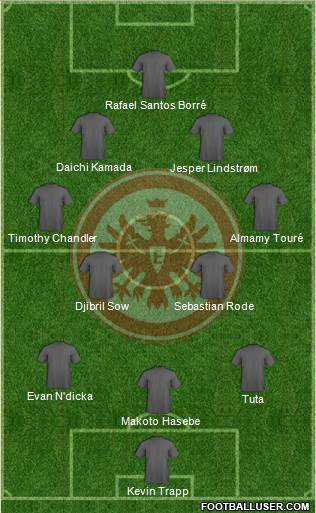 Opponents Augsburg adjusted their match plan so as give the American plenty of space. Weinzierl's Fuggerstädter weren't overtly concerned about the threat that Timmy posed. To be sure, there were moments (5th, 11th, 17th, 42nd, 50th) in which our subject here failed to figure out how to make the best use of the room he had. Surprisingly, these cases weren't particularly frequent.

Timmy rans the cycles exceedingly well in the 17th, 18th, 19th, 21st, 28th during a strong phase in the opening half. Chandler looked similarly unstoppable throughout another vigorous interval between the 54th and 70th. He got off great crosses in the 59th, 61st, 62nd, 64th, and 69th. One could have mistaken him for Kostic in the midst of the latter spell.

After some bad early throw-ins (9th, 10th, and 14th), Timmy grew into the game and managed to pick his teammates out cleanly on later ones (22nd, 60th, 58th, and 68th). Outstanding examples of defensive work can be found in the 4th, 27th, 32nd, 34th, 39th, 45+1, 45+2, 54th, and 75th. While he was rightly booked for a bad foul in the 42nd, some more great moves on the ball deep in the match (72nd, 74th, and 77th) ensure that he remains on "A-Level".

It may be some time before we're discussing another Timmy start. Although the 31-year-old may no longer be what Oliver Glasner and coaching team are looking for in terms of a starter, the SGE can unequivocally rely upon their hard-working and hard-nosed veteran should they need him. Great to see Timmy still turning in top class stuff.

Tyler Adams, RasenBallSport Leipzig

Matches played 2/2, Matches started = 2/2

Minutes played = 180/180, Positions played = CM, RM, LM

Cumulative Grade = B+

Some very interesting trends emerging out of Saxony for all the tactics-heads out there. Over the course of the weekend (RB vs. Stuttgart) and the Pokal (RB vs. Hansa Rostock), new club trainer Domenico Tedesco appears to have stumbled upon the right set of tactics to lead his team towards the predicted turnaround. Right at the heart of it we have the USMNT captain, who put in a pair of above average performances.

Lineup—RB Leipzig—Match 19 (3-4-3)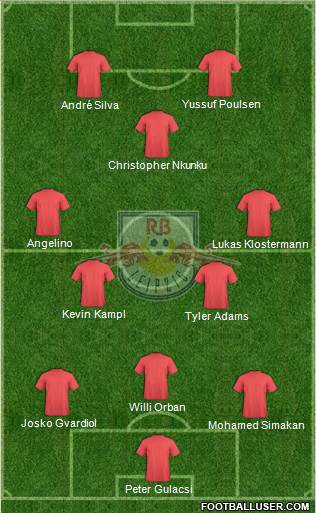 It's almost serendipitous that this didn't work out too terribly well. Adams had most concerning opening ten minutes against the Swabians. Lots of ball chasing without being able to commit to a challenge. One can credit him with the dogged persistence for the pursuit or Orel Mangala in the 4th, but a player on this level simply has to challenge for the ball at some point. It was a frustratingly meaningless chase. That was followed up by a subpar clearance in the 5th, a bad foul after a lost duel seconds later, a two broken cycle plays in the 8th and 9th.

Things didn't improve much for this American despite the fact that his team took the lead on, just like last week, a handball penalty unrelated to the level of play they were producing. More disorganized running and passing on display from Adams in the 13th and 15th. He finally began to settle in with his first duel win (after three losses) in the 17th. Those infestered can watch him clear a ball with a scorpion kick one minute later. There were then more passing errors and a total miscommunication with his teammates in the 20th. He lost the ball and failed on another cycle miscommunication in the 24th.

Adams' first half wasn't all bad. He managed some stellar possession work in the 28th, a solid forward header one minute later, and a couple of great ball wins in the 31st and 43rd. Another ball loss in the 38th nevertheless made one wince and our subject here couldn't find the confidence to get touches in amidst all his hustle. He got nutmegged badly in the 35th and missed challenges entirely in the 37th and 44th. Signs that all of this was badly affecting his mental game were apparent on multiple occasions (49th, 51st, 54th, 55th, and 61st).

Tedesco sent his first sub on in the 65th. Benjamin Henrichs replaced Yussuf Poulsen. The curious nature of this swap left one locked in on the tactical cam. A diversely (and sparsely) rightback/winger/midfielder for a striker. One sensed that Adams was about to get a new partner. The New Yorker--already a bit on the upswing in the five minutes prior to the substitution, quickly began to thrive under the new arrangement.

Lineup—RB Leipzig—66th minute (3-1-4-2)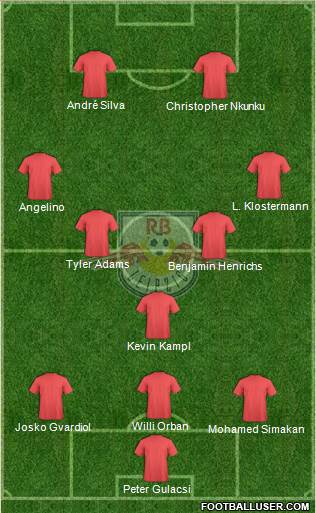 There's undoubtably some risk in placing the burden of being a full winger on Lukas Klostermann. Watching Kevin Kampl drop back to drive play on his own solo axis nevertheless instilled in one the feeling that the team would soon find themselves working with much more effective space and lanes. Within four minutes, Henrichs had helped Christopher Nkunku spring the (admittedly somewhat weak) Stuttgart trap. Adams was also involved in the play that led to Leipzig's second goal.

A fantastic finish to the league fixture from our American subject here. Adams peeled off great runs in the 73rd, 90+1, and 90+4. With a little extra time on the ball, his touches proved far more convincing. Great examples can be found in the 71st, 74th, 80th, and 90th. He smash mouth killed on a duel in the 75th and worked in a perfect vertical in the 88th. Almost a third of Adams' 55 recorded touches came in a very strong 20 minutes. He connected with every last pass as well, pulling up his overall rate to nearly 90 percent.

Tedesco stuck to the same system, with a few tweaks, in the cup. It looked like he flipped the basic slants for Adams and Henrichs, perhaps in service of giving Klostermann a little extra support. The back three (decidedly flat) pushed up a little closer to Kampl and Nkunku operated as a sliding service striker behind Poulsen. The columnist noted a frankly absurd 122 touches for Adams in the second match. He approached the century mark in terms of passed played too.

Lineup—RB Leipzig—DFB Pokal (3-4-2-1)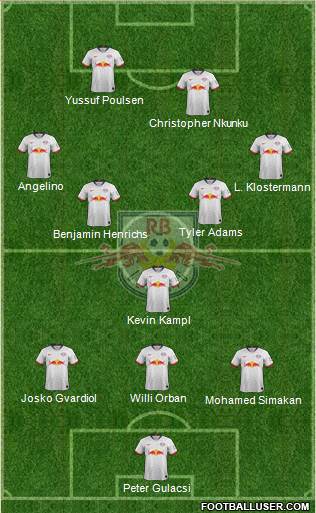 Not entirely sure if anyone will enjoy giving the Leipzig-Rostock Pokal match a watch. Honestly, the difference in quality between the two teams rendered the affair about as entertaining as the old German national team vs. San Marino encounters. Our American subject didn't have to work terribly hard to earn his offensive highlight reel. With plenty of great passes and moves (1st, 3rd, 4th, 8th, 10th, 17th, 27th, 38th, 46th, 55th, 57th, 70th, and 72nd) he almost always looked confident and orderly on the ball.

One did observe some instances during which he appeared to be chasing the ball in vain (11th, 29th, 43rd, 47th) again. It was thus no surprise to see him tire out a bit prematurely from the 55th onward. While his forward momentum suffered a bit, he still put in some first-rate defensive work (71st, 74th, 78th, 80th, and 86th) down the stretch. Examples of superb defensive stands prior to the late phase in the match came in the 22nd, 24th, 28th, 51st, and 53rd. He garnered an assisted shot when Nkunku hit the post in the 39th.

The relative weakness if the opponent had a lot to do with Adams being able to exert dominance most everywhere in the pitch in the midweek match. So too did this new set of tactics, under which one very much expects this American to continue thriving. A win over Wolfsburg this weekend seems a given. After that, the squad should be able to hold their own against Bayern and Köln before it's time to pick up Europa League play. One fully expects the RB New Yorker to finish the season strongly thanks to his strong form in a coherent constellation.

Chris Richards, TSG 1899 Hoffenheim

Matches played 2/2, Matches started = 2/2

Minutes played = 180/180, Positions played = CB

Cumulative Grade = B

Interestingly enough, Hoffenheim's tactical week almost serves as the perfect inverse of what we observed with Leipzig. Sebastian Hoeneß' general strategy sort of went off the rails in a pair of losses to 1. FC Union Berlin (league) and SC Freiburg (Pokal). Our American subject here definitely remained  well above average in both fixtures. In would be more than fair to describe him as a casualty of poor tactics in the second match.

The Sinsheimers largely kept a good shape against Union.

Lineup—TSG Hoffenheim—Match 19 (3-3-4)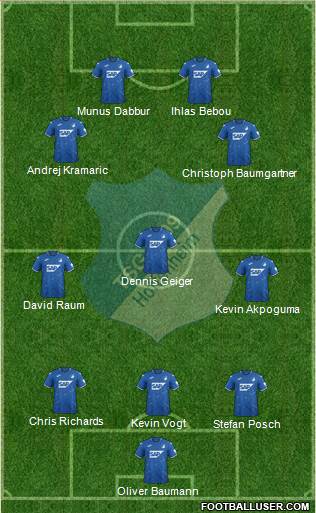 The Alabama native really worked his socks off in the better contested game. One can even watch him run a ball down well, execute a deft header, and reel off a nice diagonal in the very first minute! There's loads of great aerial wins (8th, 10th, 26th, 29th, 40th, 42nd, 56th) on display. Richards did particular well to use his head as an offensive weapon on this day. In the 11th, he headed across the goal mouth expertly to create an opportunity that should have resulted in a goal. He did this again to lesser effect in the 87th.

Defensive highlights came in the 24th, 31st, 41st, 57th, 59th, 68th, and 84th. Richards made certain to involve himself in offensive plays all afternoon. He initiated a few attacking sequences (4th, 51st, 54th, and 83rd) himself. With his trademark suave coolness on the ball, he kept his team in possession with excellent rearward recycles in the 16th, 19th, 44th, 60th, 62nd, 67th, and at 90+2. A excellent pressure win near the touchline in the 52nd is worth a look.

Even in defeat, there was hardly a stain on Richards' day. The columnist only recorded nine stray passes, most of them coming during some disjointed phases between the 47th-51st, and 70th-75th. He hit a few bad verticals (25th, 45+1, 50th, 63rd) and there were defensive lapses/fouls in the 37th, 39th, 71st, 73rd, and 90th. Nothing to preclude him from "A-Level" marking, however.

We beheld something different in the Pokal.

Lineup—TSG Hoffenheim—DFB Pokal (3-3-4)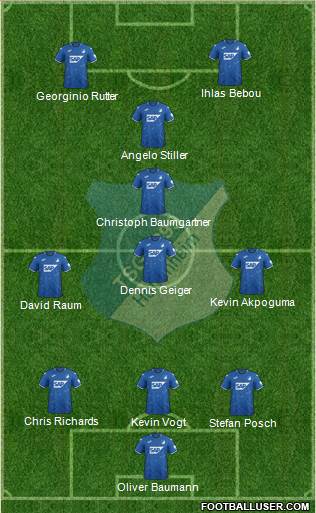 For starters, there seemed to be this weird attempt from Hoeneß to have Angelo Stiller and Christoph Baumgartner rotate regularly at the ten-spot. The 1-4 scoreline notwithstanding, it didn't lead to a total squad breakdown. Amazingly, the Kraichgauer weren't terrible on the ball despite all the complex placements. They were nevertheless just off enough for Christian Streich's Breisgauer to take advantage at the right times.

One could tell from the start that Richards looked uncharacteristically insecure on the ball. He got rid of it too quickly three times in the opening five minutes. The writer recorded 16 strays from the American in the midweek fixtures. Passing errors came in the 22nd, 37th, 42nd, 45+1, 49th, and 61st. There a whole bundle of them in a very bad final quarter of an hour.

Timing on ground challenges wasn't quite there for Alabamian here. He was rightfully booked for an egregious foul that took Kevin Schade off his feet in the 32nd. The set piece that followed ultimately allowed Freiburg to gain a penalty and that backbreaking 2-0 advantage. Richards will have liked to done better on Höler's opening goal and Schade's third SCF tally too.

There were a couple of more instances of shaky defending (43rd, 45+1) as well, but it must be emphasized again that both player and team were better than a 1-4 loss. Richards did a particularly good job of running the attacking cycles on his side. Richards put in a great deal of strong work (6th, 7th, 14th, 17th, 18th, 33rd, 35th, 38th, 40th, 43, 48th, 52nd, and 89th) on builds, vertical approaches and counters. He got his own great chance on goal in the 64th.

The columnist didn't see him lose any really duels outright. He took care to keep the wins clean in the 5th, 6th, 12th, 14th, 35th, 42nd, 63rd, and 72nd. We're still dealing with a player in very fine form here. From a tactical perspective, Richards had a bit of trouble covering all of that space on the track back in the Pokal match. Hoeneß simply made the wrong call in having so much of the flanks uncovered.

Timothy Tillman, SpVgg Greuther Fürth

Matches played 1/1, Matches started = 1/1

Minutes played = 90/90, Positions played = LM

Grade = B

Impossible as it may be to convince anyone to watch Fürth this year, the columnist will state that there's some skillful football on display from this particular German American. The Elder Tillman brother had a good day at the office during a four-goal fixture against DSC Arminia Bielefeld that surprised us all with its entertainment value. Head-coach Stefan Leitl's tactics weren't necessarily the most relevant to Tillman's performance, but we'll present them anyway.

Lineup—Greuther Fürth—Match 19 (4-4-2)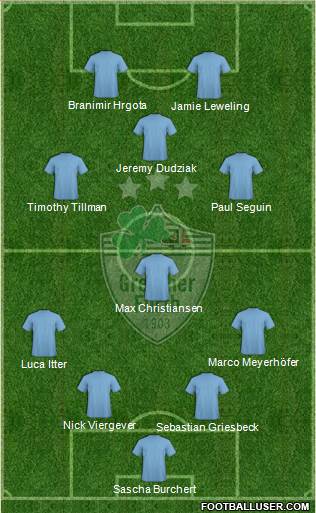 Pretty loose diamond, assuming it was supposed to be a diamond at all. Tillman remains one of the few actors on this team who occupies a regular place above the halfway line. One can see that it suits him well. One can watch him fully utilize the space with fantastic possession work on the spin in the 4th, 16th, 21st, 33rd, 36th, 38th, 43rd, 53rd, 54th, 79th and 89th. Marvelous examples of telegraphed passes come in the 34th, 39th, 47th, 51st, 52nd, 55th, 61st, 63rd, 69th.

The Nürnberg native, as the team's primary set piece taker, has clearly been working hard on his delivery. All the practice on the training pitch can be confirmed if one cares to take a look at corners taken in the 19th, 20th, and the 24th. While it is true that some of his corners (17th, 29th, and 45th) demonstrate the need for more polishing, Tillman has developed a slick little free-kick style whenever he's in range. One can check it out in the 26th and 44th.

The moment that everyone should definitely check out came in the 52nd. Tillman struck a venomous free-kick to force a sprawl save out of DSC keeper Strafan Ortega Moreno. It truly was a magnificent hit. There's more razzle-dazzle from this American on display via an incredible solo dribble in the box (30th), a tenacious fight for a loose ball on the sidelines (60th), and a handful of inspiring duel wins (72nd, 74th, 90+1, 90+2, and 90+3) near the tail end.

The German-American's day wasn't perfect, or even on "A-Level". He lost the ball (22nd, 45th, 47th, 75th) in some rather jarring fashions. Oftentimes Tillman wasted some of his own good work on take-downs and shields by hanging onto the ball for too long. There were also some positional errors (1st, 3rd, 10th, 13th, 15th, 18th, 77th) leading to very bad challenges and in some cases fouls.

Overall, however, our subject here furnished more than his fair share of good work. The DSC found themselves so frustrated with him that Bielefeld substitute Guilherme Ramos deliberately took him out with nasty aerial fouls twice in the final five minutes. Tillman got up and took the knocks like champ, still playing bravely until it he was taken off in a last-second time-wasting substitution at 90+5.

Joe Scally, Borussia Mönchengladbach

Matches played 2/2, Matches started = 1/2

Minutes played = 96/180, Positions played = LWB

Cumulative Grade = C+ 

The Long Island native played the final 29 minutes in this past weekend's full-fledged crazy encounter with Bayer 04 Leverkusen.  The match quickly became the talk of most German footballing circles come Monday morning. Leverkusen's two missed penalties pushed the team's official xG on the day to 6.87. Few considered such a statistical feat possible. BMG trainer Adi Hütter began the day without the CFG New Yorker. Scally then came on ten minutes after the opening goal to work the left wing-back role.

This American's performance down the stretch in the league loss remained mostly positive. He put in some hard work trying to get something going for his team on his side, as evidenced by very positionally strong cycle work in the 63rd, 65th, 67th, 69th, 76th, 78th, and 83rd. The truly brilliant moment came in the 80th. Scally let the ball cross his body before snapping a dazzling short-range effort on target. Scally's take led to a corner, which in turn led to a Gladbach goal.

There were some other sensational moments from him late in the league loss. The fresh-legged and creatively minded Scally also initiated a promising attack sequence in the 73rd, forced Amine Adli into a tactical foul with a splendid rundown of a loose ball in the 83rd, and nearly set-up the tying goal for his team with a smart lofted ball across the area in the 85th. He engineered more scoring chances in the 88th, 90th, 90+2, and 90+3. All in all, an excellent relief shift.

In the Pokal defeat, much of the personnel turmoil affecting the foals was laid bare. In a statistical sense, Scally still had a strong day with respect to passing and duels. His overall touch count (50) nevertheless proved pretty paltry. Gladbach never could quite get themselves sorted. Brace scorer Ron-Robert Zieler repeatedly found himself in a ridiculous amount of space against a team totally out of sync.

Lineup—Gladbach—DFB Pokal (3-4-3)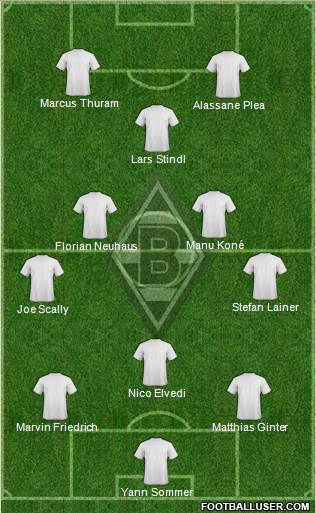 Following his benching over the weekend, Matthias Ginter went full rouge on the approach play. The German national team defender was literally all over the map. Scally oftentimes got completely caught out of position (4th, 11th, 32nd, 34th, 41st, and 44th) when pressing forward without support falling in line behind him. That isn't to necessarily suggest that the American was fully at fault in all of these cases, but he needed to keep an eye on his lateral partners before committing himself.

Wild oscillations characterized this American's first half. Following some early solid involvement in forward cycles (1st-3rd), he got dispossessed twice and sent three stray passes before the 12th minute was out. A strong phase between the 10th and 30th essentially got cancelled out when he couldn't catch up with the counter on a couple of subsequent plays. Scally sent a header wide in the 39th and recorded an assisted shot in the 43rd. Apart from these two cases, however, the finish to the first half remained very weak.

Lineup—Gladbach—46th minute (3-4-3)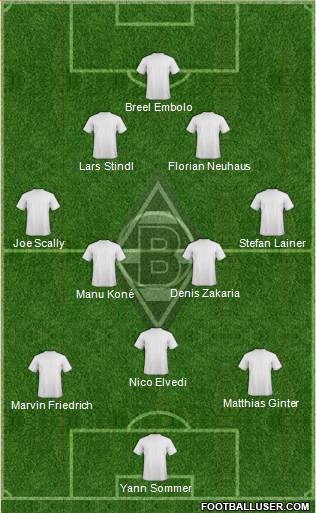 Easy to see what went wrong here. Hütter replaced Marcus Thuram and Alassane Plea with Denis Zakaria and Breel Embolo in order to reconfigure the squad into something more familiar; a risk-taking constellation from fixtures past. Hannover had nevertheless likely studied this formation and knew just which pockets of space to hit. Beier was immediately murdering the left seconds after the restart kicked off.

Everyone was completely out of whack and our American subject saw very little action in the second 45. One can watch him execute a few decent ideas during what was a strong stretch for the BMG between the 50th and 56th. This interval notwithstanding, the foals basically hobbled along like the defeated force that they were. Scally certainly tried, but there just isn't much else constructive to report.

Ricardo Pepi, FC Augsburg

Matches played 1/1, Matches started = 1/1

Minutes played = 81/90, Positions played = LS

Grade = C-

No need for anyone to fret over the fact that the Bundesliga's newest American edition isn't quite where he'd like to be yet. In actuality, it would be worrisome if the immediately found himself confronted with no obstacles in his path to footballing stardom. We're dealing with a 19-year-old kid who just arrived in the Bundesrepublik. It will take a little time. For the moment, there's a lot of positives to discuss.

Lineup—FC Augsburg—Match 19 (4-4-2)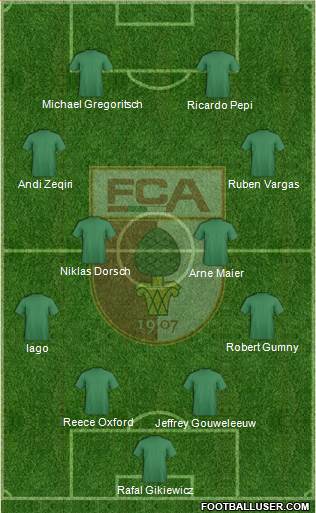 Marcus Weinzierl's opening set of tactics for Pepi's first start absolutely revolved around the young American. Easily 70 percent or more of the attacks ran up Pepi's side. It came as no surprise to observe that there were several instances in which the teenager's touch (1st, 11th, 14th, 41st) failed him early. In total, this columnist only recorded 32 touches for Pepi on the day; ultimately far too little practice for someone with quite a bit of adjusting to do.

The first half of the Frankfurt fixture was fairly mixed. Pepi lost an aerial duel in the 3rd, got tunneled all to easily by Daichi Kamada in the 11th, missed a defensive challenge and turned the ball over with a bad story in the 15th, and then sabotaged his own counter with a play back in the 22nd (this eventually lead to a Kamada goal. Some better moments came in the 2nd, 4th, 10th and 25th.

On the last play in that set, Pepi saw a respectable effort on target blocked by Almamy Touré after he did a great job picking off a Timothy Chandler pass. After a very worthy chest-down hold up in the 37th, our subject here then saw a potential 40th minute goal taken away from him. Pepi would have opened his Bundesliga account were it not for a clearance of the line.

Pepi began the second half with a tame effort on target in the 46th. In general, the Texan then played himself into the game quite serviceably. He flashed some skill on the ball in the 51st, put in some really dazzling one-vs-one work in the box in the 51st, won a fabulous defensive challenge in the 57th, and flicked a nifty back-heel in the 73rd. Apart from a couple of timing issues (47th and 78th), Pepi's play after the restart was very strong.

One anticipates that it really won't be all that long before this American finds his stride. Even in an outing featuring limited involvement the very sharp set of tools he possesses shone through brightly. Everything's basically on track save some refinement of the touch and perhaps a little better understanding of his lane cuts. A starting XI debut slightly below average, but nothing to be concerned about.

Pellegrino Matarazzo, VfB Stuttgart (Trainer)

Matches = 1, Result = L

Grade = C-

There's some discussion of the Bundesliga's sole remaining American trainer (and a draw up of the latest Stuttgart tactics) available in the latest tactical column. There really isn't much to add to that analysis other than the fact that the assigned grade gets bumped up somewhat. Matarazzo hasn't found himself on "C-Level" in a rather long team. This is based on the fact that Matarazzo earns some benefit of the doubt after an improved display from his team.

With both Silas and Borna Sosa ruled out for this round's meeting with Eintracht Frankfurt, one probably shouldn't expect that he'll be on "C-Level" again next week. The Stuttgart "process" continues to revolve around waiting for injuries to clear up whilst using placeholders in the coach's "split-stagger". No room for innovation in this strategy. The "waiting game", agonizingly boring as it may be, remains the only game this team wants to play. Interest in playing football appears tentative at best.

John Anthony Brooks, VfL Wolfsburg

Matches played 1/1, Matches started = 1/1

Minutes played = 90/90, Positions played = CB

Grade = D-

An apt way to describe the Berliner's posture in Wolfsburg's languid 0-0 draw with Hertha last weekend (at least initially) would be to compare him to an old celebrity forced to make a cameo in a nostalgia driven movie reboot. For large stretches of time, J.A. looked as if he simply didn't care. One can extrapolate that kind of attitude to Germany's green company team as a whole. One rarely sees a team so blatantly disconnected from their trainer.

Indeed, die Wölfe are in serious trouble. Practically no one on this team appears to give a damn. They go through the motions of whatever tactical tweak Florian Kohfeldt decides to employ each week, but that's about all they can manage: A slight sleepwalk through a system no one has any confidence in. Here's the 39-year-old trainer's latest attempt at getting something rolling.

Lineup—VfL Wolfsburg—Match 19 (3-4-3)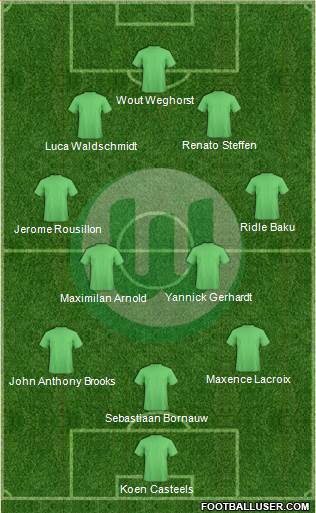 We try again with an inverted pivot for anointed defensive captain Sebastiaan Bornauw. Brooks essentially let anyone watching know what he thought about it with his body language. Switch passing (2nd, 8th, 63rd) lacked power. Verticals (4th, 8th, 17th, 33rd, 50th) resembled blind hits. The Berliner didn't even produce a targeted vertical until 90+2.

Numerous ball losses (5th, 23rd, 69th, and 73rd) showed that his head wasn't in the game. Tracking errors (21st, 28th, 43rd, 57th, 70th, and 77th) were legion. Forward on several attacks, one even observed him neglecting to run back to cover during instances near the end of the first half in the 33rd, 34th, and  38th. Loads of poorly hit clearances (11th, 36th, 51st, 61st) on this day as well.

Almost despite himself, Brooks fell into some solid work on the ball in the 7th, 15th, 22nd, 30th and 45+1. After getting positively cooked defensively in the 49th, he nevertheless went back into a somnolent slumber. For whatever it's worth, the Berliner woke up a bit with a nice offensive header down for Bornauw off a free kick in the 75th.

There was some more thought and care to his passing play thereafter, though he did get nutmegged by Marco Richter in the 78th and lost another aerial duel badly in the 83rd. An appropriate summation of his day might be his mistimed takedown on a free-kick in the 10th. Not reading the ball correctly, Brooks missed out on a scoring chance by getting the ball stuck at his week. So much of the rest of his performance was characterized by distraction.

Thanks so much for reading! You can occasionally catch Peter goofing off while watching the lower German football divisions on twitter, @ViceytheSS.

There's also a celebration of AFCON going on all month long on Peter's irreverent fan blog. 

Twitter DMs are open for football conversations, corrections, and (if you truly insist) general abuse. 

All columns debut on Bulinews before appearing on Peter's website later in the week.



Related stories