Quarantined Streich admits he doesn't know how to watch the game at home
By Peter Vice @ViceytheSS
Speaking remotely from his COVID quarantine, SC Freiburg trainer Christian Streich assured members of the German footballing press that the team would be fine without him during Thursday's Europa League showdown against FC Nantes. 

One can assume that, after the 57-year-old admitted that he didn't know which German streaming service would be carrying the match, those associated with the club have gotten him signed up for "RTL+".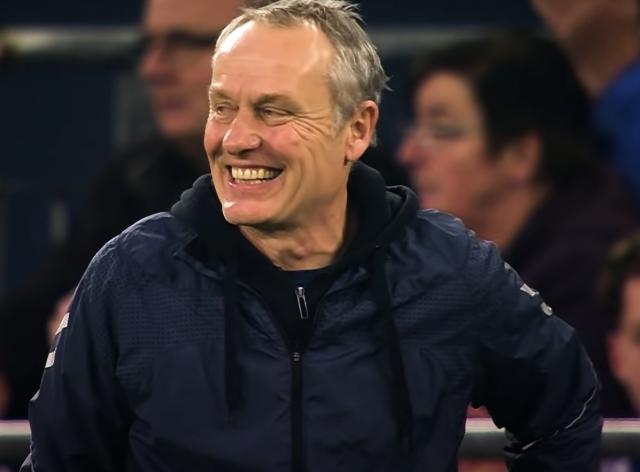 For the first time since a herniated disc kept him at home for two games during the 2012/13 campaign, Christian Streich will not be prowling the sidelines for SC Freiburg. The German "cult trainer", along with three of his assistant coaches, tested positive for COVID yesterday. Phoning into the SCF's morning presser, Streich sought to assure everyone that the match-plan could still be executed even though Streich's closest co-trainers (Lars Voßler and Florian Bruns) were also ordered into isolation.




"Everything has been discussed," Streich said via a digital link from his kitchen, "The tactical alignment is clear and the team is stable. From that perspective, there are no problems."

Midfielder Nicolas Höfler was present live at the presser.

"Of course we'll miss the coach witt the way he pushes us on from the sidelines and in the locker room," Höfler said, "but we want to show as a team that we have the quality to win games like this without him through our conviction on the pitch. We're on a hot streak and can keep it up."

Streich insisted that he wouldn't be interfering too much in proceedings tonight, emphasizing that "those in the stadium are more important." Humorously enough, Streich admitted that he didn't know which German streaming service offered the Europa League. Presumably, by now, those associated with the club have gotten their head-coach signed up for RTL+

Whether Streich will be available to return to the sidelines against Hertha remains to be seen. Union Berlin head-coach Urs Fischer ended up returning negative tests immediately and will be coaching Germany's other Europa League representatives in Sweden this evening. Streich, on the other hand, revealed that he was suffering for light symptoms including a sore throat, some headaches, and sluggishness.

The 57-year-old did express the hope that he could rejoin the team in time for the reverse fixture next week against FC Nantes.

"I really hope so," The SCF coach noted when asked about the prospect, "I've never been to Nantes, I really want to go there."



More about the match
More about the teams
More about Nicolas Höfler