8 things you may not know about Alassane Pléa
By Rune Gjerulff @runegjerulff
Here are some things about Borussia Mönchengladbach's Alassane Pléa that you may not know.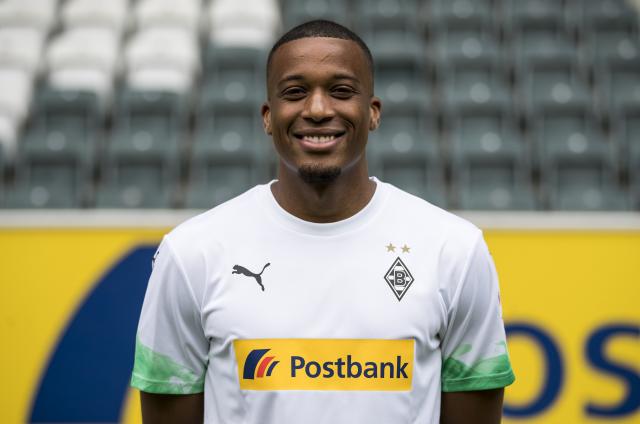 | | |
| --- | --- |
| Alassane Pléa. | Photo: Borussia Mönchengladbach |
1. Started out at Olympique Lyon
Alassane Pléa was born in Lille, but never played for his hometown club. Instead, he came through the youth ranks at Olympique Lyon and made his debut for the first team in October 2012 as he came on as a substitute to replace Bafetimbi Gomis. He never managed to make his breakthrough for Lyon and made 12 appearances for the club, scoring once. In 2014, he joined OGC Nice for €500.000 after spending a season on loan at AJ Auxerre.


2. Trusted by Puel
At Nice, Pléa was given a lot of trust by former Olympique Lyon coach Claude Puel. "It's true coach Puel had a major role in my arrival. He played an important role in my decision because he called me and convinced me to come. I also saw there were a lot of young players at Nice. I liked the club. As a result, I accepted immediately," Pléa has said according to Bundesliga.com. Under Puel, Pléa made 51 appearances, scored nine goals and made 13 assists over the course of two seasons.

3. Favre was a great mentor
After the 2015/16 season, Favre replaced Puel as the head coach of Nice - and Pléa really thrived under the Swiss coach, scoring 27 goals in 60 Ligue 1 appearances. "He taught me a lot, both technically and tactically. He showed me how to challenge for the ball, how to play along and how to improve my finishing. Favre is a very, very good coach," Pléa has told the Westfalenpost.

4. Turned down the Premier League to become Gladbach's record signing
After a great 2017/18 season, Pléa completed a €23 million move to Gladbach and thus became the most expensive signing in the club's history. After Pléa informed Gladbach sporting director Max Eberl that he wanted to come to Borussia-Park, clubs from the English Premier League wanted to sign him, but the Frenchman stuck to his word.

"There were other possibilities too. For example in England - a good league in which I could have made more money. But Borussia were the first club that tried to sign me, and as other clubs came on the scene, I kept the word that I gave Max Eberl," Pléa has told Kicker.

5. Considered by Dortmund
Why didn't Alassane Pléa just come with Lucien Favre to Dortmund? Apparently, he was considered by BVB, but the club opted to chase other players: "We just decided differently. We evaluated Pléa and had other plans afterwards," Dortmund CEO Hans-Joachim Watzke has told Sky.


Actually, Favre even advised Pléa to join Gladbach - the club he coached from 2011 to 2015. "We talked about Gladbach when my transfer was being discussed. He advised me to join Borussia, because he said it was the right club for me," Pléa has told Kicker.

6. In the footsteps of Aubameyang and Modeste
After signing his deal with Gladbach, Pléa said he has been inspired by other French strikers who have enjoyed huge success in Germany such as Pierre-Emerick Aubameyang and Anthony Modeste. "I think the Bundesliga is great. I always watched the league on TV. I like the offensive attitude of the teams. There are plenty of goals, and many strikers, who came from France to Germany, experienced a great development - like Aubameyang and Modeste," he has told Kicker.

7. A winger or a striker?
Pléa started his career as a winger, but now prefers to play in the centre. "It was Claude Puel who immediately put me in the middle. He said to me: 'For your playing style, it's the ideal position.' He made me work, work and work again. Even when I didn't play well, he put me in there again. He said to me: 'It'll come with work'. I enjoy myself hugely in the middle. I think it's the perfect position for me," he has said according to Bundesliga.com.

After Mario Balotelli arrived at Nice in 2016, Favre moved Pléa back to the wing - a role that he gladly takes if that's what's best for the team. "Everyone knows I prefer playing through the middle, but there is a great player who scores lots of goals there. On the left, I am not entirely at home, but I do it for the team, the club. I have always been supported here. It would be a lack of respect to grumble. I'm a fighter, not a guy who sulks. Who am I to refuse to play on the wing?," he said back then according to Bundesliga.com.

8. First French call-up
After representing France at under-18, under-19, under-20 and under-21 levels, Pléa was called up for the senior side for the first time in November 2018. "I'm very happy, I feel good in Germany. This call-up makes me very happy. It shows I'm on the right track, that I made the right choice," he told Bundesliga.com after receiving the call-up.