Heidenheim reward Kleindienst with new contract
By Peter Weis @PeterVicey
One day before the start of their first-ever top-tier fixture, newly promoted Bundesliga side 1. FC Heidenheim announced a lucrative contract extension for star lead-striker Tim Kleindienst.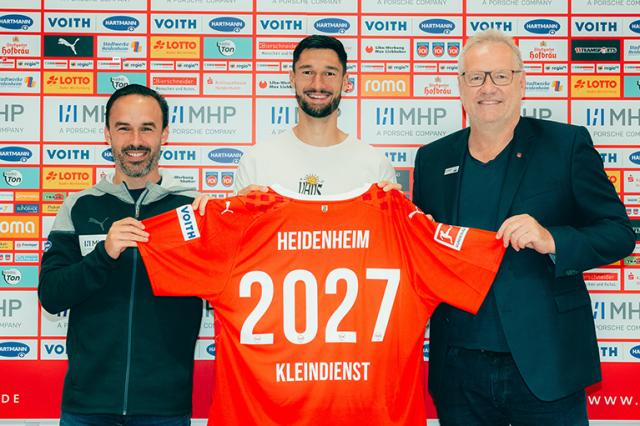 | | |
| --- | --- |
| Tim Kleindienst | 1. FC Heidenheim |
Newly promoted Bundesliga side 1. FC Heidenheim have announced a new long-term deal for star striker Tim Kleindienst ahead of their first ever top flight game against VfL Wolfsburg tomorrow. The 2. Bundesliga's leading goal scorer for the 2022/23 campaign (25 tallies) has extended his current working papers with the club. The 27-year-old is now tied to Heidenheim for an additional two years through 2027.


A hefty pay raise, naturally, can be assumed. One can also likely infer that the former Energie Cottbus academy man will receive an exit clause. With an estimated market worth of €4 million, Kleindienst is the most valuable player on Heidenheim's roster. German football fans remain insatiably curious as to how he will perform on the highest level of German football. He has scored 80 goals in the second and third divisions. 

Kleindienst also scored two Bundesliga goals for SC Freiburg during a four-year-stint with the Breisgauer during which he toggled between the senior team and reserves between 2015 and 2019. Freiburg loaned him out to Heidenheim during the 2016/17 campaign. Heidenheim ultimately ended up purchasing him before selling him to KAA Gent. The Belgian outfit then loaned him out to Heidenheim again before the FCH bought him back for a record sum.

"I have always emphasized how comfortable I have always felt and still feel at FCH and in Heidenheim," Kleindienst said of the club he's now served three stints with, "This constellation simply fits, so I'm all the more pleased about this contract extension."

"Last season, with our promotion to the Bundesliga, we achieved by far the greatest success in our club's history as a team," the striker continued, "Now it's time to continue this success story at a completely new level of football. We will throw everything into every game. I see my job as vice-captain as leading the way in this great challenge in the Bundesliga - the anticipation of that is just indescribable."

"This is a fantastic signal to our entire FCH family," FCH Board Chairman Holger Samwald added, "We will only be able to survive in the Bundesliga if we continue to live the cohesion that has always characterized us. The fact that Tim, who naturally attracted a lot of interest from other clubs due to his outstanding performances last season, is extending his contract with us ahead of schedule further underlines this."



More about Tim Kleindienst
More about Heidenheim