Bayern:
With the signing of Sané in question, Coutinho and Perisic can't come fast enough
By Trent Nelson
When Leroy Sané picked up a long-term injury, Bayern München turned their attention to Ivan Perisic and Philippe Coutinho. We take a look at how Bayern's new signings could help the club.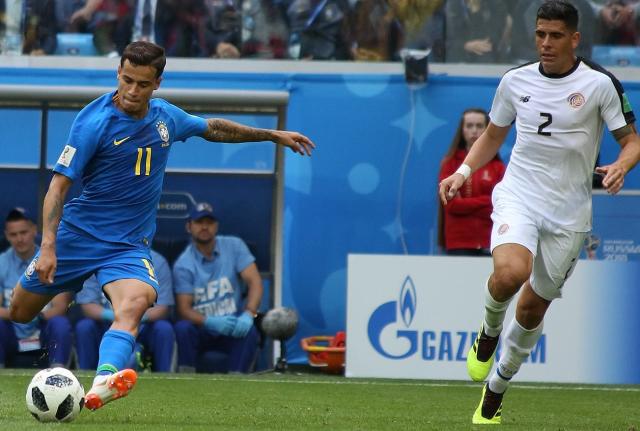 | | |
| --- | --- |
| Coutinho (left). | Photo: Кирилл Венедиктов, Soccer.ru, CC BY-SA 3.0 |
Panic must certainly have been permeating out of München Friday evening, how could it not? Following a disappointing 2-0 defeat to Dortmund in the DFL Super Cup Final just two weeks ago, 'Die Roten' would draw with Hertha Berlin to open the 2019-20 Bundesliga campaign. It appears as though each occurrence earned a response from Bayern CEO Karl-Heinz Rummenigge. Ivan Perisic from Inter became the first of these reactionary acquisitions via loan, while Barcelona's Phillipe Coutinho becomes the latest. Meanwhile, Michael Cuisance has moved to Allianz Arena on a permanent deal from Gladbach.



What Coutinho and Perisic can add to Bayern
After mass money was spent prying Coutinho away from Liverpool, his tenure at Barcelona would be short and of little praise. His comfortability at Barça was of constant discussion, as he seemed to never consistently demonstrate his signature innovation and creativity. With Barça losing to Bilbao on Friday as well, renewed interest for the services of Neymar Jr. could lurk behind their loan decision with Coutinho. Whatever the cause, Coutinho gets a new start while Bayern gets desperately needed expression.

Bayern München could not overcome Borussia Dortmund's pace, depth and youth in the Super Cup Final loss despite the best efforts of Robert Lewandowski. If not for Lewy's two goals, München's Bundesliga opener would have surely ended in defeat to Hertha Berlin as well, instead of a draw. This analysis could have been uttered at any point over the last two to three campaigns with similar merit; that it was rekindled as early as August of the new campaign demanded innovation, and both strategic and personnel improvements by Bayern moving forward.

While Ivan Perisic is not Leroy Sané, whom I've written would be perfect on the flank of Robert Lewandowski, he is a productive and reliable player as his World Cup performance for Croatia demonstrated. Moving on from Inter seems right for the winger, and depth alongside Serge Gnabry, Kingsley Coman and Alphonso Davies can help Bayern München's goal scoring efforts. Perisic can score, pass and track back in Niko Kovac's 4-3-3 and is a physical force in any of those endeavors.

The acquisition of Phillipe Coutinho, on the other hand, is an absolute coup. Coutinho can play on the wing in any shape, as well as behind Robert Lewandowski should Bayern revert to its famed 4-2-3-1. His pace, vision and expression could open up the oppositions back line defense with pressure coming wide, or set the likes of Coman, Lewy, Gnabry and Davies up from an advanced midfield position. Bayern must be able to extract more from Coutinho than could Barça.


If Coutinho can return to his Liverpool form, his goal scoring prowess would take pressure off of the other aforementioned names, potentially creating more opportunities for everyone else in the process. That is no guarantee in Niko Kovac's system however as James Rodriguez, a player of similar talents and innovation, could not succeed under Kovac's 4-3-3. He would be wise to work Coutinho into the starting XI in positions and games in which he can redevelop the confidence that made him so sought for while playing at Liverpool. The larger and more important matches will need a confident and well composed Coutinho if Bayern are to truly compete in the Champion League's more advanced rounds.


Could Leroy Sané still join Bayern eventually?
Bayern München's defense will come together, that much is of little doubt. The acquisitions of Frenchmen Lucas Hernandez and Benjamin Pavard will solidify a defense already featuring Niklas Süle, David Alaba, Joshua Kimmich and Jerome Boateng. Early struggles can be expected while the players coalesce to one another, but the defense should not be of lasting concern for the club once continuity and accountability can be mustered in the face of opposition. The offense looks better with Coutinho and Perisic surely, but a München Renaissance would emerge completely with Leroy Sané's transfer.

Leroy Sané's transfer future became cloudier after the knee injury he suffered in Manchester City's Community Shield bout against Liverpool, but it's not dead. Although Sané will be out at least six to seven months with the ACL injury, he has reportedly chosen to use a doctor preferred by Bayern München themselves, sparking renewed questions about the player's ambitions for a Bavarian move. While his absence would do nothing for Bayern's chances in the immediate, it sets the club up for years of great pace, scoring and pressure from out wide, of which could contribute to real European contention.

While the English transfer window for importing players has closed, Sané can still be exported by the sky blues for a hefty sum, reported to be the third highest in world footballing history if it were to happen. After the draw to Hertha Berlin, Karl-Heinz Rummenigge attempted to make clear that with the loan for Coutinho, no move for the injured Leroy Sané would be happening this summer. In the event it was to be consummated however, the repercussions would be felt across European Football.

With Leroy Sané and Kingsley Coman on each side of Robert Lewandowski, Bayern München's front three would suddenly rival the top offenses in European football. Depth in the form of Ivan Perisic and Serge Gnabry would mean that wide pressure would suddenly become the rule and not the exception. Coutinho in the middle or wide pitch positions completes this idea; that offensive pressure is a complete and total 90 minute ordeal when facing 'Die Roten', not simply a matter of dealing with Robert Lewandowski in the box alone.

Loaning for Ivan Perisic and Phillipe Coutinho were great and ambitious improvements to Bayern München, but they alone may not be enough to put The Bavarians in contention to win the Champions League. Adding Leroy Sané to those two offensive acquisitions, alongside those of the French defensemen Lucas Hernandez and Benjamin Pavard would, on the other hand, mean a resurgent Bayern München capable of both revenge on Borussia Dortmund for the Super Cup defeat during the Bundesliga campaign, while also causing real commotion in European competition. Without Sané, München is still in a dogfight with Dortmund in this year's various German competitions, and Bayern better beware.



More about FC Bayern