Bundesliga Tactics Talk: Round 24
By Peter Weis @PeterVicey
The German Bundesliga found itself at the center of the footballing world this weekend as Bayern and Dortmund delivered the goods in a six-goal edition of "Der Klassiker".

We've the complete breakdown of this round's massive encounter, along with all the news concerning German football that's fit to print.

Whether you're a fan of Bayern or Bielefeld, full coverage of another riveting matchday awaits.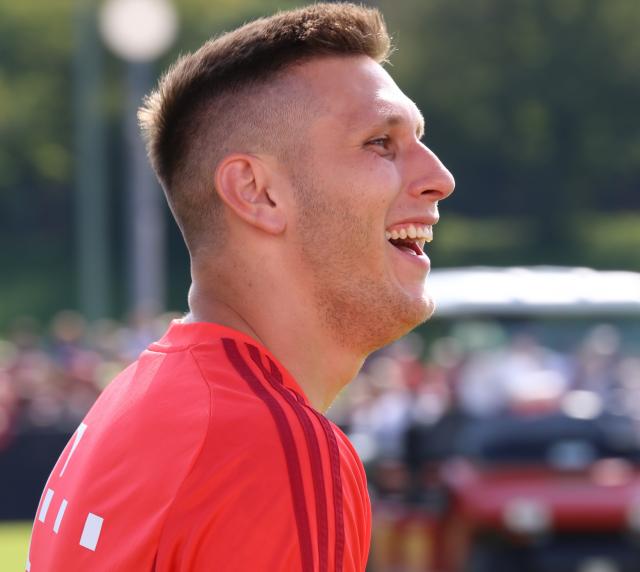 | | |
| --- | --- |
| Niklas Süle. | Photo: Rufus46, CC BY-SA 3.0 |
League-Wide Talking Points: Round 24
Sapless Schalke

Ugh. Might as well get this one out of the way first. For Bundesliga watchers stuck watching Schalke-Mainz on a Friday night, the horrors of lockdown life suddenly became palpable like never before. A repressed public could count on neither bread nor circuses during this drab 0-0 draw. "Sapless" is about the best one can do in terms of alliterative emphasis. Bo Svensson's Mainz at least set up a few half chances. The Königsblauen came nowhere close.


Most disappointingly, a few intriguing tactical changes from new head-coach Dimmitrios Grammozis amounted to nothing. This column's published recommendation to try moving Sead Kolasinac into midfield proved a total flop. The perfectly logical idea of giving Matthew Hoppe a parter up front--in this case a good selection in the form of Benito Raman--yielded nothing. A new 3-5-2 did well defensively, but couldn't find a forward thrust. This rooted tree had no lifeblood.

With relegation now all but certain, one certainly wants to see something positive from this proud club before it drops out of the top division. Grammozis elicits a great deal of sympathy first as a second tier player whom many German footballing enthusiasts have fond memories of, but also as someone brave enough to accept one of club football's worst jobs. His new team sadly doesn't face a beatable opponent in the campaign's remaining ten rounds.

Gisdol curbs his own talent

Another semi-travesty to get through before hitting the more positive notes. FC Köln trainer Markus Gisdol has been disproportionately vocal about his disappointment with Emmanuel Dennis, one of the strikers sporting director Horst Heldt secured for him during the January transfer window. Tolu Arokodare and Ismail Jakobs also falling short of his standards means that, once again, Gisdol forfeited a natural striker in his starting XI. Ondrej Duda reprised his role up front.

To make matters stranger still, the Geißböcke head-coach actually gave Max Meyer his first Bundesliga start since he returned to don Domstädter  colors. For whatever reason, the 25-year-old attacking midfielder wasn't positioned anywhere near the attack. Meyer stuck close to Ellyes Skhiri on the fourth axis of a ponderous 4-2-3-1. More attacking talent got buried deep. Winger Marius Wolf moved all the way back to the right fullback position, where he blew the coverage on Bremen's opening goal.

Kudos to Werder striker Josh Sargent for scoring in his second successive match. Niclas Füllkrug, Milot Rashica, and Leonardo Bittencourt made their offensive contributions as well. The stellar Hanseatic attack should have been able to shut the door on this match. Unfortunately, Jiri Pavlenka's uncharacteristic goalkeeping error meant that Werder left the cathedral city with a 1-1 draw. The result also likely constitutes a lucky escape for Gisdol, who at this point doesn't appear to have any clue how to utilize his squad's potential. A sacking should be imminent.

Hertha end the long wait

Here's a piece of positive news. A capital city side many German neutrals would rather see remain in the top flight snapped a nine match winless run with an exciting come-from-behind victory against Augsburg. Many will agree with Lukas Klünter's sentiments after the match. It's a huge relief that one of the Bundesrepublik's cooler fanbases were finally given something to cheer about amidst this deplorable campaign. Watch these crucial three points prove the difference in the relegation race.

Pal Dardai's opening set of tactics still engendered a palpable sense of anxiety. Lucas Tousart stood alone in midfield, positioned way too far ahead of a loose back-three to be considered a sweeper of any sort. This very peculiar-looking 3-1-4-2 appeared destined to fail. Initially, it did. To the Hungarian trainer's immense credit, he scrapped it quickly enough to reverse the team's fortunes. Mateo Guendouzi came on to stabilize the midfield and Luca Netz allowed him to revert to a back-four.


Introducing Dodi Lukebakio and Eduard Löwen for the final half hour demonstrated that he had the gall to go for the win. He also stuck with the double striker set of Jhon Cordoba and Krzysztof Piatek for the full 90 minutes. This was gutsy. Guendouzi's inspired performance will surely go a long way towards ameliorating the rift that has developed between the Frenchman and the new coaching staff. All said, things finally begin to look up a bit at "die alte Dame". Tipping them for the upset against Dortmund next week wouldn't be that unreasonable.

The "Spiegel Specials": Round 24
Leverkusen-Gladbach (4:3, 1:0)

Kersplat. How far both of these teams have fallen. From the seven-goal-shootout featuring Valentino Lazaro's scorpion kick to this one-goal affair. The display wasn't totally anemic. Peter Bosz's Werkself appear to have rediscovered some of their flair for proper circulation in his trademark short-passing game. Jonathan Tah played one of his better fixtures for quite some time. The German international instigated several quality back builds. Wingers Demarai Gray and Moussa Diabty provided plenty of intriguing on the flanks.

Marco Rose's 4-2-3-1 functioned competently. Marcus Thuram and Alassane Plea got their fair of chances in, and the disallowed penalty probably should have seen them attain the lead. Prior to the giveaway that ended up costing his side the game, Hannes Wolf put in strong work in the ten spot. A bit more concerning was the way the whole team flagged after Patrik Schick's goal. A collective deflation seemed to plague a club with well publicized identity issues.

Prognosis: Europe for Bayer

These two clubs contested race for the last Bundesliga Champions' League spot right up until the final matchday of the 2019/20 season. There shall be no such contest this year. As difficult as it may be to fathom, the same money remains on Bosz being able to build on this and guide his team to a fourth or fifth place finish. In other words, it's a typical Leverkusen year.

Marco Rose's final days at Germany's "other" west Prussian club look to be most uncomfortable indeed. In a weird way, the fan exclusions exacerbate the situation. Bundesliga trainers commonly announce that they will be departing for greener pastures long before the season is over. The ultras get a chance to register their dissent at the next home fixture, then usually adopt a more congenial and grateful tone towards the end.

Since that can't happen this time, Rose has a tough job ahead of him. To be fair, it's not quite as dangerous as the job of playing at right-back for Leverkusen. Seriously. That spot is cursed. Everyone who dares play there this year suffers horrific injuries.

Union-Bielefeld (5:0, 0:0)

Phrmph. Five goals was clearly more to hope for in this case, but one still would have been nice. Sunday's round capper began with a bang, though not the type any football fans actually wanted to see. A freak collision between returning Eisern keeper Andreas Luthe and his defender Julian Ryerson left both of them turbaned after an eight-minute treatment timeout. Arminia striker Sergio Cordova also incurred early injury, pushing first-half stoppage time to over 11 minutes.

Understandably, both teams were a little rattled and had trouble keeping the tempo. The pace picked up a bit in the second half. Cordova's replacement Andreas Voglsammer looked surprisingly good. About all that was interesting from a tactical standpoint concerned new Bielefeld head-coach Frank Kramer's wide 5-3-2 diamond. Ritsu Doan, for reasons unknown, wasn't part of it.

Prognosis: Alms for the Bielefelder

We'll have to spend a little time on Bielefeld this week. That is to say, assuming the town of Bielefeld exists at all, we might as well talk about it. Kidding aside, few Germans wish to see this "graue Maus" team get relegated this year. The thought of the rabid hometown fans of the northern Teutoburg fringes waiting 11 long years for their team to make it back to the top flight, then having no chance to watch their long awaited Bundesliga campaign is sickening. This would be a horrible tragedy in a town where nothing much has happened for 20 centuries or so.

Sacking 61-year-old trainer Uwe Neuhaus, who led them to the second-league title last-year, came as a big shock this week. Details soon emerged that the club had been planning this move since December. In comes the younger, hipper, Frank Kramer. The former Düsseldorf, Greuther Fürth, and German youth head-coach isn't necessarily known for tactical acumen any more than he's known for resisting an overdue change in facial hair.

German footballing magazine Kicker revealed that the move will cost the cash-strapped club an additional €500,000. Some local fan societies are raising objections. Rightly so. These are the fans who financed the renovations needed at the Biefelder Alm, forewent their bond yields when they came due, then watched the club sell off the venues naming rights in another cash crunch. Yikes.

Neutrals should consider backing this team to stay up. Their fans deserve some sympathy.

The Burning Questions: Round 24

We're switching back to the plural this week in order to check up on the three teams below Bayern in greater depth. The title race comes into the clearest possible focus after this round. Only Leipzig can hope to mount a serious challenge after Wolfsburg lost and Frankfurt drew. The state of each squad raises its own individual questions.

What hindered Leipzig early?

The 3-0 victory over Freiburg didn't feature consistent domination on behalf of the league's second place club. Prior to Christopher Nkunku's 41st minute opening goal, things were a bit of an unholy mess. Julian Nagelsmann truly outdid himself this time as he evidently attempted to once again capture the "Bizarro Bundesliga" award given to him after round four.

Lineup—RB Leipzig—Match 24 (4-5-1)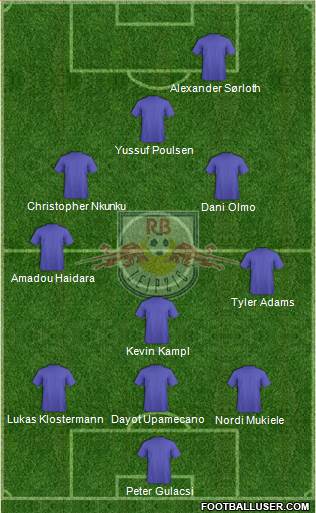 This was, to put it mildly, pretty rough. The constellation contained plenty of ambition, but execution proved near impossible. We might perchance see some of these ideas in a more refined form later on. Naturally, few would complain if we never saw them again.

Failed Adams/Haidara synchronization

For much of the opening 15 minutes, it seemed as if US international Tyler Adams couldn't decide if he wished to play right-back or not. After some time, one had to admit that what was actually occurring was more of a very sloppy wingback stagger. It failed utterly in that the team couldn't manage one single solitary attack up the right flank until it was nearly time to head into the tunnel.

In total, there were only two charges on that side before Nagelsmann began restructuring in the 63rd. This struck one as a tremendous waste of the talent lined up on that vertical patch of pitch. A stagger can't work if the two players involved have practically no practice implementing it.

Sørloth tries out the opposite lane

After he worked the rightward slanted attacking lane so well last week, Nagelsmann opted to test drive his high-priced summer acquisition over on the opposite attacking lane this time. Presumably, there was supposed to be some rotation amongst Nkunku, Dani Olmo, and Yussuf Poulsen in the short striker role. Better effectuation below Sørloth might have led to better results. A clear anchoring midfielder also could have reinforced this better. In any event, one can say that an experiment like this was worth a shot.

Kampl the sweeper

This part actually worked out rather well. The Slovene poacher definitively found his groove in front of a flat back-three. Kampl was involved in all three goals and generally looked about as good as he ever has without his usual midfield partner Marcel Sabitzer. He eventually moved much farther up the pitch when Adams truly dropped back into the defensive ranks and Hee-Chan Hwang/Emil Forsberg came on to complete the 4-3-3 set. Great tactics from Nagelsmann in the final 20 minutes.

Why did Wolfsburg lose?

First-off, the second-half degenerated into a dirty, unscrupulous affair that featuring six bookings and sendings off for VfL administrator Marcel Schäfer and left back Paulo Otavio. Long before the match reached that point, trainer Oliver Glasner surprised by trotting out the exact same XI that contested Wednesday's Pokal fixture against Leipzig.

Glasner's hands-off approach to his in-form side strikes nearly everyone as the absolute correct path. A few rotations so soon after such a high-intensity match were nevertheless called for. The German Wolves frequently got stuck playing mind-numbingly unimaginative player through the middle throughout the first half; a tell-tale sign of mental fatigue.

The head-coach employed a double change at the half.

Lineup—VfL Wolfsburg—46th minute (4-2-3-1)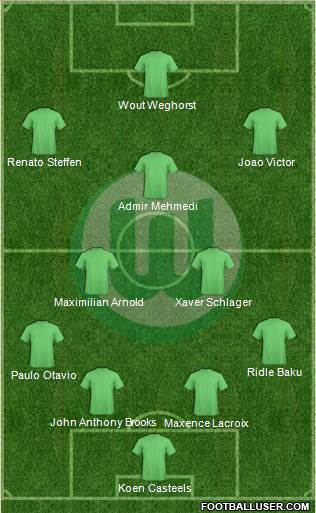 There are some questionable personnel decisions here. Joao Victor is placed on his unnatural side. Admir Mehmedi's tendencies as an anchoring ten pushes everyone back. Dropping Ridle Baku back to the right-back role sacrificed a lot of offensive potential. Something like this might have worked had it had a bit more time to sort itself out. As a halftime adjustment, the requisite time wasn't there.

Hoffenheim committed their fair share of defensive errors in the second 45. All went unpunished as the top two axes were too stretched to make much of it. One wonders if Glasner might have been better served to reorganize into his more menacing late-match 4-4-2 sooner. Had Germany's green company team won this weekend, they'd only be seven points off top spot.

How did Eintracht stall?

Not an easy question to answer. For the first time since the landmark loan deal, Filip Kostic and Luka Jovic started alongside one another. This didn't end up begetting the anticipated fireworks; at least not initially. Confusion reigned in Daichi Kamada's absence.

Lineup—Eintracht Frankfurt—Match 24 (3-5-2)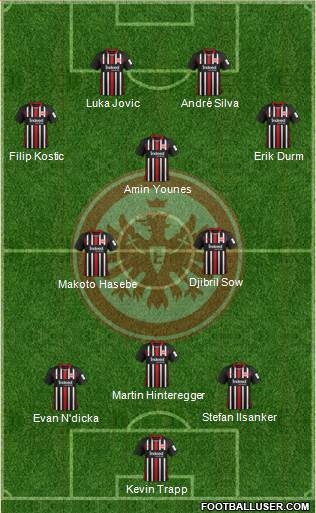 To be perfectly honest, this looked very different at certain points during the first half. It's plausible that Jovic was meant align with Amin Younes or even work as a bridge striker. Djibril Sow and Makoto Hasebe often had to drop back in assistance of Stefan Ilsanker (filling in for the injured Tuta).

Opponents Stuttgart have often been lambasted in these columns for an ingrown tendency that over relies on Silas Wamangituka. The SGE remain susceptible to the exact same problem on the exact same side. With sides respectively aiming for Wamangituka and Kostic, it wasn't long before midfield traffic collapsed in on itself.

The German Eagles eventually found a way of springing Kostic, who in turn got eventually got on the same page with his countryman Jovic. Adi Hütter's men began to look reasonably dangerous around the hour mark. Kostic quickly equalized after the Swabians took the lead against the run of play. Jovic, Silva, Hinteregger, and even Ilsanker were very unlucky to miss during a barrage of late efforts.

Die Adler certainly have cause to feel hard done by this weekend. The same applies to German football fans in general. It would have been great to watch Frankfurt mount a title challenge.

Weekly Tactical Focus: Spitzenspiel, take two

Do we have much of a choice? When it came time to redesign this column slightly for the Rück-runde this writer vowed that he would never use the reverse fixture from the Hin-runde for the tactical focus section. Repeating oneself sucks and the mere hint of recycling material leaves a writer feeling disingenuous.

In this case, we'll have to make an exception to that (arguably harsh) rule. It's simply not fair to ignore the match that captivated the world this weekend. In light of the fact that this will be the most analyzed match on the world-wide-web come Monday morning, perhaps we'll note that the 105th edition of what has dubbed the Bundesliga's "Klassiker" wasn't truly a "tactics head's" affair.

The majority of the positional posturing in this one was straightforwardly simple; very much to the point.

Take, for example, Bayern's self-coached 4-2-3-1:

Lineup—Bayern München—Match 24 (4-2-3-1)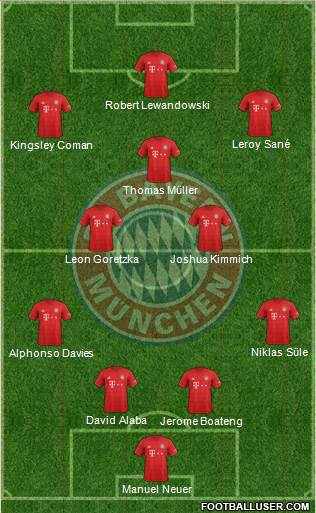 No surprises here. As a result, not much to talk about. The German record champions headed into this one healthy and ready to roll. One felt much more concerned for their Westphalian guests. Edin Terzic had to make do without key actors Raphaël Guerreiro, Jadon Sancho, and Giovanni Reyna. How the Dortmund trainer would compensate for their absence was immediately apparent upon release of the team-sheet.

Lineup—Borussia Dortmund—Match 24 (3-4-3)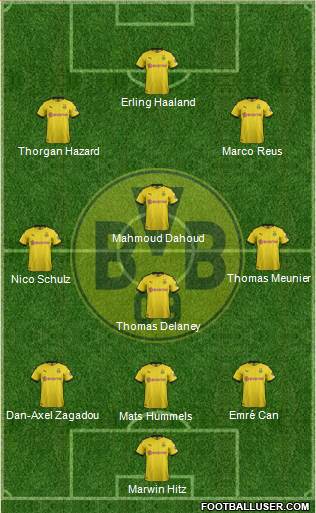 It looked like a back-three from the moment the lineups were announced. This would be the first time in Terzic's short tenure that he would mobilize with three at the back. Such an arrangement didn't immediately spell doom. In point of fact, a solidly flat triple chain could conceivably keep neutralize a speedy Bayern tear that sent as many as four or five players forward at a time.

All of that notwithstanding, one thoughts naturally turned to the BVB's vulnerabilities. Worries abounded.

Shoring up the left-flank

Blame it on the injuries or indeed his ill-fated move to Dortmund. The fact remains that for German international Nico Schulz hasn't been a convincing presence on either side of the ball for some time. As soon as one intimated that he would be buttressed by Dan-Axel Zagadou in just the Swiss international's third start of the season, one knew that both of these players would need to have the game of their lives.

An increasingly more confident Leroy Sané stood ready to tear them apart. Though Niklas Süle has had his dips in the right back role, the 25-year-old matched up well against this pair. As it turned out, the BVB duo performed above initial expectations. It nevertheless wasn't good enough to significantly curtail the confidence of the giants.

Emré Can's charge

There existed fairs less doubt that current German international Emré Can would prove shaky. After all, it's been proven beyond all reasonable doubt that he can excel in the center-back role in recent weeks. Directly pitted against the likes of Kingsley Coman and Alphonso Davies he still needed to produce a true gem. Separation and straying had to be kept to a minimum in order to frustrate that tandem in the final third.

As if anyone needed a reminder, Can and Thomas Meunier would face the nearly impossible task of keeping Thomas Müller under control. The roving veteran remains virtually immune to any tactical contrivances designs to stop him. It matters not how frequently "Radio Müller" broadcasts his position. Bayern's talisman is stealthy enough to ensure that by the time one figures out where he is, it's already too late.

Vertical stacking of the midfield pair

Terzic left one mystery to be confirmed only after the players settled in. His "rock solid" set of double sixes would either toe a horizontal line or operate on independent axes. Here we waited to see how Dortmund's interim trainer aimed to marshal his two most in-form players. In hindsight, a solution seeing the more defensively minded Thomas Delaney underpin Mahmoud Dahoud seemed a bit obvious once one observed it in action.

This was, of course, because it yielded immediate results.

Match Flow: 1st to 9th minute

The BVB's rollicking start may prove all-too-soon forgotten. Despite the fact that die Schwarzgelben rushed out to a 2-0 lead, it didn't necessarily feel as if the match would break in their direction. One has grown accustomed to Bayern's high-press letting them down in the initial stages. The FCB fell behind in a string of eight consecutive fixtures earlier in the season, ultimately losing none of the matches. This year's incarnation of the record champions has already conceded more league goals than any Bayern squad since 1991/92.

Erling Haaland's 2nd minute goal had a flukish feel to it. Dortmund were certainly on the front foot early, but play remained too randomized to reflect much other than luck. Haaland opted lace an early ranged effort and Manuel Neuer stood no chance after the shot took a wicked deflection off of Jerome Baoteng. Between the 3rd and 6th, Dortmund most stretched possession with a series of passes from wingback to wingback.

It wasn't the most convincing sight to see Meunier and Schulz constantly pass backward to the center backs, then make no forward process by the time the ball got back to them. Finally, in the 6th, Thorgan Hazard and Meunier managed to combine with enough forward impetus to get Haaland the ball in the box. Müller was on hand to do the defensive work.

Back the other way, the Sané vs. Schulz battle looked to be a total mismatch already in the 7th. Bayern's right flanked showed himself in the mood for some fancy footwork on this day. Dortmund's left wingback stutter stepped, unable to challenge. Before Flick's crew could create anything tangible out of this advantage, however, the NRW-visitors stunned everyone with an absolutely not flukish team goal.

Dahoud set everything up with a brilliant switch to Schulz. Hazard followed his teammate magnificently with a focused trail. One the Belgian international received the ball, he deftly played square to Haaland for the neat finish. Everyone involved in the sequence deserved immense credit for the quick thinking and skillful control it took to make it happen.

Match Flow: 9th to 26th minute

As gorgeous as the second goal was, few will have thought that a shocking lopsided upset was in the cards. If anything, Terzic's men had tallied too early. Dahoud did his best to increase the advantage with another nice nice long ball for Reus in the 11th. The BVB captain did well to let play develop after taking down on the left. Meunier did a little less well with the service eventually provided him. By the 13th, Süle and Sané were already back at work shredding the Dortmund defensive left.

The Bavarian possession game looked far superior to that of their surprise guests. Probably the most important factor preserving the scoreline between the 14th and 20th had to be Bayern's over reliance on early crosses into the box. The Westphalians were able to keep enough bodies in the box to cut out one of the more obvious aspects of their opponents' game. Sané found the angle too tight on a Süle service in the 16th and a Kimmich one in the 17th.

Kimmich and Sané came up narrowly short again in the 18th. Lewandowski directed a header over in the 19th after some more nice work from Süle and Sané. Süle whipped in still another marvelous work-of-art into the box in the 19th. This time Goretzka one-touch chested perfectly to Lewandowski, but the Polish superstar again couldn't find the finish. Goretzka, Müller, and Kingsley Coman flooded the box one minute later as the FCB onslaught continued.

It remained a one-way narrative. In a sense, the story of this match shaped up to be a genuinely ridiculous tale. Bayern lorded over all the space and supplied all the quality, yet still trailed 0-2. The BVB accomplished a couple of meager counters between the 22nd and 24th. Exploiting a tiny pocket of space underneath the FCB wingers, Reus came closest to getting Haaland free in the danger area on a 25th minute sequence. David Alaba tracked back in time.

At long last, that which everyone had been waiting to happen transpired. Sané totally dressed down Schulz with some breathtakingly beautiful legwork. The Dortmund defender couldn't help but let it happen as he was miles of the ball. Sané shuffled off to Lewandowski, who simply wasn't going to keep screwing up his finishes all night. Bayern pulled their first goal back.

Match Flow: 26th minute to half-time

Lest anyone think that the FCB attack was overly skewed toward Sané's side, Coman showed everyone up with his own bit of skill in the 29th. Keeper Marwin Hitz had trouble with the resulting hard shot and the Frenchman got another fine chance on the rebound. Meunier had to foul and Schulz produced some of his best defensive work of the night by clearing away the ensuing corner.

Süle and Sané (for what feels like the 100th time) got some more magic working on their side in the 31st. Two minutes later, Kimmich and Sané left everyone scraping their jaws off the floor. It took a small miracle from Hazard to block the consequent effort from Lewandowski. Schulz, who definitely lost the war, won another small battle against Sané in the 34th.

Flick's men kept the balance in their attack. At no time did any of the four vertical lanes account for more than a quarter of the rushes. Dortmund held their own on set pieces, but looked hopelessly outclassed from open play. A bit of fight back between the 39th and 41st constituted the last real chance Terzic's men had to shift this momentum back in their direction. Meunier couldn't catch up to a switch on one play while Haaland came within millimeters of connecting with Marco Reus after another fine Dahoud long release ball.

Less than a minute after he supplied the distance latcher, Dahoud committed the fatal error that would enable the Bavarian hosts to equalize. A challenge on Coman just inside the 18 looked suspicious at first. Replays confirmed that the follow-through on the tackle was inappropriate. The Kölner Keller caught it and match official Marco Fritz eventually got summoned over to the VAR screen. Lewandowski converted the awarded penalty in the 43rd. Süle and Sané (for what is now certainly the 200th time) put together another slick combo at the stroke of halftime.

Match Flow: 46th to 61st minute

Stats can easily bore the football purist. Even the old-schoolers find it hard to resist xG trends, however. At this point in the match, the story of this one was written all over the expected goals. Bayern were crushing their guests 2.3 to 0.7. This stat summarized the tale thus far. More importantly, it gave a pretty good indication of where we were headed. All Dortmund could realistically hope to was continue defending.

Keeping Goliath at bay for another 45 minutes counted as a tall order indeed. After a tight triangle forced Davies into a turnover in the 46th, a decent counter saw Hazard hit the side netting on what one regrettably knew would be one of the BVB's rare chances. Hitz spilled a Kimmich torpedo one minute later and the Dortmund keeper was extremely lucky that a lurking Coman couldn't pounce on the rebound. Not even three minutes into the second half and we could see that the breaks weren't favoring the Schwarzgelben.

Can stood tall after some delicious football from Müller and Lewandowski in the 51st. Can would again prove the hero when he stuck a leg out to stop a Coman square in the 59th. In between these two plays, Bayern frankly made the Westfalen ranks look amateurish by continually dancing around them in possession. A lame 52nd minute counter made clear that Haaland could expect no real support.

Terzic pulled the trigger on some substitutions first. Haaland sustained some sort of injury that necessitated his withdrawal. Camera's caught the medical staff icing what looked like a cut (but just could have easily been a simple blister) on his ankle. Hazard joined Haaland in heading for the sidelines. The lead striker's replacement would not be Youssoufa Moukoko. This spoke volumes.

Instead, Steffen Tigges and Julian Brandt came in. One has to say that this was definitely a fairly subdued move. Terzic wasn't prepared to risk it with a wild card. He targeted the draw.

Match Flow: 61st to 71st minute

Brandt and Tigges basically served as like-for-like subs. Reus moved over to the left flank to make room for his newly introduced colleague. The Dortmund formation flattened out a bit as everyone took a step back. The slight retreat of the lead striker position took place whilst Haaland was still on, but Tigges took it a step further.

A decidedly more defensive posture precluded Bayern from generating more clear cut chances for a period of about ten minutes. Flick made his own swap in the 66th, trading Coman for Serge Gnabry. The Bayern trainer was forced into making another change as the 70th minute approached. Dahoud produced another one of his fine through balls and Boateng hyperextended his knee tackling away from Reus.

Javi Martinez had to come into the match quickly as it was immediately apparent that Boateng could not continue. Terzic made another double substitution in the 70th. Mateu Morey and Jude Bellingham relieved Delaney and Zagadou. We arrive at the specific juncture where it's time to illustrate  precisely what won the match.

Lineup—Bayern München—71st minute (4-4-2)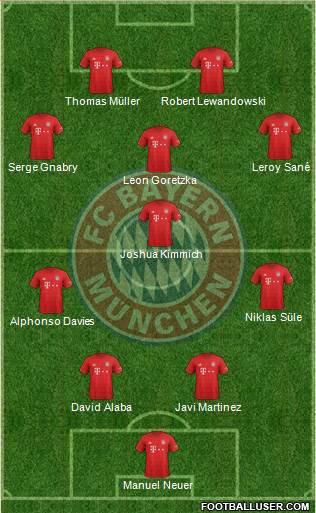 For the third consecutive week, we must address how frightening Bayern look late in matches when searching for the win. Full disclosure: we're not exactly playing tactics with this graphic. In all likelihood, this has absolutely nothing to do with Hansi Flick. This happens to be the manner in which the players chose to align themselves as part of the late push. It's not a match plan. It's spontaneous spirit from a beastly behemoth.

Let's contrast this with what Terzic tried to do:

Lineup—Borussia Dortmund—71st minute (5-2-3)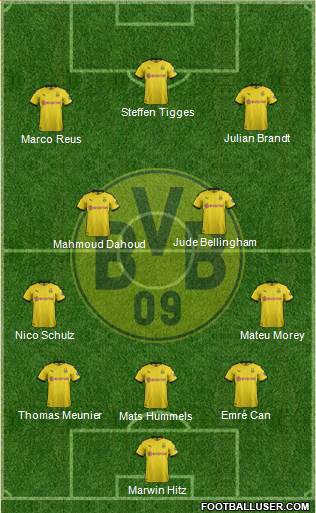 Not a terrible idea. Why was it so ineffective? To begin with, Thomas Meunier had to adjust his game as he not only switched positions, but had to switch sides as well. He and Can couldn't quite get their lines sorted out. Reus found himself tanking fairly hard; out of energy and ideas whilst potentially also carrying a small injury. Morey, Bellingham, and Brandt never really got the opportunity to apply their fresh legs to their flank. Most of their time was spent defending.

Match Flow: 71st minute to full time

Hummels and Bellingham cleared desperately on a series of Bayern corners in the 72nd/73rd. Gnabry didn't look particularly sharp in his initial involvement. This only served to delay the inevitable. The red tide rolled all over the flailing yellow ranks. Some inaccurate finishing from Gnabry meant that a go-ahead goal wasn't forthcoming at the end of promising sequences between the 74th and 78th.

Can had to intervene heroically again to halt Müller's progress in the 79th. Kimmich booted forward a tad too long and strong for Müller a minute later. Had the BVB been able to preserve the scoreline in this fixture, it would have been most impressive. With ten minutes remaining, the team had basically been on the defensive back-foot for seventy consecutive minutes. Imagine for a moment how exhausting that is.

Dortmund play out of the back just wasn't good enough. Kimmich pounced on a loose ball in the 81st and nearly scored with a distance laser reminiscent of the goal he won last spring's Klassiker with. Süle flashed a header over on the ensuing corner. After Martinez easily stopped Schulz's way to ambitious forward carry forward in the 84th, Bellingham had to sprawl to block Müller's cutback for Goretzka on the counter charge.

Müller came close on a couple of chances before Goretzka's go-ahead goal in the 88th. The discussion of a foul in the lead-up to the tally isn't illegitimate. In the final analysis, Dortmund can have few complaints that the mighty Bavarians finally capitalized on one of their many chances. Meunier was a little unlucky to see a Müller cross deflect off him. It was still a great finish off the volley from Goretzka.

Within 90 seconds we had another goal. Sané demonstrated intelligent restraint to let a Davies cross roll and leave it for the streaking Lewandowski. The man now almost sure to break Gerd Müller's single-season goal record made no mistake on the finish. As was the case after the opening 45, the xG stats at full-time told the full story: Bayern 3.1, Dortmund 0.9.

German football lovers cannot help but experience a surge of pride after this fabulous fixture. Many across the globe tuned tuned into our league and were treated to a fantastic advertisement for our game. This match even surpassed the meeting of these two clubs from earlier in the year. Insofar as the this year's title race is concerned, German fans also essentially (pardon the cliché) get to have their cake and eat it too.

Leipzig clearly have what it takes to make it interesting. Though we certainly appreciate that, most of us will admit that we're not ready for the non-historic, non-traditional "MarketingKlub" to win the Meisterschale. Hence, even the Bayern haters are rooting for Bayern at this point. After this performance, there can be no doubt that they will win their ninth successive Bundesliga title.

Concluding Thoughts: Hertha and the Bundesrepublik

Hertha's Pal Dardai pumped his team up with quite the halftime motivational address this weekend. He reminded his players that they were traversing the bottom; that there was literally nowhere to go but up; that it "can't get any worse". Interesting. Generally speaking, there are but two ironclad rules to life. First, everything that possibly can go wrong will usually does go wrong at some point. Secondly, no matter how bad things get, they can always get worse. 

There existed no guarantee that Dardai's logic would hold. Trailing 0-1 to Augsburg at the half may have been bad, but losing to the town of the Fugger banking dynasty presumably would have been much worse. For that matter, had Dardai lost the dressing room on a broken promise and Hertha opted to part ways with their fifth trainer in 18 months that, arguably, would had been much much worse. If Hertha suffers their third relegation in the same ten-year-span that Augsburg have inexplicably maintained their place in the top flight, that will, arguably, be much much much worse.

Alas, sometimes one just has to go for it. In that spirit, we'll chose to look on the bright side in this week's national COVID check-in. With the exception of the total number of districts falling below the RKI stabilizer (barely up at 48) and all corona-related metrics reported on last week are considerably worse. Even the total share of public vaccinations evidently cannot rise above one percent in a seven-day-period. There nevertheless must exist a bottom somewhere. At a certain point, there can literally be "nowhere left to go but up."

A writer thus choses to close with two bold predictions. A nadir has been reached. Next week's corona figures will be significantly better. Additionally, Hertha will not be relegated this year. Next weekend's Dortmund fixture should prove a real cracker.




Related stories