Bundesliga Tactics Talk: Round Seven
By Peter Weis @PeterVicey
An electrifying seven-goal thriller sends us soaring into the international break.

A jam-packed weekend on the Bundesliga beat yields more than enough points of discussion to tide German football enthusiasts over through the next two weeks.

There's all the lessons gleaned from Dortmund-Bayern, a potential administrative scuffle, and all manner of trends for clubs either aiming for Europe or seeking to avoid the drop.

Do join in for another full breakdown of all the Bundesliga action.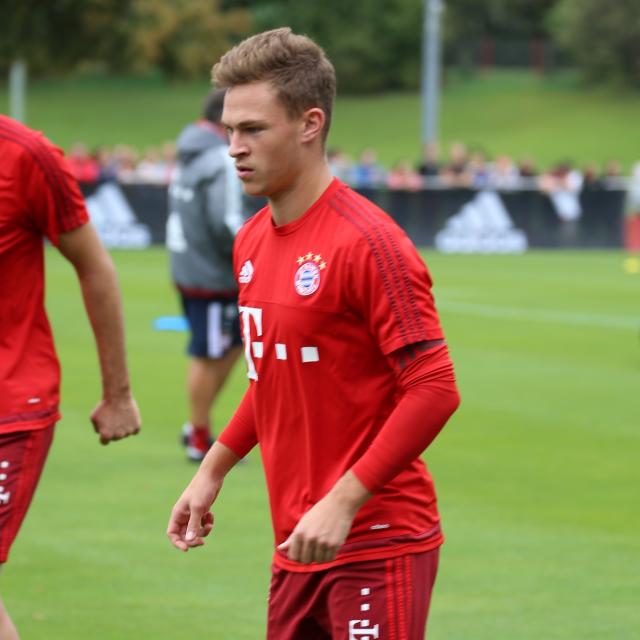 League-wide Talking Points: Round Seven
Hertha: "Symptome einer Besserung"

Quick little German translation for those who enjoy the exercise. This is how the Süddeutsche Zeitung opted to describe Hertha BSC following their encouraging draw against Wolfsburg last week. It translates to "symptoms of improvement."


Perhaps Germany's football writers could have picked a better description in a pandemic-age. The concept of "symptoms" doesn't really come attached with positive connotations these days. In any event, Hertha's improvement remains very real.

This weekend's 3-0 blanking of Augsburg convinced on so many levels. Labbadia employed a 4-4-2 stagger that brought out the best in both Matheus Cunha and Vladmir Darida. A semi-stagger of Dodi Lukebakio meant that Krzysztof Piatek could immediately rely upon short-striker support after the Jhon Cordoba injury.

Matteo Guendouzi impressed too as everything worked out remarkably well in midfield. All continue to focus on Hertha to see if they finally can make the leap to the European places this year. The latest signs supply significant encouragement.

Bielefeld: One dead "Graue Maus"

A little more interpretation work as it always makes for great fun. A "graue maus" club ("gray mouse" side) refers to the minnow clubs of the German Bundesliga. They are so labelled because they peek into the league and then scamper away from it much in the manner that a shy and skittish little mouse might scamper away on the kitchen floor.

English equivalents include "yo-yo-teams" and "elevator clubs" and a host of other metaphors apt at describing clubs that are constantly being relegated and promoted. Bielefeld are the quintessential such club, having switched leagues 16 times in the last 25 years.

After Saturday's 0-5 debacle at FC Union Berlin, one has little choice but to declare that Uwe Neuhaus' boys are headed straight back down again. The  4-3-3 was scandalously ineffective. This team still can't figure out a solution for its lack of any Bundesliga level attacking options.


Fabian Klos somehow continues to make media appearances (an interview with broadcaster DAZN being the latest example) in which he sounds largely sanguine and hopeful. One wonders where this attitude comes from as it definitely can't stem from matters on the pitch.

A pulse in Gelsenkirchen

One statistic generally conveys how much trouble a club is in. Namely, the number of different players used in starting formations over the course of the season. The poor beleaguered Köningsblauen blow everyone else in the league away in this regard. David Wagner and Manuel Baum have used a combined 24 different players through seven rounds.

This signifies crisis. The basics of a system haven't been laid down yet. In point of fact, the arrival of something workable remains far off. Baum tries something radically different each match in a desperate flailing attempt to accidentally discover something that might stick.

At long last a bit of stability materializes. Baum made only one change to the side that drew 1-1 with Stuttgart last week, replacing Malik Thiaw with Ozan Kabak. He also loosely stuck with a 5-4-1 shape that his players can get used to.

The result was another 2-2 draw with Mainz that might have been a win were in not for the disallowed goal. In coming from behind to equalize twice, die Knappen scored nearly as many goals as they had through the first six rounds. The midweek win against Schweinfurt puts them on a three-match unbeaten run.

While they may not be a safe enough to wager on yet, an extra week of training in a set-system might finally see them snap the streak against Wolfsburg after the break.

Downgrades in the Cathedral City

One coach who needs to stop scrambling and settle on something is Köln's Markus Gisdol. Yet another reorganization against Werder Bremen on Friday night saw Dominik Drexler and Noah Katterbach come on for, what one assumes, was supposed to be a 4-1-4-1 press.

Marius Wolf once again played at right-back, this time more strictly fixed in the position. Ondrej Duda moved up to allow Salih Özcan to take over as the midfield flight director. Practically nothing came out of this confusedly meek constellation.

Köln's long winless run often gets eclipsed by Schalke's. One must still emphasize how wretched a stretch it has been for a club that hasn't captured three points since before last spring's corona lockdown. New lead striker Sebastian Andersson still only has the one measly goal from open play, coming in the opening round against Hoffenheim to his credit all season.

Not even inchoate stirrings of life emanate from this club.

The Burning Questions: Round Seven
Will Oliver Glasner be dismissed from Wolfsburg?

The 2-1 victory against Hoffenheim this weekend again showed what an consistently cogent defensive unit the 46-year-old Austrian has built. When one takes the inconsistency of the attack, something also very much on display in the match, into account, Glasner's grievances about the failures in the transfer window appear quite legitimate.

With the trainer obstinately refusing to walk back his statements and openly discussing his rift with club management, it still seems as if the answer will be "yes". Glasner has likely met his match in Jorg Schmädtke, who Germans know to be one of the most obstinate and prideful administrative footballing figures ever.

The two men will sit down to discuss the direction of the club during the international break. The meeting should result in a parting of ways. One just doesn't see it getting reconciled.

How fares the Leipzig vs. Leverkusen "regression race"?

A question posed at the beginning of the season shall be tracked throughout the campaign. Both teams won their European and Bundesliga fixtures this week. Julian Nagelsmann's rote Bullen ultimately dismantled Freiburg 3-0 while Bosz's Werkelf prevailed 4-3 against Gladbach in the thrilling 4-3 shootout that capped the round.

At present, no new evidence surfaces to reverse the tip of Leverkusen finishing over Leipzig. Nagelsmann hasn't truly solidified his post-Timo-Werner strategy. His team struggled again to get a streamlined attack going up the middle of the pitch. Christian Streich's 5-3-2 stopped them cold for well over 60 minutes. Once Marcel Sabitzer converted the 70th minute penalty, Freiburg completely wilted and allowed the young coach's talent to do as they pleased. The victory remained far from convincing.

By contrast, the question of replacing Kai Havertz and Kevin Volland seems to be settled at Germany's red company team. Few could have foreseen that this team could actually thrive if Patrik Schick succumbed to injury. Lucas Alario stepped up seamlessly. It frankly begins to get ridiculous when one considers the 28-year-old Argentine's performance numbers. His two goals against Gladbach make it three league braces in a row. In the past 22 days, he's scored eight goals across all competitions.

There's hot form, red-hot form, and then there's Lucas Alario. The former super-sub may displace Schick permanently at this rate. The table may have Leipzig slightly ahead, but Leverkusen are still by far the more dangerous team.

Is it time for Adi Hütter to ditch the 3-5-2?

Seriously? Again? Not for the third successive week! Afraid so. It's most interesting to note that Adi Hütter's intransigence actually worked this round, leading Eintracht Frankfurt back from a 0-2 deficit when one would have least expected it.

Hütter rolled out the exact same XI as always, and even made the exact same substitutions as he did on the previous matchday. Aymen Barkok and Amin Younes came on for Steven Zuber and Almamy Touré at the break. The 3-5-2 shape stubbornly held, even as the minutes ticked off and die Adler remained down by two goals.

After a taxing fixture-laden season of seemingly infinite tactical switches, the Austrian trainer appears to prepared to live and die with this construct he's built around Makoto Hasebe and Daichi Kamada. The 50-year-old likes the spine of his team and will only employ minor changes around it.

Barkok most unexpectedly turned out to be the star of the show, suppling top-notch assists both on André Silva's goal and David Abraham's equalizer. In Zuber, Barkok, Younes, Touré Timothy Chandler,  the still unused Adjin Hrustic and the returning Filip Kostic, Hütter has a surfeit of options on the wings.

No changes to the vertical backbone of this squad appear on the horizon. The 3-5-2 looks to be here to stay.

Weekly Tactical Focus: "Das Spitzenspiel"

Is there any other choice but to cover the clash of the two biggest and best supported clubs Bundesliga? Admittedly, tactical analysis of such a fixture exemplifies the sad state of affairs we football lovers find ourselves forced to contend with. The absence of fans rendered every viewer of this one a tactician.

When a match takes place before empty stands, the observer's eye gravitates toward the shifting formations on the pitch. A football watcher's ears process only the communication taking place among the players. All football lovers are tactics-heads now, whether we wish to be or not. Even those of us moderately obsessed with the nuance of strategy must rue what we've lost; the chance to watch a game of football on an emotional plane.

The chants and songs of the spectators accord one the opportunity to lose oneself in a match. The notebook and pen lie idle whilst one follows the action. Dulcet tones ring out throughout the stadium. It is the steady beat of the drums and the melodious acoustic urgings that govern matters on the field, or at least it appears to be.

Under normal circumstances, a deep delve into the tactics comes well after the final whistle blows. More detailed scrutiny of what transpired takes place after the emotions of the weekend have long subsided. Tactical examination comes Sunday afternoon over coffee and the newspaper or perhaps even Monday morning at the office. Emotions rule in "real time" while rationalizations are deferred to a latter stage.

Alas, we do not currently exist in such comfortably predictable confines. Until the slow crawl back to normalcy resumes, we cannot even hold out hope that they shall return anytime soon.

Why is such a topic broached in the first place? Because, given the present reality, it is extremely unlikely that any reader will learn anything new from the analysis below. All have already undertaken their own thorough investigation of the Bayern vs. Dortmund tactics; not necessarily by choice, either. Without supporters in the stadium, that's literally all there was to concentrate on.

All of that notwithstanding, it was still a fantastic game of football. Here's how it shook out.

Lineup—Bayern München—Match Seven (4-2-3-1)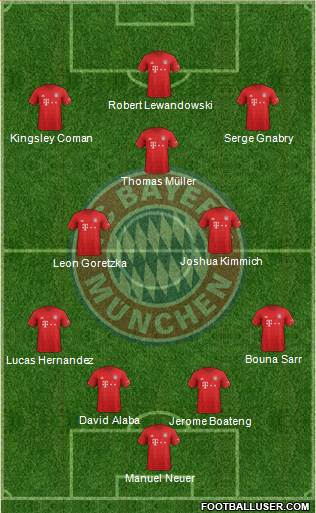 Hans Dieter Flick's "non-system" gets a draw-up after all. Two interesting points, regardless of how obvious they are, merit coverage.

How does the self-coaching work?

Every one of Flick's lineups features Thomas Müller. The flanks are interchangeable with respect to both personnel and the side that they occupy. Which flank Serge Gnabry will tend towards remains a mystery before every kickoff. Though one can generally infer that Kingsley Coman will take the left and Douglas Costa stations right, neither assumption is truly set in stone. The precious little we've seen of Leroy Sané suggests the left, but even that is fluid.

Müller's veteran savvy is simply indispensable. If one goes back through all the Bayern starting XIs in this quite busy 2020/21 cycle, one will always invariably find the 31-year-old pencilled in whether the FCB contests the Bundesliga, the Pokal, the UCL, or one of the Super Cups. Müller is never rested or rotated out. His unpredictability is exactly what makes the Bavarian attack so dangerous. Flankers base their positioning on how he intuitively feels an attack should be set up. Period.

A fun exercise for anyone watching a Bayern match involves counting how many times the wingers switch fields on a charge. In some cases, they'll flip as many as four or five times before the initial half-hour has elapsed. It often depends on Müller's movement in the lead up. Flick essentially handed the ignition keys to the German legend shorty after he took over from Niko Kovac and, after a couple of months, the results would speak for themselves.

What precisely makes the midfield duo so dangerous?

Whereas Müller's revival began to gain traction last January, the beastly partnership of Joshua Kimmich and Leon Goretzka took a little longer to gel. Their coming together owes much to last Spring's corona-break. As many will recall, the pair launched a joint philanthropic venture ("We Kick Corona") during the early days of lockdown. They accomplished much more than that when training together during those long weeks.

When football resumed, Goretzka's new physical build constituted the most striking feature of a change taking place during the two-month hiatus. One couldn't help but notice the extra 5-8 kilos in extra upper body strength the Bochum-born midfielder packed on. Much more important than that, he and Kimmich came to deliberate understanding that either one of them would always step forward to patrol just outside the box.

Since May, it's rare to find a match in which one of them didn't score. It usually comes from a right center area in and around the 18. It's simple enough coordination, but absolutely devastating in its lethality. These two work together to cover a wide swathe of the midfield while, at the same time, always maintaining a prime position to pounce on rebounds and half clearances in the section of the pitch where the ball is likely to fall.

Closely watching how they discuss which one of them will take up this responsibility when set-piece plays are assembled counts as a real treat. Seeing them execute the choreography in open play is even better.

Favre's only move: A lighter hand  

The Swiss trainer would very much like to preside over a "self-coached" team as well. The problem lies with the fact that his many young phenoms don't have the same wealth of experience that Müller, Goretzka, and Kimmich have accrued. Favre possesses a competent captain hometown hero Marco Reus. In Julian Brandt, he has a budding Müller with the right creative instincts.

The talented tyros like Jadon Sancho, Giovanni Reyna, Jude Bellingham, and even (to a much lesser extent) Erling Haaland still require some guidance. A draw-up illustrates Favre's lighter influence almost perfectly.

Lineup—Borussia Dortmund—Match Seven (4-2-4)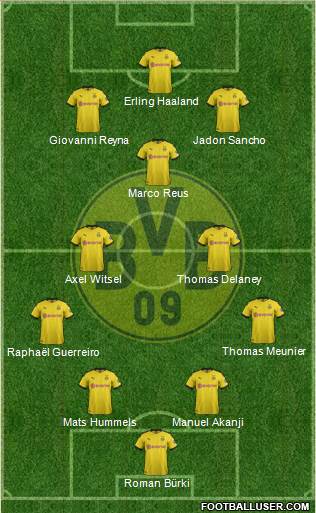 How does self-coaching work here?

Haaland receives almost no instruction and either Brandt or Reus are given near total creative license. A facet of the approach that becomes increasingly more obvious with each passing week concerns the fact that the flank-based attackers are clearly told to pull inward a bit more.

One can certainly debate the advantages of such a concept, but the logic remains sound. The younger players have more to gain by staying closer to the centralized link-up play. Their eyes require proximate placement to the feet of their colleagues in order to properly glean the correct visceral lessons about how to play as a better unit.

Favre proceeds with a long-term developmental approach in spite of the fact that it is universally accepted that he will not be around to witness it fully blossom. This is the reason every German footballing circle features at least one "Favre Apologist/Defender". The 63-year-old trainer actually shepherds his emerging talents well. Ideally, those prepared to bestow some credit upon him will remain vocal even after he's gone.

Match Flow: 1st to 17th minute

To this particular set of eyes, it took a little over a quarter of an hour for Favre to employ his first strategic shift. Early cutbacks for Marco Reus, in the 3rd and 13th, demonstrated that the 31-year-old captain worked as the primary "Müller-mimicker". One could see that Favre tasked the team with following his positional lead.

Reyna would slowly start to take on this role organically. After the American teenager put in some fantastic work at the end of an inviting Thomas Meunier switch in the 5th, the team would gradually coalesce around his movements. Bayern nevertheless lorded over the majority of the possession, slowing matters down with their back-builds when they could.

Hence, it took some time for Favre to notice how this was evolving. The suddenly more animated Lucien Favre that German football fans have quickly had to adjust to ordered the change around the 17th. It came four minutes after Reus couldn't cajole his teammates into proper second-phase set-piece defending and three minutes after Goretzka's scary snap-header.

The BVB would now follow Reyna.

Match Flow: 17th to 34th minute

We saw some improved play from the Schwarzgelben thereafter. BVB support still had trouble catching up to Haaland, but a sequence in the 18th demonstrated that they were getting closer. Thomas Delaney targeted Reyna with an incredible upfield ball in the 21st. The American dutifully furthered on to Haaland, who unfortunately could neither stay onside or supply the finish on that specific play.

A good coverage draw by Reyna in the 24th enabled Raphaël Guerreiro and Reus to achieve a solid work in. After the long and nerve-wracking VAR delay accompanying Lewandowski's disallowed goal in the 24th, the NRW hosts were able to put together another good transition piece involving Reyna in the 30th.

The decision to center the rush around Reyna's side also had much to do with back-up Bayern right-back Bouna Sarr's shaky start. As soon as this weakness manifested itself, Favre correctly pounced on the order. Of course, this led plenty of chances for the FCB to unleash quick rightward counters of their own. This occurred in the 24th, 38th, and 33rd.

Match Flow: 34th minute to half-time

An errant pass from Sarr changed everything. The play forced Kimmich to race across the midfield and commit an egregious tactical foul on Haaland. The ensuing injury to Kimmich had huge ramifications for both the match and Bayern's title aspirations. All of the above space dedicated to the importance of the Kimmich-Goretzka pairing gets rendered moot if the midfielder is indeed set for a long spell on the sidelines.

Bayern concede far more often when Kimmich is out. The two goals allowed in during the third round fixture against Hertha BSC provide the best example. Flick cannot implement real solutions in the context of his "hands-off" 4-2-3-1. All he can do is plug Correntin Tolisso into the midfield slot and hope for the best.

That's what was done here. Reus benefitted from the personnel switch within five minutes. The captain, having previously only managed twelve touches in the game, took charge in the 39th and once again emerged as the player responsible for getting the Dortmund offense rolling. Two forward drives owed much to his footwork.

The back-and-forth during the closing stages of the opening 45 proved great fun. Coman produced a chance in the 38th. Reus answered back one minute later. Axel Witsel came close to the scoring in the 41st. Haaland nearly put Reyna through in the 43rd. Lucas Hernandez and Tolisso were barely offside in the 44th.

Sancho's through ball for Guerreiro in the 45th constituted pure poetry. The cutback for Reus and the clinical finish from the captain were even sweeter. Bayern would level matters thanks to a lucky deflection off Meunier's back four minutes into first-half stoppage time. David Alaba still deserved credit for the goal as it was a nice hit off a perfectly designed set-piece.

Match Flow: 46th to 71st minute

With both the score and xG level, it remained anybody's game after the restart. Regrettably for the underdogs, the talent-deficit began to show. Sancho got his squad off to the best possible onset with a breathtaking threader in the 47th, but Haaland's cut across was nowhere near good enough.

One minute later Lewandowski had his goal, finishing off a plain Hernandez cross with his trademark class. Bayern commenced taking over the match. Coman hit the post in the 51st and forced Bürki into a spectacular save two minutes thereafter. Haaland looked genuinely awful on counters in the 52nd and 54th. His touch and angle play failed him.

Reyna had to bail out his team in the 55th after Müller tore through the ranks and split everyone open with a cutback. The Dortmund fullbacks visibly retreated as the BVB defensive shape frayed and the FCB strung together wave after wave of centralized pressure. Coman got another effort on target in the 58th.

The Scharzgelben would then go two nearly five-minutes stretches without truly seeing the ball. Favre made his first change in the 61st, bringing Bellingham on for Delaney. The tactical re-organization wouldn't be complete, however, until Brandt and Thorgan Hazard replaced Sancho and Reyna in the 69th.

Lineup—Borussia Dortmund—71st minute (4-3-3)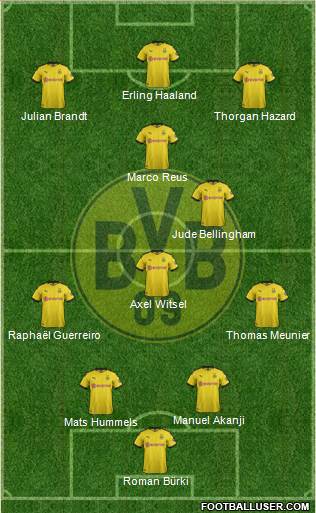 To see something similar, one must travel all the way back to 2020/21's first round. This might be labelled the "Jude Bellingham free rein constellation". It seeks to take full advantage of the English phenom's box-to-box potential. Without a horizontal axial partner, the 17-year-old works purely solo on ripping vertical tears.

Match Flow: 71st to 80th minute

Did it work? For about nine minutes, it certainly showed some promise. It may have worked better had Flick not made his own intelligent substitutions. The Bayern trainer freshened up both his attack and defense with a parallel double switch in the 69th. Sané came on for Coman on the wing while Javi Martinez relieved Jerome Boateng at center-back.

Martinez shut down what was easily the best assault produced by this constellation in the 75th with an excellent header away. Manuel Neuer also remained alert with exquisite net-minding actions in the 70th and 76th. Just when it appeared as if Favre's men could finally punch through in the 80th, a dispossession out side the box initiated a lightning-quick two pass counterattack that ended with Sané tallying.

Match Flow: 80th minute to full-time

The stunning counter-punch unfolded so quickly that the dazed BVB barely had enough time to process what had hit them. Haaland did pull a goal back in the 83rd, compensating for his overall poor performance with no fewer than four immaculate touches on a shockingly good goal for which he deserves all the credit.

Apart from that anomalous occurrence, the Schwarzegelben could aptly be desired as down for the count. A rapid punch directly to the solar plexus left them totally deflated. Haaland's belated effort could not inspire. Bellingham in particular could summon no more energy or ideas. To be fair, there was some urgency to the late play. There nevertheless wasn't any ingenuity.

Some may be frustrated by this result. Bayern wins again. Blasé, blasé. All unfolds as it usually does. German football fans must reckon with the same story; this time without fans no less. How horrible. The same package arrives at one's door and it doesn't even come topped with a charming bow.

In truth, we learned that Favre's Dortmund aren't necessarily as far off the mark as one might think. It's impossible to project just how long the advancing arc of players like Reyna and Bellingham will take. They may or may not be ready to challenge for the title this year. One can see that, all criticism aside, Favre has laid out a specific developmental path for both of them. It's also quite apparent that he's prepared to allow them to serve as the focal point in pivotal fixtures.

In any event, Reyna and Bellingham progress decently enough to expect that there will be an entertaining title race this year. Moreover, the Kimmich injury serves as an enormous blow for Bayern. Goodness, that is huge piece of news for both club and country. The German record champions will not run away with the league this year. We definitely learned that this weekend.

Hope for a competitive season lives, as does the hope that fans can return this spring.

Concluding Thoughts: Football and Politics

Some week this was. Exhausting. Draining. Long-deferred relief. Even the most ironclad of football diehards will concede difficulties focusing on the fixtures. A five-day-drama of US Presidential Election returns left much of global import hanging in the balance. To aim the bulk of one's attention on, of all things, a game seemed trivial at some times and downright superficially petty at others.

In the Bundesrepublik, it's worth noting ultra-societies typically do not separate their politics from their football. Moreover, 30 years after re-unification, the political bent of those in the West still skew left while many of in the East have taken a hard right turn. Such an unfortunate reality doesn't bode well for the prospects of reconciliation; something those of either side of the political spectrum can agree is desperately needed. The world attempts to turn the page on a turbulently divisive chapter whilst humanity remains more insular and isolated than ever.

Neither a profound political point nor a bland pedantic message concerning football are forthcoming in this space. Lovers of the beautiful global game know full well that ours is a sport that frequently brings out the most positive anti-hate messages and the ugliest possible discrimination from the same sources. Last season in Schalke stands, for instance, the protests that forced out Clemens Tönnies came from the same seats that shamelessly harassed Hertha's Jordan Torunarigha; the same seats that heckled Youssoufa Moukoko last month.

All is not necessarily well in a world with so many burning fires of division still left to be stamped out. At least there's some progress, not to mention plenty of more great football after an especially tiring week finally draws to a close.



Related stories