Bundesliga Tactics Talk: Round Five
By Peter Vice @ViceytheSS
Monday Bundesliga fixtures remain very much unloved by the German footballing public. Widespread fan protests eventually led to their removal after the league's current contract expires at the end of the 2020/21 campaign.

For now, and perhaps well into the future thanks to the global pandemic, they remain a fact of life. Footballing enthusiasts had to wait until Leverkusen-Augsburg wrapped on Monday evening for the fifth round of this year's action to be complete.

That leaves this week's tactical column with four days of football to catch up on.

Never fear as it's all here on Bulinews!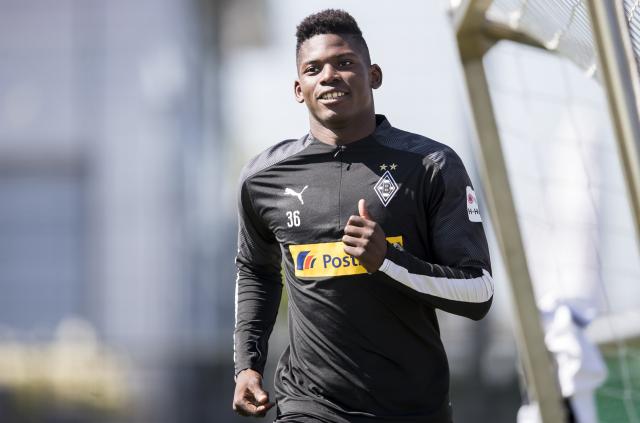 | | |
| --- | --- |
| Breel Embolo. | Photo: Borussia Mönchengladbach |
League-Wide Talking Points: Round Five
Developments on the Kölner right

A second consecutive draw for the Cathedral City club sees them move up to the edge of the relegation zone. The comeback draw against Stuttgart counts as something of a tactical victory for embattled trainer Markus Gisdol. The former Hoffenheim and Hamburger SV coach found a way to clog Pellegrino Matarazzo's midfield and consistently snuff out chance creation.


In a rather interesting move, Gisdol swapped out right back Kingsley Ehizibue for winger Dimitrios Limnios in the 17th minute. An offbeat arrangement in which Limnios and fellow right-winger Marius Wolf took turns covering the right fullback position ensued. Strangely enough, it worked rather well as die Geißböcke were able to pull some decent attacks off the right side over the course of the match.

Sadly, this does not herald the signs of a revival. Köln face Bayern next. A rough stretch beckons after it was revealed that strikers Sebastian Andersson and Anthony Modeste are hurt. Horst Heldt did an excellent job ensuring that this team possesses plenty of wingers. Without a true no.9, however, they look to be doomed.

Schalke tactical insanity

The Revierderby being a fixture that featured an US international, more nuanced coverage will come in tomorrow's "Americans" column. Here, one must mention Manuel Baum's latest puzzling mess. Defenders Salih Sané, Malik Thiaw, and Matija Nastasic directly buttressed Omar Mascarell, Bastian Oczipka, and Killian Ludewig in what looked like some variant of a 3-3-2-2.

Candidly, it smacked of pure desperation. Not a single player on the pitch merited something above a "D-Level" (or "5,5" for Europeans) grade. The German sporting media fumbled desperately for some sort of positive to take from Schalke's performance. The efforts, perhaps born out of a natural inherent inclination to render a contest somewhat balanced, fell on substitute Can Bozdogan.

The 19-year-old picked up a few glowing reviews in the press. This writer cannot comprehend why. Bozdogan appeared as wretched as the rest of the team in this derby to forget. A lone Schalke fan amidst 299 Dortmund members wandered onto the pitch at Signal Iduna park at one point. Baum might have considered signing him up as he did about as much as the paid players on this particular eve.

Santamaria's dip for Freiburg

Christian Streich's Schwarzwälder have thus far done a fairly decent job conforming to their early-season overachievement expectations. The Dortmund match excepted, they've drawn thrice and won once. It feels like a perfectly normal autumn for the Breisgauer.

Signs of a dip are nevertheless apparent after the 1-1 draw with Union Berlin. Crucial midfield cog Baptiste Santamaria had a woeful match characterized by amateurish passing errors, insecure touches, and difficulty properly shielding the ball. Streich yanked him in favor of Lino Tempelmann in the 61st.


Striker Nils Petersen and winger Rolland Sallai also played very poorly. Streich almost never criticizes his players by name in the press, but couldn't help but single several of them out following the disappointing result. A rough stretch against Leverkusen and Leipzig comes next. The team requires at least one draw from these matchups to avoid slipping into dangerous territory.

Bosz makes it work

Reports of Leverkusen's demise have evidently been greatly exaggerated. Even without Patrik Schick and Charles Aranguiz, Peter Bosz silences his critics. A simple 4-1-4-1 run by Julian Baumgartlinger proved more than enough to convincingly stamp out Heiko Herrlich's Augsburg 3-1 at the BayArena. The latest victory comes on the heels of that six-goal explosion in the Europa League on Thursday.

Die Werkself persevered despite losing yet another right back, this time Lars Bender, to injury early on. Lucas Alario netted a brace with enough chances to score possibly two more were it not for the post. While the the third goal was an empty-net finish, keeper Lukas Hradecky very much deserved to assist Leon Bailey and Moussa Diaby on their 90+4 run to the unguarded line.

The Leverkusen keeper, perhaps one of the most underrated net-minders in the Bundesliga, finished off after another superb match with the final clearance.

The Burning Questions: Round Five
Did Julian Nagelsmann use sensible tactics?

Yes and no. A 4-2-3-1 with Emil Forsberg situated directly behind Alexander Sørloth certainly made more sense than what we witnessed last week. It still didn't work terribly well as it took die roten Bullen nearly thirty minutes to score against a Hertha Berlin side reduced to ten men.

When one takes into account, among many other injuries, the Lukas Klostermann absence, another midfield deployment for Benjamin Henrichs served as an expedient solution. The attempt to pair Yussuf Poulsen with Sørloth and move Henrichs up to the right wing in place of Justin Kluivert was much more slippery.

One truly never knows with Nagelsmann. His tactics remain about as predictable as his wardrobe selections. It's always hit or miss.

Is it time for Adi Hütter to ditch the 3-5-2?

A Bayern drubbing never fails to humble. Vertical axis partners Makoto Hasebe and Daichi Kamada could get nothing going all afternoon. That pair turned in their worst performance of the season; an outlying anomaly which isn't likely to be repeated. A lot of the defensive floundering resulted from Hütter's decision to give young Lucas Silva Melo ("Tuta") a starting XI debut in place of injured captain David Abraham.

Assuming Abraham can't make it back soon, Stefan Ilsanker can move back if need be. Timothy Chandler can also slot in. A back-four would still constitute the better option as either Chandler, Almamy Touré, Danny da Costa, or even Erik Durm can work as the right back.

The bottom line should be that Hütter needn't remain wedded to a specific system no matter how smoothly it is capable of performing. Critical injuries prompt comprehensive re-thinks, not an inelegant plug-in.

Does Bielefeld exist?

Nice little inside joke for German readers here. Others may require some context. One of the country's most beloved satirical parodies celebrated its 25th anniversary last year. The "Bielefeld Verschwörung" ("Bielefeld conspiracy") originated back in 1994 when a bored Computer Science major at the university of Kiel propagated the notion that the town of Bielefeld actually doesn't exist.

This was, of course, based on the fact that your average German has never been to Bielefeld, knows no one from Bielefeld, knows no one who has ever been to Bielefeld, and has no earthly reason to ever travel to Bielefeld. Colorful deep-state conspiracy theories crept up over the quarter of a century during which Germans amused themselves by poking fun at the bland, nondescript, and forgettable town.

Indeed. Those were the days; the days when deep-state conspiracy theories were understood to be a joke.

Returning to the football, it does, in fact, appear as if Bielefeld shall cease to exist in the German top flight soon. Here's what we saw from head coach Uwe Neuhaus this weekend in the loss to Wolfsburg.

Lineup—Arminia Bielefeld—Match Five (4-5-1)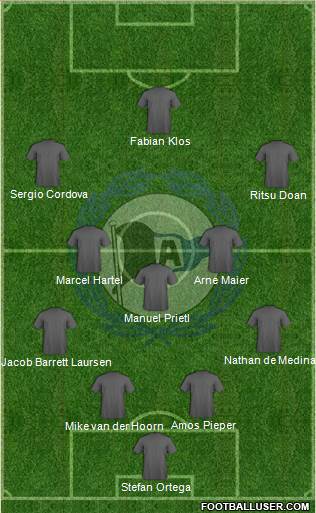 Ugh. A certain talking point cannot be reiterated enough. This team needs a top-flight attacker. Beyond that, there exist a myriad of other problems

How can this team press?

It can't. The graphic aims to accurately illustrate how far back most of the outfielders find themselves positioned. Fabian Klos rarely even ventures into the box. He literally maintains no support from his flankers, who must play catch-up even when a counterattacking opportunity presents itself.

The so-called "lead striker" found himself stranded for most of the afternoon, finishing with fewer than 20 touches in this observer's count. It turned out to be a disastrous homecoming for one-time Wolfsburg youth academy prospect Klos, who still awaits his first top-tier Bundesliga goal through five rounds.

Is there a defined role for Arne Maier? 

In time, perhaps. At present Neuhaus appears preoccupied with moving Ritsu Doan into more advanced positions until he can grow accustomed to an attacking role. The trainer also has his hands full figuring out a way to get a stalled Sergio Cordova into gear.

The Hertha prospect, loaned out to Bielefeld three weeks ago on a developmental assignment, had a truly terrible debut. Perhaps unaccustomed to playing in such a crowded midfield, he wandered around disoriented and shipped out five wayward passes in only 45 minutes on the pitch.

Can the backstop save them?

Keeper Stefan Ortega, had a nightmare match, committing an astounding 15 passing errors out of the back, most notably in the case of the second VfL goal. Shaken and rattled, he continued to look very shaky on his feet for the duration.

The dual-heritage man from Kassel had hitherto been one of the team's bright spots. A good keeper can always keep a bad team from getting relegated. A good keeper struggling with his confidence, however, generally means a drop to the bottom of the table.


How are the Kraichgauer holding up?

An important question. Ever since the Bayern upset in round two, it's worth keeping tabs on a team with a demonstrated capacity to surprise. Unfortunately for Sebastian Hoeneß & Co., fate conspires against them. Here's what the famed trainer could make of his reduced squad in the weekend draw with Werder.

Lineup—TSG Hoffenheim—Match Five (3-4-3)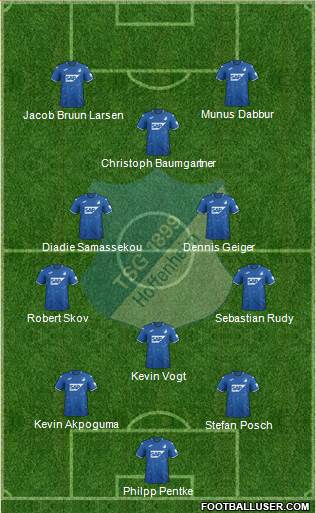 There's talent in that attacking third and it wasn't necessarily the worst idea to deploy Christoph Baumgartner as a false nine. It still yielded the type of choppy football that left one with an ashy taste on the palette.

The primary issue stemmed from the constant shifting between a back-three and back-five. This was one of those constellations that simply couldn't make up its mind what it wished to be.

Hoeneß, through extenuating circumstances, finds himself far removed from some of the early season brilliance.

Weekly Tactical Focus: Emergence of a "Dark Horse"

Last week's assertion that Marco Rose's foals appeared well on their way might have seemed a bit premature. Though many of Gladbach's returning players produced quality goal-scoring chances in the round four draw with Wolfsburg, the team looked ponderous and ill-coordinated for long stretches of the match.

Then came Wednesday's Champions League encounter. Apart from Jonas Hofmann's moments, the squad appeared fairly flat throughout most of the fixture. A dearth of ideas (and often times energy) characterized their play.

This writer will nevertheless stand by the statement. Trainer Rose's mild obsession with rotating players isn't baseless. The 44-year-old former Mainz star must contend with an exceptionally difficult UCL draw. He heads into a highly congested schedule adroitly aware of the long-range planning necessary to obtain positive results in both the league and European club tournament.

Evidence of this exists when examining his tactical choices against his former club over the weekend. Admittedly, the selections do exhibit an overly cautious bent. Solid enough plans were still discernible.

Lineup—Borussia Mönchengladbach—Match Five (3-4-3)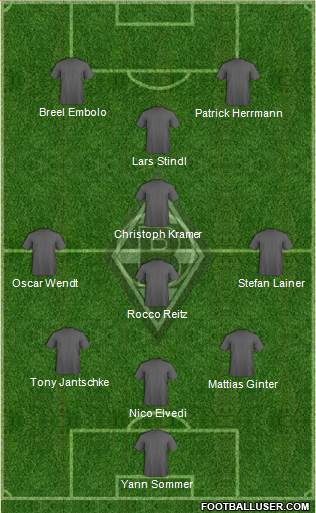 A stretched midfield diamond to protect the debutant

Rose rested most of his attacking corps ahead of Tuesday's UCL Real Madrid matchup. The new man is Rocco Reitz; an 18-year-old defensive midfield specialist called up from the youth ranks a couple of days ahead of this match. In order to accord Reitz as much space as possible, Rose staggers the back-three with Nico Elvedi working from a slightly inverted position.

Another significant system shift sees Oscar Wendt and Stefan Lainer spread out wide to function as forward wingbacks. Talismanic captain Lars Stindl takes the ten role. In this case it happens to be a rather static one with Christoph Kramer remaining a step behind the front two axes.

One-touch play on the charge

Whenever Gladbach were fortunate enough to have time to set up an attack, the underlying plan revolves around a 3-4-2-1 shape re-format. Lainer, Wendt, Reitz, and Kramer all engage in a cycle rotation. Patrick Herrmann tucks underneath to keep a horizontal pairing with Stindl. Breel Embolo serves as the target forward.

When Gladbach could get this approach rolling, it did indeed produce some attractive football. The midfield diamond always had supporting options, making it easy for whoever saw the ball roll into their path to immediately first-time it to someone else. For the most part, leftward triangulation would draw in the Mainz coverage and allow Lainer to push up unmarked.

Mainz: Applying basic pressure

For all of the ongoing chaos at the Bundesliga's current Pfälzer-Verein, there remains enough inherent talent in the squad to piece together something dangerous. That isn't to suggest that interim trainer Jan-Moritz Lichte invested a great deal of time in a tactical draw up.

The caretaker coach kept it simple for his talent.

Lineup—FSV Mainz 05—Match Five (4-2-3-1)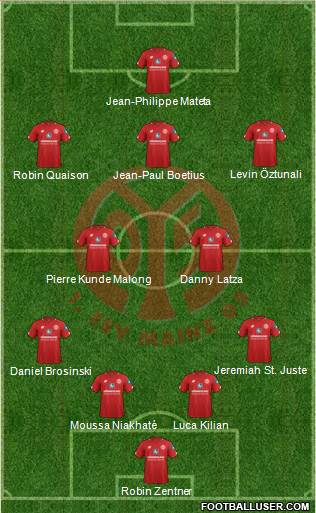 A flat auxiliary axis

Important here, we see how smooth a line the three supporting attackers are expected to maintain. One obvious concern for Lichte was obviating the potential for offside, particularly if the returning Quaison tended to drift central.

The manner in which four Mainz players would often swarm centrally into the box appeared a deliberate tactic. Both of the holding midfielders and four players in advanced positions maintained a slight advantage over their counterparts with respect to physicality.

An uncomplicated "crowd the box" strategy emerged. Lichte would rely on his men to win a majority of the ground challenges outside the 18 and hope for the best.

Match Flow: 1st to 16th minute

A visibly nervous Reitz turned the ball over twice in a fit of early jitters. He seemed aloof in following the play, perhaps adjusting a bit to the fact that he suddenly found himself on a real Bundesliga pitch. The 18-year-old knocked a ball directly into Quaison's path in the 2nd and only a inch-perfect sliding tackle from Elvedi prevented the Swede from scoring.

Mainz keeper Robin Zentner also made some early mistakes in a performance reminiscent of his form last year around this time; not to mention the infamous November 2017 error. The 25-year-old keeper looked very shaky on his feet.

Gladbach were nevertheless unable to capitalize. Neither side appeared very sharp in the opening minutes. The foals wasted several good set-piece chances while the Nullfünfter couldn't find the quality touch during a 9th minute mess inside the box that featured three failed clearances from their guests.

After the 10th minute, the Rheinhessen hosts appeared mostly content to sit back and let Rose's side keep the ball. The visitors strung together several nice possession spells between the 10th and 14th, though they struggled to keep their shape at times.

Stindl opened the scoring in the 15th. Kramer hit Lainer with a wonderful arcing ball out to the left. The talented Austrian took his time and hooked a ball into the danger area with his left foot. Embolo headed back to the captain for a quick finish.

Match Flow: 16th to 23rd minute

Confidence-infused Gladbach put together a few more decent possession sequences after the goal. The momentum began to shift the other way when Quaison won an important duel in the 19th. Jean-Philipp Mateta touched on a Quaison ball to Jean-Paul Boetius, who then ensured that Yann Sommer would get his first meaningful action of the afternoon with a short-range effort.

Pierre Kunde Malong got some drives working from his central midfield position in subsequent plays. Reitz started to miff up his positioning assignment, dropping a little too far back to open up some space for the opposition.

The Mainz equalizing counter began with a spot of bad luck for Lainer. Some uneven sod on the pitch causes a good ball to skip away from him. Less than a minute later, a hard-battling Quaison did extremely well to throw an effort on goal after emerging victorious from multiple battles.

Mateta was on hand to toe-in the rebound of Quaison's blind shot after it ricochetted off the post.

Match Flow: 23rd minute to half-time.

Mainz took advantage of the momentum swing to open up their own passing game. Gladbach were abruptly back on their heels defending. What offensive impetus Rose's XI did produce turned out to be far too predictable. Wendt rounded his man well enough in the 26th, but it was far too obvious when he attempted to switch for Lainer.

Boetius plucked a nice midfield ball in the 28th, only to fail to thread the needle to Quaison. Levin Öztunali made the same mistake in the 34th. At the other end, Lainer ran into a wall of coverage in the 30th and Herrmann (unquestionably after some brilliant solo technique) hit the crossbar in the 31st.

The Rheinhessen would still emerge the winner from the back-and-forth. Mateta officially snagged a brace with an outrageously good finish off the turn in the 36th. Rose's system began to break down and the level of play degenerated.

A better side than Mainz might have commenced running up the score at this point. Instead, Quaison and Öztunali wasted good looks at goal. Zentner tried to gift Gladbach a soft goal, concluding the half with four dangerously shortsighted passes out of the back. The foals couldn't take advantage

Herrmann failed to get his colleagues involved during a promising run at the stroke of halftime.

Match Flow: 46th to 60th minute

Rose made no alterations at the half. Play from his original XI nevertheless improved significantly after the restart. Embolo's ball win in the 50th enabled both Herrmann and Kramer to force Zentner into back-to-back acrobatic saves. Quaison got his own fine effort off in the 52nd.

The substitutes began pouring on in the 54th. Rose wisely spaced out the introduction of four new players. Such patience demonstrated an innate belief in his team's ability to come back. Calmly and steadily, he re-ordered his squad back to their more familiar tactical arrangement.

Marcus Thuram and Alassane Plea came on for Stindl and Jantschke in the 54th. Jonas Hoffman and Florian Neuhaus would replace Reitz and Kramer six minutes later.

Lineup—Borussia Mönchengladbach—61st minute (4-2-3-1)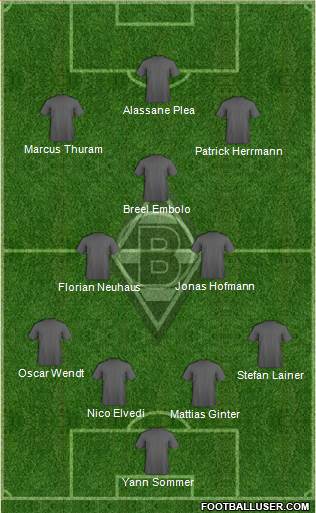 We return to the 4-2-3-1. Hofmann and Neuhaus pull the midfield strings in their double-six set-up. Embolo moves back to a cushioned ten-spot while Thuram takes up his preferred role on the left. Lainer and Wendt settle into the fullback positions.

Match Flow: 61st to 82nd minute

It's worth noting that Rose's staggered personnel reaction were not without risk. Öztunali nearly opened up an even greater lead for the Pfälzer in the 57th. Neuhaus' first involvement in the 62nd turned out to be a hard tactical foul to stop Mainz from breaking away on a rush.

Lichte's men engineered two stellar attacking sequences in the 63rd and 64th. While the Gladbach players got their positioning sorted out, Mainz substitute Jonathan Burkhardt could of (and most definitely should have) propelled his side to a 3-1 lead in the 69th. The fresh-legged introduction was so shot full of adrenaline that he missed his wide-open teammates on a penetrating forward run.

Lichte initiated steps to turn his formation into a 4-4-2. Loads of traffic inside the box precluded Lainer from doing much with a cross in the 72nd. New right fullback Jeremiah St. Juste peeled off a great counter run in the 74th. Gladbach barely recovered in time to shut him down.

Finally, the foals punched through with a well-coordinated attack of their own in the 75th. Thuram earned a handball penalty off of his close-range shot. A close decision, but ultimately the correct one. Hofmann converted in the 76th.

After playing four minutes indisputably with the upper hand, Hofmann very nearly set up Matthias Ginter with a fine free kick in the 81st. The German national team center-back didn't miss by much. One minute later the pair would successfully combine off a corner. Ginter's delicate header would prove spot on for an 82nd minute restored Gladbach lead.

Match Flow: 82nd minute full-time

Lichte's own tactical adjustments were mildly interesting. Twenty-nine-year-old South Korean international Ji Dong-Won came on in the 80th. The striker, a horrible transfer flop from 2019, settled in behind Boetius on the left in a 4-4-2. The Taeguk attacker actually looked healthy and fit for the first time in a carnival club jersey.

It ultimately made no difference as this particular type of 4-4-2 accorded the opponents all the space in the world to amp up their game. Plea and Lainer tested Zentner again in the 87th. After those two chances, the Rose 4-2-3-1 collapsed in to effectively suffocate the game. Some credible challenges from Won wouldn't stop them.

Some may say that Rose dodged a real bullet with this tennis come-from-behind victory. This writer views it more of an efficiently managed set off moves indicative of a mature trainer who thinks well into the future.

One mustn't forget that Gladbach actually topped the German Bundesliga table between rounds 7 and 15 last season. While few ever believed that they could sustain it last year, they remain well-poised to put together a very strong second-half of this year's campaign, particularly after Joe Scally arrives in January.

True, it's been a less-than-inspiring start for the foals. Regardless, the simple fact that the club retained every last one of the actors who helped them dazzle early last year means that they should start clicking at some point. The "fantatische fohlen" shall return as this year's appropriately symbolic "Dark Horse Candidate".

Concluding Thoughts: The "man without a country"

Finally this week, a few words on still another 2014 German World Cup hero banished to the sidelines. The unfortunate case of Mesut Özil occupies  the minds of Germans, who were deeply disappointed to learn that Arsenal trainer Mikel Arteta took his former teammate off his team's active roster.

The move could very likely signify a permanent absence from football for the 32-year-old. Commentators have difficulty accepting this. While some of his physical gifts may be diminished at this stage of his career, a highly creative player like Özil possesses the skills to keep contributing well into his mid-to-late thirties.

Official word from the Gunner head coach labels the move a strictly "footballing decision". This is almost certainly untrue. A confluence of outspoken political actions remain the more likely culprit. Özil's statements on Chinese Uyghur suppression play a role. The incident outside his home last year put him on the blacklist., His refusal to take a COVID-related pay cut didn't help either.

When asked to forgo his wages during the lockdown period, Özil legitimately asked that any pay cut be tied to a promise that Arsenal would not layoff staff members. To everyone's dismay, the club did layoff 55 staff members even after players took a cut in pay. They then proceeded to spend exorbitantly on the transfer market.

The last straw likely came when Özil offered to pay the wages of the club's furloughed mascot, Gunnersaurus. Club administrators likely decided that the German international consistently served as a distraction they did not need. Özil's new U23 trainer, fellow World Cup winner Per Mertesacker, has publicly emphasized that the issue with Özil is not his form.

In the coming weeks and months, there will be much speculation about a potential move. It seems very unlikely. For Özil, a transfer wouldn't make sense from either an personal or fiscal standpoint. North London has been his adopted home for the past seven seasons. His contract still guarantees him the highest wages of his career. Tearing it up would be an admirable, yet ultimately financially irresponsible, move.

The controversy surrounding his resignation from the German national team, along with the famous Recep Tayyip Erdogan photo, left him disowned by Germans on both sides of the ideological spectrum. In retrospect this seems incongruous, given that Özil's philanthropic activities should make him compatible with the inclinations of many German footballing ultras.

A story such as this one screams out for a better ending than this. For the moment, however, it appears as if there shall be no homecoming for a "man without a country".



Related stories