Glasner singles out Chandler after loss:
"We agreed that we'd play more reserved on the right."
By Peter Vice @ViceytheSS
Of all the Bundesliga matchday 8 quotes, Eintracht Frankfurt head-coach Oliver Glasner's diatribe following his team's latest loss garnered the most attention in the Bundesrepublik.

The SGE's new trainer relentlessly criticized his players for their poor performance against Hertha BSC; seemingly singling out one in particular for not following his instructions.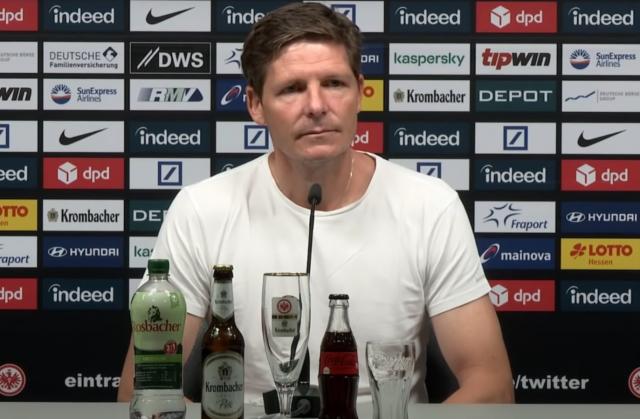 The pressure builds on Oliver Glasner after Saturday's loss to Hertha at home left his team in 14th place in the Bundesliga table. An embarrassing loss in the opening round of the DFB Pokal and a paltry total of two wins in 11 competitive fixtures certainly doesn't constitute the start Glasner had been hoping for with his new team.


"Maybe I'll have a drink today," Glasner told reporters after the latest loss, "Then maybe something will come to me."

Glasner soon made clear that he had no further interest in answering questions about his ever-shifting tactical constellations.

"It's to the point that I find this question amusing," Glasner said in response to an inquiry about his latest 3-5-2, "I doesn't matter for shit what system we play if we don't do our jobs. If the sixes take five touches in midfield, you lose the ball in the Bundesliga. Whether we play with one, two, or six sixes, it doesn't matter for shit!"

Glasner has already lost his cool when discussing tactics before. Asked about a three-man, four-man, or five-man back-defensive-chain, the 47-year-old once exclaimed that his defensive "couldn't get it done with a bicycle-chain."

The Austrian was critical of his defense again this time.


"We started in a 3-4-3 just like last year, then I switched to a back-four, and a back-five," he recounted, "they did well against Bayern, but today they were bad again."

While insisting that he himself did shoulder some of the blame for the loss, Glasner also specifically said that his tactical directives had not been followed on Saturday.

"I saw nothing at all of what we set out to do," he said, "We agreed that we would play a little more reserved on the right, but we were much too high on the outer lanes. We didn't do that. The three defenders were too often alone and they just didn't get it done."

With this statement, it was absolutely clear which player Glasner was referring to. Even if he didn't mention him by name, the SGE gaffer was clearly disappointed with Timothy Chandler on the right-wing. The highly respected and ever passionate Frankfurt native was supposed to hang back and assist the defense while Filip Kostic worked an advanced stagger.

Glasner pulled Chandler at the break for this failed execution. When discussing the second half, however, Glasner appeared to contradict himself somewhat by saying the team was then overly reliant on Kostic.

"In the second half, from my perspective, it was too one dimensional," the embattled trainer added, "We just played out to Filip Kostic and expected that something would arise from one of his crosses. That's just not enough."



More about the match