Union Berlin announce official return of Christmas concert
By Peter Weis @PeterVicey
Following a two-year COVID-hiatus, one of the greatest spectacles of the German footballing fan scene is set to return in less than 50 days' time.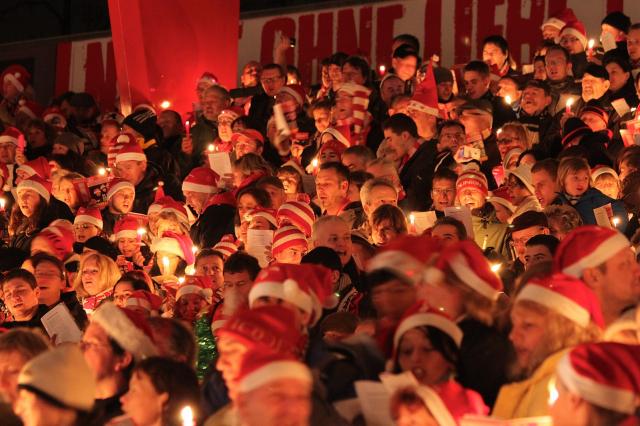 | | |
| --- | --- |
| The Union Berlin Christmas Concert | Der Robert CC-BY-SA 2.0 |
Bundesliga table toppers 1. FC Union Berlin announced that their famed Christmas concert at the Stadion An der Alten Försterei would be returning this year. The Köpenick-based club made it known on their official website and all social media feeds that this year's in-stadium caroling would be set for 7 p.m. on December 23rd. 


In its official statement, the club noted that it was "looking forward to a reflective evening by candlelight and the traditional program." The last time Union members were allowed to congregate inside the stadium took place shortly before the onset of the global pandemic in December, 2019.

The Union Christmas concert has been a proud tradition within the club since 2003. As the club became more firmly entrenched in the 2. Bundesliga during the 2010s and further refurbishments/upgrades were made to the stadium, the number of attendees at the annual affair swelled to around 28,000 patrons. 

With demand sure to be high for this year's return, the FCU announced that all club members could register for a lottery system. Places are set to be allocated between November 11th and 14th. Winners will have the opportunity to claim one free ticket and purchase another.

The notion of bringing fans into a Bundesliga stadium for a Christmas concert originated with Union. In has nevertheless been coopted by other Bundesliga clubs in recent years. By far the largest club to attempt to emulate the idea was Borussia Dortmund, who hosted such an event in 2018. 


#Infotweet Der 1. FC Union Berlin lädt am Freitag, dem 23.12. zum Weihnachtssingen ein. Das Losverfahren startet kommenden Freitag (11.11.).#fcunion | 😘 @StadionAdAF

— 1. FC Union Berlin (@fcunion) November 4, 2022
Related stories