Bundesliga Tactics Talk: Round 29
By Peter Weis @PeterVicey
An absolutely wild weekend over on the German Bundesliga beat leaves us with new league-leaders with just five matchdays remaining!

The title race could not be hotter after Borussia Dortmund finally managed to take care of business and overtake record champions Bayern München after Thomas Tuchel's Bavarians lost.

Our customary comprehensive weekend recap feature covers that along with everything else with coverage of all nine fixtures. Bayern, Mainz, Hertha, and Union Berlin receive draw-ups this time.

The "tactical focus" section rounding out the column belongs, appropriately, to Dortmund's big win over Frankfurt.

Come along for another journey-of-intrigue across the Bundesrepublik!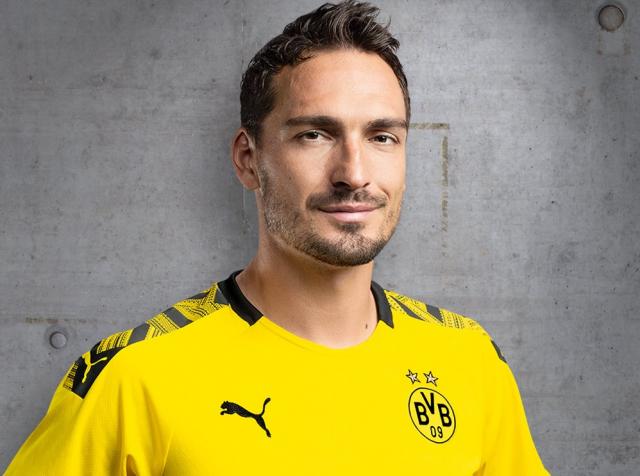 | | |
| --- | --- |
| Mats Hummels. | Photo: Borussia Dortmund |
Bundesliga Tactical Banter: Round 29
Kovac finally hits the curve

With all the Niko Kovac bashing that's been going on in these columns as of late, it's only fair to finally credit the VfL trainer with finally getting his tactics right. Wolfsburg's gaffer found success against Bochum this weekend by returning to the simplistic roots that helped his team get off to such a good start way back at the start of play at the turn of the calendar year. The return of VfL captain Maximilian Arnold naturally helped. Arnold could pincer lock a 5-4-1/4-1-4-1 behind an eight pairing of Felix Nmecha and Mattias Svanberg. Patrick Wimmer and Jukab Kaminiski were back starting on the wings.


Wimmer, Kaminski, and Svaberg all registered tallies before the first half was out. The visiting Lower Saxons built an insurmountable 3-0 lead against a hosting side that hadn't played all that badly, yet couldn't locate the decisive finish in front of goal. Kovac maintained enough of a cushion to get Omar Marmoush and Joshua Guilavogui on for Wimmer and Sebastiaan Bornauw on a pair of like-for-likes. With a little bit of luck, Svanberg was able to complete a brace and later substitute Luca Waldschmidt also got on the scoresheet in the 5-1 victory. Germany's green company team is back in the European hunt thanks to the win.

In this particular case, the xG (Wolfsburg 3.75, Bochum 3.52) does full justice to the losing side. VfL trainer Thomas Letsch remarked afterwards that the result "felt odd". This was because the Revier hosts struck the post twice en-route to out-shooting their guests 24-15. Two of Wolfsburg's goals deflected in. One came off a Jonas Wind failed penalty conversion. Kevin Stöger and impromptu right-back Jordi Osei-Tutu were directly responsible for three goals via failed clearances and marking errors. Osei-Tutu's coverage at an unfamiliar position proved so poor that Letsch took him off on 24 minutes after the second WOB goal.

Bochum have been a bit lucky in recent weeks in that Letsch's plug-ins along the defensive line haven't caused the 1848 trainer any serious problems. Whether it was Dominique Heintz coming in cold to play left-back or Kostas Stafylidis slipping in on the other side with ease, matters have just gone far too smoothy for Letsch personnel-wise at the back. It could get worse as natural position players Danilo Soares, Erhan Masovic, and Cristian Gamboa - their seasonal overachieving concluded - are now all falling back down to earth. The Bochumer front three, especially Philipp Hofmann, played well enough on this day. The back-line could still be the undoing.

Schalke get steamrolled

Yeeouch. Freiburg's "Sunday, Sunday, Sunday" 4-0 demolition derby of Thomas Reis' Königsblauen was painful to watch at times. The marketing reference embedded in the previous sentence constitutes something of an antiquated reference to how Sunday Monster Truck rallies used to be advertised in the states. The first half had the feel of just one such event, with Michael Gregoritsch rising high on a set of oversized tires to crush a set of old decrepit gas-guzzling set of tires. It could have even been much worse after 45 minutes. Vincenzo Grifo struck the post. Lucas Höler and Christian Günter nearly scored in the very definition of a completely one-sided affair.

Reis pushed the panic button at the restart, being perhaps a mite harsh on his hard-working lads Moritz Jenz and Dominick Drexler. The idea was to introduce Michael Frey alongside Simon Terodde in a 4-4-2. Whatever the idea happened to be, Alexander Schwolow invariably gave up the soft goal we all - despite his tough talk - expected him to. Ugh. It just had to happen. No amount of polite encouragement from his former youth team trainer could stop Schwolow being Schwolow four minutes into the second half. Oh the humanity. Schalke's treacherous stretch run gets off to the worst possible start.

Best to move on to the more positive news. Christian Streich's Breisgauer - thanks to the win and the Leipzig loss - receive quite the revival in their quest for Champions' League qualification. This Lucas Höler-Michael Gregoritsch "service striker" partnership really begins to bear fruit. Thanks to his brace in this one, Gregoritsch is on a ten-goal season. The Austrian hasn't hit such production numbers since first joining Augsburg for the 2017/18 campaign. Höler now has five tallies in an injury shortened campaign that only first saw him feature at the beginning of the Rückrunde. Do we have a powerhouse tandem developing?


It actually seems so.

The "Spiegel Specials": Round 29
Mainz-Bayern (2:6, 3:1)

We've little choice but to expend a considerable amount of time here. Not everyone took the observations of Bayern's frequently lethargic play conveyed in last week's "tactical focus" section seriously. The columnist feared that the German giants had run straight into a psychological wall. As is often the case when such things occur, the subject continues to smash its head against the wall in a stubborn and futile rage that shows no awareness of the situation. This is regrettably as true in football as it is in life. Thomas Tuchel's charges are charging straight into a self-erected retainer. The head-coach himself admits that they are "struggling with themselves". 

What unfolded on Saturday had an unfortunate familiar ring to it. The record champions dominated proceedings in the early going, racking up upwards of 80 percent possession in the first half. They nevertheless couldn't close the game out and were made to pay when hosts Mainz staged a three-goal comeback win. The "FCB Crisis" cannot be denied now. Acknowledged by Tuchel himself, it's the "FCB Soap Opera" that's to blame. Too much going on here. No one can approach their football with a clear head. Fumbling around for words and phrases during his post-match presser, the newly installed Bayern trainer must have used the word "drained" 2,457 times.

Pure mental and physical exhaustion. That's what we're witnessing. The chronicler can draw up the tactics boards and call attention to a few specific players, but it's more of a "domino effect" within the team itself. Everyone is making each other worse at the moment. From front to back, the mistakes snowball. It heads all the way back to keeper Yann Sommer, who despite obviously not losing height from match to match, looks increasingly like a dwarf in goal. Break out the "Benjamin Button" analogies if one must. The team grows younger, greener, and shorter with each passing match. We've not seen something like this in years.

Lineup—FC Bayern München—Match 29 (3-4-3)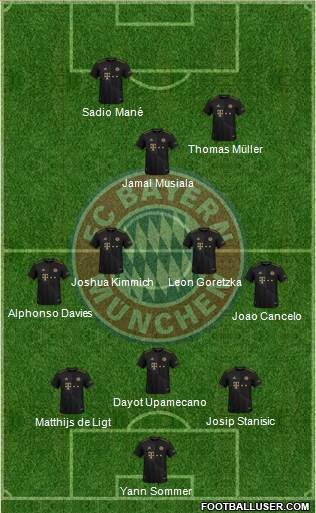 Fully sensible tactics from Tuchel here. A tight back-three with a slight forward pivot for Dayot Upamecano should have worked just fine. Joao Cancelo and Alphonso Davies on their natural sides offered up enough protection to prevent lapses at the back. Joshua Kimmich and his preferred midfield partner occupied near-perfect positions to keep both the attack and counter rolling. The Jamal Musiala-Thomas Müller-Sadio Mané "step stone" provided a serviceable roadmap straight into the box.

The early injury

When Davies succumbed to an early injury, Cancelo had to switch over to the left whilst the disaffected Noussair Mazraoui took over on the right. The Moroccan actually enjoyed a rather good game with plenty of joy and space on that right-hand-side. Mazraoui certainly did better than his direct competitor on both sides of the ball. Cancelo was also good, providing the assist on Mané's opener and making about as many useful incisive runs forward as he did last week.

It was all going swimmingly enough until some revised tactics from Nullfünfter trainer Bo Svensson after the half began forcing Bayern into midfield turnovers. Kimmich, in particular, had difficulty hanging onto the ball. Müller sent multiple passes stray. Buoyed by a few half-chances just prior to the break, Svensson's Rheinhessen immediately began pressuring the Bavarians after the restart. It took far too long for Tuchel to react. What we beheld later on came too little, too late.

The later subs

Müller and Kimmich made their own cases for being subbed off with their errors. It still came as a surprise to see what one associates with a "leadership duo" taken off the field. Tuchel might have held onto the reasonable assumption that the pair would recover. That is understandable. In any event, Kimmich and Müller exited in the 75th; just a few minutes after Leandro Barreiro had given the Pfälzer a 2-1 lead. Mathys Tel and Ryan Gravenberch were unable to affect the game in this.

Lineup—FC Bayern München—76th minute (5-1-4)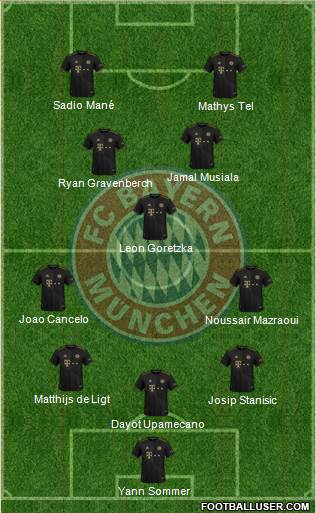 Everything made perfect sense on paper, right down to Musiala working a subtle stagger with Gravenberch. Somehow, the shock couldn't be shaken off. This produced absolutely zilch. The mighty German giants appeared mired in a totally collapsed state. The attack builds barely proved capable of getting started. Sommer, Upamecano, and Stanisic all made more errors. Absolutely no one could be bothered to mark on Aaron Martin's 3-1 in the 79th. Tuchel's final roll of the dice - Serge Gnabry and Leroy Sané for Mané and Musiala in the 80th - yielded nothing.

Svensson's second half tactics

We'll want to dole out some credit to the FSV trainer for turning this one around. While this was definitely a case of Bayern defeating themselves, a tactical tweak at the half (mentioned above) went a long way towards influencing this result. Svensson made one change at the change-of-ends. Birthday boy Aaron Martin relieved Anthony Caci. Svensson's usual 3-4-3 became a 5-4-1. A packed midfield with Edimilson Fernandes moved central played an important role in forcing mistakes out of Bayern.

Lineup—FSV Mainz 05—46th minute (5-4-1)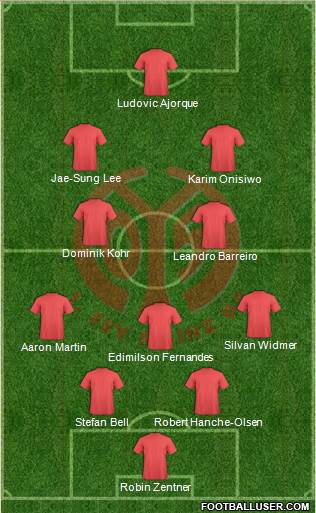 Tuchel's Bavarians had done a stellar job of keeping Mainz's big-man Ludovic Ajorque quiet over the opening 45 minutes. The trend bucked early after the restart, with the FSV's "fabulous" Frenchman getting an early chance in the 49th. Two subsequent narrow misses had much to do with Ajorque's patented ability to influence the play by drawing coverage and holding the ball up. The irrefutable best January signing of any Bundesliga club finally got a deserved goal on the 65th-minute equalizer after a poor clearance from Cancelo and a failed hold from Sommer.

Ajorque's extension of a Robin Zentner long-launch essentially made the 2-1 happen. The target forward may have been the only one marked by the fledgling FCB defense in the box when Aaron buried the 3-1 in the 79th. Another excellent day from the former Straßburg-mainstay should earn him team-of-the-week honors yet again. Svennson's Nullfünfter, who actually ended up topping Bayern xG-wise 2.14 to 2.09, fully deserved this win. One can hardly wait to watch them battle it out with Wolfsburg in a huge "European Race" fixture in next round's capper.

Prognosis: The "Three-Team" Path

Strength of schedule means everything to the prospects of the three teams we'll be analyzing in this sub-section. Bayern's title hopes remain very much alive with Hertha, Bremen, Schalke, Leipzig, and Köln left on the docket. Tuchel indicated that his men are in need of a rest. Good idea. A couple of days to clear the head and the defending champs can run the table on this field. New league-leaders Dortmund have Bochum, Wolfsburg, Gladbach and Mainz; a decidedly harder path.

Mainz's "European Dreams" aren't sewn up yet for the same reason BVB fans might want to think twice about flashing those "Meisterschale" cut-outs in the Signal-Iduna stands. Wolfsburg, Schalke, Eintracht, and Stuttgart await before it's time to face Dortmund on the season's final matchday. Much as we would all like to see the Rheinhessen snatch up a European qualification spot, the schedule speaks more for competitors Wolfsburg, Leverkusen, and potentially even Frankfurt.

Whew! What a finish we're all in for! The writer probably has to tend towards the company clubs edging the FSV out and Bayern securing their 11th straight championship based on what the final five rounds have in store for this trio. The head overrules the heart in this tip, though it should be noted that the seemingly more logical judgment is as unfairly affected by the events of the past decade as it is anything else. All one can really do here is reiterate that we're all in for one helluva finish. Up the Bundesliga!

Leverkusen-Leipzig (0:2, 1:0)

A fairly significant result here as Xabi Alonso's Werskelf continue to "flip the script" on their disastrous "Hin-Runde". On a very tight turnaround from successful international duty over in Belgium, Germany's red company team did their country proud twice over in three days by fending off the club sponsored by the intrusive Austrian slinger of carbonated sweet-tart energy beverages. Leverkusen even managed without talismanic phenom Florian Wirtz (gastrointestinal problems) and surging defensive anchor Edmond Tapsoba (muscular issues).

Leipzig won both the xG and optical battle in their trip to the BayArena. A win for the Westphalian hosts nevertheless had a deserved feel to it as Xabi's crew looked sharply disciplined and compact in their counterattacking waves. Jonathan Tah and Robert Andrich ran the transitional game exceptionally well. Mitchell Bakker followed up his superb game on Thursday with another fine performance, particularly on switches and sprints. Moussa Diaby and Jeremie Frimpong weren't missing much in their second consecutive starts.

It is true that the Bayer game slowed down and fizzled almost completely out in the fixture's final half hour. Christopher Nkunku - still well off his best form after returning from his second major injury of the season - sent an effort wide of the mark during a strong closing phase for the Saxon guests and even missed a wide-open net in the 66th. Leverkusen had to rely on some luck to escape a few late flurries. The hosts did get Dominik Szoboszlai ruffled on the one counter in the second half that mattered, and were thus able to decimate their opponent and win 2-0.

Prognosis: Leipzig with some slight pressure underneath

The match Germans refer to as "El Plastico" beckons next week. Without the suspended Szoboszlai, one rather fancies the chances of TSG 1899 Hoffenheim to overtake their novel club rivals. Marco Rose's German Red Bulls supposedly answered their head-coach's last call to claw their way out of a team crisis with the win over Dortmund in the Pokal and back-to-back league victories over Hertha and Augsburg. Three wins on-the-bounce suddenly mean less, however, when one considers how they responded to their first league test.

The Saxons fell into a number of their old bad habits in this round's second Sunday fixture. The squad - changed in only one position from last week's romp over the Fuggerstädter - had real trouble working up the center of the pitch. Kevin Kampl and Amadou Haidara committed far too many turnovers. Timo Werner never really appeared capable of getting himself into the correct service positions. Leverkusen's win it itself doesn't do much to close the gap between the Europa and Champions' League contenders. Bayer remain four points behind Leipzig in sixth.

But if Leipzig lose to Hoffenheim next week?

And Leverkusen knock off Union?

This could get most interesting.

Hoffenheim-Köln (1:1, 1:3)

Well. Although it certainly qualifies as faint praise, we did get a much better match in Sinsheim than in the reverse fixture. The latest edition of Kraichgau versus Cathedral City delivered its fair share of dull lulls. Pellegrino Matarazzo's Hoffenheim summarily failed to get into much of a rhythm after an early John Anthony Brooks handball penalty killed off their momentum and the Geißböcke guests discovered a reliable way to break up play. Both sides barely topped the 1.0 xG mark in a contest during which Köln's confidence was repeatedly above its actual quality.

With Dejan Ljubicic back operating on the right wing in place of Kingsley Schindler in Steffen Baumgart's new 4-2-3-1, the Effzeh wingers popped up quite a bit in space on their respective edges of the area. Ljubicic and Linton Maina nevertheless squandered many opportunities to render this a more convincing result. Davie Selke did conclude his second consecutive credible performance with a second goal in the colors of his new club. After watching him rummage around the pitch last week in a bloodied turban, one was happy to observe Selke obtain some success.

Selke might have scored a couple more were it not from strong interventions from TSG keeper Oliver Baumann. Steffen Tigges too got a solid whiff off the bench. At the end of the day, however, Tigges and Selke ended up having the same quality control issues as Maina and Ljubicic. The BaWü hosts allowed the early penalty to derail them. Andrej Kramaric - trying to replicate his set-piece wizardry from last week - miffed up Hoffenheim's only real clear-cut chance to score. Köln undoubtedly put some hard work in here. The Sinsheimers still ensured that they didn't have to work all that hard.

Prognosis: Safe for a rebuild

Thirty-five points for Baumgart's crew. That should just about do it for the Domstädter. Köln may be considered safe from this point forward. A rather bittersweet piece-of-news after the match came when it was confirmed that captain Jonas Hector would be concluding his active playing career after the season. German football lovers shall miss the often quiet and contemplative fullback who, naturally, isn't necessarily above letting his passion spill over at times. So long, Jonas. Thanks for all those unforgettable "moments of all moments".

How in the hell this club can now hope to compete next year now becomes the pressing issue. With their midfield linchpin set to depart, a transfer ban locking out their signings for next season, and a sporting director committed to restraining the purse strings at all costs, it won't be an easy summer for this proud traditional club. If there is one consolation, it relates to the fact that the likes of Maina, Jan Thielmann, Tim Lemperle, and Denis Huseinbasic will get more time to refine their game and possibly up it to a top-tier level. That's assuming Köln can keep these players, of course.

No, it will not be easy.

Safety doesn't automatically translate to hope.

The "Burning Questions": Round 29
How are Pal Dardai's Tactics looking?

So much for a joyous debut for the new Hertha trainer. Most all German football observers loved his antics at last week's introductory presser. The Hungarian's trademark blunt, and occasionally self-deprecating, sense-of-humor captivated us all once again. We were bewitched. Surely Dardai could  restore both the fun and the funny to the Charlottenburg camp. The "club man" maintained the "magic touch" in subsequent pressers over the course of the week as well. Most everyone expected a loose and pleasurable performance from the capital city hosts over the weekend.

Hmmm. Well. They were loose alright. Some truly atrocious defensing from the new back-four enabled Marvin Ducksch to bag a brace before the opening half was out. Dardai's lads were extremely lucky that Ducksch and Jens Stage missed further chances to put the game to bed in the first 45. Dardai's son Marton also narrowly avoided scoring an own-goal at the other end. A firm thumbs down to Dardai's rejiggering of previous trainer Sandro Schwarz's 3-5-2. This just didn't work.

Lineup—Hertha BSC—Match 29 (4-2-3-1)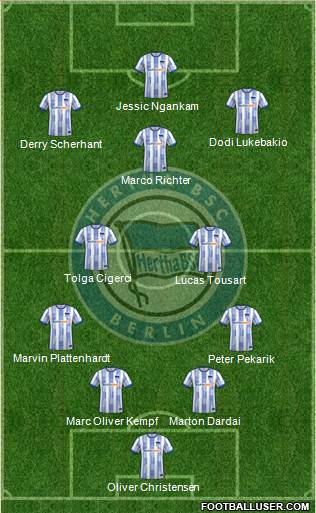 Dardai repeatedly emphasized the need for a solid ten in his discussions about tactics over the course of the week. The Hertha gaffer repeatedly made clear that Marco Richter was his preferred choice. This truly worked out poorly, especially with regard to distribution. The midfielder himself admitted that he didn't possess the chops in his post-match interview. Richter echoed Dardai's own words that "everyone was playing for themselves." The biggest problems with the BSC builds seemed that no one knew where their teammates were supposed to be.

An ambiguous triple-change

Suat Serdar, Kevin-Prince Boateng, and Agustin Rogel entered for Derry Scherhant, Tolga Cigerci, and the young Dardai at the break. It remained unclear what, if any, sort of change to the shape Dardai was attempting. Serdar flitted back and forth between the midfield and left wing. Boateng sat on the ball quite a bit from various support positions. At least Rogel knew where he was supposed to be, but couldn't avoid a misunderstanding with Oliver Christensen on the 4-0.

The way forward?

Fixes for this won't be easy. Boateng found himself at a loss to describe what just happened. Dardai murmured about the "problems being far worse than estimated" in his remarks. There aren't too many positives to draw from the late-stage comeback. Jessic Ngankam scored long after the game had lost its tempo Dodi Lukebakio pulled back the 2-4 from the spot. Dardai doesn't have ready solutions for the poor play of Richter and the ongoing form dip of Cigerci.

Probably about the only thing Dardai can learn from this is that his sentimental decision to start Peter Pekarik proved a predictable bust. Jonjoe Kenny can take over on the right. Marc Oliver Kempf's suspension affords him the opportunity to start over with Rogel and Filip Uremovic in central defense. Maybe Maximilian Mittelstädt can work the left wing ahead of Marvin Plattenhardt, who needs to spend the entire training week practicing set-pieces. The club needs some serious repeat magic from its captain.

As concerns the search for a ten, so much is contingent on the injury status of a trio of players who would all make excellent candidates. Jean-Paul Boëtius, Chidera Ejuke, and Stevan Jovetic could all pull it off. Serdar and Tousart - while not exactly possessing the same skill set as Richter - might even deserve a shot after this one. It can be possible for the league's current last-placed team to fight their way out of this. What's required of Dardai now, however, is fewer charming pressers and a cleverer tactical plan.

Note that there is something of a template from late October. Schwarz used Boëtius as a ten several times. Tousart can function as a serviceable six with the right partner, though we'll all have to admit that Ivan Sunjic isn't a candidate anymore at this point. Many a tactics-lover will be putting pencil to paper trying to figure out something workable for Hertha this weekend. As everyone knows, tactics aren't Dardai's strong point. Perhaps some us could post our pencil-slips into the office.

Safety for the Hanseaten

One doesn't wish to neglect Bremen here. Ole Werner's SV - whom we have been emphasizing haven't been playing all that badly over the last few weeks - snapped a six-game-winless run that dated back to the end of February. In the process, the top-tier's current Hanseatic representatives also most assuredly clinched safety on 35 points. They did it in style as well. Mitchell Weiser, Anthony Jung, and Christian Groß all furnished assists on Ducksch's historic hat-trick.

Warm congratulations are in order for the City-State club. With Niclas Füllkrug looking likely to depart, Frank Baumann, Clemens Fritz, and the rest of the SV administrative team face an unenviable rebuilding task not dissimilar to the other team team that probably clinched safety this weekend, 1. FC Köln. It remains a marvelous comeback for this organization; one that most of us laughed off when Baumann and Fritz appeared well behind schedule getting this club ready for the second-tier two summers ago.

Kudos on proving us wrong, Hanseaten.

Attention must be paid.

Is Urs Fischer tinkering with his tactics?

Shockingly enough, the answer to this one is "a little bit". The Swiss gaffer who almost never strays from his trusted 3-5-2 "double stack" did try out a double-six setup in the first half of last week's 1-1 draw with Bochum. One stood little chance of noticing it unless one happened to be keeping a very close eye on proceedings during the opening half. The columnist himself only noticed that something seemed amiss with Rani Khedira. When Fischer began talking about some of his unmet expectations from Aïssa Laïdouni, closer inspection revealed this:

Lineup—Union Berlin—Match 28 (3-4-3)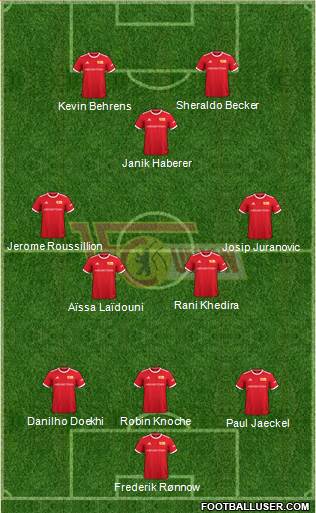 It didn't end up lasting very long. Fischer pulled the plug after the opening 45, in large part because Laïdouni didn't prove the capital midfield ball-winner the FCU trainer wanted the Tunisian to be. Laïdouni did collect many more touches and one had the sense that, with a bit more practice, he could assist Rani Khedira better in the build-up-play. Discerning eyes were thrown on this round's capper between Union and Gladbach to see if it would make another appearance.

No such luck. Fischer stuck with his regular 3-5-2 even as the hosting foals racked up 60 percent of possession in the opening half-hour. Keeping defensive discipline seemed to be the higher priority for the FCU head-coach and his staff. Seeing as how die Eisernen pulled the better chances out of a choppy first half, there also wasn't any real reason to change things up after the restart. Nothing apart from like-for-like changes down the stretch. Again, no reason to change after Sheraldo Becker polished off Jerome Roussillon's cross for the slender 1-0 in the 60th.

A typical Union win. By no means very pretty. Accomplished via slightly more than 30 percent possession and no more than three shots on target. The gritty Köpenickers frequently win ugly. At the end of the day, the eighth league one-goal-win of the season (half of Union's total number of 16 league wins) is good enough for third place in the standings. Thanks to that big win over Leipzig on matchday 20, it's even good enough for a four-point cushion over fifth place. No reason to change at all.

Any lessons from Augsburg-Stuttgart?

Not really. In stark contrast to last week, the Friday night offering turned out to be a bit of a dud. The Swabians took the reverse fixture 2-1 at the Mercedes Benz Arena. Sebastian Hoeneß' VfB took us to the doldrums of abject boredom in this one. After Dion Drella Beljo scored the opening goal in the 8th minute and Chris Führich supplied some spark with a chance back at the other end four minutes later, disorganized play from Stuttgart out of the back and downright clumsy passing up front slowed matters to a crawl at the WWK-Arena.

Stuttgart are still lining up in the 3-4-3 that Hoeneß settled on a couple of rounds back. Of some interest here, the new VfB trainer showed great dissatisfaction with buttressing attackers Führich and Enzo Millot. Both ineffective support attackers were withdrawn at the half in favor of Silas and Tanguy Coulibaly. Hoeneß also wasn't shy about giving perceived "sacred cow" Borna Sosa the hook following a disappointing performance later on. Tiago Tomas came on for the Croatian and did register an assist on Wataru Endo's equalizer.

Thus, there could be some interesting personnel alterations for Stuttgart in the near future. FCA trainer Enrico Maaßen honestly needs to consider a wider shake up as well. His Fuggerstädter remained pretty putrid in this one. The Bavarian Swabian hosts recorded a paltry 0.6 xG. The flailing midfield duo of Elvis Rexhbecaj and Arne Engels turned in another poor, mistake-ridden match. More coordination problems at the back. Another blown lead. Additional evidence that set-piece defending isn't anywhere near up to scratch.

Relegation fears for Augsburg deepen.

Weekly Tactical Focus: It is accomplished.

It is accomplished. Indeed, it is. Though, in the world of sports prognostication, being proven correct is often the exact opposite of what any writer wants, do allow this one to call attention to the fact that he never really considered Dortmund's demise anything but exaggerated. Two weeks ago, the "focus section" of this column led with the the title "Getting Dortmund off the Cross". One week later, after explaining that much of what happened to Dortmund last week in Stuttgart could be attributed to tough luck, we went on to explore the real systemic issues plaguing Bayern.

And now look what has happened! Dortmund wrap up the weekend in sole possession of first place after dismantling a Frankfurt side that (in another somewhat unfortunate correct prediction) simply sleepwalks through the motions as they prepare to pack their league campaign in. It all unfolded in a foreseeable enough manner. Edin Terzic's Schwarzgelben are simply the better team at this point. Most impressively, they shook off the collective experience from last week and cooly closed this encounter out like champs. Whether they can be champs, of course, remains to be seen.

Full-time xG:

xG Dortmund--1.65, xG Frankfurt--0.97

The stats in this case don't do true justice to just how dominant Dortmund were throughout in this crushing 4-0 victory. Terzic's crew answered the call time and again until professionally sealing the result with an early "lid". Some of thyme BVB's own systemic issues nevertheless remained apparent in the form of broken back-builds, some persistent vulnerability on the counter, and issues with finding a clear focal point in attack. One mustn't forget that Dortmund and Bayern both struggle with the last problem. That means the title-race truly remains up in the air.

Alas, at least for BVB enthusiasts, this week doesn't really serve as a time to be overtly concerned with such things. By all means, sit back, relax, and enjoy the ride. So much to like about what we saw from the league-leaders in their latest win. Feel free to re-live it all through text whilst the pleasant visuals resurface in the theater-of-the-mind. It wasn't the easiest win for the Westphalian perennial also-rans. They had to work for it. That, naturally, makes it all the more special.

Lineup—Borussia Dortmund—Match 29 (4-1-4-1)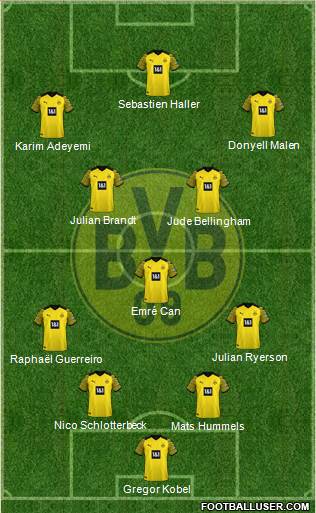 The lone change to last week's XI involved the return of Nico Schlotterbeck. Emré Can was able to return to the midfield, displacing Salih Özcan to the bench. Terzic showed great courage in keeping the rest of the XI together, starting Hummels even though Niklas Süle was once again fit. The BVB trainer also kept captain Marco Reus and flexible fullback Marius Wolf on the bench. Well done on Terzic to maintain full confidence in his crew.

Wide deployments, compact play

The way it all came together for Dortmund on this day was rather interesting. The spacing of the deployments - one could tell on slower roll builds - was intended to be wide. Whenever one took note of how the team actually moved up the pitch, however, the squad pressed onward in a very compact and aesthetically pleasing fashion. More simply stated, the players rallied to each other's sides on rushes.

This constitutes a great sign moving forward.

Plastering holes with Glasner

The SGE trainer possessed no shortage of his own injury/form issues. The solutions were - to put it kindly - uninventive. Having lost Kristijan Jakic to injury and the likes of Daichi Kamada and Rafael Santos Borré to lackluster interest, Glasner kept his regular 3-6-1/3-4-3 in place. In a development that should constitute a worryingly frustrating sign for Frankfurt fans, Glasner doesn't seem to care how many players work out of position.

Lineup—Eintracht Frankfurt—Match 29 (3-4-3)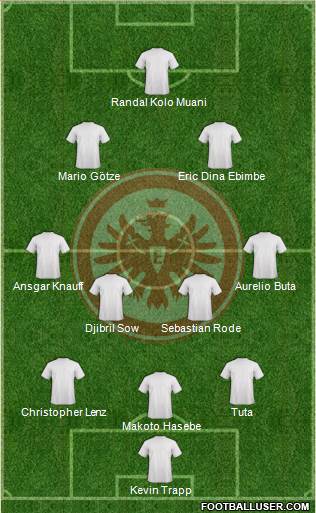 Christopher Lenz moved into a more defensively demanding role in the back-three. Ansgar Knauff retained his position at left wingback despite the fact that he had just turned in an exceedingly poor performance on his unnatural side against Gladbach last week. That makes two players in questionable deployments. To this one can add Eric Junior Dina Ebimbe, who moved closer to his usual position as an attacking winger, yet still had to work as in inward buttress.

Spatially built for the counter

Even for the non-tactically-inclined, it shouldn't serve as a secret that the entire SGE match-plan centered around reaching Randal Kolo Muani on long-ball counterstrikes. The problem, then, is that Ebimbe and Mario Götze probably should have worked on a more subdued axis with the wingbacks up higher; something a bit more like one of Glasner's old 3-6-1s. The strategy here produced a few notable flashes in the pan, yet didn't really "click" in a meaningful sense. That's a big reason why we're discussing a shut-out.

Match Flow: 1st to 19th minute

Bit of a wild start at Signal Iduna as the to sides went for long balls in the opening minute. Schlotterbeck blocked one from Ebimbe intended for Muani. Karim Adeyemi slipped in pursuit of Schlotterbeck's attempt to reach him seconds later. Mats Hummels cleared away another ball sailing in Muani's direction before the 1st was out. SGE keeper Kevin Trapp won the foot race against Adeyemi when Julian Brandt and Raphäel Guerreiro went for still another long hit after a brief cycle at the start of the 2nd.

Schlotterbeck broke up an SGE right-ward cycle in the second. Buta eventually switched the ball over to Götze on the left to start the the 3rd. The 2014 World Champion furthered for Muani just outside the area. Frankfurt's Frenchman found himself stymied by another 2014 World Champion. Hummels stood tall again, earning what would be the first of many appreciative rounds from the crowd on a massive day for him. Götze tried to dribble back in himself when the ball popped back out to him. Julian Ryerson tackled away this time.

A pair of Knauff throw-ins on the left in the 4th produced nothing. Donyell Malen cleared one of them away with some nice tracking work. Makoto Hasebe and Djibril Sow pressed forward to try and make something out of the play to no avail. A third Knauff throw in was cleared by Jude Bellingham following a somewhat crude give-and-go involving Hasebe and Sow. Hummels cleared again in the 5th after Lenz, Götze, and Knauff failed to cycle through. Aurelio Buta took a Schlotterbeck vertical off Adeyemi in the same minute.

More drives from both teams in the 6th ran into solid defensive stops. Sebastian Rode took a ball of Guerreiro while Schlotterbeck recovered in time to stop a Muani counter. Adeyemi did manage to dig out the first corner of the night at the end of the 6th. Tuta headed away Guerreiro's 7th-minute service. Ryerson kept the play alive with a nice switch. Guerreiro, Brandt, Hummels, Bellingham, and Schlotterbeck all got touches in as Dortmund swarmed around the edge of the area endeavoring to find a way back in.

The sequence ended with an offensive foul called on Schlotterbeck at the beginning of the 8th. Match official Deniz Aytekin spotted a stamp on Ebimbe. Buta and Ebimbe ran the next SGE charge on the right. Götze and Muani combined strongly to penetrate the 18. Götze nearly hit Muani with a cross back, but the play wouldn't have counted anyway courtesy of the offside flag. Then Götze was back helping out defensively as the BVB tried to crawl up their right via throw-ins in the 9th. Knauff took care of a ball for Malen while Götze stripped Adeyemi of a Ryerson toss.

Dortmund finally gave up on the right and bow-arced all the way back in the 10th. Ryerson finally found a way back through via Malen at the end of the minute. Malen's cross for Sebastien Haller was well dealt with by Tuta. Again, the sequence nevertheless got nullified by the offside flag. The BVB reclaimed possession quickly off a poor Lenz vertical. Guerreiro, Brandt, and Adeyemi attempted to cycle before Rode broke it up. The Westphalian hosts again had to circulate through the back in the 11th.

Bellingham dropped deep in an effort to affect the play. Schlotterbeck then tried to open things up with a long switch for Malen. Knauff tracked the ball well enough to disrupt. Tuta took care of a BVB leftward charge in to begin the 12th. Hummels, Adeyemi, and Malen switched around for a while until Malen saw an opportunity to hit Haller. A cheeky back-heel from Malen went straight to Haller outside the area. Lenz interrupted with an unfair challenge and was rightly booked. Aytekin's caution to Lenz and the free-kick set-up took care of the 13th.

After almost a full minute without any action, Malen sent the dead-ball-service directly into the face of his teammate Schlotterbeck. Play couldn't resume as Schlotterbeck remained on the ground in something of a bell-rung-daze. A lengthy treatment break took up the 15th. We finally resumed with a drop-ball in the 16th. In the interest of sportsmanship, neither side contested. The ball was turned out for a Trapp goal-kick. One began to wonder when this match would actually get going in earnest.

Sow, Knauff, and Kolo couldn't do much up the SGE left in the 16th. Ryerson had it covered. Dortmund kept their ball circulation deep until Can drew a foul at the beginning of the 17th. At least we then beheld some sign of intent from the hosts. Both Malen tried to work some crosses in the area from the BVB right. Guerreiro also took a stab at crossing in from the left. All three efforts lacked the necessary precision and were blocked. Guerreiro, Adeyemi, and Brandt ultimately opted to cycle back.

Hummels got Ryerson forward before the minute was out. Tuta cleared a more precise cross away. Dortmund, to their credit, were still managing to kept possession and maintain pressure. Guerreiro and Ryerson both missed Haller with crosses in the 18th. Hummels snuffed out a Muani-counter after the second play, earning another ovational round from the hometown crowd. After the two teams traded throw-ins in the 19th, Dortmund got the right sequence rolling off their chance from the touchline.

Humels, Ryerson, Schlotterbeck, Can, Guerreiro, and Brandt all got touches in during the lead-up to Bellingham's opening goal. Guerreiro broke through on the left, shuffling off for Brandt deftly at the end of the run. Brandt laid off for Bellingham immediately. The English phenom spun around and finished with a flourish off the turn into the bottom right corner. A beautiful goal from the oft criticized teenager. A sustained period of pressure led to a very much appropriate lead.

1-0 to the hosts.

Match Flow: 19th to 24th minute

A prolonged celebration from Bellingham in front of the fans meant we wouldn't get rolling again until the 21st. Dortmund were immediately on the march again after Lenz gave the ball away in midfield. Bellingham and Can got stuck on their carries, but Brandt was finally able to wriggle free. Some nice footwork from Brandt regrettably ended with the German international send a ground ball well past Ryerson. Possession changed hands several times in the 22nd until Buta and Sow finally completed a cycle and the former unlocked Knauff with a switch.

Knauff slid the ball over to Götze, who took an excellent first touch and peeled off an even nicer finish. Hummels was on hand by a hair's breadth to clear out for a corner. Götze sent the 23rd-minute service directly into Kobel's arms. The BVB net-minder took a few steps out before attempting a long launch. An overzealous Kolo Muani nearly stripped him off the ball. In Aytekin's view, the SGE Frenchman interfered illegally with a stomp on Kobel's foot after the keeper cleared. After some words exchanged with the player, Muani was booked.

Whether it was the case that the incident ended up distracting the Hessen guests or not, Dortmund doubled the advantage on Kobel's subsequent launch. One will, scarcely behold such a perfectly executed play. It definitely wasn't Terzic and his staff drew up, though one could have mistakenly thought so. Haller extended Kobel's launch directly into Adeyemi's path. Haller beat Hasebe in the air. Adeyemi was unchallenged by a non-jumping Tuta. Malen received the ball in a perfect position. Trapp stood no chance.

2-0 to the hosts.

Match Flow: 24th to 41st minute

The most interesting thing about the phase that followed was doubtless how much trouble Eintracht created for their hosts offensively. The third BVB goal came against the run-of-play. Anyone who, based on the final scoreline, felt that this victory came via a smooth-sailing curve is sorely mistaken. The Hessian guests put together a strong push over the next quarter-of-an-hour, though the hosts weren't necessarily slouches either. By far the most entertaining passage of the match here.

The goal-celebration didn't last as long this time. Play still took over a minute to resume as Terzic called for Schlotterbeck to be subbed off. The BVB trainer found himself in no mood to take any chances. Süle entered for his fellow German international in the 25th. Knauff, Sow, and Lenz took their time with a long bow-arc in the 26th. The patience of the build paid off when Rode stepped forward to hit Muani with an incisive vertical. The SGE striker had only a tight angle to work with on the right, but still tested Kobel from close range.

The BVB backstop had to palm the hammered drive our for a corner. Lenz whipped in a ball after trading positions with Knauff the 27th-minute short-take. Götze latched onto the service, only to be blocked. Sow very nearly got his foot around the rebound. The ball remained unclear. Muani became the third player to narrowly miss out on the sensational in the frantic few seconds. The SGE striker's cross barely whizzed past Götze's outstretched boot. Tuta crashed in for one final effort that went well wide after the defender took the ball off Brandt.

The Frankfurt defensive ranks proved capable of handling a Malen, Brandt, Guerreiro cycle on the BVB left in the 28th. There was some excitement off a well executed Guerreiro throw in the 29th. Malen dribbled past three after receiving the ball. Adeyemi and Bellingham got involved after Malen shuffled out, with the English phenom unable to decide whether to return a ball for either Adeyemi, Malen, or possibly shoot himself at the end of the sequence. There was a short treatment break for Can, who had collided with Götze away from the ball.

Knauff and Adeyemi traded turnovers at the end of the 30th and beginning of the 31st once we got going again. Frankfurt engineered a promising passing sequence outside the 18 after the latter transition. Götze couldn't quite get his timing right at the tail-end. A mistake from an overcommitted Tuta led to a quick-fire BVB counter. Brandt and Haller sent Adeyemi up the pitch quickly. The German attacker had only the keeper to beat. Luckily for the guests, Trapp got a good jump on his run and had rushed out far enough to shut Adeyemi down.

There was yet another treatment break after the play when, after parrying away from Adeyemi, got caught on the knee by teammate Lenz. It took two full minutes for the SGE medical staff to get Trapp standing again. Open play didn't resume until the 34th. Having had some time to perchance contemplate their next build, Eintracht executed a very nice one. Hasebe, Muani, Sow, and Rode were all involved in a innovative charge that ultimately saw Knauff unleashed on the left with a switch.

Knauff's initial shot was blocked, but the German youth international remained on the ball and crossed over for Buta. Knauff's fellow wingback could only touch down a tame effort that Kobel managed to sweep aside. Nervy moments for the hosts nevertheless persisted as some frenetic pin balling preceded the final clearance. Tuta and Hasebe kept the ball in the BVB half from the second ranks. Knauff earned another throw in the 35th. Ebimbe then earned a free-kick off the quick toss.

Lenz took the dead-ball quickly as well. Buta recorded another headed finish, again not so terribly dangerous, on target. Kobel safely grabbed this one. Rode, Ebimbe, Hasebe, Sow, Knauff and Buta passed around the very lax Dortmund press through the 36th. Götze got another chance at the beginning of the 37th once Buta worked a ball into him. The 2014 World Cup winner's finish from only five meters out on the half-right didn't miss by much. A classy effort.

Eintracht had Götze streaking down the left again in the 38th. Hummels beat his one-time national team colleague with another superb tackle. More applause for Hummels from the crowd. Hummels quickly switched over to Guerreiro and the Portuguese international tore forth o a counter. Lenz somehow managed to scramble back and get in the way of the final ball. A Can foul and a quick free-kick from Tuta in the 39th was cleverly shepherded away from danger by Süle.

Tuta nevertheless drew another foul from Can after a Brandt giveaway on the BVB work back out of the back. Lenz had an excellent opportunity from just outside the 18 in the 40th, unfortunately shooting a harmless service straight at Kobel. Dortmund's initial counter - running through Can, Haller, and Brandt - faltered when Knauff beat Malen in pursuit of a long switch. Bellingham still felled Götze on the SGE attempt forward and the insurance goal would come in the 41st.

Ironically enough, the sequence leading up to the goal - had it not succeeded - would have been one of those textbook examples of "overly flowery" play from Dortmund. Adeyemi stepped over on a feint-shot after receiving the ball from Bellingham. The flick out towards in the in-cutting Guerreiro seemed superfluous. Guerreiro's random cross back into the box appeared way too ornate. Hummel's delicate flick finish of the slick cross looked...well...it looked like it stood no chance of going in.

It went in.

One of the best finishes of Hummels' long career.

3-0 to the hosts.

Match Flow: 41st minute to half-time

A 3-0 lead could have been construed as a "lid". This chronicler, obviously, wouldn't be taking any chances after what transpired last week. A third goal didn't translate to the end of competitive proceedings. Insofar as match official Aytekin was concerned, it did translate to a rushed end to the initial half. With all the treatment stoppages we had, Aytekin could have justifiably tacked on four to five additional minutes. He ultimately settled on two in order to get this threatening-to-get-lopsided affair into the cabin.

Eintracht took their time choosing their directional bearings on the their first approach after play resumed in the 43rd. Kobel had an easy cross to collect from Ebimbe on the right at the end of the sequence. We got another break in the action when Bellingham and Lenz got into a tussle near the left BVB flag after Kobel launched the ball downfield. Aytekin opted to keep both players out of the book and settled on a conversation. That took us through the 44th.

Hasebe solved the Malen problem in the 45th after Hummels and Can put the on-fire BVB Dutchman through again. Hummels put through Malen again on a counter after putting the brakes on Knauff before the minute was out. Rode cleared away from Malen, but Bellingham still got an effort off. The fact that it was wide didn't deter the young Englishman from pumping up the crowd again with a "roof-raising" gesture. All the same, matters came to a quiet finish with bow-arcs from both sides at 45+1 and 45+2.

Half-time xG:

xG Dortmund--0.97, xG Frankfurt --0.84

Not easy finishes at all from Bellingham, Malen, and Hummels. Three combined goals didn't produce a single whole integer of xG. That's a significant fact here. Some really incredible stuff from our new league-leaders. Their opponents were just about as effective as they were in getting into dangerous pockets of space. In light of this, the columnist wasn't too afraid that the events of last week would repeat themselves. Honestly, he wasn't. Really. Truly. Such bad luck stood little chance of cropping up again.

Match Flow: 46th to 66th minute

The final twenty minutes of competitive play featured some "auto-pilot" maneuvering from both sides. Terzic's men - doubtless feeling the same way as some of us observers about the unlikelihood of another meltdown - often took a relaxed approach to proceedings. This worked to their benefit. Glasner did make one change at the half, subbing Kamada on for the still not-entirely there Knauff. Kamada took over Ebimbe's position while Ebimbe slid back into Knauff's wingback slot. No discernible change to the SGE shape.

Hummels displayed no signs of a rush on a forward carry in the 46th, even leisurely turning the ball out into touch with a soft vertical. Eintracht got their first sortie off in the 47th. Ebimbe and Rode skirted through on the left and switched over to Götze on the right. Götze's attempt to reach Muani left the Frenchman stretching, yet unable to reach. After shaking off what could have been a rough muscle pull, the SGE Frenchman was able to continue. Muani was certainly in the mood to press Kobel hard in the 48th. The BVB keeper escaped with a fine trick.

Kobel got his team up the pitch via Guerreiro, Brandt, and Adeyemi. Bellingham eventually received the ball, taking a couple of touches too many before seeing a shot blocked. Brandt took on the task of getting the ball back in, slipping past Buta impressively. The Signal Iduna audience very much liked the move. Rode could only impede Brandt with an illegal tackle, for which Aytekin saw fit to enter him into the book. Some words of dissent from the SGE skipper took us through the 49th.

Guerrero's free-kick cross in the 50th reached target-man Hummels. The BVB's best performer attempted another delicate header that proved way too delicate this time. It was none other than Muani on the clearance, but the SGE attacker could only get the ball as far as Adeyemi. The BVB winger had a go from 25 meters out. Adeyemi's ranged effort took a nick on the way through and the hosts had another corner. Brandt went to flag to take quickly. Via Guerreiro and Can, Hummels got the ball again.

Hummels crossed back over for Can, who didn't time his leap well enough. Guerreiro still had the ball in the second ranks. The Portuguese international played the ball off Sow for still another corner. This time Tuta couldn't clear the 51st-minute service. Guerreiro and Brandt sent the ball Bellingham's way. The BVB Englishman drew yet another corner off Buta.More "roof-raising" gestures from Bellingham. The change-of-ends meant that the phenom got his first chance to do so in front of the Südtribune.

One had the sense that Eintracht were completely losing the thread. Before the next service from the flag could commence, Glasner sent Borré on for Rode. This would clearly herald a tactical change. First, we'd have to wait for the 52nd-minute dead-ball. Adeyemi fired from the second ranks after another half-clearance. No SGE player got a touch in on the latest effort. At long last, the cycle of endless corners had been broken. Muani and Götze played forward for Borré on the next Frankfurt advance.

One got the first look at the shape:

Lineup—Eintracht Frankfurt—52nd minute (4-3-1-2)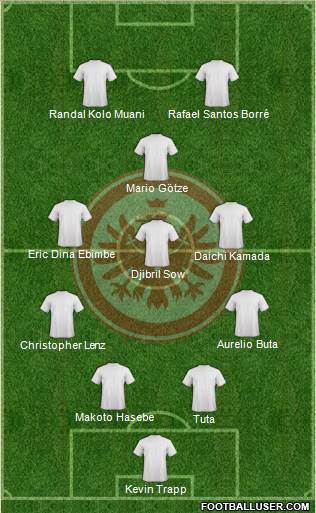 Confirmation of Glasner's plan came on the subsequent SGE rush in the 53rd. The pressing certainly had a nice feel to it. Not a bad idea at all. We could see something like this in the future if Glasner decides that his bunch have something to play for after all. Ebimbe, Sow, and Kamada first got forward on a centralized push. Kamada saw a cross repelled by Süle. Kamada, Borré, and Ebimbe then completed a rightward cycle. Ryerson took care of Kamada's second cross.

Lenz and Bellingham tangled again whilst we were awaiting a Dortmund throw in at the beginning of the 54th. Aytekin, having already warned Bellingham verbally, reached for the book. Tuta beat Adeyemi in the air when the throw-in finally took place in the 55th. An attempted counter was cut short by an offensive foul from Götze. After a quick free-kick and and another throw, Dortmund were forward again. Adeyemi, Ryerson, Can, and Malen eventually worked the ball over to Guerreiro in the 56th. Hasebe had to clear away an inviting cross for a corner.

Haller headed Brandt's 56th-minute service wide. The ball remained with the hosts over the next two minutes. Guerreiro was finally beat back into a retreat in the 57th. Brandt and Adeyemi joined in on a more effective multi-player cycle up the left in the 58th. Buta recovered just in time. Götze, Kamada, and Sow tried again central it the 59th. It broke down with Süle ensuring that Götze couldn't reach the final ball. An elegant counter back the other way involving Malen, Can, Adeyemi, Guerreiro, and even a forward rushing Süle produced something at the hour-mark.

Brandt switched over for Malen. Bellingham returned Malen's 60th minute tap forward back the the BVB Dutchman. Malen went for the direct charge at Trapp before firing. The SGE net-minder had the bottom corner covered by the time the effort came in. After a Buta-led counter failed, Trapp was again called upon to collect a BVB long-ball in the 61st. Dortmund kept pouring it on. Süle collected a Götze ball sent far over Ebimbe and immediately put Adeyemi through. Tuta did extremely well to recover in time to cancel out Adeyemi's solo run in the 62nd. We were really getting close now.

Can metronomed the ball about for a time until drawing a frustration-fueled foul from Sow in the 63rd. Malen drew another free-kick out of Lenz farther up the pitch in the same minute working against Lenz in a tight space. Nothing came of the 64th-minute service and we got a chaotic few minutes full of turnovers and fouls (Kamada, Adeyemi, and Bellingham) before the game was finally settled. The 66th began with Kamada shooting wide off some nice set-up work from Götze and Muani.

Kobel quick started the play back the other way. Haller took care of Hasebe on the long-ball duel. Adeyemi glided away with the ball on a scintillating run. At no point did Adeyemi lose sight of Malen, absolutely ready to receive the ball on his right at precisely the right moment. After receiving the ball from Adeyemi precisely at said moment. A brilliant confident finish from Malen across the face of goal and into the bottom left-hand corner. The Dutchman's first ever league brace!

4-0 to the hosts.

Game over.

Match Flow: 66th minute to full-time

Literally nothing going on for the duration of this one. The only thing left to report on is that Adeyemi got booked for diving again, just like two weeks ago. Yeah. Germans will be hoping that he works on that. Sort of a funny scene developed after Adeyemi received his yellow in the 82nd. Kamada chided him in German. That might constitute the last time we get to watch Kamada speaking in German. There's a bittersweet moment for the denizens of the Bundesrepublik who have so enjoyed watching him play over the last five seasons. Sayonara, Daichi!

In any event, we were quite done here. Does Donyell Malen - who has now scored in five consecutive league fixtures - deserve "man-of the-match" honors in this one? That's a matter of subjective option. Seven goals in five fixtures counts as pretty damn hot. Insofar as this column is concerned, Malen turned in his best league performance since that hat-trick of assists against Hoffenheim on matchday 20 of the 2021/22 led to him gracing the column's cover. The Dutchman has unquestionably now arrived in full force on the Bundesliga scene. It took some time, but now he's here.

This writer's vote for the BVB's top performer on this crucial day remains Hummels. Anyone who cast a close eye on this one will at least have to give that notion some consideration. The German footballing legend's first goal since October of 2021 was a true technical marvel. On the defensive side of the ball, the chronicler counted no fewer than four standing ovations from the home-town crowd. At one point, the Süd-tribune stopped in the middle of their un-furlings of anti-DFL-investor and anti-Ulrich-Leitermann protest banners to hand Hummels a round.

Whether or not the 34-year-old Hummels wishes to continue on after the season rests almost exclusively on him. One has trouble seeing a fierce competitor of his ilk hanging up the boots when there remains so much life left in his legs. One could have, of course, said the same thing about Martin Hinteregger last summer. The Austrian über-antagonist surveyed his options and chose to leave the professional sphere on the high note of an Europa League Championship.

There honestly could be no better crowning achievement for Hummels than to complement the three titles he won at Bayern with his third Meisterschale in BVB colors. That's a nice symmetrical note to end on. At present, the way in which he's throwing himself into every last challenge, track back, and carry suggests the we're witnessing a veteran throwing every last ounce of energy into what Germans refer to as the "Endspurt" (stretch run). One last title for Hummels on his last hurrah. He can then take a bow and proclaim, "It is accomplished."

Is anything accomplished just yet?

Of course not.

We'll behold many more twists and turns in the final five rounds.

One thing has been accomplished.

Dortmund actually took care of business this time.

There one really has something.

Thanks so much for reading! You can catch the release of all Peter's columns on twitter, @ViceytheSS.

Twitter DMs are open for football conversations, corrections, and (if you truly insist) general abuse. 

All columns debut on Bulinews before appearing on Peter's website as the season progresses.



Related stories