Americans in the Bundesliga:
Paxten Aaronson receives first marks in week 28
By Peter Weis @PeterVicey
The latest installment of our "Americans in the Bundesliga" deep-scout feature leads with ungraded sections for Giovanni Reyna and Kevin Paredes. Both players saw too little action to merit grades, but still turned in some work that merits more than a passing mention.

At the top of the graded pack this week, we're pleased to file the first graded section for new Eintracht Frankfurt attacker Paxten Aaronson. The 19-year-old enjoyed a stellar debut off the bench this week.

John Anthony Brooks, Pellegrino Matarazzo, and Joe Scally round out the pack this time in our six-section-report. As always, absences are covered in the introductory paragraphs.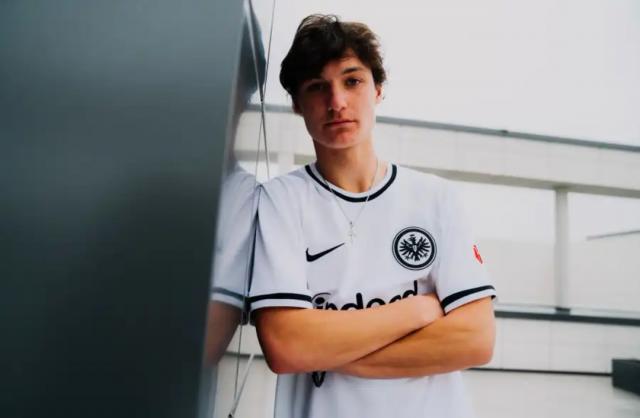 Photo: Eintracht Frankfurt

Our latest check-in with the fortunes of the American actors in Germany's top footballing flight begins with two upgraded sections for Giovanni Reyna and Kevin Paredes. After that, we'll assess the work of new Eintracht Frankfurt acquisition Paxten Aaronson before moving onto sections for John Anthony Brooks, Pellegrino Matarazzo, and Joe Scally.


FC Union Berlin striker Jordan Pefok only logged four minutes of action this week in his side's 1-1 draw with Bochum on Sunday. Neither Caden Clark (RB Leipzig) nor Justin Che (TSG 1899 Hoffenheim) were selected for the bench squad by their respective trainers this week. We're still awaiting 2022/23 debuts from both of them.

Giovanni Reyna, Borussia Dortmund

Minutes played = 8/90, Positions played = LW, RW

Grade = N/A

Gio receives an ungraded section based upon the fact that - despite his very limited bit of action late in Dortmund's 3-3 draw with Stuttgart this past Saturday - the phenom once dubbed the "American Dream" did score his sixth Bundesliga goal (12th overall) of the season. Reyna is now tied with captain Marco Reus for third place in the goal-scoring ranks of the squad behind Julian Brandt and Youssoufa Moukoko. The 20-year-old's netting of a league tally earns him his first section since matchday 20.

It's important to specifically spell out how little action Gio has been getting. He's not made a single start in the ten BVB fixtures since his last appearance in the XI. On the 21st, 22nd, and 23rd matchdays, he went unused off the bench. Reyna only logged largely insignificant minutes as a late time-killing sub in rounds 24 and 25. Such was also the case in the DFB Pokal round-of-16. Illness kept him out of the matchday 26 bench squad. He remained on the bank during the DFB Pokal quarterfinal loss against Leipzig.

All that we've really seen of Gio since early February is an emergency relief appearance in the Champions' League second-leg loss to Chelsea. He received criticism for his play in that match and there continue to be murmurs about the young talent's work ethic/discipline. One sincerely hopes that the goal here might cut a path back for him. We shall see. In all honesty, the 90+2 tally popped back to Gio thanks to a poor chest block from the very suspect VfB (former Dortmund) defender Dan-Axel Zagadou. A return isn't necessarily in the cards.

Kevin Paredes, VfL Wolfsburg

Minutes played = 26/90, Positions played = LWB, LW


Grade = N/A

Niko Kovac's designated "game changer" had a potential laden relief shift regrettably cut short by a thigh strain. Paredes came on in relief of the injured Paulo Otavio in the 54th minute. The 19-year-old played approximately 15 minutes as the VfL left wingback before Kovac moved him up the flank as part of a broader tactical shift. From a scouting perspective, it's not entirely insignificant that our subject here got in a recorded 14 touches, played six passes, and assisted on two shots in the 59th and 74th.

The columnist still doesn't feel totally comfortable ascribing the young talent a grade, particularly in light of the fact that one could tell he was playing hurt in the final ten minutes. The pacey Leverkusen players beat him several times in direct running duels and ground challenges, but Paredes visibly wasn't in his fittest form. We'll still note how spry he appeared in the best of times and - since Kovac's latest set of tactics received short shrift in the latest tactics column - talk a bit about what's going on with Germany's green company team.

Lineup—VfL Wolfsburg—Match 28 (3-1-4-2)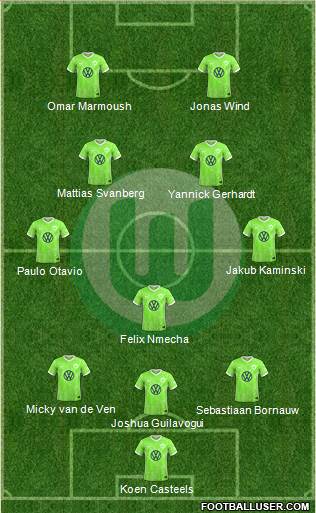 The 3-1-4-2 employed by the VL trainer did it's job against the ball, yet never managed to put together anything consistently coherent moving forward. Felix Nmecha, Mattias Svanberg, and Jakub Kaminski all turned in poor performances from unfamiliar positions. Paredes entered as a like-for-like when Otavio succumbed to an ankle injury and - to a limited extent - elevated the game of both Svanberg and Yannick Gerhardt.

Kovac's big tactical change came with twenty minutes of normal time remaining in the match. Patrick Wimmer came on for Omar Marmoush and one could discern a 4-3-3 reformat. It was also around this time that Paredes first pulled a muscle, rendering what we saw over the next ten minutes of less relevance. Something like this could work, though it's typically a stretch to assume that Kovac will act logically.

Lineup—VfL Wolfsburg—70th minute (4-3-3)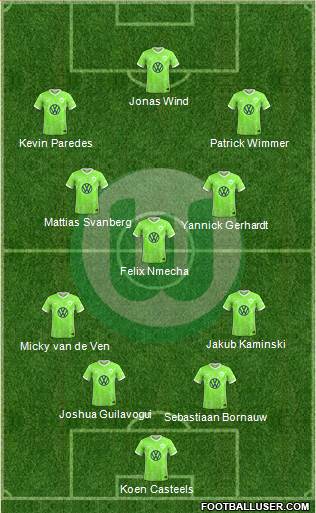 The writer will gladly credit Kovac for having solid tactical acumen should he utilize this again. Insofar as Paredes is concerned, the latest reports in the German footballing media suggest that he won't be an option for Wolfsburg's match against Bochum this weekend. The injury doesn't appear all that serious, however. The Virginian native should be back in action before too long.

Paxten Aaronson, Eintracht Frankfurt

Minutes played = 35/90, Positions played = SS

Grade = A

A stellar debut from the Philadelphia Union academy man - duly noted by his coach - means we'll likely see the league's newest American in the starting blocks at least once before the season is out. Aaronson interjected a significant amount of much-needed life into a rather drab affair this past weekend. He showcased some truly impressive moves. Those with access to the tape should check them out. First the tactics:

Lineup—Eintracht Frankfurt—56th minute (4-3-3)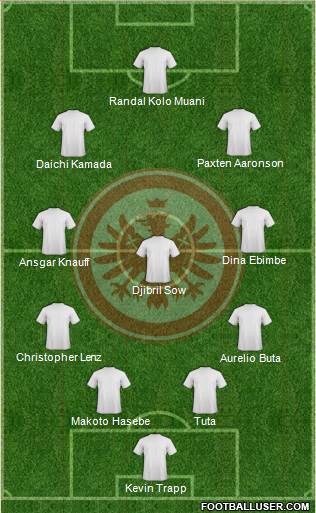 Aaronson worked from the buttressing stack role that Jesper Lindstrøm has found success with this season. Seeing as how Rafael Santos Borré continues to dip in a right-slant spot behind Randal Kolo Muani, we could even see this American earn a start against Dortmund this weekend. SGE trainer Oliver Glasner might even stick with this 4-3-3. Everyone, with the exception of a moody and still slumping Ansgar Knauff, performed well in it.

One can check out this teenage talent performing exceptionally well on some really nice touches in the box in the 60th, 62nd, 65th, 71st, 79th, 80th, and 87th. He executed a very nifty slick back heel in the 58th, sent through a gorgeous slip pass in the 67th, and beat his opponents superbly on ground wins in the 57th, 68th, 76th, and 77th. Offensive positional play in the 61st, 64th, and 73rd was top-notch.

Aaronson could have very well received perfect marks in his debut section but for a few miscues. He got a little too fancy with a touch in front of goal in the 75th, passing off when he should have had a shot himself. Defensive track-back work needs some improvement. The lad had some problems catching up with the Gladbach counter and looked raw on missed challenges in the 81st, 86th, 88th, at 90+2, and 90+4.

Our inaugural subject here nevertheless looked sharp and ready in his debut. The columnist didn't see him send any passes stray and he managed to make something out of all 14 of his sprints and dribbles. There's much to look forward to from the younger Aaronson brother. It definitely appears as if Markus Krösche has one of his pivotal pieces for the summer rebuild already in place. Aaronson might be a regular come 2023/24.

John Anthony Brooks, TSG 1899 Hoffenheim

Minutes played = 90/90, Positions played = CB

Grade = A-

Brooks' day against Bayern is already comprehensively catalogued in the "focus" section of the latest tactical column. Those interested can find just about every one of his critical headed clearances exhaustively described. It truly was a fantastic day for the Berliner in the air. He also completed nearly 90 percent of his passes in the writer's count and made a total of 16 forward springs. Jay is back! The form upswing that began just prior to the international break continues unabated. If he keeps this up, he'll surely secure another season of top-flight Bundesliga football for his new club.

Pellegrino Matarazzo, TSG 1899 Hoffenheim (Trainer)

Matches = 1, Result = D

Grade = B

As also referenced in the tactics column, the league's American trainer isn't in line for any special accolades this week. He configured his team in a reasonable manner against the German giants and attained a reasonable result in large part because Bayern couldn't muster up enough energy to compete at the level one expects from them. Matarazzo still naturally deserves credit for what he's accomplished with this team, most notably his conversions of Andrej Kramaric to a short striker and Christoph Baumgartner to a top-axis forward. That's all that really merits a mention here.

Joe Scally, Borussia Mönchengladbach

Minutes played = 90/90, Positions played = RB

Grade = D-

The CFG New Yorker comes in a shade above failing this week after another underwhelming day at the office that caused the chronicler to spill a lot of ink. Scally - operating back in the staid Gladbach 4-2-3-1 - looked slack on his marks in almost too many instances to count. Examples abound. One can find them in the 3rd, 8th, 23rd, 31st, 33rd, 34th, 37th, 44th, 45+1, 47th, 57th, 60th, 63rd, 69th, 75th, and 86th. In many cases (5th, 14th, 21st, 33rd, 77th, 79th, 82nd) he seemed totally unfocused on the forward cycle work. Bad verticals and clearances came in the 1st, 9th, 20th, 46th, and 70th.

There were also some bad ball losses, giveaways, and stray passes in the 25th (twice), 28th, 49th (twice again), 81st, 85th, and at 90+1. Scally screwed a shot awkwardly over in the 43rd and was nowhere near a mark on anyone during Kolo Muani's equalizer in the 83rd. Missed challenges and direct losses against the (above mentioned) slumping Knauff in the 51st, 53rd, and 73rd made him look especially bad. When the Long Island native did best Knauff (59th, 60th, 71st), it hardly counted as a victory. The German youth international made it easy for him.

Some examples of better defensive work (6th, 24th, 29th, 38th, 58th) keep Scally off failing level. One should note that he finished strongly with a pair of ground wins against Kolo Muani at 90+2 and 90+4. Passing work (verticals, diagonals, cycles, and backs) in the 2nd, 4th, 26th, 36th, 41st, 47th, and 80th weren't bad. Our subject here essentially kept himself on the right level for long enough stretches to preclude a slide down to "F Level". His starting position also shouldn't be in jeopardy. Farke doesn't really have any other options. Even if Scally isn't fully fit, he starts.

Thanks so much for reading! You can catch the release of all Peter's columns on twitter, @ViceytheSS.

Twitter DMs are open for football conversations, corrections, and (if you truly insist) general abuse. 

All columns debut on Bulinews before appearing on Peter's website as the season progresses.



Related stories