Bundesliga Tactics Talk: Round 20
By Peter Weis @PeterVicey
An absolutely sensational weekend of football over on the world's best footballing beat! Major upsets, dream goals, and (most importantly) plenty of intrigue added to Europe's most exciting title race!

As always, our comprehensive Sunday night recap fixture is here to stitch it all together for you here on Bulinews. We'll be checking in on the most relevant talking points from all nine fixtures as usual.

This week's edition of "Tactics Talk" features draw-ups for Bayern, Leverkusen, and Schalke. The deepest dive is reserved for none other Union Berlin's immensely important 2-1 victory over RB Leipzig.

Come along for a look at how its all shaping up for a magnificent finish!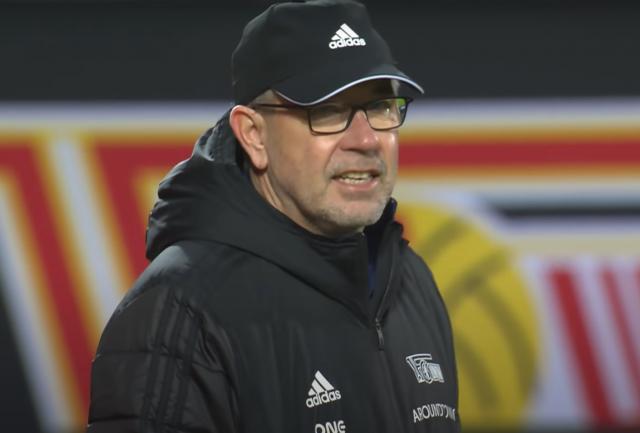 Bundesliga Tactical Banter: Round 20
The Stuttgarter complaints department

Bruno Labbadia and Fabian Bredlow both have their fair share of grievances to air following the latest VfB Stuttgart loss. Trainer and keeper claim a deserved victory got snatched away from them via two VAR-induced penalties on Saturday. An absolute dream goal from attacker Chris Führich proved insufficient against a pair of easy opportunities handed to Freiburg's Vincenzo Grifo from the spot. Bredlow - who made an excellent save on Freiburg's Roland Sallai early in the game - felt especially bitter.


Any substance to this? Not really. Freiburg earned the victory, topping their opponents in xG stats in line with the 2-1 win. Moreover, the writer possesses his own set of grievances. What exactly was Labbadia hoping to accomplish tactically? He left the likes of Josha Vagnoman and (most curiously) Konstantinos Mavropanos on the bench so that Waldemar Anton (right back) and Dan-Axel Zagadou (center back) could start in the defensive ranks. Anton had another poor day at his unnatural position. Zagadou committed the fouls on both penalties.

One can maintain some sympathy for Labbadia when it comes to the very thin ranks he has to draw from attack-wise. Failed personnel selections just about everywhere else are another manner. A Swabian selection absent Mavropanos' scoring prowess makes zero sense. Pairing Genki Haraguchi and Wataru Endo in deep midfield basically counts as cheap logic. Connected the two countrymen on an axial plane doesn't work in practice. Squad captain Endo, a very different player, ends up getting shackled.

One could go on and on. Gil Dias on the right wing? Borna Sosa buried as a traditional left-back? A far-too-long wait for a 4-3-3 re-format during a match in which a pick up of points were desperately needed? We're still waiting on the first league win of Labbadia's tenure in large part because he hasn't furnished something tactically sensible since the first fixture back from the break. The columnist isn't without understanding for Labbadia's plight. For that matter, he isn't against a little nose-picking if it ultimately leads to a logical outcome.

How about, after some booger-mining, a start for Führich up top?

Part I of the "Carnival Joy" department

Not exactly easy to figure out what to make of Mainz at the moment. The Alemmanic-Pfälzer are leaving us thinking that they're poised to make a major breakthrough, then folding straight back up again when squaring off against more challenging opposition. Bo Svensson's Rheinhessen have essentially been all over the map since play resumed. Another big home win over Augsburg this weekend piques one's interest yet again. Can this potential-laden 3-4-3 make some waves in the Bundesliga's race for Europe?

Difficult to say. Persistent injury issues for preferred starters Dominik Kohr, Silvan Widmer, and Alexander Hack have often meant that Svensson doesn't have the XI he needs out there. Svensson also needs first-choice keeper Robin Zentner back as wells as Anton Stach back in the form he showed earlier this season. As it stands now, the system falls asleep too often. As much fun as this weekend's victory was at times, it should also be emphasized that the carnival-clad lads were also prone to bouts of hibernation.


"Fasching and Fastnacht" carried the Palatinate hosts this time around. Losses in upcoming fixtures against Gladbach and Leverkusen might ensure that, when carnival comes to an end, the Nullfünfter will drop out of the German football conversation en-route to a ho-hum season of "mid table mediocrity". That constitutes something of a shame as the January roster upgrades, in theory, could have propelled this team to the European discussion. One supposes we'll just have to wait; wait until Finn Dahmen and Aymen Barkok get out of the picture at least.

Part II of the "Carnival Joy" department

What the hell just happened in one of Germany's other famed "Carnival Capitals"? Surely the "spirit of the season" couldn't carry listless looking Köln over high-flying Eintracht Frankfurt? Duh. That's happens to be precisely what happened in the round's Sunday night capper. To be fair, Eintracht Frankfurt trainer Oliver Glasner's famously stubborn tendency to eschew rotations bears some of the blame here. The SGE gaffer mostly stuck with the same XI he used midweek in the Pokal. The RheinMain Eagles appeared totally exhaustive and creatively bankrupt.

After an evenly-played openly 45, Steffen Baumgart's specially-clad Geißböcke quickly found a way to punish their Hessen guests for the missed opportunities. Eintracht became progressively more harmless as the match itself progresses, enabling the carnival-city club to pile on en route to the shutout 3-0 win. A very tired looking Makoto Hasebe was among those who repeatedly blew marking assignments during the disastrous second half, though the two rotated-in actors (Jesper Lindstrøm and Djibril Sow) had their own marking nightmares as well.

If Glasner truly wished to stick to his system, he would have done better to leave Rafael Santos Borré on in Lindstrøm's place. The Dane has been a bit iffy as of late and Randal Kolo Muani clearly needed the extra support. Hrvoje Smolcic should have been rotated in for Makoto Hasebe, who has acute case of...well..being 39-years-of-age. Three starts in less than a week is simply too much for the Japanese veteran. This result, while still surprising, isn't entirely unexplainable.

The "Spiegel Specials": Round 20
Hoffenheim-Leverkusen (3:0, 1:3)

Almost a perfect mirror!

The battle between theses two non 50+1 clubs played out almost exactly as expected on Saturday. No one who has had the profound displeasure of watching Hoffenheim in recent weeks expected that the Sinsheimers could shake off their shaky posture right way. In terms of body language, it's actually not an exaggeration to say that the TSG look about as horrible as any top-tier side German football watchers have seen trying to contest the division in recent years.

Let that fact sink in for a moment. Hoffenheim appear worse than the Schalkes, Fürths, Paderborns, Bielefelds, Ingolstadts, and Nürnbergs of seasons' gone by. New trainer Pellegrino Matarazzo inherits a monumental undertaking. As stacked with talent as this side is, the Kraichgauer presently play out of the back with all the confidence of a dumped Valentine's Day date. The attack slumps its collective shoulders like the mercilessly teased tallest kid in class. Ugh. Wretched. Nothing more too say.

Matarazzo's return to the top-flight naturally heralds his return to our "Americans in the Bundesliga" column. We'll thus be talking TSG tactics in a subsequent post. At the present time, it's Xabi Alonso's turn to earn some praise after the roasting he received in last week's column. Bayer's Spanish trainer threw everything at a soft opponent he knew could be taken out by the ankles early. The manner in which Leverkusen were set up defied standard norms about what a footballing constellation can be.

Lineup—Bayer Leverkusen—Match 20 (4-1-5)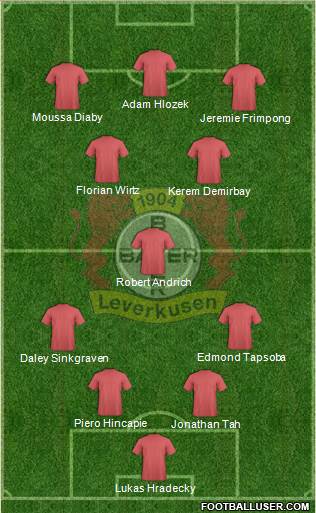 Er....hello? A 4-1-5? In all seriousness, we could have labelled this a 4-6. Robert Andrich pressed forward along with the attack. It came as no surprise to see the veteran German midfielder nick the opening goal in the 6th. The former FCU man lurked behind every rush ready to poach. Granted, Xabi had little to worry about insofar as the TSG counter was concerned. One still has to applaud the positional assignments here.

The long-term viability of a partner for Wirtz

Jeremie Frimpong bagged a brace of assists on this particular day. It's worth noting that - behind the scoresheet - German phenom Florian Wirtz took an active role in all three of Leverkusen goals. The mega-talented teenager directly set up Andrich in the 6th. Wirtz put Frimpong through on the other two tallies in the 47th and 56th. Sublime stuff from the silky smooth budding superstar. Expect nothing less from him for the duration of the season.

It proved somewhat interesting to see Wirtz receive a chained axial partner in the form of Kerem Demirbay. This had both it's advantages and disadvantages. Demirbay drew coverage in some situations, yet appeared to get in the youngster's way in others. An accomplice for Wirtz - be it at the ten or eight position - probably seems like the right idea, though Xabi should spend some time on the training pitch working out a split-stagger.

Sorting out the defensive line

Here we have another near-term project for Alonso. Edmond Tapsoba and Daley Sinkgraven as the fullbacks greatly enhanced the Bayer switching game on the attack while also leaving exploitable gaps in defense. Hoffenheim managed to make some pinpricks near the end of both halves; something a team in their condition had no earthly business doing. Sinkgraven in particular showed his age and rust.

After coming up empty in the January transfer window, Simon Rolfes and the B04 administrative team seem resigned to handling the left fullback issue in the coming offseason. While the managers kick that can down the road, the coach urgently needs to address the issue now. A serious sit-down with Mitchel Bakker and the newly re-signed Piero Hincapie seems in order. One of those two should be the regular starters.

A run-out for the disaffected Timothy Fosu-Mensah at right back probably wouldn't hurt either. Xabi must do a better job getting the latent talent he possesses involved in the general scheme, especially considering the rotative needs of the coming Europa League schedule. A more stable back-four with reliable rotations remains within reach. We should discover how effective a personnel organizer Xabi is shortly.

Prognosis: The "Fight for Seventh"

Nearly a week after the column itself declared this team's hopes for Europe on life-support, Xabi took advantage of a Friday presser to specifically re-orient his squad's goals for the season. The Spaniard essentially conceded defeat in the race for the top-six, instead labelling the UEFA Europa Conference League playoff spot (seventh place) as the main objective. Good for him. That's sensible.

Xabi's jawboning can also be considered fairly sly. Die Wekself are only three points off seventh thanks to Wolfsburg's draw this weekend. Eight points off the automatic European places, it appears likely that they'll be cut adrift after this tightly packed and challenging month. Nice bit of long-range thinking from the B04 trainer. He's mapped out what's possible and what isn't.

An early tip from the column holds that Germany's red company team will attain this goal. March/April fixtures against Hertha, Werder, and Schalke accord the club opportunities to pick up both points and momentum. They might be capable of peeling points off Mainz, Leipzig, and Eintracht too. Taking out Wolfsburg on April 15th in the "Battle of the Company" clubs then seals the deal as they eliminate their closest rivals in the race.

The "Fight for Seventh" strikes one as winnable.

Werder-Dortmund (3:2, 0:2)

Few of us expected a repeat of the Hin-Runde's sensational result here. Dortmund are simply too-hot-to-handle at the moment. A fairly dominant showing from the mighty BVB here, though Gregor Kobel did have to once again intervene to bail his team out a few times during a chance-laden opening phase. Nice to see the net-minder active agains after he literally had nothing to do last week. Central defenders Niklas Süle and Nico Schlotterbeck should also feel a bit more confident about themselves, though there were lapses from both during the latest affair.

With Kobel, Süle, and Schlotterbeck rounding themselves back into form, we behold a team that is most definitely firing on all cylinders. There honestly isn't anything truly negative to report as pertains to Dortmund. Even the Youssoufa Moukoko injury doesn't look to slow this team down. Sebastien Haller feels comfortable enough in his shiny new "F**k cancer boots". Antony Modeste, some may be interested to know, looked rather good off the bench against Bochum midweek. Despite the fact that the injury bug has bitten once again, trainer Terzic has enough depth to call upon.

Depth off the bench for Dortmund isn't something that most are even prepared to conceive of; certainly not after the last few seasons. The fact remains that die Schwarzgleben have it. Thanks to Jamie Bynoe-Gittens' goal in relief on Saturday, the BVB now officially have the best reserve bank in the league. Ten league goals have come from the substitutes. Insane to think that the squad is balanced this year. Insane more still to observe that the attacking lanes are balanced. Terzic's crew evenly apportioned their charges down the four pitch routes.

This Dortmund is very different!

Prognosis: One discernible weakness

We talked a bit about some lapses from Süle and Schlotterbeck in the above section. In general, those notes don't cause too much concern. Emré Can continues to drop back deep in assistance of the two center-halves whenever additional assistance is needed. If there is some cause for concern, it relates a slight staleness that the 4-1-4-1 Terzic has been using since the turn of the calendar year exhibits at this point.

After seemingly perfecting the set-up via Can a couple of rounds back, opposing teams are becoming wise to the basics. This was evident occasionally in the Bremen fixture as the Hanseaten drew some fouls out of it on quick counters and might have made the game more competitive with better set-piece execution. SV strikers Niclas Füllkrug and Marvin Ducksch didn't have their best days on dead balls.

We could see Terzic pitch the approach after, as many expect, a midweek Champions' League fixture against Chelsea produces weaker results. Some over tinkering could then lead to a few BVB stumbles. Seeing as how Dortmund's next league opponents are Hertha and Hoffenheim, however, a league stumble remains extremely unlikely. This team should continue to tear it up.

Perhaps Julian Brandt (after scoring again!) might help them overcome Chelsea!

The "Burning Questions": Round 20
What can we expect next from Bayern?

More self-deprecating in any event. We led this week's installment "Stuttgarter Complaints Department". Time to move over to the "Nagelsmann Complaints Department". Man, did the FCB trainer ever have some criticism to level against his team this weekend. Nagelsmann's designated solo-six was unsparing in his reproaches as well. Leon Goretzka complained afterwards that his team lacked energy, intensity, and ideas in this round's 3-0 win over Bochum.

The columnist himself finds a lot to agree with in the statements from both FCB figures. There were so many moments during the weekend encounter during which the German giants summarily failed to turn the screws. The back-three that performed so well in the recent Pokal fixture against Mainz yielded far too little in the opening half against the 1848 Revierklub. Were it not for a howler from Bochum defender Saidy Janko, Bayern wouldn't have even entered the dressing room with a 1-0 lead.

Lineup—Bayern München—Match 20 (3-1-4-2)




One can see the source of Nagelsmann's complaints spelled out directly. The constellation was specifically designed to unleash lethal counterattacks through the second and third axes, right down to the pairing of Jamal Musiala with Leroy Sané and the very subtle split-stagger worked by Joao Cancelo and Serge Gnabry. The rolling counters came, but were exclusively finished off poorly.

Nagelsmann's stated ambition of getting this team to use the center of the pitch more effectively also hasn't been realized. All of the involved actors instinctively lurched toward the flanks far too often, making life unnecessarily difficult for themselves in the process. Combo-play on the more patient builds remained pretty, but the scoreline remained low.

Lineup—Bayern München—46th minute (3-3-3-1)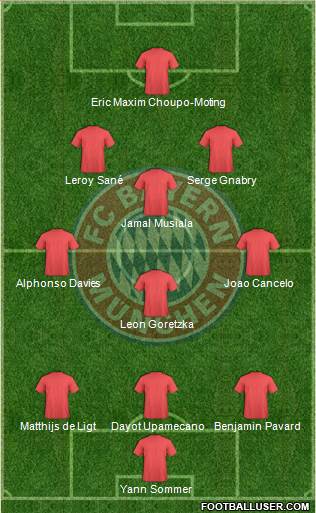 The change at the half (Alphonso Davies on for Thomas Müller) improved matters only after a surprisingly strong spell from Bochum after the restart saw Philipp Hofmann nearly score the equalizer. Joao Cancelo needed some time to adjust to his switch of flanks. Musiala had some difficulty working out the distributive connotations of his new role. The new, decidedly flat back-three, still hasn't quite figured out how to work behind a sweeper.

Bochum were eventually overwhelmed as Nagelsmann's fresh legged substitutes wore the underdogs out. Kingsley Coman scored off the bench. Davies upped his ability to influence the play. Mathys Tel and new eye-catching phenom Arijon Ibrahimovic supplied us with some razzle-dazzle. It all came together in the end. Bayern ended up pounding their opponents xG wise, 4.63 to 0.20.

We can probably expect another back-three from Nagelsmann at the Parc-des-Princes on Tuesday. Whether he rolls with one striker or two remains to be seen. Coman and Kimmich shall return to the starting XI and Cancelo should start on his natural side. A replication of the two-striker-set used from the start here works better with Gnabry or Tel taking the place of Müller.

One can tip a narrow Bayern win based on this.

Can Schalke start picking up points?

The second consecutive 0-0 draw between Schalke and Wolfsburg (and third on-the-trot for Schalke) counted as a disappointing football match in general. Neither side managed to look convincing in possession. Far too many attack sequences relied solely on long over-the-top vertical balls. The Bundesliga's last-placed team can claim some legitimate gripes about the officiating, but that doesn't really render them deserved claimants of three points from Friday night's fixture.

Even if S04 trainer Thomas Reis - thanks to an intelligent and proactive January transfer window from acting Schalke sporting director Peter Knäbel - has a more talent-laden roster to draw from, what gelling one does witness amongst this crew remains fairly faint. The new 4-2-3-1 maintains a slightly more organized feel to it. Emphasis on the word "slightly" in this case.

Lineup—Schalke 04—Match 20 (4-2-3-1)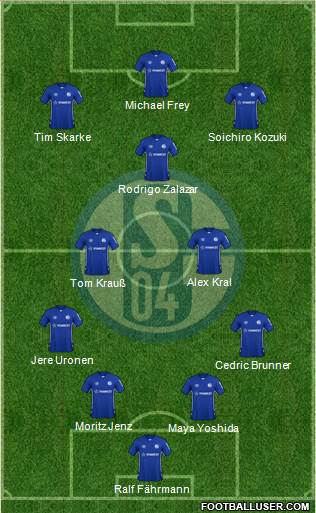 "Tiny victories" abound throughout the pitch. Soichiro Kozuki turned in another hard-working shift, unfortunately a rather unsuccessful one against the equally hard-working Paulo Otavio. Kozuki's countryman Maya Yoshida broke up play effectively at the back. The 34-year-old regrettably demonstrated almost no ability to drive the attack forward whenever he gained possession of the ball. Rodrigo Zalazar has a few bright moments.

The Königsblauen did see two goals disallowed in the latest 0-0. In the latter case and a couple more times on the late rush, lead striker Michael Frey had no one but himself to blame for flagrant positional errors. One could hold some sympathy for Alex Kral for the set-piece tally chalked off in the 50th. Kral's magnificent finish got nullified by a shoulder blade and arguably should have been allowed to stand based on current rules.

The problem with Kral, however, is that sympathy in general gets nullified insofar as he's concerned. The Czech midfielder missed to chances in the second 45 that a player of better quality would have converted. Moreover, Kral's total ineptitude in running the Schalke counter was on display all night. The Czech international - some high recent notes in the German press as of late notwithstanding - seems overrated.

One doubts that die Knappen shall take even a solitary point off 1. FC Union Berlin next week. Upcoming fixtures against relegation rivals Stuttgart and Bochum must produce wins if there's to be any hope of this team climbing off the bottom. Without the newly procured Michael Frey off the mark it still seems like there's nowhere for the all-important goals to come from.

Maybe Marius Bülter (who replaced the ineffective Tim Skarke at the half) can build upon another fine performance and get this 4-2-3-1 rolling. The system didn't change during the match and likely won't be shifted in the coming weeks. The much more likely scenario sees certain relegation confirmed in three weeks' time. We should be all but done here.

How did Hertha upset Gladbach?

Simply stated, but playing Gladbach. We've been repeatedly emphasizing how bad the foals are every week in this column ever since play resumed. BMG trainer Daniel Farke addressed the problem of his absolutely wretched midfield triangle this week with a patently stupid solution. Julian Weigl's suspension should have meant that Chrstoph Kramer moved back into midfield to pair with Manu Koné. Lars Stindl could have operated as the ten whilst Alassane Plea took over on the left.

Farke got the Kramer part of the equation right, but nonsensically deployed Jonas Hofmann as the ten, kept Stindl working left and gave Hannes Wolf the start on the right. The foals couldn't keep the intended 4-2-3-1 shape to save their lives. It's even questionable that Farke ordered a 4-2-3-1 in the first place. The whole confused constellation couldn't do anything with upwards of 70 percent possession in the early going. Hertha were, predictably, absolutely woeful in the first half.

Sandro Schwarz's new 3-5-2 didn't really produce anything magical apart from Tolga Cigerci's work on the equalizer. Cigerci recorded an official assist on Marton Dardai's 2-1, though that goal really owed everything to the young birthday boy's audacity. Danny Scherhant and Dodi Lukebakio padded the final scoreline (and thereby the xG stats) with two tallies in second half injury time. Readers will have to give the chronicler some extra time on this one. Hertha can't really exit the doghouse with this somewhat fortuitous win.

Gladbach, on the other hand, remain firmly in the doghouse. One wonders why this club always invariably collapses during the second half of the season. It could be explained away in the 2020/21 campaign because of Marco Rose's impending departure. Last year, we discovered that Adi Hütter wasn't all that great of a coach. Perhaps - as we begin to slide back into the pre-season pessimism about this squad - it's about time to start thinking the same about Farke. Perhaps - as we shall explore below - it's about time to start thinking that way about Rose too.

Weekly Tactical Focus: "Doubts and Dreams"

Well, well, well. The time has come to answer what constitutes the 2022/23 Bundesliga's greatest "burning question" of all! The topic can no longer be avoided for those of us working the Bundesliga beat. After weeks of downplaying Union Berlin's title-prospects (and being proven dead wrong), the league-watchers must confront the inevitable quandary. Namely, can die Eisernen of Köpenick really furnish us with the fairy tale finish? This weekend's 2-1 upset win over East German rivals presents plenty of evidence to suggest that they can.

German football lovers brim with joy after this weekend's surprise result. Union up. Leipzig down. Traditional prevails over plastic. The Union ultras marched into the Red Bull Arena and - after executing their famous "atmosphere boycott" protest - cheered their side onto a thrilling and wholly deserved victory. All of us want on the Union Bandwagon as quickly as possible following another enthralling comeback win. Wow. What a match! Perhaps our best "focus feature" narrative of the season.

In taking the deep dive into Union's personnel and tactics for the second time this season, note that we're dealing with a squad that has been upgraded at nearly every key position. It was such that the Köpenickers were able to extend their six-match-winning run and halt Leipzig's 18-game-unbeaten streak in the process. Huge result here. A pivotal knock-down-blow delivered from one would be title-contender to another. Urs Fischer's hand looks very hot. Marco Rose delivers some evidence for those unconvinced that he's an effective head-coach.

Let's get going!

Full time xG:

xG Union--1.14, xG Leipzig--0.87

Yes, it was a fair result.

Lineup—Union Berlin—Match 20 (3-5-2)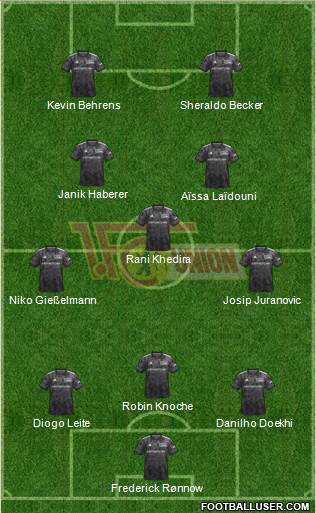 A debate currently rages in German footballing circles as to whether Fischer has made some subtle tweaks to his regular tactical system. Prior to this week, the writer unequivocally settled in the "no" camp. He still does for the most part. This is still the basic 3-5-2; albeit one with some more subdued aspects to it.

The "Great Nuance Debate"

Much of the logic in the "yes camp" stems from times when the FCU build appears purposefully asymmetrical. Watching this one closely, the columnist didn't observe too many cases in support of this theory. The squad largely steps forward in unison, with plenty of room for improvisation permitted of course. A couple of changes to the "double stack" are nevertheless notable.

Rani Khedira appears to have a more forward-thinking role. The two buttressing attackers keep closer to the team's midfield linchpin as well. Robin Knoche sometimes works a double-pivot behind Khedira, though this could be a coincidence. What precisely is going on with the wingbacks remains very hard to discern. We'll require a few more matches in order to tell if they've been ordered further back.

Some curious selections from Rose

The RB trainer tends to reap a lot of respect for maintaining the team's successful run even in the absence of key actors such as Christopher Nkunku and Dani Olmo. The German footballing punditry also lauds his decision to frequently bench the slumping David Raum and reintegrate the flexible German defensive trio of Lukas Klostermann, Marcel Halstenberg, and Benjamin Henrichs back into regular squad planning.

The Leipzig native appears a genius to some. Is Rose, that notwithstanding, above torpedoing his team's prospects with questionable selections? The very first edition of "tactics talk" ever to appear here on Bulinews (back when Rose was at Gladbach) has already answered that question. The notion that Rose possesses a distinctive flair for messing things up found further evidence during that very same 2020/21 campaign.

Rose can overdo it at times.

Lineup—RB Leipzig—Match 20 (3-4-3)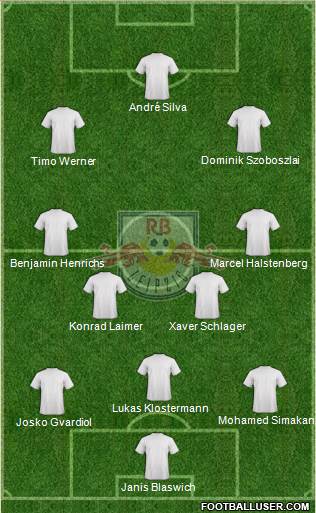 Lots to question here. Switching Henrichs over to the left. Having Klostermann run a needless pivot. Almost deliberately neutering the attack by placing Timo Werner and Dominik Szoboszlai so far apart. Deploying Halstenberg so far up on the wing. Rose doesn't have the UCL rotation excuse to fall back on. Furthermore, he made almost no really meaningful changes to the 5-2-3 that struggled against Köln last week.

Not counting Willi Orban - unavailable due to stem-cell donation - Rose made just one personnel change, Halstenberg for Raum ahead of the Henrichs switch. Henrichs may have scored a scorcher, but it had nothing to do with tactics. Union absorbed this fairly readily. Fischer's troops carefully preserved a way back into the game until Janik Haberer answered Henrich's tracer bullet with one of his own.

Match Flow: 1st to 15th minute

Having put the inherently obnoxious introductory music in the Red Bull Arena behind us, we got off to a promising start. FCU strikers Kevin Behrens and Sheraldo Becker came close to combining up the middle in the 1st following some nice prep work from Aïssa Laïdouni. The Saxon hosts answered back in the 2nd with Werner up the left. The German national team striker's square found no long. Szoboszlai still took advantage of a poor Diogo Leite clearance to rattle off a shot. The Hungarian was blocked.

Leipzig took up the entire 3rd with bow-arc cycles through their own ranks. The positioning of the German Red Bulls appeared far from settled. Werner moved over to the right for a while. Henrichs surprised those with eyes on the overhead by mostly operating left. Klostermann's place in the middle of the back-three on a pivot was at least clear. Rose's men remained unsure as to how they wished to move forward in this and didn't do so until the 4th. Two rightward cycles were self canceled out by the retreating Halstenberg.

Mohamed Simakan carried forth for the hosts at the end of the 4th. Haberer and Knoche were on hand to stop Halstenberg after a shuffle off. Halstenberg ended up committing an offensive foul. FCU keeper Frederik Rønnow took his time setting up the 5th-minute free-kick. Niko Gießelmann couldn't do much other than crawl up the left via a series of throw ins. Halstenberg eventually shepherded out a long-throw in Behrens' direction. Janis Blaswich then took his time setting up a 6th-minute goal-kick.

The German Red Bulls maintained possession through the 7th, mostly bow-arcing around the back ranks laterally. Josko Gvardiol finally reached Szoboszlai with a vertical. The Hungarian was blocked again. Josip Juranovic screwed up a potential FCU counter with a midfield giveaway. Szoboszlai and Werner couldn't quite find the quick coordination to make their next chance count. The next RB drive in the 8th got stymied by the Union defense. Danilho Doekhi tried to reach Becker with a quick long-ball counter. Klostermann covered easily.

A Doekhi turnover in the 9th went unexploited despite some high pressing from Xaver Schlager and Konrad Laimer. The RB Austrian duo failed to find a way to reach either Silva or Werner in the box. A switch-centric FCU sortie in the 10th ultimately led to Doekhi, Laïdouni, and Juranovic breaking through on a rightward cycle. Laimer tracked back in time to clear Juranovic's cutback from the touchline. After a subsequent long-throw from Juranovic didn't work, the two sides mostly played head-tennis in the midfield through the 11th.

Blaswich twice found himself nearly hassled off the ball by the high Union press in the 12th. Somehow, the backup RB net-minder escaped a mercilessly pressing Haberer on both occasions. An RB attack at the end off the 12th involving Werner, Szoboszlai, and Henrichs ended with Werner taking too long on the ball once his teammates got it back to him upfield. Szoboszlai, Laimer, and Schlager did better in the 13th. Liete ended up fouling Silva outside the area. A free-kick resulted.

Szboszlai's 14th minute service was initially headed out by Khedira. Knoche took care of Schlager's second attempt to head the ball in. A decent FCU counter involving Laˆdouni and Juranovic came up short courtesy of some pesky defending from Henrichs. Juranovic succumbed to frustration and hit Henrichs with a late challenge. Match official Daniel Schlager opted to give the Tunisian international a warning instead of what would have been a fully justifiable card.

Henrichs remained on the turf for treatment. As something of a bonus, the break in the action allowed the broadcast cameras to focus in on the traveling Union supporters officially cutting off their famous "atmosphere boycott". The tradition holds that ultras opposing Leipzig remain silent for the opening quarter-of-an-hour. Right on schedule, the Eisernen faithful began to make noise. A happy coincidence for this match. The unacquainted got to see it in action.

Match Flow: 15th to 24th minute

Henrichs remained down on the deck for a full two minutes. Open play didn't resume until the 17th. Silva dropped deep to try and get something going for the temporarily shorthanded hosts. Khedira took the ball off the Portuguese attacker. An RBL wide-cycle on the right in the 18th put Werner in past Liete. Laimer crashed in to support his striker, but gave the ball away. Blaswich stepped forward to snuff out an attempted FCU counter. Simakan and Werner nevertheless couldn't get the RB charge rolling from deep in their own half.

Union tried another slow crawl up the left in the 19th. The sequence concluded with Gießelmann again missing Behrens on a long-throw. After some more midfield possession-changes in the 20th, Leipzig managed to regroup. Silva and Szoboszlai got an aesthetically-pleasing drive going with some nice deep touchers. Henrichs hit Halstenberg with a lovely switch. Halstenberg's quick-thinking header into the box nevertheless found no takers apart from Gießelmann.

There were legitimate cries from Leipzig for a corner. Schlager and staff were swarmed by RB actors on the missed call. As a result, nothing much happened in the 21st. A 22nd-minute RB charge fizzled out via a very poor pass out wide from Laimer in Werner's direction. There were cries for another corner, this time without merit. The 23rd minute was eaten up by a treatment break. Becker required a look after clashing with Simakan on an aerial duel. The opening goal followed in the 24th.

From the first real opportunity of the evening, Henrichs pile-drove home an exceptional screamer. Werner deserved some credit for finding space on the dribble. A quick layoff for Silva then produced a neat cross over to Henrichs on the left. Unchallenged, Henrichs had a few seconds to take a few touches and line up his shot. Rønnow stood no chance from about 20 meters out. The suddenly very hot German commodity bulged the back of the net with an emphatic finish.

1-0 to the hosts.

Match Flow: 24th minute to half-time

All the Saxons were in the perfect position to put the game to bed before the half, Fischer's men did extremely well to persevere the scoreline and, along with it, their chances. That isn't to suggest that the Fischer XI weren't immediately rattled. One could tell how shook up they were on a series of set-pieces taking place after the goal. Gießelmann stutter-stepped his way to an embarrassing 25th-minute free-kick service on a flummoxing double fake-out. The FCU wingback's delivery hit the one-man wall of Werner. A poor follow up was only masked by a Schlager foul.

Two successive free-kicks in the 26th and 27th also went straight at white-clad RB players. Juranovic joined Gießelmann in miffing up a service on the second one. Juranovic at least remained with the ball after his flop and dug out a corner for his side in the 27th. A rapid short take from Juranovic went nowhere after Laïdouni and Knoche ran out of ideas on the right. Juranovic still remained tenacious and kept the play alive as we entered the 28th. A strong combo with the encroaching Liete freed up Juranovic for a cross into the area. Silva rose high to clear.

The RB counter was on at the end of the 28th following a poor throw-in from Juranovic. Doekhi was on hand to pump the brakes on Werner this time. Haberer calmed things down a bit with a slow-roll build in the 29th. Laïdouni and Behrens tried to work a ball forward for Becker. The FCU Dutchman got caught well offside. Doekhi took down a long Halstenberg ball at the half-hour-mark, unfortunately then losing the ball himself. Henrichs ran a blitz counter. Silva linked up with Werner on the half right.

Werner again appeared to take too long on the ball. The still struggling German national team forward stumbled over his own feet despite having his head down and focused on the ball. Werner was very lucky that a corner resulted from the poor dribbling sequence. Szoboszlai's 31st-minute service created some danger. Silva latched onto the ball and popped off a powerful finish. The initial block from the black-clads squirted out to Gvardiol, who also had a go. Gvardiol and Laimer saw subsequent efforts blocked again within seconds.

Khedira, Juranovic, and Knoche went up the FCU right in the 32nd. An intended ball for Behrens came close, but Schlager was on his mark. The RB Austrian got the ball out of the box with an ice-hockey-style "icing clearance". Schlager managed to strain a muscle on the play. Szoboszlai too got hurt chasing the clearance down. We needed more treatment breaks, which ate up the 33rd and much of the 34th. Schlager nearly hit Silva with a sharp vertical as soon as play resumed.

Union rattled off an excellent counter on the play. Juranovic received the ball in a well advanced position on the FCU right. Gvardiol bailed his team out by blocking his Croatian compatriot's quality cross out for a corner. Gießelmann's 35th-minute service from the flag was actually pretty good. Silva - not for the first or last time - put in some nice defensive work, clearing a clever flick-on from Behrens in Becker's direction. A thoughtful and slower RB charge in the 36th came to end when Doekhi stood tall against Henrichs.

Laïdouni broke up the next RB drive and earned a free-kick for the guests after drawing a foul from Henrichs. Gießelmann's 37th-minute service proved far too short. Laimer instigated a swift counter. Werner was once again through. Nothing wrong with Werner's acceleration. The not uncommon problem stemmed from the fact that he lost his pace again. By the time Werner decided to pick out Schlager, the RB Austrian was offside. Union began to get their bearings together.

Laïdouni played Becker in with a marvelous slip pass in the 38th. The FCU striker smashed a robust effort in from an acute angle on the left. Replays confirmed that Blaswich got a slight touch in to deflect it wide. The officiating crew missed its second major call of the match. The capital city guests should have been awarded a corner. Rose's Saxons took full advantage of the gift and milked the clock a bit with uninspired builds in the 39th and 40th. Two FCU counters during this phase went through Laïdouni.

Gvardiol, Szoboszlai, and Gvardiol had to put some work in to close down the Tunisian. Szoboszlai, Henrichs, and Schlager finally got something going offensively for RB in the 41st. Knoche and Doekhi closed ranks together to eliminate the threat posed by the in-crashing Halstenberg and Simakan on the RB right. Simakan served as the last man standing when Khedira, Knoche, and Haberer pieced together a quality FCU build in the 42nd. Becker took the final ball well, but couldn't beat the RB Frenchman.

Knoche handled an advanced Laimer on an RB incursion in the 43rd. Doekhi, Knoche, and Liete recycled the ball around for the rest of the minute until die Eisernen decided to go up the right via Khedira, Laïdouni, and Juranovic in the 44th. Gießelmann came forward to involve himself as well. After a switch over to Gießelmann, Becker found himself closed down in the box on two attempts to reach him. Becker exited the box and tried to work in his own cross in the 45th. Blaswich got there ahead of Becker's partner Behrens.

The two minutes of injury time saw both sides create some possibilities. Gießelmann, Knoche got up the left at 45+1. Via Doekhi, Becker got his boot around the ball again. Behrens narrowly missed Becker on the return cutback. Simakan swept away. A Laimer-led drive at 45+2 ended with the RB midfielder committing an offensive foul. Schlager blew the whistle right on schedule. Half-time xG was negligible.

Match Flow: 46th to 61st minute

Without changes we continued. The two trainers wisely elected to let the original formations duke it out. A fair criticism of the hosts in the first two minutes after the restart concerns the fact that they were constantly on the retreat. Henrichs drew a foul on a backwards dribble in the 46th. The 47th-minute free-kick service went directly backwards. Becker, Laïdouni, Haberer, and Gießelmann forced the hosts further back into their own half with a murderous press.

Silva didn't feel confident enough to move forward after receiving a ball on the wide right in the 48th. Instead, the Portuguese striker went back to Szoboszlai, who was in turn stripped off the ball. Behrens didn't shy away from pulling the trigger from distance. The FCU attacker might have let the counter develop a bit, however. Blaswich saw the effort all the way. Simakan pressed high on a long carry for his side in the 49th. Henrichs still retreated after a Halstenberg switch.

Halstenberg floated over to the left to try and find a way through in the 50th. Juranovic executed the track-mark perfectly and passed the ball back to keeper Rønnow. Juranovic led the ensuing cycle up the FCU right and drew a foul. The Croatian's 51st-minute set-piece service left much to be desired. Countryman Gvardiol had no problems heading back to Blaswich. RB rattled off a counter chance following a Knoche ball loss in the same minute. Werner (for the nth time) was offside ahead of Schlager's through.

Juranovic found space to tight on the right at the end of an FCU charge in the 52nd. Laimer and Szoboszlai wheeled away on a counter. Henrichs maneuvered himself into a decent position to cross in for Szoboszlai. A poor touch from the Hungarian on for Silva was met with an equally poor finish from the Portuguese attacker at the beginning of the 53rd. A creative attack from the guests in the same minute featured decent ideas from Liete, Behrens, and Becker. Haberer tried an artful chip-in at the end of the sequence. Simakan cleared.

A loose touch from Halstenberg put the damper on an equally creative RB drive in the 54th. A lull full of stoppages and possession changes settled in for about three minutes. Neither side could string more than a couple of passes together. Doekhi, Haberer, and Behrens finally put together something promising on a rightward cycle in the 57th. Henrichs took the ball off Behrens and sent Silva up on a central counter. Knoche employed a late challenge and incurred the first booking of the match for his clumsiness.

Silva required treatment through the 58th. Laimer took some time to plop down on the turf as well. We resumed in the 59th. Haberer went on a solo dribble, ultimately closed down by the RB Austrian duo of Laimer and Schlager. The pairing unfortunately made a hash out of the counter. Laïdouni was back in up the right before the minute was out. Henrichs handled the Tunisian, yet couldn't handle the build. Union were through on the left in the 60th.

After a Gießelmann cross just barely missed Behrens, Laïdouni kept the play alive on the right. Halstenberg fouled the Tunisian and Schlager reached into his book for the second time in three minutes. Juranovic went straight for goal on the 61st-minute free-kick. Blaswich parried out for a corner. Szoboszlai cleared Gießelmann's quick service out, but only as far as Haberer. How about another "Hammer from Haberer" to equal the rocket he sent in against Schalke on matchday four?

Oh yes. What a first-time laced finish this one was! A first-time tricycle finish from one of this year's greatest comeback stories in all of German football. We might as well start calling Janik Haberer the "rocket-man". Henrich's goal - a gem in its own right - might be completely forgotten after Haberer submitted his entry for "goal of the season". While the 28-year-old will likely be the first to remind everyone that what he tries doesn't necessarily work all of the time, the rest of us can forgo such modesty when reporting on him.

Match Flow: 61st to 72nd minute

Fischer snuck in a couple of subs whilst Haberer's goal was still being celebrated. Two fresh strikers entered in the 62nd. Nothing special about the like-for-likes Fischer cares to employ occasionally at this time in the match. Jordan and Sven Michel relieved Becker and Behrens. Rose also had some relief at the ready. Laimer, still hobbling a bit since his treatment break, exited while Amadou Haidara checked in. Nothing but straight-arrow plug ins from both sides.

Open play resumed in the 63rd. Haidara's first involvement was to turn the ball straight over to the Jordan in midfield. The American international's attempts to spark a counter via a vertical didn't work. Nothing much doing in the 64th as both sides felt one another out. Schlager again reached into the book to deliver the third yellow card of the match when Laïdouni fouled Schlager in the 65th. Halstenberg's free-kick service missed both Simakan and Klostermann.

Simakan went for for a hopeful hit in Haidara's direction in the 66th. The FCU defensive corps easily shepherded the bad ball out for a goal-kick. Simakan then tried a long carry in the 67th. A lateral to Henrichs proved useless when Juranovic took the ball off the German wingback. An exceptional headed flick-on from Jordan nearly created another Union goal off the counter. Simakan arrived just one step ahead of intended target Michel.

Silva couldn't quite hang onto the ball at the end of the next RB attacking sequence in the 68th. Schlager tried to step in and help, but only managed to end up fouling Knoche. Schlager produced still another yellow card in this abruptly booking-heavy match. Halstenberg was lucky to escape his own booking for a foul on Juranovic after the failed free-kick. Matters finally settled down with the ball going out for an RB free-kick in the 69th. Blaswich took his time setting it up.

RB wouldn't relinquish possession until the 70th. Union then put together a very deft charge with a passing string that went through Haberer, Jordan, Michel, Khedira, Laïdouni, and Gießelmann. Another nice flick on from Jordan in Michel's direction ended up bearing fruit this time. Simakan foolishly led with his forearm as a leapt in to contest the aerial duel with Michel. The ball bounced off the Frenchman's bicep. Schlager showed no hesitation in pointing to the spot. Now we had a penalty.

Not the best success rate from the spot for Union in the league this season. Jordan being guilty of the most recent miss meant that someone else had to step forward. Knoche, who had actually himself missed fro the spot earlier in the campaign, took the ball. The 71st-minute conversion was calm, clean, and composed. The lead now belonged to the Köpenickers with less than 20 minutes to play. Football lovers across the Bundesrepublik rejoiced.

Match Flow: 71st to 80th minute

Rose had two subs ready to check in just prior to the goal. Yussuf Poulsen and Emil Forsberg stood at the ready. For some reason, Rose held off on introducing in the immediate aftermath of the Union goal. We got two minutes of largely uneventful midfield action until Forsberg and Poulsen checked in for Simakan and Silva. This would obviously herald a tactical shift.

Lineup—RB Leipzig—75th minute (4-4-2)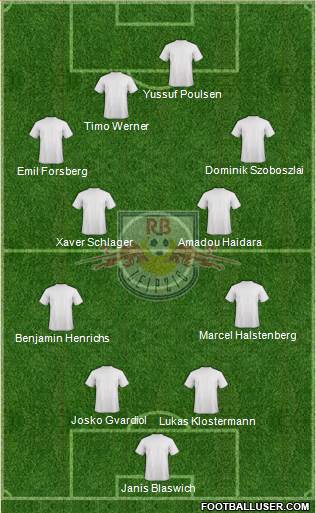 A bit on the "too little, too late" side if one does say so. Something like this would have made a great deal more sense from the start, particularly with Werner's use as a pocketed service-striker. Werner attempted to service Poulsen in the 75th, but the Dane couldn't find the right touch, Henrichs, Haidara, and Klostermann all cycled back until the Saxons could muster up another charge in the 76th.

Simakan and Klostermann tried to move forward. Jordan took them both out. Henrich's bid to reach Forsberg with a vertical in the 77th proved easy prey for Knoche. Henrichs kept after the ball and had a stab at working in a cross seconds later. Gießelmann cleared. Dropping deep, Forsberg got a leftward cycle going in the 78th. Werner couldn't get into position for the final ball.

We arrive at the match's biggest controversy. Laïdouni couldn't clear the ball away properly and Werner got the leather back in an offside position. In what would come to be a crucial point of dispute, Schlager would later rule that Laïdouni's touch of the ball wasn't an intentional clearance. Hence, the sequence that ensured would not be considered official due to Werner's offside position.

Werner worked the ball back to Henrichs, who in turn opened up Halstenberg with a long switch. Halstenberg headed the ball straight into the path of Poulsen. The Dane toe-in the apparent equalizer on what was presumably both a gorgeous goal and the equalizer. The VAR team in the Kölner Keller nevertheless compelled referee Schlager to take another look.

Schlager eventually decided that Laïdouni's giveaway back to Werner was incidental. Werner's claim thus counted as a clear offside advantage. All the rest of the silk got chalked off. Something off a shame, but still consistent with a proper interpretation of the rules. Union maintained their 2-1 lead. Werner got booked for dissent.

Match Flow: 80th minute to full-time

Some finish we got once a wild, unfocused, and disorganized free-for-all finally settled down. Everyone was all over the place through the 83rd. Fischer took the opportunity to send Paul Seguin and Jerome Roussillon on for Gießelmann and Haberer whilst the VAR commotion was ongoing. Seguin hit a nice diagonal in for Jordan in the 82nd. The American striker got issued a warning for leaning too heavily into Gvardiol in pursuit.

Michel ended up fouling Werner in midfield in the 83rd. Szoboszlai couldn't do much with the 84th-minute free-kick. The Hungarian did better to unleash Werner in the 85th. Henrichs, Halstenberg, and Poulsen got involved to earn a corner. The 86th-minute service was eventually claimed by Rønnow after a couple of failed clearances accorded Szoboszlai a chip-in opportunity.

Another nice flick on from Jordan put Laïdouni ahead on the counter. Haidara fouled Laïdouni and Fischer got Morten Thorsby on for Laïdouni while his side set up the 87th-minute free-kick. Juranovic missed everyone, but Leite picked up a loose ball and went charging forward. Union's Portuguese defender missed out on a mammoth chance by not getting his feet sorted out.

Jordan and Liete suppressed Werner on the next RB charge in the 88th. Poulsen committed an offensive foul on Thorsby in an effort to keep the play alive. The Dane too saw yellow for protesting Schlager's decision. Raum entered for Halstenberg in the 88th as well. Thorsby and Juranovic were nevertheless the ones to orchestrate the next quality drive.

American striker Jordan tenaciously held off a marking Haidara at the end of the 89th-minute sequence and won a corner. Union were able to take us through the 90th with a short take and deliberate short-cycling. Leipzig couldn't exit their own half until 90+1. An advantage-play foul on Jordan (later booked) left Poulsen with a promising ball drop.

Liete cancelled out Poulsen on an aerial duel that left both players requiring treatment. We didn't resume until 90+3. Jordan killed off most of the minute with midfield ball hold ups. Liete, back involved, did his bit too. The hosts got a huge chance to equalize at 90+4. Szoboszlai, Schlager, and Henrichs worked a ball up to Werner. A beautiful cross from Werner found its way to Forsberg.

Poulsen would end up missing Forsberg's header over to the far post by mere centimeters. Union got two more counters rolling in the subsequent three minutes whilst RB weren't able to get truly meaning attack charges off. Twice, Jordan nearly had striking partner Michel through with flicks-on fro midfield. We went all the way up to 90+8 thanks to the additional stoppages.

Poulsen would narrowly lose another aerial duel against FCU keeper Rønnow at 90+7. Blaswich came up to help his team on the monumentally important corner at 90+8. Juranovic missed from range whilst aiming at the empty net on the final play of the game. Whew. A game of this important certainly deserved a long and detailed section!

To bookend with Full time xG:

xG Union--1.14, xG Leipzig--0.87

Yes, it was deserved. Yes, it was the correct result. Apropos results, the capital city's Köpenick side has now beaten their East German rivals 2-1 in the league on five straight occasions. How about that for a fitting stat to mark this critical turning point in the season on? Something earth-shattering just happened this weekend. Let there be no doubt about that. The doubters have been silenced. The dreamers have been vindicated.

Can Union Berlin truly deliver the storybook ending? It's certainly something that we all have to consider now. While one can doubt the wisdom of Max Kruse on any number of things, don't doubt his recent assessment of his old squad. Union should definitely finish in the top-four now. Title dreams remain just that for now. It shall take something truly special to dethrone Bayern.

If we happened to learn anything from this weekend, however, it concerns the fact that Union do possess something truly special. There's every indication that they'll continue to improve as some of these new January signings become more comfortable and get into the groove. Laïdouni and Juranovic showed us something special multiple times in this one.

A dream lives on in the Bundesrepublik.

Thanks so much for reading! You can catch the the release of all Peter's columns on twitter, @ViceytheSS.

Twitter DMs are open for football conversations, corrections, and (if you truly insist) general abuse. 

All columns debut on Bulinews before appearing on Peter's website as the season progresses.



Related stories