Signal Iduna Chief hits out at BVB choreo:
"Football doesn't work like it did 50 years ago."
By Peter Weis @PeterVicey
Speaking to Germany's Ruhrnachrichten, Signal Iduna CEO Ulrich Leitermann has expressed dismay at a Dortmund fan choreo presented in the stands during Saturday's fixture against VfB Stuttgart.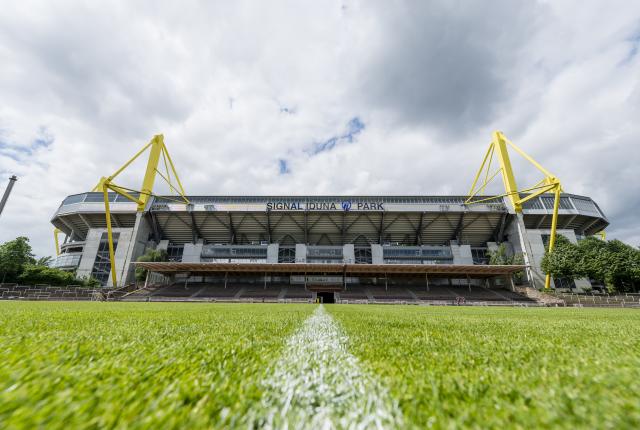 BVB ultras opted to unfurl a "für immer Westfalenstadion" choreo in the Dortmund stands during Saturday's match against VfB Stuttgart. The action was meant as a direct protest of commercialized naming rights for German football stadiums. Signal Iduna Insurance group CEO Ulrich Leitermann opted to express his annoyance with the choreo in an interview appearing in the local "Ruhrnachrichten" newspaper on Wednesday.


"Consider the history," Leitermann told the paper, "This footballing venue has been known as 'Signal Iduna' Park for 17 years. [Our financial assistance] helped the club out. For me, something like this is unacceptable considering how long we've supported the club and stood by it when others weren't willing to give it a cent."

"It's a Sisyphean task that we've been doing for 17 years," Leitermann continued, "and one can't underestimate the media impact of such a choreography. It gets into people's minds. We've shown consideration to the fans and I take exception that the fans don't show consideration to us."

Leitermann concluded with an appeal.

"Why don't you accept the conditions we have?" Leitermann noted,  "Signal-Iduna-Park will be called Signal-Iduna-Park until at least 2031. I would like to see a respectful approach that takes both interests into account. Football just doesn't work like it did 50 years ago."

The Saturday Choreo continues to trend on German social media. The issue of sponsored naming rights for football stadiums is marginally acceptable to some in German footballing circles, provided that the company is local and committed to the area.


A case that splits opinion German footballing enthusiasts is the case of the old Bielefelder Alm; a venue renovated through bonds purchased by local citizens. A local construction group retains naming rights to the stadium, yet the sponsorship case remains controversial.


Nach einer Choreografie von @BVB-Fans unter dem Motto "Für immer #Westfalenstadion" hat der Chef des Namenssponsors der Arena deutliche Kritik geäußert.

➡️ https://t.co/ERqCZyQ4P6 @RNBVB @RN_DORTMUND @JuergenKoers pic.twitter.com/iFLgzUhSvS

— Deutschlandfunk Sport (@DLF_Sport) April 19, 2023
Related stories