Bundesliga Tactics Talk: Round 12
By Peter Weis @PeterVicey
With another chapter of the 2022/23 Bundesliga saga complete, there's no shortage of interesting news to report upon over on the German Bundesliga beat.

The top of the table continues to tighten after results this week, with just nine points separating league leaders 1. FC Union Berlin from 11th placed Borussia Mönchengladbach.

Our Bulinews Sunday recap column takes care of all nine fixtures, covering all the action along with the (far too many) officiating controversies.

This week's installment contains draw-ups for Hertha, Stuttgart, and Schalke. All the extra focus of the "deep dive" section belongs to the wild eight-goal-affair between FC Bayern München and FSV Mainz 05.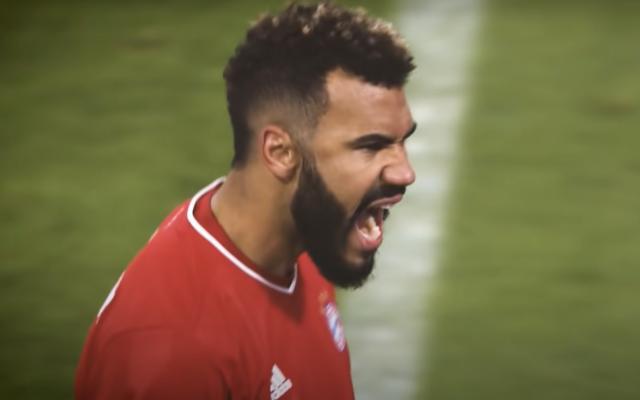 Eric Maxim Choupo-Moting.
Bundesliga Tactical Banter: Round 12
Felix Nmecha's quantum leap

Niko Kovac's VfL Wolfsburg are suddenly on a six-game unbeaten-run after polishing off VfL Bochum 4-0. As is often the case with Germany's green company team, the plethora of positives in the squad threatens to come in under the radar. Listed attendance at the Volkswagen Arena on Saturday claims that some 24,000 spectators were present. Anyone with eyes on this fixture will have some serious doubts about that figure. It honestly seemed as if there were more pigeons on the pitch than patrons in the seats in Germany's northern Autostadt. A common occurrence. A very familiar joke.


The column might as well furnish a public service by noting just how well a team frequently ignored in the German footballing conscious is playing at the moment. Kovac's 4-1-4-1/5-4-1 hybrid functions sublimely on the rush. Squad skipper Maximilian Arnold turned in another gem of a defensive performance whilst simultaneously registering two assists. The renaissance of German fan-favorite Ridle Baku continues with a sixth consecutive strong match and his first Bundesliga goal in over six months. Very nice to see Baku's crisis lifting. Also great to see Patrick Wimmer and Jakub Kaminski once again tearing it up with killer rotations on the flanks.

Of course, even those who subconsciously edit this team out will have heard of Felix Nmecha's amazing breakthrough performance over the weekend. No mental blind spot is large enough to ignore the 22-year-old's magnificent brace. Anyone not keeping close tabs on the game might not have noticed that the 22-year-old also nearly collected a hat-trick of assists, two of which involved close set-ups of his older brother Lukas. Sensational stuff from Felix. A new star is born. This bright light hasn't quite come into being in time for Hansi Flick to move the Germany U21 international up to the senior squad in times for the World Cup, but we definitely have something to look forward to.

Timo Werner's little creeps

Shifting gears slightly to an attacker whom will definitely feature for Germany in the coming World Championship, Timo Werner looks to have finally rediscovered his goal-scoring form back at his old German club. A few weeks (and an enforced illness layoff) of his own brace against Bochum in his own side's 4-0 victory over the VfL, the 26-year-old has tallied in three straight matches against Celtic Glasgow, Real Madrid, and Bayer 04 Leverkusen. Some week it has been for the German Nationalmannschaft's most persistent question mark. Two goals to sew things up in two crucial matches.

One naturally wishes that one could draw a little more from this. Werner's goal on Tuesday in the Champions' League came at the end of an incisive in from Mohamed Simakan. In the Saturday league fixture, Amadou Haidara unlocked Werner with a gorgeous through-ball that proved extremely easy to finish. Finishing remains just about as important as anything else for a striker. One certainly can't take that away from the former Chelsea man. It's still not at all fair to say that the forward Germans pin so many hopes on has recaptured his flair for chance creation. That's not the case.

One should also take the strength of the opponent into account. Xabi Alonso's limping Leverkusen were about as wretched as they, or indeed any other Bundesliga team on the pitch, have been all season. Germany's red company team are horrible on so many levels. Xabi's lineup selections (particularly rotating out Jeremie Frimpong and Callum Hudson-Odoi) were brutally insipid. The B04 attack didn't give Leipzig debutant keeper Ørjan Nyland a single ball to handle. Jonathan Tah screwed up multiple times again. Somehow, a Bayer squad that could only manage an xG of 0.14 felt it appropriate to whine about the officiating afterwards.

Just sickening.


Let's move on.

Gladbach's failed mirror

There may not be a smooth segue from talking about German internationals into the Gladbach-Union game, but we at least learned a valuable lesson about the team that still clings to the league lead by the slenderest of margins. Namely, beating Union Berlin at their own game (as VfL Bochum did last week) isn't an easy task by any stretch of the imagination. BMG trainer Daniel Farke did his level best with a packed midfield that paired Christoph Kramer with Julian Weigl in place of the suspended Manu Koné.

It was an odd 4-2-3-1 that snapped into a protective 5-2-3. Lars Stindl and Nathan Ngoumou had their defensive track back assignments whilst fullbacks Joe Scally and Ramy Bensebaini received more conservative orders to remain behind. The problem was that the foals couldn't really execute their counter attack like this. The opening goal and many of the first half chances owed everything to FCU defensive lapses rather than robust upfield play. Union had trouble on the ball as well during a generally lackluster opening 45.

Despite a triple change from FCU trainer Urs Fischer approximately ten minutes after the restart, Union couldn't really get going. Gladbach's neutralization got a little better until Kevin Behrens energized die Eisernen with his 79th minute equalizer. After that, Farke's match-plan got ripped to shreds during a flurry of chances for the Köpenick hosts. Not bad from Union. Still not great for the team (we predict below) won't maintain first place heading into the World Cup break. Gladbach, meanwhile, don't need another mirror. They need a clearer identity.

The "Burning Questions": Round 12
What's holding up Hertha this time?

One week removed from what could have been a pivotal victory, it's back to the drawing board for Sandro Schwarz and the Charlottenburg side. Yet again, there were plenty of signs of promise from the Berliners on Friday night against Bremen. Yet again, this did not translate into goals. "Die alte Dame" were punished for their profligacy in front of the net when Niclas Füllkrug headed home the 1-0 winner five minutes from time.

Tactically speaking, Hertha trainer Schwarz has been rolling with a slightly adjusted version of 4-4-2 he switched to later in the Leipzig match two weeks ago. Nothing inherently wrong with letting the lads operate in the constellation that nearly allowed them to pull off a spectacular comeback. The actual inherent flaw is fairly obvious. Readers are invited to see if they can spot it.

Lineup—Hertha BSC—Match 12 (4-4-2)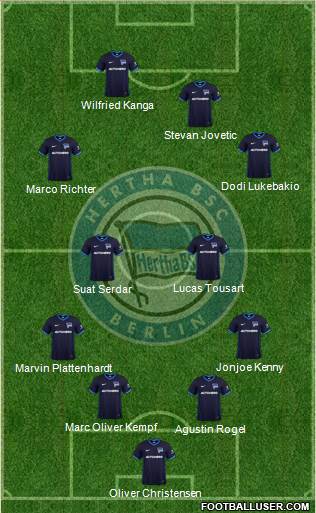 If anyone happened to guess "Stevan Jovetic as the back-slanted service-striker", congratulations. The multi-faceted Montenegrin remains an absolute joy to watch when he's on his game. Jovetic possesses a rich set of technical gifts that frequently supply the sparkle. This match proved no exception. He stormed out of the gate, nearly setting up a goal in the second and several nifty tricks and turns prior to the half-hour-mark.

Sigh. Naturally, the problems that the 32-year-old remains heavily injury prone. Since Hertha sporting CEO Fredi Bobic brought the grizzled vet over to the Bundesliga in the summer of 2021, Jovetic has only been fit enough to make 26 out of a total possible 46 league appearances. He had to be subbed off in this one. Jean-Paul Boëtius--whom we're all very happy to see back so soon ahead of schedule--couldn't match Jovetic's game on a like-for-like swap in the 32nd.

Some other talking points:

Midfield mismatches

When we were discussing Werder's personnel problems in last week's tactical focus section, the prediction held that the return of Ole-Werner-preferred actors Niklas Stark, Milos Veljkovic, Leonardo Bittencourt, and Christian Groß would get the SVW offensive engine back up-and-running again quickly. This did occur, albeit with a rather interesting exception. Veljkovic, Stark, and Bittencourt all started while Ilia Gruev maintained Groß' place in the bolt-lock sweeper role.

Plenty of praise for Gruev in last week's column, but it was still quite the surprise to see the 22-year-old positively manhandle Hertha's double-six duo of Lucas Tousart and Suat Serdar. The Bulgarian youngster stepped forward to take ball after ball away from the more experienced pair throughout the first half. Rolling Bremen counterattacks overwhelmed the capital city side during the opening 45 and Schwarz's crew were very lucky not to fall behind earlier.

A confused press

One of the primary reasons Tousart and Serdar turned out to be so ineffective related to the fact that specific assignments weren't given to Hertha actors pressing Bremen's play out of the back. The basic idea--inspired by Freiburg's success against the Hanseaten last week--sought to force Werder into long-shot verticals as they tried to move up field. This stood little chance of working against a full-strength SVW side and truly couldn't work with Tousart, Serdar, Dodi Lukebakio, and Marco Richter all taking turns.

All of the missed challenges from this quartet allowed the Bremen attack to penetrate deep into Hertha territory with alarming frequency. Center-halves Marc Oliver Kempf and Agustin Rogel (not to mention keeper Oliver Christensen) genuinely did an admirable job negating the danger during Werder's stronger spells. By the end of the game, however, one could see that everyone on the back-line was completely gassed. The late lapse could have well been inevitable.

More missed chances

No one likes repeating completely obvious facts over and over again. It's intolerably aggravating to keep bringing this up every damned week. Infinitely more annoying, we're going to have to call out the very same actors yet again. Lukebakio and Wilfried Kanaga spurned opportunities during what was a rather strong start to the second half from the guests. Schwarz got his team pointed in his old 4-1-4-1 late and there were still more failures in this:

Lineup—Hertha BSC—73rd minute (4-3-3)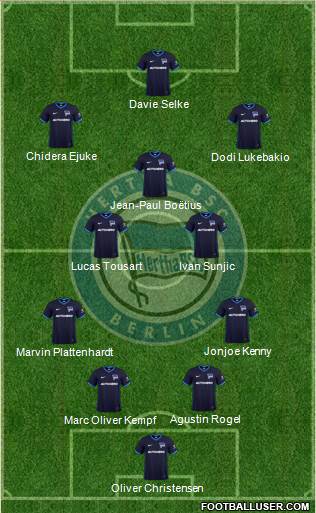 Chidera Ejuke left everyone gobsmacked in the 79th when, instead of taking a few more strides towards goal to improve his position, shot straight into Jiri Pavlenka's arms. The midfield triangle of Tousart, Boëtius, and Ivan Sunjic couldn't execute the counter as the trio remained far too unfamiliar with each other. So many transitional moments got wasted with sloppy play.

On the topic of things wasted, Jonjoe Kenny and captain Marvin Plattenhardt sent promising switches across to one another to no avail. The play ahead of the flanking fullbacks could never get on the right page as the turgid midfield frequently crowded the attacking trident out. This was all such a sordid mess; the type of choppy attack play that left one throwing things at one's television.

Danger ahead

For the most part, this column has kept up a supportive tone with regards to Schwarz's staid attempts to build a system. It seemed perfectly reasonable to assume that everything would begin clicking at some point. We've nevertheless arrived at the point at which we're rapidly running out of time. Upcoming fixtures against Bayern, Stuttgart, and Köln may not yield a single point.

Hertha could end up spending the winter in the relegation places. Such a position will trigger talk of pulling the plug on the Schwarz regime. Something about that doesn't quite sit right as, even in such dark times, the team requires the stable tactics Schwarz can bring more than it needs another step back to square one. Results in the ultimate "results-driven-business" can often facilitate "no-win" scenarios.

Unless something totally unforeseen occurs, we might be headed for one of those now. Schwarz's tactics remain flawed, but sensible enough on a foundational basis. The confidence-level of his players, however, precludes them from being executed properly. A new gaffer won't fix that. It could possibly even render matters worse.

Is there something stirring in Stuttgart?

A little something. VfB interim trainer Michael Wimmer--having to do without Enzo Millot and (more importantly) talismanic defender Konstantinos Mavropanos on short notice--put together a 4-4-2 that ended up functioning splendidly against Augsburg. The Swabians were able to crush their Bavarian Swabian guests in terms of xG, 3.12 to 0.75. This was a deserved win.

Just as was the case with the Leverkusen loss, we all had to endure grousing from the Augsburg actors over an officiating error that could have swung the match in a different direction. While the points raised remained legitimate, there really should be no doubt about who the better team was on this day. Wimmer's improvised constellation performed exceedingly well.

Lineup—VfB Stuttgart—Match 12 (4-4-2)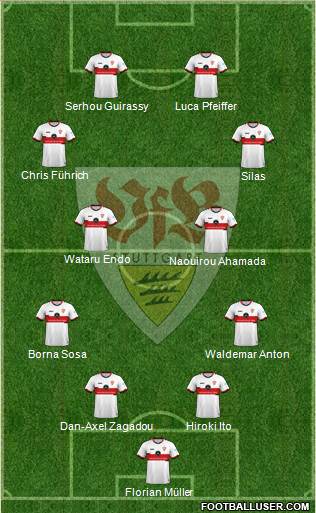 There's much to be said about the benefits of giving Wataru Endo a regular axial partner. Naouirou Ahamada, a far cry from the green, shy, and error-prone player we were introduced to in his early days long ago, has undergone an amazing growth developmentally. The 20-year-old French talent had another amazing game, amassing over sixty touches, getting three shots off and completing over 90 percent of his passes.

Pairing Ahamada with Endo should thus be treated as a given at this point. The two players complement one another well and have definitely developed an intuitive understanding. The ideas to stack Chris Führich behind Serhou Guirassy, move Borna Sosa back to left fullback, and break up the Silas-Sosa stagger entirely also produced some positive results. Guirassy, Sosa, and Endo all saw efforts cleared off the line.

The trio mentioned in the above paragraph fully deserved to get their names on the scoresheet,. We truly witnessed a tremendous performance from most all the VfB actors. Luca Pfeiffer was also unlucky not to score with a header off the crossbar. Hiroki Ito got robbed by some goalkeeping heroics from FCA keeper Tomas Koubek. So too was Pfeiffer again as the match entered injury time.

It truly would have been a shame not to see the southern Autostädter not get three points from this one. Thankfully, justice was ultimately served when VfB substitute Tiago Tomas served up makeshift right fullback Waldemar Anton with a clever little back-heel at 90+2. Anton's injury on the play might leave Wimmer in search of a new player to work the position in this constellation. Mavropanos could handle it.

The importance of this victory cannot be understated. So many times when tracking this team under previous trainer Pellegrino Matarazzo, the topic of this young squad's inability to overcome in-game adversity kept cropping up. The Württembergers cleared a massive hurdle here. Consistency with regard to the current coach, tactics, and personnel might yield something quite good.

Anything to report from Thomas Reis' debut?

Few will have been expecting a miracle from the only very recently appointed trainer of die Königsblauen. In addition to barely having two training sessions to scout his players, Reis had to contend with some bad luck in the form of Jordan Larsson's bout with illness, Dominick Drexler's muscular issues, and Timothée Kolodziejczak's unavailability.

Some players had to work out of place, but this writer actually thinks the new S04 gaffer did a decent job reorganizing the 3-3-2-2 rabble Mathias Kreutzer put forth last week. Some simple tactics. In the opinion of the column, probably the most sensible we've seen from this team all season.

Lineup—FC Schalke 04—Match 12 (4-2-3-1)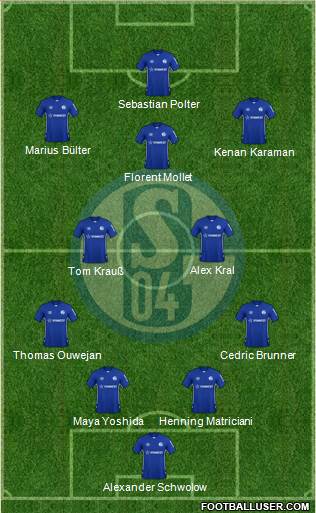 Henning Matriciani and Florent Mollet didn't do all that bad in what are secondary placements for them. Alex Kral and Tom Krauß--at least back on a horizontal axis chain again--showed some promising coordination late. Marius Bülter, though down a tick from last week, still furnished a serviceable performance. Kenan Karaman had his moments Simon Terodde performed well off the bench.

Sadly, this team's intolerably rotten luck followed them onto the pitch. The absolute last thing Reis needed was for his squad's one semi-reliable attacking threat out of the back, Thomas Ouwejan, to go down with injury early. Kerim Calhanoglu--that one chance notwithstanding--couldn't keep up on either side of the ball. Freiburg's day from the 34th minute onward. Two more tallies for the chasing Vincenzo Grifo.

It still doesn't look like Schalke can nick a point off any of their three remaining opponents (Bremen, Mainz, and Bayern) before the World Cup break. That's the bad news. The columnist discerns some good news in that they at least have a pragmatic coach in place who won't confuse everyone with zany postmodern tactical constellations. With targeted signing or two during the transfer window, there could be some hope.

How exciting was the "Top-Spiel"?

Much more exciting than all of the post-match clamor suggests. With everyone (literally everyone) admitting that Eintracht Frankfurt should have been awarded a penalty in the 42nd minute when Karim Adeyemi pushed Jesper Lindstrøm down in the box, many will tend to relegate the actual football played in Saturday night's late offering to the back-burner. One shouldn't forget that an intriguing football match took place. VAR discussions overshadow this one. A shame as there's still plenty of football to discuss.

Both of these teams stand strong in their current set of tactics. BVB trainer Edin Terzic's new 4-2-3-1, with Julian Brandt helming a loose ten position, functioned beautifully once again. Brandt secured his fourth goal across all competitions this year after some brilliant set-up work from Salih Özcan and Donyell Malen on the opening tally in the 20th. Niklas Süle, Nico Schlotterbeck, and Youssoufa Moukoko once again turned in strong performances and were involved in the lead-up to what-proved to be Jude Bellingham's winner in the 52nd.

Just as sure as no one will deny that Frankfurt deserved a penalty, few will make the case that the SGE weren't by far the better team. Trainer Oliver Glasner's current constellation is simply an unstoppable beast. More amazingly creative forward play from Daichi Kamada and the attacking triumvirate of Mario Götze, Jesper Lindstrøm, and Randal Kolo Muani in this one. Eric Junior Dina Ebimbe has really settled into his novel right-wingback role superbly. The Frenchman lit up his lane. Luca Pellegrini also deputized for Christopher Lenz excellently on the left.

Taking a step back from the penalty debate--as all Bundesliga diehards would very much like to do at this point--we've a pair of squads here that begin to look like real title contenders. Eintracht owned this match attacking-wise with an xG ratio pushing 3:1. Though Dortmund didn't match the tempo or the flair offensively, it's fair to say that the BVB have what they've been missing all these years. Namely, a solid back-four (admittedly stronger with Raphaël Guerreiro) and a world-class keeper. Hopefully, some can see past the VAR junk and talk about this fact.

Should Köln-Hoffenheim have been postponed?

There won't be many, if any, complaints from the German football lovers who fought so hard to get the Bundesliga to cancel out its "Montagspiel" marketing plan. Sometimes circumstances necessitate that the matchday spills over to Monday and we accept it. The COVID hiatus in 2020 left us leaving the feelings of protest behind. Giving Eintracht Frankfurt and RB Leipzig an extra day of rest ahead of their 2022 Europa League fixtures wasn't popular, but we mostly accepted it.

The fact is that, with such a packed schedule before the World Cup break, the DFL simply couldn't afford any more schedule disruptions. Steffen Baumgart put it well enough himself when he said that there weren't any good solutions at hand. Baumgart's Geißböcke didn't play a terrible game either, at least not until their legs gave out during the second 45. Köln exerted superiority (if only slightly) against a Sinsheimer squad that's falling into the same passivity trap that they did under Sebastian Hoeneß.

Florian Kainz could have polished off some chances to give the Effzeh a deserved narrow victory. Ozan Kabak's denial of Florian Dietz's clear goal-scoring opportunity near the end really stung a bit as the much more fair result was in reach. That's about all one can say about this fixture. Hoffenheim should have lost. Perhaps the Kraichgauer will grace us with a failure in next week's dreaded "El Plastico" showdown with Leipzig.

Weekly Tactical Focus: The New "Complete Package"

This week's selected "focus" feature practically selected itself. As teased a bit last week, Bayern-Mainz had all the makings of an instant-classic. Two squads in rollicking form set to square off. Julian Nagelsmann's record champions entered the encounter on a five-match winning run. Bo Svensson's Rheinhessen themselves weren't slouching on a three-game-winning streak. The belief in a sensational upset certainly existed. Even if we didn't end up getting one, these two teams delivered us an unparalleled action-packed affair.

Full-time xG anyone?

xG Bayern--4.59, xG Mainz--2.57

Wow. Man, do we ever have a lot to cover this week. Takeaways abound from this cracker. As readers can easily infer from the photo selected for this week's column, Eric Maxim Choupo-Moting's name shall crop up frequently. After this match, the Hamburg-native now has six goals in his last five games. Another assist in this one gives him 10 scorer points across all competitions this year. We have ourselves an unbridled awakening. A Cameroonian international Germans remain happy to claim for themselves is on fire.

....and we absolutely love it!

 Lineup—FC Bayern München—Match 12 (4-2-4)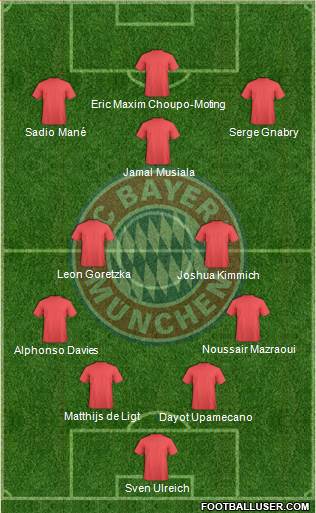 Choupo's concrete tactical role isn't one that lends itself to a straightforward explanation. Is he a "dipping false-nine"? A "pseudo ten"? Perhaps what Germans like to call a "half-nine" based on his tendency to always work the half-spaces? Truthfully, Choupo works all of these classifications in any given match. Nagelsmann--after subjecting him to a complete training regimen--clearly gives his lead attacker free-reign to act as "the complete package".

Many FCB actors receive well-earned praise in this week's analysis. Joshua Kimmich and Leon Goretzka ran the Bayern engine almost perfectly. Noussair Mazraoui made so many intrepid runs forward that he could have been confused for Alphonso Davies. Sadio Mané turned in his best performance in a Bayern tricot since round one of the current campaign. More breathtaking stuff from Jamal Musiala. Serge Gnabry is now unquestionably out of his form slump.

Amid of these plaudits, Choupo still deserves the most recognition. We'll also strive to give credit to die Nullfünfter for a fearless match worthy of their foes. All Svensson's Pfälzer needed was a few more critical moments to break their way and we could have seen a different outcome. Some interesting tactical and personnel choices from the Mainzer trainer this weekend. One can debate the wisdom of Svensson's game-plan, but it undeniably worked well enough.

Lineup—FSV Mainz 05—Match 12 (3-4-3)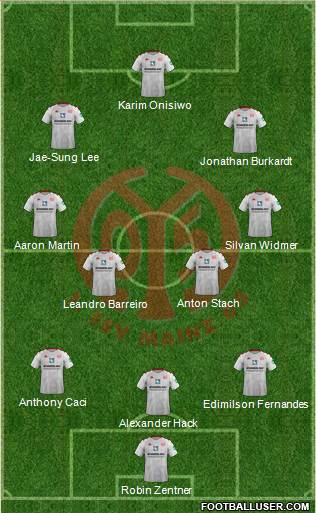 Back in the 3-4-3 we drew up in the round nine bulletin. Svensson had gotten his squad rearranged in his preferred 3-3-2-2 for last week's win over Köln. It came as something of a surprise to see the Danish gaffer revert here. Presumably, the plan involved pocketing back on the midfield axes in order to give the team a fighting chance to respond to the Bayern press and absorb traffic up the flanks.

The rationale behind personnel and positioning

Attempting to figure out just what Svensson was thinking proved a fun exercise. Three personnel changes to report. Captain Silvan Widmer returned to take over for the ill Danny da Costa while Leandro Barreiro filled in for the also sick Dominik Kohr. A very curious move saw Jonathan Burkardt start in place of Marcus Ingvartsen, who had scored in four consecutive matches.

When the team sheets were released, the most significant question concerned whether the "Johnny-si-wo" striking tandem would be reunited. It was not. Svensson instead placed his faith in Karim Onisiwo's recent form and trusted the Austrian to operate as the central target. Burkardt had a much larger role to serve as a driver of the link-up play. He fulfilled this serviceably.

Dropping Anton Stach back into the six-slot could have been strictly related to Kohr's unavailability. It could have also been a deliberate ploy to put a tight shadow on Kimmich. Some of Barreiro's movements in the early going hinted at a split-stagger in midfield, but evidence remained pretty inconclusive.

Whatever Svensson aimed to put together stood toe-to-toe with the heavy favorites for long stretches over the course of this match. Impressively, the guests did not pack it despite the fact that the scoreline gave them every excuse to do so. We've a definite "lid" in this week's narrative. It nevertheless came much later than expected.

Match Flow: 1st to 5th minute

Bayern demonstrated a certain amount of respect for their guests in the opening three minutes, keeping possession yet not really striving to cut through. Two right-ward cycle retreats from the FCB in the 1st. Mané, Goretzka, and Davies didn't dare venture forward on a bow-arc in the 2nd. Dayot Upamecano showed a little initiative carrying forward in the 3rd, only to stop and fall back twice himself.

Gnabry tried to work in a diagonal for Goretzka toward the end of the 3rd. Barreiro read it all the way and cleared. Choupo nevertheless remained on the ball and, after the first of many spectacular hold-ups from the renewed star, played Gnabry back into the area on the half-right. Gnabry, in turn, spotted Mané at the far left post. Mané could only hit the side netting from a very acute angle.

Mazraoui executed a nice midfield pick-up in the 4th and got a nice run off before Barreiro stopped him. Barreiro's long-ball for Onisiwo still wouldn't be any good and Bayern were back in pass-cycle possession before the minute was out. Goretzka and Gnabry ultimately worked it forward in the 5th. The opening goal would be immediately forthcoming.

Goretzka cut across in the direction of the FCB right. Aaron Martin took the German national team midfielder out whilst match official Benjamin Cortus signaled advantage play. Gnabry took the ball ambitiously again and played out to Mané wide left yet again. This time the Senegalese international had his eyes on a return ball. Musiala cleverly let the ball get back to Gnabry with a deft leave.

Gnabry's first control touch was absolutely gorgeous. So too was the finish from about six meters out central. Lovely actions from the German national team attacker, though one could question the pocket of space the Mainz markers left open for him. In any event, Bayern were up 1-0 early. Based on what we've seen from the defending champs thus far this season, such an occurrence usually spells doom.

Match Flow: 5th to 28th minute

Alas, signs were readily apparent that this particular affair wouldn't be a blowout. Mainz mustered up an immediate response. Stach and Widmer played Onisiwo through on the right as soon as we resumed in the 6th. The Austrian striker paced past Upamecano and fired a stinger in on target that Sven Ulreich could only parry away for a corner. The Pfälzer guests would get two corners in the 7th.

Aaron swung in a decent service from the right that Mazraoui had to quickly clear out. Anthony Caci took the second service from the left, hitting Stach for an effort on target. Ulreich had no problems catching the header and tried to spark a counter with his quick-release. Jae-Sung Lee tracked back in time to halt Musiala at the beginning of the 8th.

After Lee played back o Robin Zentner, the FSV keeper took his time setting up the build as a means of taking the tempo out of proceedings. Svensson's crew were able to maintain possession with rearward bow-arcs through the 9th. A solid hold up from Burkardt enabled Widmer to play through Onisiwo at the the end of 9th. This time Upamecano had his mark covered.

Bayern employed a slow-roll build in the 10th that featured many sharp passes. Eventually, Choupo drew coverage with another great hold-up and hit Gnabry on the right. Caci and Alexander Hack closed ranks and scampered away for a corner. A nice design saw Kimmich play to Musiala on a short take. One could tell that the intention was to get the ball back to Kimmich, but Musiala played the return out into touch.

Mainz couldn't do anything on their next charge. The FCB back-four absorbed the the 11th-minute rush. Ulreich restarted a 12th-minute drive with a tap to Matthijs de Ligt. The FCB's Dutch defender went on an enterprising run before forwarding for Choupo. A very cheeky flick-on from the Cameroonian international was nevertheless met by Edimilson Fernandes.

Caci and Widmer traded switches as the Nullfünfter attempted to counter. Davies had a bit of trouble coping with Widmer and the FSV captain broke through. Mané was forced to foul and the guests had a free-kick. Stach (generally not so hot on this day) supplied a 13th-minute service straight to Musiala. Mainz still managed some danger on the second wave.

Burkardt punched in, crossing over adroitly for Widmer from the left. Ulreich calmly collected his second header of the match and quick-started another counter. Gnabry and Mazraoui cycled through quickly on the FCB right. Caci caught up in time to put the brakes on the 14th-minute push. Davies, Kimmich, and Mané had no luck on the other side at the end of the same minute. Widmer took care of it.

A few FSV bend-backs in the 15th produced nothing apart from a desperate long-ball from Fernandes in Burkardt's direction. Barreiro repelled an FCB counter involving Davies, Mazraoui, and Kimmich. A series of throw-ins and stoppages ate up the 16th. Kimmich opened things up in the 17th with a fabulous long diagonal for Mané. Musiala received Mané's cutback, overcoming a poor first touch but still shooting wide.

In a powerful demonstration of just how deadly the Bayern/German national team future can be, Kimmich unlocked Mané again with another great ball in the 18th. Mané's cutback hit Caci's hand this time. While some of the FCB actors appealed for handball, Goretzka charged in and played out to Mané again. Hack barely recovered in time to get a toe-in.

Kimmich, Musiala, Mazraoui, and Gnabry tried fancier cycles in the 19th that, pretty as they were, didn't create any danger. More FCB cycles and bow-arcs outside the box in the 20th until Burkardt won a ball and turned it straight over to Mané. Davies came in off the overlap and won a corner off Hack. Choupo did a brilliant job extending Kimmich's 21st-minute service over to Mané.

Mané couldn't quite direct his header. Zentner held and allowed his outfielders time to fan out before starting the next attacking charge. Caci would hit Onisiwo with a quality long vertical. After some nice touches from the Austrian, Burkardt crashed in behind to meet the layoff. Burkardt spun past Kimmich artistically before pulling his 22nd-minute finish wide.

Another sublime Choupo hold-up in the same minute allowed Musiala, Kimmich, and Mazraoui to push up on the FCB right and execute a nice cycle. Gnabry burst in to take on the penetrative lane, earning a corner in the process. Burkardt shepherded out an Upamecano header already wide of the mark off Kimmich's 23rd-minute service.

Some not entirely cohesive play from the FCB on back-builds in the 24th and 25th at least yielded a couple of promising plays for Mainz. Mazraoui--otherwise close to perfect on the day--had some coordination problems with Ulreich on the cycle out. The result was two long-throws for FSV skipper Widmer. Kimmich and Davies cleared the first while Ulreich collected the second.

Musiala, Davies, Mané, and Goretzka ran the next rush with smooth passing. The sequence ended with Hack disrupting Goretzka's in-step about ten meters outside the penalty area in the 26th. Referee Cortus had strong words for the defender, who was clearly losing his grip. Kimmich's 27th-service led to nothing. Onisiwo, Lee, and Aaron ran a decent counter before Upamecano stepped in.

Bayern doubled their advantage on the attack. Lovely ideas from the Bavarians. Musiala switched out to Davies. The Canadian involved the onrushing Mazraoui and Gnabry. Davies got the ball again and returned for Musiala again as he crept into the box. Choupo implemented another breathtaking hold-up to allow the give-and-go with Musiala to develop.

Musiala received the ball back at the top of the area, shook off three (!!) Mainz markers, then fired a seemingly impossible finish off the turn into the bottom left corner. Absolutely incredible. Thank goodness the mixed heritage phenom belongs to Germany. We will likely behold many such finishes from Musiala in the coming World Championship, or at least that's the sincere German hope.

2-0 to the hosts.

Match Flow: 28th to 41st minute

One truly had to love this match as Svensson's Mainz obstinately refused to succumb to the regular pattern here. The guests fought back hard and very nearly pulled a goal back. Although much of the play transpiring in the 28th and 29th constituted typical "Bayern Cruise Control" possession, the Pfälzer were soon back pushing up.

The stalwart FSV sixes and back-three broke up very dangerous Kimmich-Choupo-Musiala-Mané cycles in both the 30th and 31st. Widmer had a little bit of trouble getting a counter rolling in the 31st, but atoned for some ripply play with some bonafide awesomeness in the 32nd. A nice touchback from Lee was met by Berreiro, who played Widmer out wide right.

The Mainzer skipper scraped an exquisite square over to Burkardt. Johnny rifled a sniper-shot finish off the crossbar. Lee had a great opportunity to turn the rebound home, yet could only hit the post. Unbelievably bad luck for the Rheinhessen. Another confident charge in the 33rd saw Burkardt unleash another powerful effort. Mazraoui blocked this time.

Bayern looked a little rattled as they tried to collect themselves and build another attack. Decisions weren't made until Davies opted to rush up the right in the 34th. In a rather interesting scene, Fernandes swept the ball away fairly with a slide tackle and was wrongly booked by Cortus. Replays actually showed Davies trying to tell Cortus that there was no contact. Fair play from the Canadian.

Cortus wasn't in the mood to let Bayern take a free-kick with all this going on, so we didn't resume until the 35th. A much less elegant FCB attacking sequence in the 36th--begun with Upamecano pushed Burkardt down on what was definitely a foul ended with Gnabry curling an effort past the post after set-up work from Goretzka, Musiala, and Davies, along with a nifty Choupo leave.

Barreiro, Lee, and Burkhardt charged up next in the 37th and earned a Mainz free-kick. Unfortunately, Widmer ultimately lost the ball to Goretzka and the Bayern counter was on. Choupo got caught just offside on the end of a give-and-go with Mané. Mainz got another free-kick in the 38th when Stach got caught with a high boot.

Fernandes saw his effort of Aaron's 39th-minute service blocked. De Ligt then canceled out Widmer's follow-up throw-in. Another FCB counter saw Gnabry just fail to reach the streaking Choupo. Mainz were back putting in some solid work the other way in the 40th. Caci, Widmer, Fernandes, and Aaron kept Bayern confused with long lateral switches.

Aaron finally tried to hit Onisiwo in the box with de Ligt marking. The two big bodies neutralized one another in the midair jostle. As a result, no one could claim the ball. Musiala led the ensuing counter, on which the game would get its decisive play. A slip-through to Mané on the half-left  led to a race between the Senegalese international and Hack near the goal-line.

Hack went straight for the risky dive. Cortus initially didn't blow the whistle. Even before observers had the benefit of the replay, however, we basically knew that a penalty was coming. Hack's body language betrayed it all. The long-time FSV defender knew full well what he had done. Sure enough, the images confirmed his tackle to be completely illegal.

Match Flow: 41st minute to half-time

The VAR team notified Cortus of the scene. It took a couple of minutes to complete the review as Mané also had to be checked for offside. The Senegalese international finally strode to the spot in the 43rd. Zentner initially saved what was an extraordinarily weak penalty from Mané, but left himself vulnerable by giving up the rebound. Mané remained calm enough to turn it home and we were at 3-0.

What does such a commanding lead for Bayern usually portend? Obviously, that the opponent's back has been snapped and the game is over. Svensson's men nevertheless obstinately refused to accept this narrative yet again. As soon as we got going again in the 45th, Fernandes, Martin, Barreiro, Caci, and Lee marched upfield on a captivating sequence.

Barreiro's ultimate cross got cleared out for a corner. Mainz then got their own penalty at 45+1. Ulreich came out to meet Caci's service, wiping the ball away with his fingertips, but also inadvertently hitting Burkardt in the face with the follow through. This writer confesses that he had no idea how this could possibly be a penalty. Cortus and the VAR team, after a two-minute-long consultation, evidently thought otherwise.

Possibly, it counted as a "give-back" call to compensate for Mainz's effort. In any event, Burkardt got his chance to stride to the spot at 45+3. One should probably question this idea. Someone who just got smacked in the face isn't really the best choice for a penalty taker. Burkardt went high and central. Ulreich needed only one hand to tip the failed effort off the crossbar.

Just when one thought it couldn't get any crazier, the Rheinhessen would get their pull-back goal off the subsequent corner. Two missed penalties. Two goals turned in anyway. Widmer caught Kimmich napping and turned in Aaron's service across the face-of-goal and into the far corner of the net at 45+4.

Madness.

Half-time xG:

xG Bayern--2.29, xG Mainz--1.55

Yowza. What an entertaining first half.

Match Flow: 46th to 58th minute

No tactical changes from either head-coach at the break. De Ligt had to remain in the locker room with an injury. Nagelsmann went for the straight-plug in by sending Benjamin Pavard (still a natural center back after all) to take the Dutchman's direct place. Svensson trusted his XI both personnel-wise and in terms of shape. This proved the correct decision as Mainz played especially well during this phase.

A somewhat sleepy Bayern attack in the 46th led to a corner. Kimmich's service, seemingly aimed at no one, sailed beyond the reach of everyone. A sleek FSV charge in the 47th concluded with a nice-touch back from Onisiwo to the onrushing Aaron. Pavard stopped both this and another Onisiwo pick-up rush in the 48th.

Burkardt went deep for a nice settle in the same minute. Regrettably, Fernandes, Widmer, and Lee just couldn't work out their cycle paths. The Pfälzer still kept the pressure on and earned a free-kick in a dangerous area in the 49th. A well thought-out design eventually saw Aaron lob a cross into the penalty area for Widmer.

The FSV captain did a wonderful job sneaking past Davies, yet found himself just a half-stride short of the needed connect. Ulreich scooped up and triggered a counter in the 50th. Fernandes ended up halting Goretzka after Musiala, Gnabry, and Davies worked the him the ball. Upamecano cut out Widmer after Fernandes and Stach sparked their own counter drive.

Onwards the Rheinhessen pressed. Stach had Lee all set-up with a gorgeous cross from the right into the area in the 51st. Pavard proved equal too it and glanced out for a corner. Burkardt headed Caci's subsequent service over the bar. Delivered something of a wake-up-call, Davies went blazing down the FCB left in the 52nd.

Davies' cycle survived some light pestering from Barreiro. Pavard stepped forward to shuffle off to Musiala. Hack blocked Gnabry's effort after Musiala delivered a dangerous square. Despite some nice dribbles from Kimmich and Musiala, Bayern couldn't find a way through on either flank in the 53rd. Choupo would find himself most unlucky on the next FCB charge one minute later.

Mazraoui stepped forward this time with a magnificent carry. The Moroccan picked out Choupo perfectly approximately five meters out from Zentner's goal on the half-right. Choupo's ice-cold finish around Zentner was definitely worthy of a goal. Instead, the tight-angle-shot hit the post. Mané touched the rebound back for Goretzka, who struck a soft effort into Zentner's arms.

A long quick start vertical for Burkardt didn't work as the Mainzer attacker couldn't beat Davies in a foot race. Mazraoui raced forward again in the 55th. Upamecano joined his fellow defender and, through Kimmich, got the ball over to Choupo again. After the "nth" silky hold-up from the Cameroonian international, Gnabry made a poor choice going wide for Mané. Zentner collected Mané's cross.

Mané curled wide after Kimmich sent him through with a telegraphed vertical in the 56th. The Senegalese international would miss yet again in the 57th after Choupo set him up central. It could no longer be denied that the Bavarians were wide awake now. A goal surely had to be just around the corner. Seconds later, it came.

Mazraoui and Mané got it right this time. The Moroccan ran all the way to the edge of the danger area and shifted left for Mané. After two mishits in two minutes, Mané looked up for a colleague. He found one in the upward pushing Goretzka. As if Mané's cross wasn't spellbinding enough, Goretzka absolutely murdered the marking Aaron in the aerial duel.

4-1 to the "German Giants".

Match Flow: 58th to 79th minute

To declare a full "lid" here would be wholly unfair to Mainz. Incredibly, they kept fighting against the mighty Bavarians despite the scoreline. Burkardt ran his heart out to get to a long vertical intended for him as soon as we resumed in the 59th. Davies was simply faster that the gassed German. Stach and Widmer worked an elegant give and go at the hour-mark. The latter executed a wicked pullback for Barreiro that Pavard had to be alert to block.

Even as Nagelsmann sent on the ultra-talented reinforcements--Marcel Sabitzer and Kingsley Coman for Goretzka and Gnabry--in the 60th, one still maintained the sense that the Rheinhessen could pull off something sensational here. Svensson went for his own triple change in the 62nd. Ingvartsen, Angelo Fulgini, Aymen Barkok relieved Burkardt, Lee, and Stach. The M05 trainer immediately put his lads back into the preferred 3-3-2-2.

Lineup—FSV Mainz 05—63rd minute (3-3-2-2)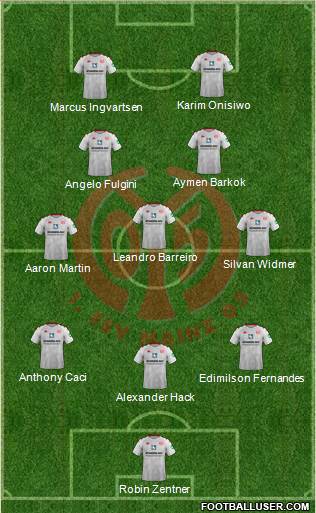 Onisiwo and Ingvartsen pressed high, fighting (and ultimately losing) against the FCB center backs in the 63rd. Fernandes came forward for the pickup, only to turn the ball over to Upamecano again. A quick Bayern counter should have resulted in a goal for Musiala after Mané played the German phenom in. Zentner somehow managed to deflect Musiala's biting effort of the crossbar with his knee.

The Bavarian hosts passed around the new constellation in the 64th. The sequence culminated with Mazraoui heading a Mané service over. To their immense credit, the Pfälzer punched right back. Fulgini and Onisiwo led to the next charge in the 65th. Barkok crossed lanes to send a potent drive into the side netting. Onisiwo and Widmer pressed near the danger area again in the 66th.

A 67th minute foul from Barkok on Davies set up a free-kick for the FCB in the 68th. Svensson took advantage of the break to send Stefan Bell on for Fernandes on a like-for-like. Zentner held Kimmich's weak 68th-minute -service. Hack then stopped the next Bayern rush with a nice tackle away from Coman.

Signs that a full "lid" might be around the corner came in the 69th. Upamecano and Sabitzer set Choupo up for a run into the box. The Bundesliga's "man-of-the-moment" wowed us all with a spellbinding dribble past three Mainz markers and a nifty snapshot finish past the encroaching Caci. Zentner could only reflex-parry Choupo's effort away.

Choupo got some more nice touches in during the next two FCB attacks in the 70th and 71st. A Bayern substitution (Ryan Gravenberch to give Musiala an extended curtain call) and an injury time-out (Barkok) took us through to the 73rd. Onisiwo was free on a counter after a Kimmich free-kick was repelled by Barreiro once play resumed. The Austrian regrettably stumbled over his own feet.

More fouls and stoppages throughout the 74th and 75th. The air was beginning to ease out of this ballon. Both trainers opted for more subs in the 76th. Mathys Tel replaced Mané, giving the Senegalese star a chance at his own curtain call. Svensson also sent on the twice-suspended this season Delano Burgzorg for Onisiwo. That pretty much counted as the capitulation.

A pure Bayern power play between the 76th and 79th. Nagelsmann's crew enjoyed a mostly uninterrupted possession spell as their guests laid off the press. Eventually, Sabitzer exploited the wide open pockets of space forming at the end of the third minute and hit Tel on the left. Bell barely contested as Tel slipped past him. The 5-1 took a slight deflection in off Widmer.

We had our "lid".

Match Flow: 79th minute to full-time

Two more goals to discuss "post-lid"; both from Bundesliga footballers in absolute scintillating form. Ingvartsen made it five fixtures in a row with his 82nd minute tally. The Dane's hot streak continues thanks to an insipid pass out of the back from Ulreich. The FCB net-minder played a ball straight to Burgzorg's feet. Ingvartsen had no real problems playing the ball right between Ulreich's legs once the Dutchman set him up.

Choupo's scoring streak got extended via a more artful sequence in the 86th. The indefatigable Mazraoui carried forward again before servicing the FCB lead striker. Choupo and Coman executed a give-and-go that began with a header from the former. The finish was simple enough, but still impressive given how much hard work the former Mainzer had put in on what was a long day.

Absolutely fitting to see him score.

We'll bookend with full-time xG:

xG Bayern--4.59, xG Mainz--2.57

Just a great football match. One can hardly wait for these two to duke it out again in the "Rück-runde". While Svensson's Nullfünfter hardly be happy with conceding three goals after three consecutive victories during which they kept clean sheets. The Pfälzer can still remain proud of this performance on so many levels. With Wolfsburg, Schalke, and Frankfurt left before the World Cup break, Mainz have a chance at 4-6 points and a winter spent in the European places.

As for Bayern...well...there probably shouldn't be any doubt left as to which club will sit atop the Bundesliga standings come calendar year 2023. Way too many five-star performances from the actors in this constellation; most of whom will be getting a break during the midweek Champions' League dead-rubber. Thomas Müller should also be back in time to help the FCB to comfortable victories over Hertha, Bremen, and Schalke. Nine easy points. Union won't find it so easy against Leverkusen, Augsburg, and Freiburg.

All of the glittering stuff from Mané, Musiala, Mazraoui, Upamecano, Kimmich, Goretzka, and Gnabry in this one notwithstanding, the main story must remain "Choupo-Mania". That fever grips the Bundesrepublik. Hamburg's native son is really on a roll. Four shots and three assisted shots in this one. Another goal netted and another assist registered. Over 75 percent on passing and duels. Thirty-two intelligent touches, with not one single heavy one among them.

Practically every German wishes we had Choupo representing our country in a short three weeks' time. The Indomitable Lions have a real gem on their roster. Unlike in last January's Africa Cup of Nations, Choupo won't be biding his time against the likes of Vincent Aboubakar and Karl Toko Ekambi. He'll definitely be staring when Cameroon kick off against Switzerland. Do watch out as, at this stage in his career, Nagelsmann has groomed him to be "the complete package".

Thanks so much for reading! You can occasionally catch Peter goofing off while watching non-Bundesliga football on twitter, @ViceytheSS.

Twitter DMs are open for football conversations, corrections, and (if you truly insist) general abuse. 

All columns debut on Bulinews before appearing on Peter's website as the season progresses.



Related stories