Bundesliga Tactics Talk: Round 18
By Peter Weis @PeterVicey
Welcome one and all to the 2022/23 German Bundesliga's "Rück-runde"!

The season has officially passed its halfway mark. As orderly-loving Germans are always keen to point out, all 18 Bundesliga clubs will now play each other in the exact same order as they did in the first half of the season.

For the purposes of this column - now running strong for three years here on Bulinews - that means the return of our "Spiegel Specials" section. In the process of covering all nine fixtures from the weekend, we take a look at some of them through the mirror lens of the completed Hin-runde.

The latest edition of your Sunday Bundesliga feature column features draw-ups for Mainz, Freiburg, Stuttgart, and Leipzig. We'll take a very deep-dive into the Frankfurt-Bayern 1-1 draw in the "focus" section.

Come along for an in-depth look at ALL the latest Bundesliga action!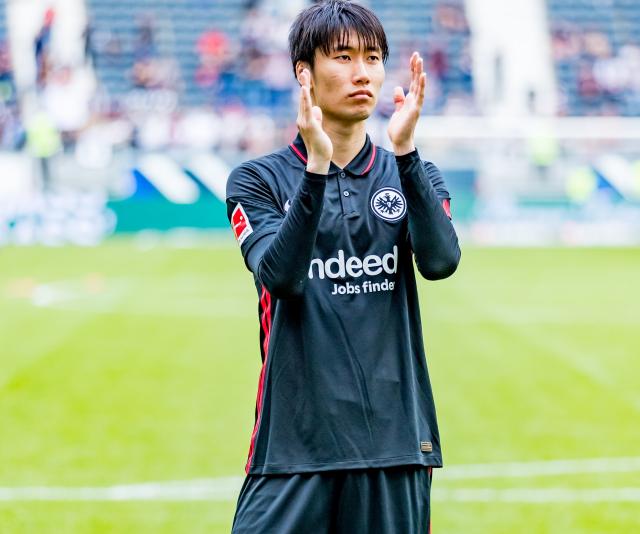 | | |
| --- | --- |
| Daichi Kamada. | Photo: Sven Mandel, Wikimedia Commons, CC BY-SA 4.0 |
Bundesliga Tactical Banter: Round 18
The "Bobic Bombshell"

A standard rule of journalism holds that "if it bleeds, it leads". Hertha BSC receive the first section of this week's column by virtue of the fact that they are hemorrhaging hard amid their latest crisis. The shock dismissal of sporting CEO Fredi Bobic on Saturday constitutes something unprecedented for this football watcher. Honestly never seen anything like it; not in well over two decades of covering the often turbulent world of club football. How can it be that someone operating with such a strong recent vote of confidence suddenly got axed with such little forewarning?


The move made sense when one considers the actual state of the club. Bobic's transfer halt bordered on the absurd. It made zero sense for him to keep such a stringent guard on the pursestrings. As a footballing functionary, Bobic earned a reputation for being a shrewdly economical type during his stints with Stuttgart and Frankfurt. He notoriously sold off players who succeeded on his watch for high sums and received praise for it. Now, it appears, he let that sort of reputation guide his choices to the point that he went completely off the rails.

This story shapes up to be one of a club's board taking a firm stand against someone who developed megalomaniacal tendencies. Bobic literally insisted that all the other administrators be cleared out of his front office. He then proceeded to sit on his hands and do nothing of much note transfer-wise apart from running around in circles with the players he did procure, all the while ignoring the fact that he needed to do more than just correct his mistakes. Such terrible work in this latest undertaking. Wow. It's no exaggeration to say that Bobic's career might now be over.

We'll want to say a few words about the actual football match that took place over the weekend. Sandro Schwarz's Hertha performed admirably enough in the latest edition of the "Berliner Stadtderdy" in that Hertha-Union remained a pretty boring affair. Despite the fact that the game was total mismatch on paper, hosting Hertha kept it competitive by clogging up the midfield, disrupting Union's transition game, and boxing out wingbacks Christopher Trimmel and Jerome Roussillon on the flanks. Eventually, die Eisernen gained confidence and took control.

Union unfortunately find their perfect start to 2023 overshadowed by the chaos occurring in the ranks of their larger capital city neighbor. Urs Fischer's FCU defied all expectations with their recent play and wrap up the weekend in second place. New signings Roussillon and Josip Juranovic are already off the mark. Aïssa Laïdouni will only make this team better. Another masterfully executed corner goal from this team on Saturday, not to mention another tally from Danilo Doekhi. A monster match from Rani Khedira, who initiated the counter on Union's second goal.

Bravo, Union.


Success "in the shadows" can also have its advantages.

The "Fohlenelf" Awakening

Thanks to Jonas Hofmann's herbal tea consumption, Borussia Mönchengladbach were able to furnish a reaction and collect their first three-points-haul of 2023. Hofmann bagged a brace on the BMG's only two real chances of the first half. As the Gladbach midfield continued to exhibit serious problems in its build-up-play, Hofmann and squad captain Lars Stindl ensured ruthless chance exploration with a pair of tallies against the run-of-play. In all candor, the team's overall posture still sucked. At least the counterattack worked. That's progress.

Farke's first-away-win during his short tenure in charge came via the same 4-2-3-1. Christoph Kramer, Manu Koné, and Julian Weigl still have much room for improvement in terms of getting the triangles right on the charge. Hofmann and Stindl on the wings worked out impeccably well, but the squad would nevertheless be better served in the long run if Alassane Plea could get rolling in Stindl's place. Far too many BMG attacks ran down the right. Full-time xG (Hoffenheim 2.48, Gladbach 2.08) illustrates that the result was flattering.

Overall, the "Fohlenelf Awakening" has a hyperbolic ring to it. Farke's crew could, as we've seen so many times this season, quickly fold up and get pummeled. That's  simply what kind of team this is. Everything lies precariously balanced. Weaknesses in the defensive ranks manifested themselves in this one too. No real sense in backing off the prediction from the last column that the foals could still be in for a precipitous drop. Farke's men did manage to stop the results side and place Hoffenheim on the spot. Die Kraichgauer are now winless in their last eight. 

TSG trainer André Breitenreiter possesses real problems now. Like his two predecessors Alfred Schreuder and Sebastian Hoeneß, the Sinsheimer gaffer must contend with the fact that he is failing to organize a very expensive agglomeration of talent into something capable of picking up points. A 3-5-2 led by Kasper Dolberg and Andrej Kramaric summarily failed in this one. So too did a 4-3-3 with Ihlas Bebou and Munus Dabbur working alongside Kramaric. The hometown fans booed and whistled their team off the pitch.

After a DFB-Pokal elimination against Leipzig midweek, a sacking could come.

The "Spiegel Specials": Round 18
Mainz-Bochum (2:1, 5:2)

Everyone up for Bayern-Mainz in the Pokal?

Hopefully so after what we witnessed on Saturday!

Bo Svensson's Rheinhessen went ahead did the double over Bochum in a grand fashion. In front of a packed house at the MEWE Arena, die Nullfünfter exploded for five goals. Long-time Bundesliga watchers in particular find themselves immensely pleased to see Karim Onisiwo carry on his late-career form surge. Svensson's new 3-4-3 is taking off at precisely the right time. Get ready for more! There's something special brewing in the Pfälzer capital.

In fairness, we did receive some signals of a Mainzer awakening in the Dortmund match midweek. Regrettably, this writer was a bit derelict in his duties in the midweek column; focusing instead on a hypothetical lineup for opponents Borussia Dortmund. Die Nullfünfter dominated their Westphalian guests for long stretches of time before Giovanni Reyna scored the last-minute-winner. New blockbuster signing Ludovic Ajorque looked spectacular off the bench.

Ajorque got a chance to start this time.

Lineup—Mainz 05—Match 18 (3-4-3)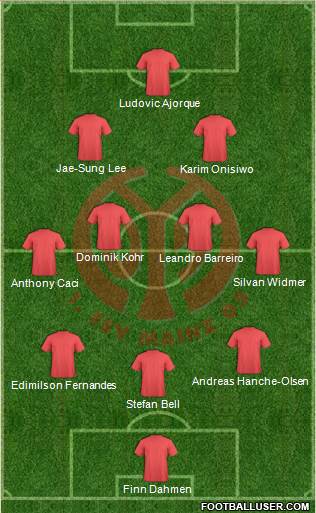 Having a classic-nine target man to draw coverage really works wonders. Even if the Frenchman didn't record a shot and racked up perhaps fewer than ten touches of the ball, Bochum had real difficulty handling his presence in the box. As a result, Onisiwo and Jae-Sung Lee had all the time and space in the world to help their team rush out to an early insurmountable lead. Wingbacks Silvan Widmer and Antony Caci also had wide open marks to aim for with their crosses.

Although the Bochumer ranks - with Gerrit Holtman and Simon Zoller on their unnatural sides for some reason - constituted an unsettled lot of easy prey and Thomas Letsch's VfL exposed the FSV's own defensive weaknesses with a pair of quick tallies in the 70th and 72nd, one shouldn't take anything away from Mainz's performance. Svensson's charges had to work especially hard to fight their way past two ex-Mainzer in midfield. Kevin Stöger and Pierre Kunde-Malong won their fair share of second balls.

Prognosis: Another Pokal Pick

When these two teams met in round one of the current campaign, we were discussing the unlikely occurrence of a Karim Onisiwo brace. At very nearly this precise point last season, we were covering a Mainz-Bochum encounter in the league and proudly tipping Bochum to upset Mainz in an upcoming DFB-Pokal round-of-16 fixture. Care to know something interesting? That pick actually came to pass! Bochum defeated Mainz 3-1. Those sensing another tip here are correct.

Now that we're discussing a Karim Onisiwo hat trick and Bayern (covered in greater detail below) have been slow to get into gear in the new calendar year, this column feels comfortable reaching for the sensational. Mainz, in their current form, will supply us with the unheard of. Bayern shall be eliminated from Germany's domestic cup early for the third consecutive year running. Yes, you read that correctly. We're going to have more FCB "crisis points" to cover next week.

Get hyped and psyched.

Freiburg-Augsburg (4:0, 3:1)

Another team does the double over its opponents, not to mention also locates some newfound success in a 3-4-3. To think about where Freiburg were at this time last week. The columnist officially wrote off their title-challenging and top-four prospects before half of the season had even been completed. Having now watched Christian Streich reorganize the team tactically to the effect that they're most assuredly on the upswing...well...it still doesn't look as if the Breisgauer will reach either one of these goals. They are nevertheless performing better.

Unlike as with Mainz, Freiburg are still having problems achieving consistent penetration into the opponents' penalty area. We witnessed them struggle with this mightily in the midweek draw with Frankfurt. The issue recurred against the Fuggerstädter with far too many SCF approaches getting bogged down in midfield. After accruing a 2-1 lead over Augsburg at the half, Streich's men settled into a frustratingly passive "wait-and-see" approach. The win was deserved, yet not the most convincing from an open play standpoint.

Here's where we're at now.

Lineup—SC Freiburg—Match 18 (3-4-3)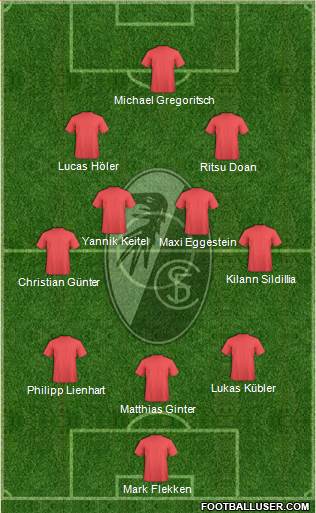 The Freiburg right isn't performing up to its potential. With Augsburg playing less than 10 percent of their attacks down the side of Ritsu Doan, Kiliann Sildillia, and Lukas Kübler, one expected much more from these largely quiet actors over the course of the game. SCF captain Christian Günter deserves some of the blame for not initiating enough switching sequences. Doan and Lucas Höler also did a poor job feeding Michael Gregoritsch with consistent quality.

Counting Höler's 2-1 off a quick kickoff midfield start, two of Freiburg's three goals came from dead-ball situations. It was on the 2-1 that Doan, Gregoritsch, and Höler harmonized almost perfectly; something we saw not nearly enough of over the course of the afternoon. This attacking trio exhibits marvelous potential, but appears to be two to three matches away from gelling the way it needs to. There's also the matter that - should Streich wish to stick with this system - he has to leave talisman Vincenzo Grifo out.

Prognosis: Back to a 4-2-3-1

The last point in particular strongly suggests that the SCF gaffer will have to return to precisely what didn't work for him last week. One can expect some more "growing pains" from this during a tough run-of-fixtures against Dortmund, Stuttgart, Bochum, and Leverkusen. Even the weaker teams in that field work very hard against the ball and the Freiburg midfield isn't sorted out yet when the sixes operate deeper. The 3-4-3 kept Augsburg off the ball at the price of some finesse up front.

Oscillating back-and-forth between these two constellations remains something that could make Streich look like a genius if he attains the desired results in the coming weeks. Something about how Streich's plans often fall apart during the second half of the campaign leads one to the prediction that we're in for some erratic and irregular play from this squad in the near-term future. A humble columnist sincerely hopes that he's wrong about this. There's just too much instability to ignore.

Leipzig-Stuttgart (1:1, 2:1)

After Domenico Tedesco's Roten Bullen opened the season with a 1-1 draw against Pellegrino Matarazzo's Stuttgart, two teams under new coaching regimes arrived at a very different result here. Virtually everyone expected Leipzig to take all three points against a VfB Stuttgart side missing over half of their starting outfielders. The release of the team sheets brought with it the news that VfB lead-striker Serhou Guirassy also couldn't partake due to a stomach bug. It felt as if Friday night's curtain-raiser was over before it really began.

Alas, the xG tells a story in this case.

xG Stuttgart--1.78, xG Leipzig--1.14

Marco Rose's RB were made to scrap and scrape for a 2-1 victory. The three points did not come easy. Are there lessons to be derived from the manner in which Bruno Labbadia's relegation-threatened squad took the swagger out of Leipzig's game? We'll have a look, beginning with Rose's tactics. It's About time we check out Marco Rose's version of Julian Nagelsmann's old 4-2-2-2. A formation brimming with talent lined up against the Swabian "D-Side".

Lineup—RB Leipzig—Match 18 (4-2-2-2)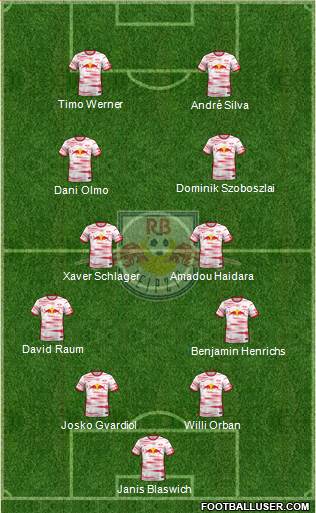 Rose unquestionably could have fielded a stronger XI. David Raum and Amadou Haidara's inclusions related to the need to allow both players a chance to get their feet wet for the first time in the new calendar year. Benjamin Henrichs was permitted to retain his starting place after he did so well in the surprise midweek start at Schalke. Konrad Laimer, Mohamed Simakan, and Marcel Halstenberg might have had an easier time closing this game out sooner.

One should also note that, final xG notwithstanding, the hosting Saxons did have plenty of opportunities to attain a more flattering scoreline. André Silva and Timo Werner (definitely a potent striking tandem set to make serious waves at this point) missed excellent opportunities. Dominik Szoboszlai narrowly missed a hat-trick near the end. So too did Emil Forsberg and Yussuf Poulsen off the bench. Neither sub seemed to have the will to put this one to bed.

What precisely Leipzig were facing tactics-wise shaped the tone of this match. As if to emphasize just how much they missed their fallen comrades, the Swabians toned their all black (non-stripe) kit. Obsidian tricots; dark as Labbadia's freshly dyed hair. The Swabian constellation settled into the old, wretched 4-4-1-1. Granted, Labbadia had little choice. One nevertheless knew that the entertainment value of the Friday fixture would drop the moment on saw it crystallize.

Lineup—VfB Stuttgart—Match 18 (4-4-1-1)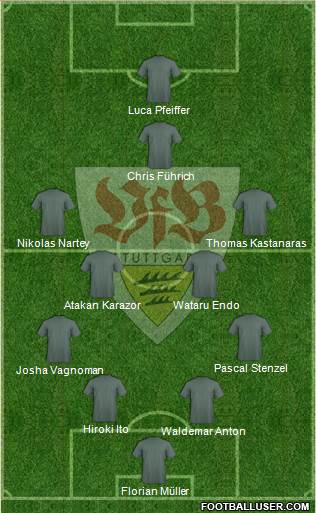 Hrmph. What can one do against this, really? Rose's men pressed forward sparingly for the very good reason that there was scarcely a point in doing so. Szoboszlai's opening goal in the 25th came courtesy of a pair of errors from VfB keeper Florian Müller on a dead ball. The Stuttgarter net-minder inexplicably set up a two-man-wall when Szoboszlai had a clear shot central some 25 meters out. Müller then, purposefully unscreened, still failed to race to the ball.

Müller proved powerless on Szoboszlai's second just after the restart. Chris Führich managed to pull a goal back thanks to a Josko Gvardiol handball penalty 22 minutes from time. Labbadia found himself hamstrung by his own system when attempting to reorganize everyone to nick a point late. Juan Jose Perea (on for the surprisingly good Thomas Kastanaras at the break), Tanguy Coulibaly, Lilian Egloff, and Alou Kuol, couldn't execute a 4-3-3 re-format. Everyone remained stuck in the above framework.

Prognosis: Relevance of post-result news

News after the full-time whistle matters more here.

Leipzig without Olmo

We would later learn that super-slick Spaniard Dani Olmo had to remain in the locker room at the half due to a muscle tear. The club has since confirmed that the versatile attacker shall be out for several weeks. While this is obviously bad news for Bundesliga watchers, the squad shouldn't be affected that much. Forsberg can serve as the placeholder until Christopher Nkunku is ready. Then we should see the Rose 4-2-2-2 continue to accumulate points.

Stuttgart with Haraguchi

Whether the soon-to-be acquired Genki Haraguchi can adequately replace the likely-to-depart Naouirou Ahamada serves as the crucial question for this team. Labbadia would have preferred an extra defensive-minded midfielder like Joshua Guilavogui in building his preferred 5-4-1. Instead, he must revamp the team from an attack-oriented perspective.

Given the finishing abilities (or lack thereof) of the regular starters, an early prognosis holds that this won't work. Labbadia simply doesn't have the time for this. Unless the likes of Guirassy, Silas, and Tiago Tomas get rolling in the midweek Pokal fixture against Paderborn, it could be the end of February before Stuttgart pick up some points against league opponents Schalke.

Strap in for a bumpy ride.

The "Burning Questions": Round 18
How did Bremen beat Wolfsburg?

A very interesting result here. Struggling SV Werder Bremen somehow managed to stop one of the Bundesliga's hottest teams dead in their tracks. Very much a surprise to see the Hanseaten turn it around so fast. A huge shock to, furthermore, watch Bremen completely dominate Niko Kovac's German Wolves with a xG mark of 2.21 to 0.49. Germany's red company team took an enormous nose-dive, sliding back into the type of indecisiveness in the final third that we beheld from them earlier in the season.

There's a great deal of nuance to this outcome. Patrick Wimmer actually nearly replicated his lighting start from last week. The Austrian forced SV keeper Jiri Pavlenka into a strong save inside of 60 minutes. Wimmer also had a prepared goal for Jonas Wind chalked off because of a tight offside call at the half-hour-mark and Mattias Svanberg hit the crossbar five minutes later. Some refereeing controversy (a Jens Stage shot that hit Yannick Gerhardt's resting hand) led to a Niclas Füllkrug penalty and a 1-0 lead for Bremen at the break.

After the change-of-ends, however, Wolfsburg really had no call to feel hard done by. The scoreline after the initial 45 may have been misleading, but the Austostädter absolutely played like a losing team throughout the second 45. Wind, Gerhardt, and Kaminski all tanked hard. Kovac may have to think about some bold changes to his starting XI. Kevin Paredes, Luca Waldschmidt, and Omar Marmoush have been knocking on the door with some good performances off the bench. The 4-1-4-1 system still seems solid, but some fresh blood is needed.

Are Dortmund's tactics sorted out?

Not even close. Though Edin Terzic's BVB have now climbed back into the top-four thanks to gaining maximum points in their three matches back from the break, the 2-0 win over Leverkusen exhibited its fair share of problems. Xabi Alonso's Werkself were by far the better team offensively. Lining his squad up in the 4-1-4-1 from last weekend again, Terzic tasked Emré Can with running the solo midfield axis this time. Salih Özcan moved up to pair with Jude Bellingham while Karim Adeyemi and Julian Brandt worked the wings.

Meh. The writer liked his hypothetical constellation much better. There doesn't really seem to be any reason why Giovanni Reyna and Jamie Bynoe-Gittens can't start on the flanks at this point. Terzic should absolutely prove himself capable of making bold calls like this one. In a sense, starting Adeyemi reaped benefits as the 21-year-old (finally) got his first Bundesliga goal in this one. It was important to get him off the mark at some point. Apart from the goal, however, Adeyemi and Brandt looked very weak on the wings.

One doesn't wish to say that results were putrid, but it was definitely the case that keeper Gregor Kobel delivered the victory for die Schwarzgelben here. Leverkusen - interestingly enough with Florian Wirtz operating as a false nine - generated far more chances and doubled their opponents' xG tally. Poor Edmond Tapsoba lost some of his newly acquired sheen with a hard luck own-goal - off of the curious starter Marius Wolf no less - to give Dortmund the 2-0 lead. A misleading result. Terzic must do better.

How bad was Schalke-Köln?

Not that bad from a tactics-lover's perspective. There were plenty of things we could pull out of Sunday's 0-0 draw. Schalke trainer Thomas Reis tried out a new 4-4-2 with Marius Bülter (one of his better players) acting as a short striker behind Simon Terodde. Newcomer Tim Skarke started on the left flank while the consistently impressive Soichiro Kozuki reprised his role on the right. Moritz Jenz made his debut in central defense. Apparently having had enough of the Alexander Schwolow rollercoaster, Reis dusted off Ralf Fährmann to work between the sticks.

Skarke and Jenz nearly combined to score the opening goal two minutes in. The new formation predictably fell prone to errors thereafter, but one could see flashes of how the 4-4-2 was supposed to work and might yet work in the future. It certainly performed better than Steffen Baumgart's retread of his 4-1-3-2; in large part because starting lead striker Davie Selke continues to prove to all us league watchers that he's absolute rubbish and should begin contemplating retirement.

Baumgart got gifted a chance to insert Steffen Tigges and Kingsley Schindler at the half thanks to injuries to Selke and captain Jonas Hector. Those two newcomers almost combined shortly after the restart as well. True, most of the second half then left one bored to tears. There was some action at the Schalke end late on when returnee Rodrigo Zalazar (a big bonus for this team) weaved himself into some decent positions. Schalke get their first point of the new year thanks to the newcomers and returnees.

That gives us something.

Weekly Tactical Focus: Here we go again.....

Those skipping straight to the "focus" section this week may wish to quickly scroll back up again for a hot-take on how Bayern might perform against Mainz in this coming Tuesday's cup fixture. We will be discussing Bayern yet again this time. Of great significance, we'll also be highlighting the second consecutive match in which Julian Nagelsmann was out-coached and out-tacticed by his opposite member. Steffen Baumgart outmaneuvered the young trainer on Tuesday. This weekend, Oliver Glasner did the same.

When it comes to Bayern's current problems, much of the issue stems from the fact that Nagelsmann hasn't gotten his central midfield play sorted out yet since play resumed after the World Cup break. Nagelsmann admitted as much in his post-match comments. The FCB gaffer specifically designed an opening set of tactics meant to address this deficiency, then actively attempted to get his team moving in this direction with the later match re-format. As we shall see, it didn't work.

This round's "Top-Spiel" didn't exactly deliver the best football. Glasner's deep-set ensured that Bayern were barely (1.08) able to crack the 1.0 xG mark. Frankfurt's general strategy of sitting extremely deep - some incredible moments of magic from Randal Kolo Muani notwithstanding - also kept the SGE attack largely quiet. The Adlerträger only amassed a full-time xG of 0.64. We've thus plenty of boring phases of football to discuss; albeit ones that furnish us with important lessons heading forward.

Lineup—Eintracht Frankfurt—Match 18 (5-4-1)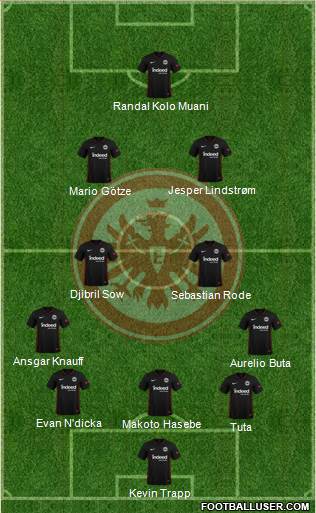 Glasner made three changes to the XI that drew Freiburg midweek. Playmaker Daichi Kamada remained on the bench for later use. Christopher Lenz and Hrvoje Smolcic also took a seat. In came the veteran leadership of Makoto Hasebe to stabilize the back-three. Captain and seasoned leader Sebastian Rode also took Kamada's place in central midfield. Ansgar Knauff moved over to the left wingback slot to make room for Aurelio Buta.

Glasner's long-game

As this ultra-conservative constellation settled on the tactical cam, it proved easy enough to divine what the SGE trainer's intent was. He wanted to hold Bayern for as long as possible and bring on more offensively minded players like Kamada and Rafael Santos Borré in search of a late-winner once the FCB had been worn down. Fair enough.

Nagelsmann's compromise

As we were just discussing in the last "focus" section, Nagelsmann had two major issues to address after Tuesday's draw with Köln. First, he needed to get Eric Maxim Choupo-Moting away from those unhelpful deep drops. Second, he had to find some way of addressing Jamal Musiala's wayward and haphazard wandering around. Thomas Müller arguably should have started over Musiala.

In the end, Nagelsmann went with both.

Lineup—Bayern München—Match 18 (4-1-2-3)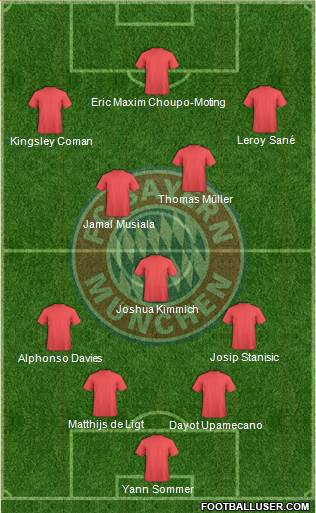 Three changes from Bayern as well. Kingsley Coman and Josip Stanisic got the nod over Serge Gnabry and Benjamin Pavard for performance reasons. Leon Goretzka's thigh problems gave Nagelsmann the excuse to slot in Müller just ahead of Musiala on a slight split-stagger. By all accounts, this looked pretty good on paper. In the final analysis, it couldn't get the job done against Glasner's defensive formation.

We got a vastly different result than in round one.

Match Flow: 1st to 12th minute

Bayern let Frankfurt have the ball throughout much of the 1st. Davies ultimately put the brakes on Mario Götze near the end of the minute. Matthijs de Ligt (for Coman) and Lucas Silva "Tuta" Melo (for Muani) traded long hopeful verticals in the 2nd. More choppy football form both sides ensured before Tuta sent another useless vertical forward in the 3rd. A tentative and unimaginative FCB build in the 4th nearly enabled Götze to unleash Muani on a counter.

An FCB leftward cycle involving Davies, Coman, and Musiala then showed a bit of promise. The first real Bayern drive nevertheless resulted in nothing when Coman sent a chip-in well past everyone. Eintracht took their time with their next build in the 5th. The sequence concluded with another aimless Tuta vertical. Upamecano tried to spark something back the other way with a long carry in the 6th. A Kimmich diagonal, after the ball passed through Stanisic and Sané, was cleared by Hasebe.

Davies, Sané, and Coman attempted to work the ball back in. The passing string featured some nice moves, including a double nutmeg of Götze by both Kimmich and Sané, yet ultimately produced nothing. A quick SGE counter via Jesper Lindstrøm in the 7th got stopped by a Musiala foul. The Dane's quick free-kick got called back after Lindstrøm tried to restart with the ball still rolling. A little trickery from Choupo almost saw the FCB striker through in the same minute. Choupo sadly had to retreat after executing a slick "Cruyff Turn".

Bayern maintained possession throughout the entire 8th. Nagelsmann's XI found themselves literally stymied left, right, and center by the deep-sitting Adlerträger. Rode finally took the ball off de Ligt at the end of it all and, after passing both Müller and Musiala, forced de Ligt to commit a tactical foul in service of stopping the counter. Match official Sven Jablonski booked de Ligt for the infraction. Eintracht went straight back on the 9th minute free-kick. Hasebe, Tuta, and Buta bow-arced the ball to death.

Kimmich couldn't do much with advanced runs from Davies and de Ligt on the net Bayern charge. Djibril Sow eventually picked the ball off Stanisic, but screwed up the 10th-minute counter-chance by losing the ball himself. Stanisic got the ball back and immediately whipped it into the box. Kimmich collected a poor clearance from Tuta and tried to chip over for Sané. SGE keeper Kevin Trapp collected one step ahead of his German national team colleague.

Multiple midfield turnovers from both sides in the 11th. Rode and Kimmich missed out on chances to counter. A Sow through for Muani did lead to the SGE Frenchman digging out a corner. The ever present Kimmich collected the quick service and might have led his side back the other way were it not for a monster tackle from Rode. Eintracht earned another corner. Lindstrøm plotted the service a little more carefully this time. The 12th-minute set-piece landed with Tuta.

The Brazilian's shot was blocked by a cadre of FCB actors.

Match Flow: 12th to 25th minute

At least we were finally up and going. After another frustrated FCB build in the 12th, the SGE got another chance on goal in the 13th. Götze ran the attack and caught up for the return ball. The 2014 World Cup hero's effort was deflected into Yann Sommer's waiting arms. Sommer's attempt to quick-start a counter was self-stopped when Müller - hassled by Knauff - pumped the brakes. Musiala and Kimmich dropped deep into midfield to organize the rebuild. De Ligt and Davies got in involved. The latter sent a vertical well beyond Choupo in the 14th.

The Hessen guests went with a slow-roll build in the 15th. The final product yielded nothing another than yet another useless Tuta vertical. Davies moved ahead in the 16th, trying to open up the field with a long switch for Sané. Knauff put in some more fine defensive work by handling it deftly. Lindstrøm and Rode found their counter-charge aptly handled by Upamecano. Tuta finally connected with Muani on a vertical in the 17th. Rode charged to the touchline and cut back for Sow. The SGE Swiss midfielder sent a poor finish into the cheap seats.

A middle-play for Choupo in the 14th ended with the FCB striker getting swarmed by a pack of four. Sow did a splendid job dispossessing Coman seconds later. Kimmich, Davies, Sané, and Müller had the ball back in before the minute was out. A missed challenge from Tuta on Davies didn't lead to disaster when Hasebe bailed his teammate out. Good defending from Lindstrøm on Musiala in the 19th appeared to stop an FCB charge. Müller kept it alive with a sumptuous touch and inventive little through for Choupo in the penalty area.

Choupo spun past Hasebe with a twisting turn, then tried to hit Musiala on the cut-back. Evan N'dicka had to scramble out for a corner. N'dicka then cleared Kimmich's near-post dipper off the 20th-minute-service. Bayern couldn't manage anything beyond retreats and bow-arcs through the 20th and 21st. A dangerous SGE counter at the end of the 21st saw Rode and Götze put Lindstrøm through. A heavy touch from the Dane enabled Davies to separate him from the ball.

After a Bayern counter went nowhere, Franker took up the 22nd with lateral passes. Buta, Lindstrøm, and Rode executed a halfway decent cycle when the team decided to try and move forward. Davies was again on point to break up the play. An FCB drive in the 23rd went through Müller on the right. Stanisic came forward as well, eventually earning a corner for his side. N'dicka rose high to clear Kimmich's service. Coman then fired over the bar. Bayern were repelled by long clearances from Tuta and N'dicka in the 24th.

Somehow, a random N'dicka vertical connected with Muani in the 25th. Sommer came rushing out of the box to meet the onrushing Frenchman after Muani took a couple of sleek touches and had a clear path towards the net. A hard straddle from Sommer pulled the ball away from Muani legally, but the FCB keeper's trailing leg caught Muani inadvertently. Referee Jablonski reached into his book again to award the second yellow card of the match. Eintracht suddenly had a free-kick in a very dangerous area.

Match Flow: 25th to 34th minute

With two Bayern actors booked and a straight-arrow dead-ball situation beckoning, we could have stood at a very important turning point in the match. Muani required some treatment after the hard fall and we didn't get rolling again until the 27th. Despite having some time to think its through, Lindstrøm didn't supply a quality service. The ball did bounce off de Ligt out into touch and Lindstrøm got another chance off a corner. The Dane sent a rather embarrassing service directly into the side netting.

Fouls and throw stoppages took up most all of the 28th. An SGE cycle up the right in the 29th had some crispness to it. Knauff came in on the trail, only to send a cross into box straight at de Ligt. Stanisic moved Bayern back up their right quickly. Müller went with him and rapidly railed off a nice one-two with Choupo. Müller took Choupo's tap back a well. A thunderous shot from the German footballing legend was blocked and turned out by Hasebe for another corner.

De Ligt headed Kimmich's 30th-minute service wide. Musiala got the ball back after a half-hearted clearance and Bayern soon had another mammoth chance. Musiala worked the ball over to Kimmich, who then in turn tried to replicate his feat from Tuesday's fixture. The German footballing legend-in-the-making remains quite serious about being more of a scoring threat this season. Trapp could only paw Kimmich's daisy-cutter straight into the path of Müller. Trapp completed the double save with a collection of Müller's follow up.

Bayern - and especially Kimmich - would then ride this wave. A couple of real quality charges from the FCB in the 31st were expertly run by Kimmich. Davies and Coman suffered from some coordination problems on one while Müller and Sané proved just a tad too quick for one another on the other. Eintracht regrouped to force some more retreats on both the left and right in the 32nd. A Lindstrøm counter on the left at the end of the 32nd failed when the Dane couldn't get some assertive touches in on the ball.

Musiala fell back to get something going in the 33rd. De Ligt stepped forward to play through Coman, who danced his way past Buta. A Coman switch over to Stanisic then found its way to Kimmich. Müller timed his forward run on the right and Kimmich hit his German national team colleague in stride. Müller - wearing the captain's armband in this one - showed just how important he is for club and country by picking out Sané unmarked at the far left post.

A flat finish put the hosts up 1-0.

Match Flow: 34th minute to half-time

All was, at long last, unfolding as it should. Kimmich, Müller, and Sané. Another goal before the half could have easily sunk the Hessians. It very came shortly after the match restarted in the 35th. Sané and Musiala punched through to earn a corner off Lindstrøm. Upamecano screwed up what should have been an easy finish off the 36th-minute service. Musiala and Coman worked in a perfect ball off Kimmich's service. Upamecano simply mistimed his leap from just outside the net left.

Bayern beat back the next SGE advance easily. Coman attempted to spring Choupo with a sharp vertical in the 37th. Trapp arrived just in time to snatch it away from the encroaching FCB striker. Choupo might have been slightly offside anyway. Glasner's squad went for a more ambitious drive in the 38th. A Sow ball intended for Götze was scooped up by Sommer. A 39th-minute Bayern attack, initiated by a poor loss from the very poor on-the-day Lindstrøm featured clearances from both Coman and Davies on the left.

As Bayern tried - perhaps too intricately - to work the ball back in, one began to get the sense that Eintracht might just survive this. Müller and Stanisic were running out of ideas on the right whilst the flooded box locked out all the lanes. Bayern took it a bit slower in the 41st. A marvelous win and dribble from Musiala just outside the box got wasted when Sané sent the final ball soft and straightforward to Sommer. Musiala got dispossessed in the 42nd, but Götze couldn't find the right pass to unlock Lindstrøm on the counter.

Hold-ups from both Muani and Choupo in the 43rd proved insufficient to produce much of anything for their respective sides. Choupo managed to produce something a little better in the 44th when he took down a diagonal from de Ligt cheekily. The FCB lead attacker still had to break it off and pass back when he couldn't find any support whilst Hasebe pestered. Eintracht ultimately scraped out for a corner. Kimmich's quick service ended up just missing de Ligt.

Sané got an appreciative round from the crowd for handling Lindstrøm on a counter in the 45th after Götze did find the right pass. Coman rushed back the other way, past two SGE markers, before Hasebe intervened. Glasner ordered everyone back for the two minutes of injury time. Davies and Choupo found themselves frustrated at 45+1. As soon as Jablonski blew the whistle, the Frankfurt actors all displayed a look of victory about them. They had survived. That was all that mattered.

Match Flow: 46th to 60th minute

Without changes we continued. Neither coach wished to be the one to do something too radical. Accordingly, we got a rather uneventful stretch of football. Musiala and Sané didn't appear quite ready for the restart, as evidenced by some poor touches on the initial FCB charge in the 46th. Muani got spring by Rode at the beginning of the 47th and skirted past both de Ligt and Stanisic. The Frenchman then regrettably fell to ground after what seemed light contact, if any, from the latter.

Coman, Musical, and Sané located no way through on a series of Bayern waves in the 48th. Upamecano tried to press forward as well, but were immediately forced back, An Upamecano vertical for Sané in the 49th proved far too long. Bayern's French center-halve didn't see Stanisic wide open on the advance. De Ligt did a bit better with a targeted telegraph for Coman in the 50th. Tuta was on guard to win the ultimate aerial duel. What we saw next from Bayern through the 51st definitely qualified as "Schlafwagen (sleeping car) Fußball".

Horrible stuff from the Champions on their next three charges. Camera caught Serge Gnabry warming up on the sidelines. A needed change would be forthcoming. Bayern were awarded a free kick in the 52nd when Rode stamped Musiala's toe. Knauff emerged the winner from the weak dead-ball. Unsurprisingly enough, neither team had much left in their set-piece-playbook after this busy and exhausting week. Knauff tore up the pitch, taking Sow, Götze, and Lindstrøm with him.

Matters got far too fancy at the end of the sequence and all the SGE could earn was a corner off of a deflected Götze effort. Lindstrøm's 53rd-minute service came in tight. A header-on from Tuta reached Muani box central. The Frenchman's artistic attempt at a bicycle-kick finish didn't work. To their credit, Eintracht kept the pressure up. A nice 54th-minute build nevertheless ended with Sommer easily grabbing a feeble diagonal from Götze. Moving a bit slowly and cautiously, Bayern didn't head towards the area until de Ligt tried a long carry in the 55th.

Buta ultimately deflected a Choupo effort out into touch for a corner. N'dicka cleared Kimmich's 56th-minute service. Upamecano found himself the third FCB player booked by Jablonski when he shirted down Götze on the attempted SGE counter. A wide left-switch Eintracht sortie in the 57th was stopped by the not infrequently super strong (and super curious) Upamecano. There was a prolonged injury timeout in the 58th after Müller very accidentally ground his studs into the prostate Sow.

Müller immediately apologized and Bayern gave Frankfurt the ball back fair-play-style in the 59th. Sow and Knauff couldn't get a cycle going adequately on the SGE right. The FCB counterattack rolled back the other way at the hour mark through Müller, Coman, Sané, and Musiala. In the first real signs of life from the leading team at the hour-mark, Choupo attempted a back-heel finish some 5 meters outside of goal central. Sané saw a follow-up effort almost unwittingly blocked by the throughly disorganized Frankfurt defensive ranks.

Match Flow: 60th to 69th minute

The match sprung to life at a rather odd time. Both trainers had been preparing to introduce subs; obviously assuming that the lull that had settled in would count as the perfect opportunity. Glasner was surely content to let more time elapse as every second that passed with Bayern in this slender lead serves as a victory for his team. Muani and Lindstrøm went forward with some risk about them in the 61st. Davies and Choupo came close to making them pay. Luckily, Knauff was still back to cover the counter.

After things did get a bit bogged down in midfield through the 62nd, Sané, Musiala, and Müller reeled off a worthwhile attack in the 63rd. Choupo swung out wide right to collect and try to cross in. Tuta confidently chested the ball back to his keeper. We finally got Glasner's double change in the 64th. Now was the time for Kamada and Borré. Rode exited after a command performance. Lindstrøm trotted towards the sideline with a disappointed look. The Dane had played better days.

Lineup—Eintracht Frankfurt—65th minute (5-3-2)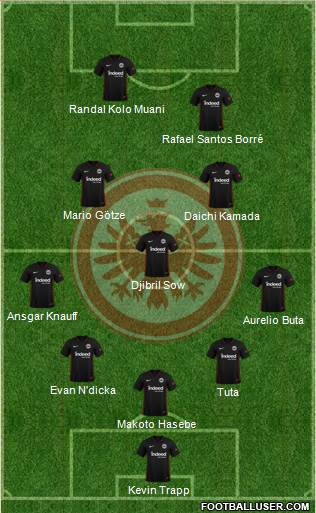 Nagelsmann's look on the sidelines was priceless. The FCB's young trainer didn't wish to get schemed for the second time in a few short days. Neither, for that matter, did his players. The league-leaders backed off significantly in the 64th and 65th in order to make sense of this. Bayern allowed Frankfurt to have the ball. The wingbacks kept it close to the touchline. Both Knauff and Buta earned throw-ins in the 66th. Davies had to clear out for a corner once Buta finally got his team up the pitch in the 67th.

Kamada didn't quite have the touch to make anything out of the set-piece. Bayern attempted their first real attack build since the subs entered in the 68th. It amounted to little than careful bow-arcs out of the back. Knauff cherry picked a ball off Kimmich before Müller recovered to ensure that he wasn't free with the rest of the SGE attack. There was another warning that something was about to crack when Kamada stole a ball off Kimmich and nearly put Buta through. Davies had to employ an emergency tackle.

The play that broke Bayern's fraying ranks didn't strictly relate to what had transpired just prior. It all came down to a stunningly brilliant piece of individual play from Kamada. Musiala, Coman, and Müller produced a thread-through for Choupo in the 69th. The German-Cameroonian failed to hold the ball up and the counter was on. Kamada went on a dazzling run. After blowing past the FCB midfield, the Japanese international finished it off with an insanely astute "no-look" pass for Muani.

Upamecano stood no chance against his fellow Frenchman. Muani received the ball as Upamecano, thanks to Kamada's "no look", arrived two steps too late. The tight angle from the half left didn't faze Muani. The Bundesliga's biggest rising star only needed one look up to confirm how he could slot past Sommer. Absolutely gorgeous stuff from both Kamada and Muani. Glasner's plan worked to perfection. A scoreline of 1-1 in the Allianz Arena!

Hell yes!

Match Flow: 69th minute to full-time

The buoyed Hessen guests ensured that they were the better team in the final 20 minutes. Since he couldn't get Gnabry checked in alone, Nagelsmann had opted to send another player onto the pitch alongside his controversial "fashion week" representative. Ryan Gravenberch - whom the FCB trainer has been test driving out in more advanced positions recently - would come on too. Sané and Coman came off. Tactics-cam watchers knew that a re-format was coming.

Lineup—Bayern München—71st minute (4-2-3-1)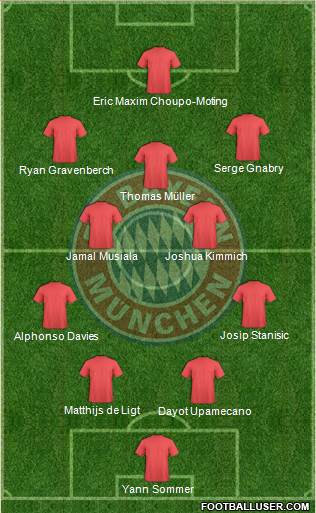 As we discussed in the opening paragraphs, Nagelsmann wants more centralized play from his squad. The "six-seven-eight" step0stone that he employed midweek might have been just a tad too complex for his players, or so this column is prepared to postulate. Here we have something - in the Hansi Flick tradition - that should theoretically allow the Bayern players to coach themselves. Now that this didn't work, Nagelsmann really is running out of options.

A 71st-minute charge from Musiala ran straight into Hasebe. Upamecano, Gnabry, and Stanisic tried to cycle up the right in the 72nd to no available. Knauff continued his fine defensive performance with another fine stop. Some good work from Choupo finally dropping deep again in the 73rd got wasted. Gnabrdy and Müller worked the ball over to Musiala, bit the teenage phenom flashed straight over. Sow stripped a ball off Stanisic in the 74th. Muani and Borré together ensured that the ball got back to him.

Sow's venemous distance effort didn't miss by much. Bayern really struggled with their 75th-minute build against a confident SGE press. Upamecano could only, with some frustration, send a ball well past Gnabry. Gravenberch attained some penetration up the left in the 76th after some nice work from Müller. Buta stood in the Dutchman's way, blocking and clearing himself. Kamada came deathly close to reaching Muani on another lighting-quick Eintracht counter.

Nagelsmann took advantage of a single substitution in the 77th (Mathys Tel for Choupo) to call some members of his squad over and shout some instructions. Whatever he said didn't have much effect. A lousy build in the 78th ended with Gnabry being whistled for being well offside. Although they maintained possession through the 80th, the Bavarians got nowhere near the area on four successive charges. Götze ran a threatening counter in the 80th. Borré halted it with a silly foul on Stanisic.

Jablonski issued his fourth yellow of the match to Borré. The Eintracht attacking waves kept coming. Upamecano had to work extremely hard to hold off Muani in the 81st. Gravenberch got through again for Bayern in the 82nd and earned a corner. Kimmich delivered his best service of the night. De Ligt couldn't get enough power behind his header. A quick SGE break up the right in the 83rd had Borré through. Davies scampered back to bail his team out.

Buta still managed to press up high on the next Eintracht rush in the 84th. A corner resulted. Götze and Kamada had chances to fire off some efforts from good positions, yet laid off for whatever reasons. Götze might have been distracted by the fact that his number was up. Kristijian Jakic relieved Götze in the 85th. As defensive a substitution as this appeared to be, it was Frankfurt back up the pitch in the 86th. Upamecano was once again called upon to be inch perfect on his stop of Upamecano.

A nice deep hold up from Musiala in the 87th got a passing string involving Kimmich and Müller going. Gravenberch was the final man out wide. A cross intended for Tel didn't connect. Nagelsmann's are switched over to the right in the 88th. Tel fed Gnabry, who headed on for Müller. The header from Müller proved soft. Easy pickings for Trapp. Kamada came close to replicating his feat from earlier with another brilliant ball for Muani in the 89th. Upmamecano barely beat his compatriot this time.

The 90th belonged to one final Bayern sub, Marcel Sabitzer for Josip Stanisic. We wouldn't really get much else from the hosts through four minutes of injury time. Kimmich shot well over at 90+1 after Sabitzer crossed in from the right and Hasebe failed to clear. The rapacious Kamada ran a total of three rushes featuring great ball wins at 90+2. Unfortunately, the Japanese star made a hash out of Yann Sommer's botched clearance at the end of the third one.

Sommer had to be alert to parry a stinging Borré effort out for a corner at 90+3. Glasner's men took their time setting up the dead ball while their coach burned some more time with a meaningless substitution (Faride Alidou for Kolo Muani). By the time open play resumed at 90+4, Bayern only had time for one last rope charge for Tel. Newly-turned 39-year-old Hasebe cleared to finish things off.

Full time xG to bookend:

xG Bayern--1.08, xG Frankfurt--0.64

This isn't nearly good enough from the record champions.

Have we been here before? Of course we have. We were quite literally right here earlier this season. Bayern have already drawn three consecutive league fixtures this year. Nagelsmann's FCB deadlocked against Gladbach, Union Berlin, and VfB Stuttgart in rounds four through six before losing to Augsburg on the final matchday before the international break. In this very column, we've already devoted an entire "focus" section to what wasn't functioning for the Bavarians after the Augsburg loss.

What we have here constitutes a much more dangerous trend in that there isn't much time to fix it. No break. It's straight to the Pokal fixture against a red-hot Mainz in two-days' time. Once again, the tip for that match in this column can be found in the initial "Spiegel Specials" section above. This writer doesn't see Nagelsmann finding the solutions in the next 48 hours. If anything, he'll try something silly that ends up defeating itself. Ideas amid the ranks run far too thin. Coordination is best fixed via muscle memory from the training pitch.

That's not coming. A valiant attempt by Nagelsmann to bring some order to this assemblage of players only led to more bland play of the "paint the corner/nibble the edges variety". The team doesn't know how it wants to play. It can't figure out how to establish its game. The "sputter" we beheld against Leipzig in the first match back from the break has now become an ingrained habit. Habits take time to break; time the Bavarians simply do not have.


Thanks so much for reading! You can catch the the release of all Peter's columns on twitter, @ViceytheSS.

Twitter DMs are open for football conversations, corrections, and (if you truly insist) general abuse. 

All columns debut on Bulinews before appearing on Peter's website as the season progresses.



Related stories