Terzic rages after blown lead:
"Thought we had already experienced the stupidest thing ever."
By Peter Weis @PeterVicey
BVB trainer Edin Terzic had little choice but to unleash a diatribe after his team conceded three shorthanded goals against relegation candidates Stuttgart on Saturday afternoon. 

Reaching back to SV Werder Bremen's historic three-goal-comeback in round three of the current campaign, Terzic chastised his team for exceeding his own personal expectations of stupidity. 

Terzic did reference the failed clearance from debutant Soumaïla Coulibaly on the late Silas 3-3 equalizer, but insisted he did not wish to make a scapegoat out of the 19-year-old.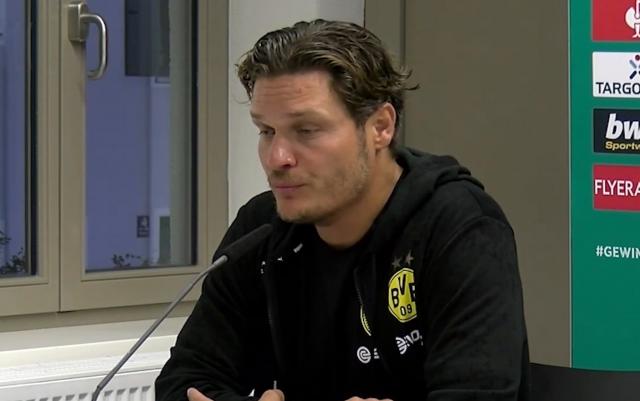 Edin Terzic thought he had witnessed the worst closing out of a game earlier in this season when his side - taking a 2-0 lead against SV Werder Bremen into the 89th minute - conceded three goals and ended up losing their matchday three encounter against the Hanseaten. Unfortunately for the 40-year-old BVB trainer, he was proven dead wrong on Saturday.


"It's difficult to find the words," Terzic told the Sky mics afterwards, "We thought we had already experienced the stupidest thing ever against Bremen. But what happened today tops it all. It's hard for me to explain how this happened. I might as well let it all out before I talk to the team."

Terzic did reveal that he had talked to his team at the break, clearly explaining that - up 2-0 with a man-advantage - all they needed to do was execute.

"We made it very clear," Terzic fumed, "[We said] that the only way they could find a way back into the game was if we lost discipline; If we stopped supporting each other. [We said] that today is a huge opportunity. [We talked about] how it could be lost. How we ended up fulfilling a grim prophecy is inexplicable."

Terzic essentially noted that he had told his players at the half that Bayern - not looking at all good with a slender 1-0 lead over Hoffenheim at the break in a simultaneous kick-off - could potentially drop points. In noting that "we can't rely on the competitors" was part of his half-time team talk, the BVB gaffer was clearly furious that his players didn't listen.

"Believe you me," Terzic began when fielding the question about Bayern, "I'm not looking at the other result at all now. What happened to us in the second half - in the end, we actually conceded four goals in a half when we were outnumbered, because one was only marginally offside, we were lucky there - is the only thing that's important for us today."


Terzic had the strongest opinions when it came to the 3-3. Giovanni Reyna had ostensibly secured the three points for Dortmund with the 3-2 at 90+2. Then came a serious lapse in concentration and a rookie mistake from debutant Soumaïla Coulibaly on Silas' 90+7 equalizer. Its was a most unfortunate senior team debut for the high-profile teenager, who had to come on for an ill Mats Hummels at the half.

"The situation starts with a free kick for us," Terzic analyzed, "Then the opponent has a free kick and we're not set up for it. We go into offensive pressing on the right with Jude [Bellingham], but he doesn't get the support from the center. Then they switch sides and we're disorganized. Our left back is pressing in the center and it's our left wing defending back."

"Then comes the cross and of course we'd like 'Soumi' to then just clear with his right foot and then the thing is through," Terzic continued, "But the last person we want to have as a scapegoat today is Soumi Coulibaly, who made his debut today. We just left a huge opportunity as a team today and that's brutally disappointing."




More about the match
More about the teams
More about Soumaula Coulibaly