Streich looks forward to "crossing swords" with former protégée Schwolow
By Peter Weis @PeterVicey
SC Freiburg trainer Christiran Streich spoke on the upcoming meeting with the goalkeeper he once groomed as a junior at a Saturday presser.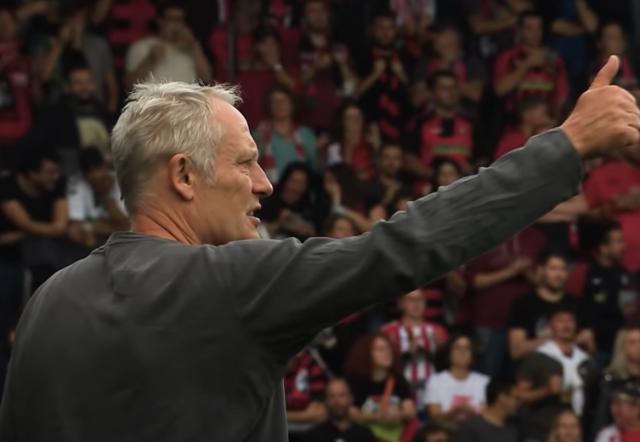 Alexander Schwolow has already commented on how much the upcoming meeting with his old youth academy club means to his current team and indeed his own future career prospects. On Saturday, it was Freiburg trainer Christian Streich's turn. The SCF gaffer noted that he hadn't been in contact with the net-minder he once won the Junior League A cup with in 2011, but was looking forward to seeing his old protégée again.


"We will say hello and then we will cross swords," Streich said at a Saturday presser, "Schwoli wants to show that he can be a great goalkeeper even under the most dire of circumstances."

As for the 30-year-old's career trajectory since leaving Breisgau on a high-profile transfer to Hertha in the summer of 2020, Streich expressed sympathy for the talent he once spent a great deal of time grooming at the SCF youth academy. Streich called it "a nice experience" whenever he found himself encountered old projects.

"With us, he played very well," Streich said of Schwolow's career, "But it's also quiet here and easy for a player to stabilize. He moved onto a club where there were constant coaching changes and everything was unsettled. He wasn't used to that kind of pressure."

Streich noted that his current keeper, Mark Flekken, also had to overcome adversity at his previous stations at Duisburg and Fürth. Flekken wasn't even Schwolow's immediate replacement at the #1 slot. That starting position belonged to current VfB Stuttgart backstop Florian Müller, who himself has recently been benched.

Streich mused a bit about how difficult it is for keepers, much more so than outfielders, to win back their places and their confidence after being relegated to the second string. The Freiburg trainer concluded with well wishes for Schwolow in his future endeavors, noting that he did wish all of his one-time-players the best of luck at their new clubs.

"It proves that we've didn't do too badly with them," Streich noted.



More about the match
More about the teams