Youssoufa Moukoko:
Ready For The Big Time
By Adam Khan @XxAdamKhanxX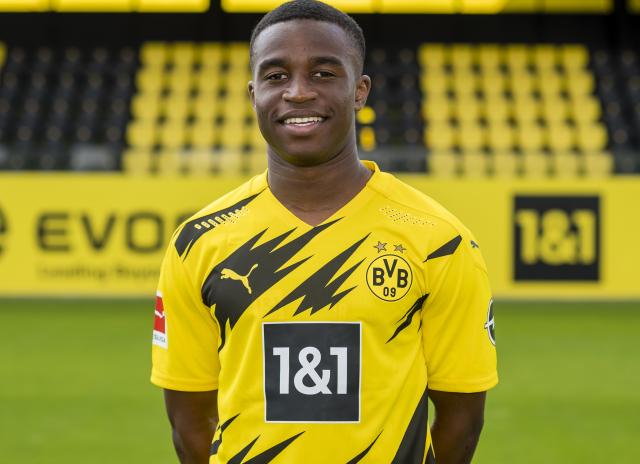 For Youssoufa Moukoko, his 16th Birthday meant much more than cake and itchy sweaters. For Dortmund's wonderkid striker, Friday the 20th of November signified his eligibility for first team football. The forward has proven that youth football is quite a few steps below his level, having scored 44 goals across 23 games in Germany's u19 Bundesliga, flying through the youth ranks at Die Schwarz-Gelben breaking record after record. Having trained with Lucien Favre's side since last January, Moukokou could expect his first minutes to come in the following weeks, making him the youngest Bundesliga debutante of all time, and if his previous goal scoring feats are anything to go by, the youngest goalscorer as well.


Arriving at the BVB academy in the summer of 2016, Youssoufa Moukokou immediately made headlines, shooting through the youth ranks and finishing the season as a starter on the under 17 side when he was just 12 years old. Consistently playing against players up to 5 years older than him, Moukoko has proven his capacity to adapt to bigger, more matured opposition, fooling them with his silky skills and remarkable speed.

Although the media has long looked at Moukoko as a player reliant on pace, the young teenager has refined his game in recent years, adding many more elements to make his step up to the first team a reality at such a young age. Perhaps most impressive of all is his coolness in front of goal.

One just needs to search through YouTube to see the wide array of ways in which Moukokou has accumulated his monstrous goal tally in black & white. Driving through defenses, brilliantly placed free kicks, and bullet headers are all just some tools that make him a threat every time he is in and around the opposition box.

Even when Moukokou is in full sprint, a pace at which even the camera's have a hard time keeping up with, the German U20 international is still able to maintain an overview of his surroundings. With his head up at all times, Moukoko is able to make a fake that leaves defenders lying in the mud, or lay off to a teammate for a simple tap in.

It is perhaps too easy to compare Moukoko to Dortmund's current goalscoring phenom Erling Håland. However the 16-year old has much in common with Norway's Golden Boy winner when it comes to their ability in front of goal, each able to practically break the net with thunderous strikes, or delicately chip a ball over an overly zealous onrushing keeper.


Although Moukoko's elite goalscoring record is more than enough to warrant a shot in Dortmund's first team, the 16-year-old offers much more to Dortmund's all around game then his ability in front of the net. Perhaps Moukoko's strongest asset behind his goal scoring ability is his reading of the game.

Many of Moukoko's goals seem to stem from opposition errors, a loose back pass from a midfielder, or an overly confident centerhalf flirting with danger. At first glance it seems like Moukoko is profiting off the carefree nature in which youth players can approach games, however much of these situations stem from the striker's reading of the game out of possession, and his ability to understand pressing triggers. In these instances, Moukoko's blistering pace comes in handy, making any misplaced pass or poor touch from the opposition an immediate invitation on goal.

---

With a Nike contract worth €10,000,000 since 2019, and incessant media attention before he had even entered his teens, it would be easy for the fame and hype to get to the young strikers head. Yet Dortmund officials and teammates have consistently sited Moukoko as a driven young boy, with humility and a good head on his shoulders.

Having captained the under 19's this season, Moukoko has shown he is far more than just the superstar to bail the team out with his unending supply of goals, but a leader and role model for the older players around him.

First team football can be a big step up though, and it would be unrealistic to believe Moukoko can fully transfer his world-class form from youth football into one of Europe's most challenging leagues. Nevertheless, Moukoko is far ahead of most 18 or 19 year olds making their first steps in the professional game, proving throughout his young career his ability to excel versus older opposition, and his overall game being far more refined than a "pace reliant phenom" that he is often tight cast as in the media.

Perhaps the most glowing advocate of Moukoko's success has been Dortmund's other goalscoring specialist Håland, describing his striking apprentice as "The best 15 year old I have ever seen". Moukoko has proven in his small amount of time in the first team his ability to immediately contribute to the side, and it will be interesting to see if his first opportunity arrives this Saturday, with Håland doubtful following a spell in quarantine.

Seeing how high he has set his own goal scoring standards, it is unlikely Moukoko will be able to translate his prolific form from the U19 level directly into the professional game. One must remember for all his promise and record-breaking achievements, Moukoko is still a 16-year-old boy, with huge room to develop both on and off the field.

Moukoko is in good hands Dortmund though, a club with have a track record of developing and nurturing young talent. Over the past 4 years in Dortmund, the club has done a fantastic job carefully overseeing his progress, finding a great balance between challenging but not overwhelming the youngster. For Youssoufa Moukoko, a Bundesliga debut will be just one more step in the road, for a young man who has his sights set on the very top.

If you enjoyed this player analysis, follow Adam Khan on Twitter for more articles of a similar nature.






More about Dortmund