How a slap across the face made 'Der Kaiser' choose to play for Bayern
By Rune Gjerulff @runegjerulff
Franz Beckenbauer is widely regarded as one of the biggest Bayern München legends ever. However, until a famous slap across the face in 1958, he was actually destined to play for Bayern's local rivals.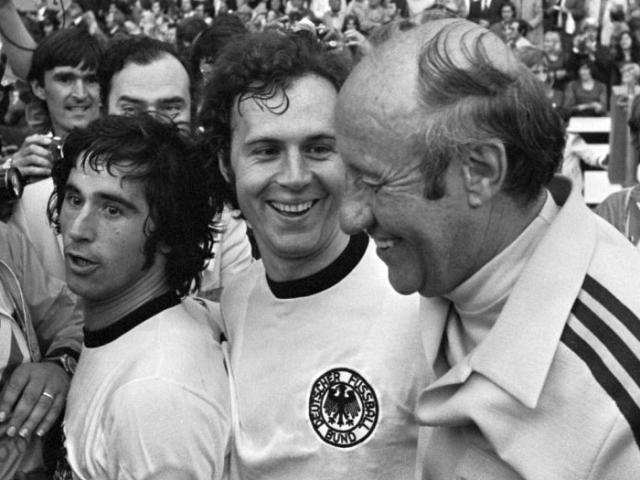 Gerd Müller, Franz Beckenbauer and coach Helmut Schön after Germany's World Cup final win in 1974.

From 1964 to 1977, Franz Beckenbauer played 514 matches, scored 54 goals in a Bayern München shirt. During that period, he helped the club to win all there was to win, including the Bundesliga and the DfB Pokal four times each and the European Cup three times in a row. After Beckenbauer's active career ended, he has served as both coach and president of Bayern and in 2009, he was appointed honorary president of the Bavarian club.




In other words, 'Der Kaiser', as he is nicknamed, is the epitome of Bayern München, but actually, it wasn't always on the cards that he would go on to play for 'Die Roten'. Rather, he was destined to play for FC Bayern's rivals, TSV 1860 München, until he received a legendary slap across the face as a youth player in 1958.

According to the book 'Tor! The story of German football' by Uli Hesse, Beckenbauer was born in Giesing, a working-class neighborhood in München, which traditionally fostered players for 1860, while Bayern primarily recruited young talents from wealthier areas such as Schwabing.

At the age of eight, Beckenbauer joined the local team SC München von 1906. He went on to play for the team until he was 13 when he set his sights on joining his favourite club, 1860 München, which he had supported and dreamed of playing for his entire life – at that point.

However, an Under-14 tournament in Neubiberg, an area close to München, made the young Beckenbauer change his mind. In the final, Beckenbauer and the SC München von 1906 team were facing 1860 München.

In the semi-finals, Beckenbauer, who played as a centre forward at that point, had scored against Bayern München and one of the centre-halves from 1860 München was keen on not letting the small and technical forward get any chances to score again in the final. From the moment the game started, he was all over Beckenbauer and spared no means to stop him.




Beckenbauer didn't want to endure the late tackles from the defender so he stroke back and there was clearly bad blood between the two young players. Their fight ended when the 1860 München defender couldn't contain his rage and slapped Beckenbauer across the face. According to Uli Hesse, the most reliable explanation is that the slap came in reaction to a tough tackle from Beckenbauer.

From that moment on, Beckenbauer allegedly decided that he would never play for a club, whose players would behave like that – and thus he would never play for 1860 München. Instead, 'Der Kaiser' decided to join Bayern München - and the rest is history.