Strain shows for keeper Ortega in relegation fight: "I could just throw up."
By Peter Vice @ViceytheSS
After over 185 appearances for his youth academy club over the past decade, the pressures of the relegation race certainly left their mark on DSC Arminia Bielefeld keeper Stefan Ortega Moreno. 

After unleashing something of a small tirade, the DSC gloveman explained his emotional state and vowed to calm down.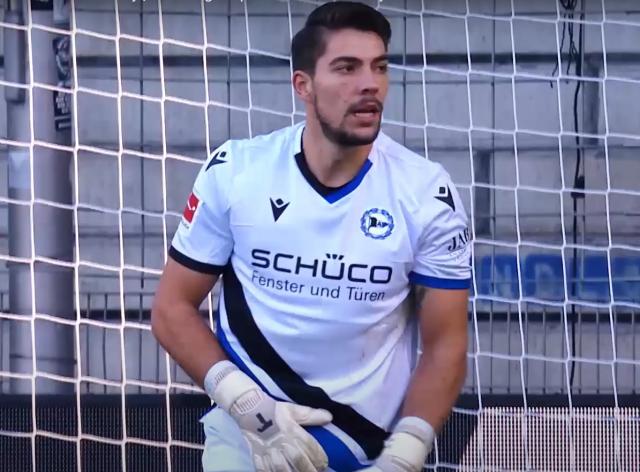 Even if he will be departing for greener pastures after the season, Stefan Ortega Moreno still evidently cares enough about the club he's represented for the better part of 11 years to find himself feeling down in the dumps. An eight-match winless run (including seven losses) would do that to anyone tasked with keeping the ball out of his team's net.


"It was a reasonable performance," Ortega told his post-match interviewer, "but at the end of the day we lost. That's all that matters."

The DSC net-minder was asked about the near equalizer from youngster Burak Ince in the 86th minute. A game that could have been tied instead finished 1-3 when Köln scored on the very next counter.

"It's Burak's second goal and we can't reproach him for that," Ortega noted, "the shit we've been doing, we've been doing for awhile. It makes me want to throw up."

Ortega caught himself getting perhaps a bit too emotional and proceeded to try and explain himself before abruptly concluding the interview.

"I'm just not doing well right now," he added, "I haven't been well for some time. It's a stressful situation. I think everyone feels that way. It takes it's toll on you. I'll try to collect myself and calm down."


No matter what happens in tomorrow's Stuttgart-Hertha match, Bielefeld will see their survival hopes dented. Even if the two sides draw, the Teutoburgs will find themselves three points away from the relegation playoff place.

A win for either Stuttgart or Hertha will see one of the teams pull farther away.

Bielefeld play host to Hertha next week.



More about the match
More about the teams