Terzic, Kobel, and Reus reflect on late collapse: "Brutally annoying and stupid."
By Peter Weis @PeterVicey
After first claiming that his side's late collapse defied explanation, BVB trainer Edin Terzic at least tried to offer up some during his post-match interview and subsequent press conference.

Keeper Gregor Kobel and captain Marco Reus added their thoughts as well.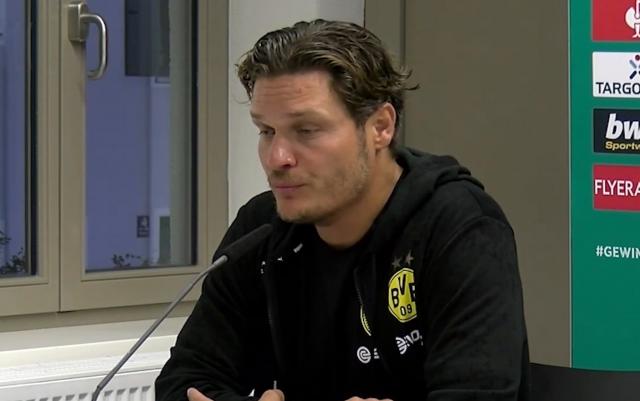 After SV Werder Bremen scored three goals in second half injury time to complete an amazing 3-2 comeback win against Borussia Dortmund, BVB trainer Edin Terzic first had to relfect on the nature of the defeat. The 39-year-old began by admitting what many who watched Bremen rack up better chances over the course of the 90 already knew.


"You have to be honest, it was a deserved defeat," Terzic told his Sky Germany interviewer, "We didn't play a good game, it was a very weak performance from us."

A little later at the post-match presser, Terzic elaborated more.

"Sometimes things can't be explained rationally," the trainer noted before launching into an attempt to do so, "We concede the first goal from a throw-in when we weren't paying attention. The ball comes into the box and then we had two or three situations where we did very well and managed to block. Then the fourth time we don't manage to do that. The last two goals we concede we then catch from counterattacks."

"It was both brutally annoying and stupid," Terzic added, "We started okay, but then to force things too much through the center. Then, at a certain point, you get into the habit of lacking the energy to stay clear on the ball."

Terzic's keeper Grgor Kobel concurred on the "energy" point, as did squad captain Marco Reus.


"We didn't bring the same energy to the pitch as Werder did," Kobel noted, "and in the end we paid the price for it."

"We were a bit too wild," Reus added, "We never really exerted proper control over the initial 90 minutes."

Terzic certainly wasn't in the mood to make excuses, but did note that Mahmoud Dahoud's early loss to injury had adversely affected his squad. Dahoud had to leave due to a separated shoulder in the 18th. He was replaced by German national team colleague Emré Can, who noticeably struggled to adjust to the specialized "deep drop" midfield role Terzic had devised specifically for Dahoud.

"In the beginning, we pushed out wide," Terzic noted, "Mo was a major influencing factor in that because he located the outside defenders again and again. It hurt us that he had to leave the pitch."



More about the match
More about the teams