Referee Ittrich on controversial calls:
"An exhausting game balanced on a knife's edge."
By Peter Vice @ViceytheSS
As expected, DFB Schiedsrichter Patrick Ittrich was called upon to explain his decision to disallow two FC Augsburg goals in the Fuggerstädter's 1-0 win over Hoffenheim on Friday night.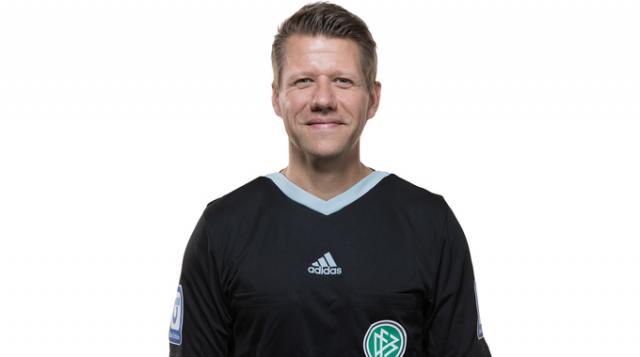 Some six days after VfB Stuttgart trainer Bruno Labbadia sounded off on the manner in which the Bundesliga's VAR headquarters in the "Kölner Keller" was producing adverse effects on the flow of football matches, it was the turn of FC Augsburg sporting director Stefan Reuter to register his complaints. FC Augsburg were ultimately able to wrest a hard-fought 1-0 home victory out of Hoffenheim on Friday night, but still had to fight off the frustration of two disallowed goals.


An apparent successful strike from Belgian phenom Arne Engels in the 8th had to be chalked off after it was revealed that the 19-year-old's hand touched the ball before he was able to peel the shot off. The ball did obviously play the hand, but match official Patrick Ittrich had little choice but to wipe the goal away. After all, the rulebook clearly states that no handball (intentional or not) can be permitted in direct relation to a goal.

The second disallowed goal, coming some two minutes into the second half, was much more controversial. Augsburg striker Kelvin Yeboah inadvertently delivered a slap to the face of Hoffenheim defender Kevin Vogt just before slotting home. There was clearly no intent to the action. Yeboah was simply attempting to maintain his balance and wasn't even looking at Vogt.

Reuter felt it harsh, and referenced a scene at the other end (Thomas Delaney flailed FCA attacker Ermedin Demirovic in the box in the 58th) as an example of unbalanced officiating from Ittrich, the officiating team, and the VAR crew in the cathedral city.

"Kelvin [Yeboah] stumbles and hits him [Vogt] on the way down," Reuter told Kicker Magazine journalist Frank Linkesch, "For me, that wasn't so dramatic. You can take the goal back, but then I would have liked him to at least look at the scene with Demirovic. I mean, Delaney went full on with the elbow."

Contacted for comment, Ittrich described the differences between the two scenes.


"The intensity is different on the awarded penalty," Itrrich told Linkesch, "In the latter case, it was a fight for the bal. For me, we have a difference in interpretation and intensity."

Ittrich, in describing the match in general, conveyed the sense that he found it rather intense in itself.

"It was an exhausting game balanced on a knife's edge for the referee as well," Ittrich said, "A tense relegation battle. You simply have to go through it. There shouldn't be any complaints, really. Augsburg won, after all."



More about the match
More about the teams