Fantasy Bundesliga:
Must-haves and differentials for Matchday 3
By Christian Andrick
Ahead of Matchday 3, we have highlighted a must-have player (M) and a differential pick (D) from each game that you should consider for your Fantasy Bundesliga team.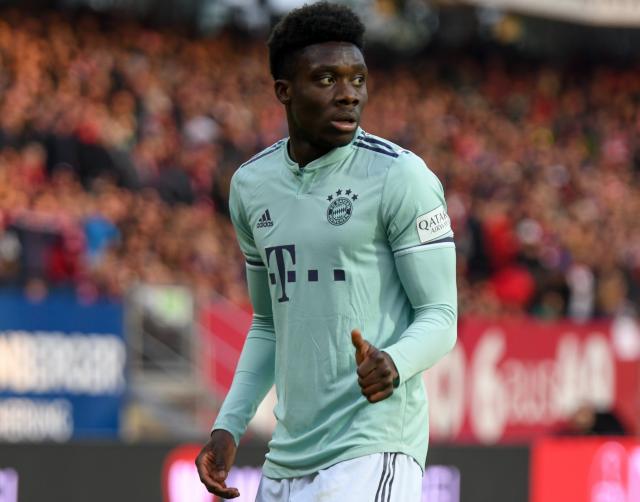 | | |
| --- | --- |
| Alphonso Davies | Photo: Granada, CC-by-SA 4.0 |
Borussia Dortmund v. 1. FC Heidenheim 1846:


M: Julian Brandt, Midfielder (BVB, 14.1M, 22%) - Brandt has had an unsurprisingly great start to the Fantasy year, scoring double digit points in both games so far. Dortmund should be too much for Heidenheim in the Friday night fixture and Brandt will be one to reap the benefits.

D: Tim Kleindienst, Forward (HDH, 8M, 2%) - Kleindienst has managed six shots in the first two matches but has yet to find the back of the net. Dortmund did give up one to Bochum last weekend so stopping the Heidenheim attack is not a given.

Bayer 04 Leverkusen v. SV Darmstadt 98:

M: Victor Boniface, Forward (B04, 12.6M, 15%) - A pretty much given for this matchday as the third best attack faces one of the worst defenses in the league. You really could not go wrong with any of Leverkusen's big names in this matchup.

D: Odilon Kossounou, Defender (B04, 7.1M, 1%) - With Kossounou, you'll get a great differential and a strong chance of a clean sheet with his rostering.


TSG Hoffenheim v. VfL Wolfsburg:

M: Jonas Wind, Forward (WOB, 10.8M, 6%) - Wind is currently the second highest scoring player in all of Fantasy. Of the top eight scorers, he is also the only one under 10% ownership. If he can continue his spectacular form, his owners should see substantial movements in their league standings.

D: Patrick Wimmer, Midfielder (WOB, 11M, 2%) - While Wind will certainly draw most of the attention of the defenders, Wimmer can quietly have a solid match like he did last weekend. He also has the added bonus of playing as a left winger and forward in the match but is listed as a midfielder in the Fantasy game.

SV Werder Bremen v. 1. FSV Mainz 05:

M: Jae-sung Lee, Midfielder (M05, 8.1M, 2%) - Lee grabbed the lone Mainz goal against Frankfurt last weekend and proved he will be irreplaceable for this team going forward. Werder has also been abysmal at the back, leaving few hopes of stopping any attack.

D: Marvin Ducksch, Forward (SVW, 10.9M, 2%) - Werder have to score a goal at some point and with Füllkrug on his way to Dortmund, it will be up to Ducksch to finally get them on the scoresheet.

FC Augsburg v. VfL Bochum 1848:

M: Rubén Vargas, Midfielder (FCA, 7.4M, 3%) - Vargas has always been an attack minded midfielder and already has a goal to his name this season. He also has a very reasonable price if you are looking to free up some funds.

D: Takuma Asano, Forward (BOC, 6.8M, 1%) - Asano has started both games up front but is still looking for that first goal of the season. Bochum and Asano will have to immediately start turning things around or they could face a perpetual relegation battle this season.

VfB Stuttgart v. Sport-Club Freiburg:

M: Ritsu Dōan, Midfielder (SCF, 11.1M, 4%) - Dōan has been somewhat quiet compared to some of the other key Freiburg players in this early season. After a superb season last year with five goals and four assists, Dōan will be expected to build off those numbers as they push for the Champions League.

D: Atakan Karazor, Midfielder (VFB, 5.6M, 1%) - Karazor has managed to stay in the positive points both matchdays, scoring seven and five points each when most of his teammates were in the negatives. He was one of Stuttgart's few bright spots in their beatdown by Leipzig.

Borussia Mönchengladbach v. FC Bayern München:

M: Alphonso Davies, Defender (FCB, 15.7M, 37%) - The top Fantasy player in the game, Davies is proving why many regard him as the best left-back in the world. Gladbach has always been a thorn in the side for Bayern but expect Davies to pull off some magic.

D: Tomáš Čvančara, Forward (BMG, 12.3M, 3%) - As mentioned previously, Gladbach is Bayern's bogey team, having not lost to the Bavarians in five competitive matches while winning three of them. If truly written in the stars, Čvančara should have a fantastic day.

Eintracht Frankfurt v. 1. FC Köln:

M: Florian Kainz, Midfielder (KOE, 10.9M, 6%) - Arguably the best player for the Billy Goats last season, Kainz hasn't found his spark yet. Frankfurt squeaked out a draw last weekend and with all the transfer drama surrounding the team, Kainz could catch them off guard.

D: Omar Marmoush, Forward (SGE, 10.2M, 0%) - The former Wolfsburg man looked great in his first start for the Eagles. He grabbed the late equalizer against Mainz and should start to see plenty of playing time with Kolo Muani headed for the door.

1. FC Union Berlin v. RB Leipzig:

M: Loïs Openda, Forward (RBL, 14.5M, 15%) - Openda has done exactly what he was brought in to do and has promptly scored in both games to start the season. Leipzig may not win this game, but Openda will definitely be involved in some way.

D: Kevin Volland, Forward (FCU, 9.9M, 0%) - Volland should be set to start after the Becker injury and should be fit for a solid outing after coming off the bench the last two matches. If Volland could show even some of the flawless play he executed with Leverkusen last time he was in the Bundesliga, Union could be unstoppable this year.

Looking for other Fantasy Bundesliga articles ahead of Matchday 3? Check out all of our Fantasy Bundesliga tips and information here.




Related stories