Hertha BSC are no strangers to splashing cash, but would the acquisition of ex-Dortmund midfielder Julian Weigl really be a good use of Windhorst's millions?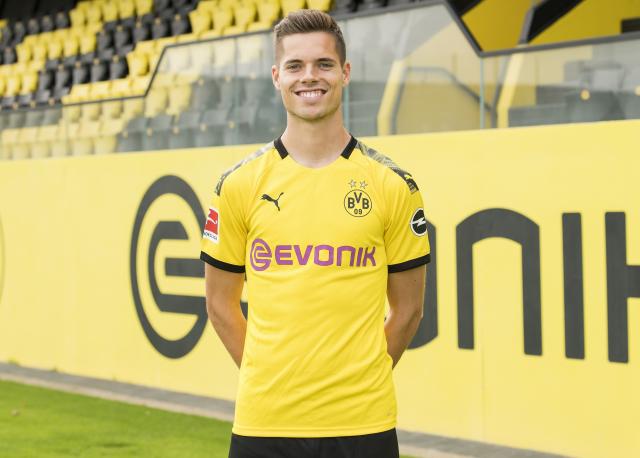 Julian Weigl could be set for a return to the Bundesliga, with Hertha BSC leading the charge for the out of favor midfielder. Since joining SL Benfica last January, Weigl has slowly falling down the midfield pecking order, now completely without a role since Jorge Jesus' arrival over the summer. Interest in out of favor talent is nothing new for fans of Berlin, with rumors of Götze and Draxler circulating last January, and Arsenal outcast Matteo Guendouzi brought in on loan this summer.


As Hertha's recent transfers have shown, investment is there, however where that money is going is what is questionable. Lars Windhorst has funneled millions into the club in the hope of bringing European nights to the capital, however Bruno Labaddia is the latest in a long list of managers who have been unable to get their star-studded roster clicking on the pitch. Hertha find themselves wallowing in the lower half of the table, with just half the points of their noisy neighbors Union Berlin who they face in a must win derby this Friday. With Julian Weigl looking like the next star to come in, is he the missing puzzle piece that has long eluded Hertha, or just another layer of paint to cover up the cracks?

Weigl is undoubtedly a talented player, who at 25 still has enormous talent that will boost a side in the lower half of the Bundesliga. Regularly hitting over 90% of his passes in his time at Dortmund, the 1860 München academy graduate was capable of dictating the flow of the game, playing as a Regista at the base of a Dortmund midfielder that gave him the freedom to spray passes to an exhilarating forward line of Aubameyang, Dembele and Pulisic. With an eye for a pass and a calmness under pressure, Weigl is able to breathe security in any Bundesliga side in possession, a trait that saw him become a favorite of Thomas Tuchel, and even for a short time lay a claim to a position in the German national team.

Weigl embodies a player who relies on the so-called "footballing brain". Think Sergio Busquets, or Xabi Alonso. Not blessed with elite strength or speed, Weigl uses his superior decision-making on the pitch to find pockets where he can use his passing ability, or defensively intercept and cut down passing lanes. In his most successful season at Dortmund in 2016/17, Weigl would often be deployed alongside either Gonzalo Castro or Sebastian Rode. Two players without the elite talent found in BVB's current midfield, but with the engines to make the hard meters to help cover for Weigl's abilities in possession. This was widely successful, with Dortmund winning a DFB Pokal and qualifying for another Champions League campaign with Weigl at the base of Die Schwarz-Gelben's midfield.

Weigl's playstyle was not always greeted with a positive reception from the Dortmund coaches who followed Tuchel's departure. Weigl increasingly became replaced with stronger more energetic midfielders, with the duo of Thomas Delaney and Axel Witsel making him obsolete in the midfield picture under Lucien Favre. In the right circumstances, Weigl has proven he is capable of helping any side in the Bundesliga with his elite abilities in ball circulation. However, it increasingly became apparent for those at Dortmund that the conditions necessary for Weigl to excel would be a detriment to the development of the side, and thus fazed him out of the team in favor of a more energetic midfield duo.

Is that the case for Hertha as well, or is Weigl's elite passing ability worth chopping and changing the midfield for?
---



Sitting in 13th place after 9 matchdays, it is unsurprising that Hertha are assessing their options heading into a January window that will allow them to bolster the squad. However, with atleast 6 midfielders capable of staking their claim for a starting spot, Hertha have more than enough talent and depth in the middle of the park. Although Weigl would come in and bolster the side even further, perhaps funds should be spent in another position.

One player who is already at the club and who could reinvigorate Hertha in January is Santiago Ascacibar. Signed from Stuttgart in the previous winter window, the Argentine's time in the capital has been marred by injuries, seeing him sidelined since last April with various hamstring and foot related issues. His return could reinvigorate Labaddia's side, with Hertha lacking a hard-working midfielder to cover for Guendouzi's forays in possession, or Tousart's ability to dictate the game from a deeper role.

With Niklas Stark often deployed as a holding midfielder this season, Hertha have missed a player willing to roam around the midfield and cover ground to win possession. With Stark more comfortable sitting between both centerhalves, as he himself is nominally deployed in the center of a back four, Hertha's midfield could often become disjointed, with gaps between the lines exploited by clever opponents. This begs the question if Weigl is really what Hertha need in their current situation or rather a player in the mold of Ascacibar.

Hertha Berlin haven't necessarily lacked ability on the ball in their midfield this season. Although a player like Weigl is capable of raising the standards of the side even further in possession, his defensive deficiencies would be even more detrimental to a side who have conceded the second most of any team outside of the bottom three. A ball playing Regista midfielder who is capable of picking out passes of any length is a tool Hertha will gladly accept, although ultimately it is not the astute signing that Labaddia's side needs in their current predicament.

Perhaps one could argue that Weigl would be a clever signing alongside Ascacibar, a player capable of making the hard yards around him. With an average of 12,06km's/90 in his last full season in the topflight for VFB Stuttgart, Ascacibar could be the perfect counterpart to a more reserved midfielder like Weigl.

This does make a lot of sense, with Ascacibar carrying many of the same traits that Rode had in Dortmund's successful 2016/17 midfield. However, with Ascacibar injured for the opening 9 matches, the influence of the Argentine has not yet been seen on the Berlin midfield. Although far less talented in possession than Weigl, Ascacibar is much more of a player Hertha need in their current state, with his tenacious defensive abilities missing in Hertha's current midfield setup. Ascacibar would allow Tousart to create with freedom from a deeper role, whilst also enabling either Guendouzi to drive with the ball in possession, or Darida to create in an attacking midfielder role.

A midfield of Ascacibar and Tousart with either Darida or Guendouzi infront is one that would be quickly snatched up by a dozen or so Bundesliga sides, and countless others across Europe's top leagues. At some point, Hertha must look at the tools at their disposal and make a conscious decision to work with what they have, rather than continuing to throw money at their problems.

Julian Weigl is capable of bolstering Hertha's midfield even further, however this is the same phrase used to describe the last 4 or 5 acquisitions that have ended up failing to make the desired impact in the capital. Rather than Weigl becoming the next halfhearted attempt at solving the clubs issues, Hertha BSC should dedicate their funds to the current squad they have, one with the talent and individual ability to challenge for European spots in the Bundesliga with the right manager and playing philosophy to get the best out of them.

It is easy to continue to throw out the blueprints and start over with a fresh set of players every window, but long term success will only come from committing to a core group of talent, a manager, and a tactical philosophy. Bolstering the playing squad with one or two astute signings every window is positive, frantically looking for the next best thing that is available is not. It is unclear which of these Julian Weigl is, but I am leaning towards the latter.

If you would like to have your say on a possible deal for Weigl, let me know here!



More about Julian Weigl