Rolfes and Xabi speak after first training session: "Both sides find it a wonderful match."
By Peter Vice @ViceytheSS
After the Spanish footballing legend ran his first Leverkusen training session, new B04 trainer Xabi Alonso and Bayer managing director Simon Rolfes spoke on their new professional association. 

Rolfes spoke on how Sabi's qualities overrode his lack of experience. Xabi revealed what he had told the players in his first team talk.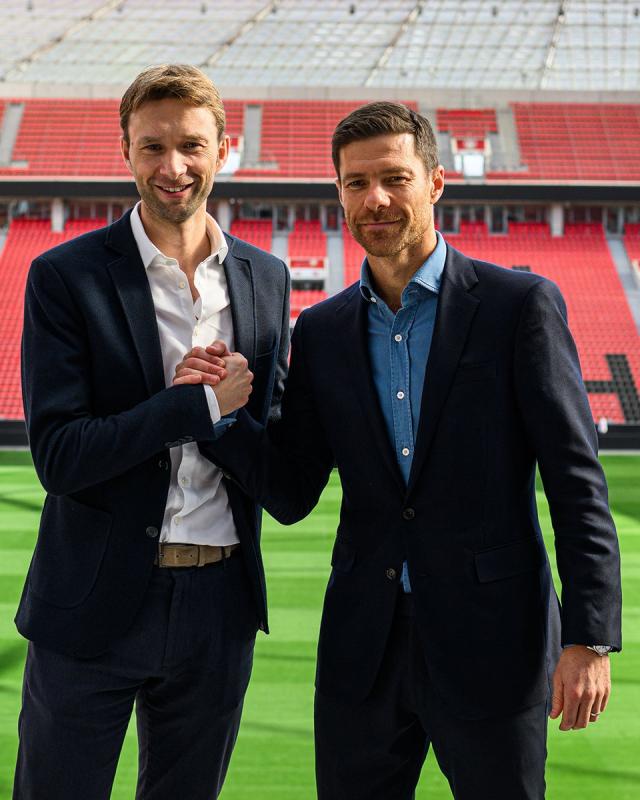 | | |
| --- | --- |
| Xabi Alonso | Bayer 04 Leverkusen |
Following his introductory press conference earlier in the day, Xabi Alonso got a chance to work with his new squad for the first time on the bench. It ended up being quite the busy day for the 40-year-old from both a professional and public relations standpoint. Photo ops. Interviews with the PR team. The Spaniard will likely look forward to getting some private time this evening.




A lot of question's centered around the rookie trainer's inexperience. Alonso stepped up to the Bundesliga job from Real Sociedad's B-squad. Even though the Spanish national mainstay conceded his career with three seasons at FC Bayern München, he had to admit that there were certain German words he didn't quite know yet.

"Abstiegskampf" (relegation race)?

Xabi wasn't familiar with that one. Understandably enough, someone active with FC Bayern München would have no reason to know that word. One could argue that anyone in charge of Bayer 04 Leverkusen shouldn't have to worry about it either. Alas, Germany's red company team are currently 17th in the Bundesliga table. They would automatically be relegated if the season ended today.

"I'm looking at matters one game at a time," the new head-coach answered with breezy glibness, "My first target is Schalke [on Saturday]. The it's onto [FC Porto in the Champions' League] on Wednesday."

When it came time to address the matter of making the big leap from coaching a reserve side to helming a Champions' League team, Xabi spoke on the need to take advantage of the opportunities that present themselves in life.




"There are always risks," the Spaniard said with a confident tone, "If you shy away from risks, you achieve nothing."

Alonso's first appearance on the training pitch appeared confident. Not a hint of nervousness. In answering questions all day, He began his answers in German, then switched to English to go into more depth, repeatedly interspersing Spanish nouns.

Bayer managing director Simon Rolfes made clear that he and the rest of the Leverkusen administrative team were 100 percent certain that they had found the right man for the job in one of football's best all time six-slot players. Surely everyone associated with the club hopes that the Spaniard will lead die Werskelf much in the same way he pulled the strings in midfield as a player.

"Experience doesn't trump quality," Rolfes noted, "Xabi was always our top candidate. We held many talks and got the feeling on both sides that it was a wonderful match. He fits perfectly with our philosophy and style-of-play. He is a leader with a leader's personality and has excellent credentials."

After remarking that "time is a luxury" earlier in the day, Xabi expanded on this a bit in later interviews. Getting to know the team remained the absolute top priority, but the pressures of time in this results-driven business still necessitated that on-pitch performance turned around immediately.

"I told the team that we can be dominant and enjoy what we do," he noted, "New energy. It starts now. We won't be waiting until Saturday. Giving one's best every day. That's the mentality I wish to exemplify."


⚫️🔴 🤝 ⚫️🔴#Bayer04 | #Werkself pic.twitter.com/vKFoeqc1CU

— Bayer 04 Leverkusen (@bayer04fussball) October 6, 2022
More about Leverkusen