Eberl and Keller address abusive Kölner fan banners
By Peter Vice @ViceytheSS
RB Leipzig manager Max Eberl found himself directly attacked by a series of banners held up by Köln supporters during Saturday's 0-0 draw in the cathedral city.

The 49-year-old former Borussia Mönchengladbach sporting director commented on the placards after the full-time whistle. 

Köln sporting director Christian Keller also spoke on the matter.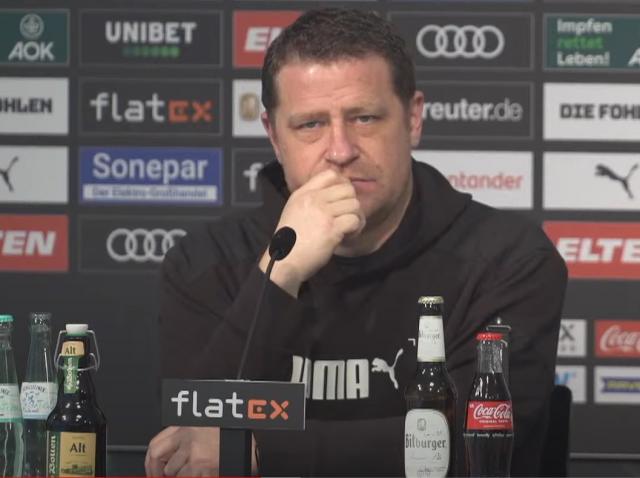 One can expect protests in the stands from Bundesliga ultras whenever RB Leipzig rolls into town. Ultras supporting 1. FC Köln happened to use the occasion to take aim at the former sporting director of their arch rivals, Borussia Mönchengladbach, on Saturday. Eberl's controversial decision to sign on with one of Germany's most reviled clubs after taking a break to work on mental health issues remains a live topic in German football.


Köln ultras held up sardonic banners reading "RB heals burnout" and mocking the 49-year-old as "Alzheimer Max". Eberl's move to Leipzig hasn't been received well in German footballing circles. Gladbach fan groups registered their objections some time ago. Even fans sympathetic to Eberl's situation find the move to a non-fan-owned club somewhat distasteful.

Not for the first, and almost certainly not for the last time, Eberl was put in the position of having to defend himself. Köln sporting director Christian Keller roundly condemned the banners. Keller that they "did not represent the values of 1. FC Köln" and noted that the club "obviously disapproved." Eberl wished to emphasize that it wasn't about him in quotes published by Kicker magazine.

"It has nothing to do with me," Eberl is quoted as saying, "I fought my way out [of burn-out] and stand above it. I'd be curious to know if these people know precisely what 'burn-out' means. It means that people exert themselves to and beyond their limit."

"People who mock the afflicted should consider whether it's the right thing to do," the quotes continue, "I'm not the only one who was ill. Many others have these issues. I wished to show that it's possible [to overcome it] and that it's a strength to admit weakness."

"If there are parts of society that find it appropriate to exploit this weakness, that's very sad," Eberl continued, "And if you're ridiculed and derided in public, it will be more difficult for people to admit, 'hey, I'm not well'."


Addressing his own fans, Keller added:

"I saw a number of banners that mocked the RB-Model in a creative way. Attacking someone personally cancels out this creativity. The message doesn't get across that way. Only the discriminatory [banners] are the ones remembered."


Unglaublich, was sich auf der Tribüne abspielte. #KOERBL #Bundesliga https://t.co/Df0yGb8Dt7

— TAG24 NEWS Leipzig (@TAG24LE) February 4, 2023
More about the match
More about the teams