Fantasy Bundesliga:
Must-haves and differentials for Matchday 23
By Christian Andrick
Ahead of Matchday 23, we have highlighted a must-have player (M) and a differential pick (D) from each game that you should consider for your Fantasy Bundesliga team.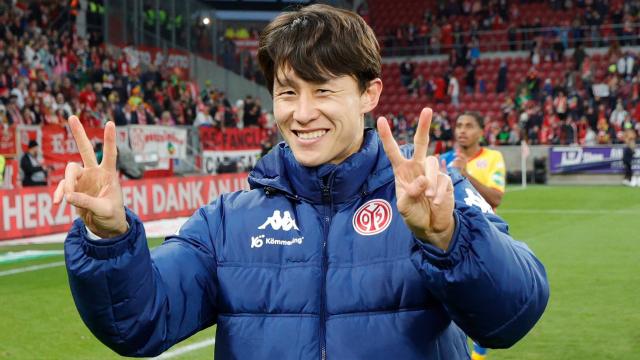 Borussia Dortmund v. RB Leipzig:


M: Marco Reus, Midfielder (BVB, 15.5M, 8%) - Reus has been playing some of his better football as of late. He has started the last four league games and has scored double digit Fantasy points in three of them. He grabbed a goal and two assists in the last two games alone while also creating eight chances as well.

D: Emil Forsberg, Forward (RBL, 11.4M, 0%) - Forsberg picked up a thigh injury midweek but should be fine by Friday's fixture. Leipzig will surely want him ready as he has bagged two goals and an assist in the last two league games.

1. FC Union Berlin v. 1. FC Köln:

M: Jonas Hector, Defender (KOE, 10.8M, 12%) - Hector has been playing well, scoring double digit points in three of his last four games. He has also sent in an astounding 20 crosses over that same time frame. If only an end product could come from some of those, Köln may not find themselves in such a predicament.

D: Jérôme Roussillon, Defender (FCU, 6M, 0%) - A tough matchup with Bayern saw Union fall back down to earth. Roussillon, however, has been making a great impression on the team since joining from Wolfsburg. He did pick up a knock in that Bayern game but if healthy, Roussillon will see a ton of playing time for Union.


1. FSV Mainz 05 v. TSG Hoffenheim:

M: Jae-sung Lee, Midfielder (M05, 7.8M, 6%) - Lee has been amazing lately, scoring double digit points in each of the last three games for a total of 46 points. Hoffenheim has been awful this year so all signs point to another great outing for the South Korean international.

D: Leandro Barreiro, Midfielder (M05, 8.7M, 1%) - If you're looking for more of a differential pick, Barreiro hasn't had the same success as Lee the last three games but has done very well for himself otherwise. He has one goal and an assist in the last three for a total of 31 Fantasy points.

Borussia Mönchengladbach v. Sport-Club Freiburg:

M: Vincenzo Grifo, Midfielder (SCF, 16.9M, 45%) - Freiburg and Gladbach are going in different directions at the moment. Grifo has scored double digit points in the last three games straight and should continue to carry Freiburg going forward as the push for the Champions League spots.

D: Lucas Höler, Forward (SCF, 10.1M, 0%) - Not expected to light up the scoresheet, Höler does have the capability to do so by scoring double digit points in two of his last five games. If previous score lines show any indication of what is to come like Gladbach giving up 10 goals in their last three, Freiburg could run up the score again.

VfL Bochum 1848 v. FC Schalke 04:

M: Rodrigo Zalazar, Midfielder (S04, 4.6M, 2%) - Zalazar has been Schalke's best player lately, scoring double digit points in two of his last three games. He had a great game last weekend, taking four shots with three on goal while also grabbing an assist in their win against Stuttgart.

D: Keven Schlotterbeck, Defender (BOC, 3.5M, 0%) - Schlotterbeck has been a decent Fantasy player the last two weeks having scored a total of 15 points, even with Bochum giving up five goals and losing both. He does get active in the attack which is always a bonus for a defender.

FC Augsburg v. SV Werder Bremen:

M: Anthony Jung, Defender (SVW, 2.5M, 6%) - If Jung plays well, Bremen usually have a great game too. He has double digit points in two of his last four, with Bremen wins coming during those outings. The two losses however, one Fantasy point earned in each.

D: Marvin Ducksch, Forward (SVW, 8.7M, 1%) - Ducksch grabbed a goal last weekend, his second in the last four games. While having a very productive season, five goals and five assists, Ducksch is still hardly on any Fantasy manager's squad.

VfB Stuttgart v. FC Bayern München

M: Alphonso Davies, Defender (FCB, 18M, 28%) - One of the top in-form players in the league at the moment, Davies has scored double digit points in three of his last four games. As Bayern try to keep Dortmund away from the top, we should start seeing the cutthroat Bayern we are used to watching as the season gets into its later stages.

D: Silas Katompa Mvumpa, Forward (VFB, 10.6M, 0%) - This will be a very tough matchup for Stuttgart. Silas has at least started the last two matches and has taken five shots in those games.

Bayer 04 Leverkusen v. Hertha BSC:

M: Florian Wirtz, Midfielder (B04, 13.1M, 17%) - For the month of February in all competitions, Wirtz has two goals and three assists. Since coming back from his injury, Wirtz is showing some of the flash we are used to seeing and should only get better as the weeks go on.

D: Kerem Demirbay, Midfielder (B04, 11.7M, 0%) - Demirbay has played well over the last two games, scoring a total of 21 points in that time frame. He has started the last three games and also takes basically every free kick and corner for the team.

VfL Wolfsburg v. Eintracht Frankfurt:

M: Paulo Otávio, Defender (WOB, 8.7M, 15%) - Otávio has scored double digit points in two of his last three games, helping Wolfsburg stay within earshot of European qualifications. To continue separating themselves from the bottom half of the table and keep that dream alive, they must win this game against Eintracht, one spot directly above them.

D: Aurélio Buta, Defender (SGE, 3.7M, 1%) - A great price and differential, Buta also plays up in the midfield despite his defensive position. He did score 16 Fantasy points back on matchday 19 so he can light up the score sheet if the opportunity arises.

Looking for other Fantasy Bundesliga articles ahead of Matchday 23? Check out all of our Fantasy Bundesliga tips and information here.




Related stories