Americans in the Bundesliga:
Failing marks for Matarazzo, Scally slides back
By Peter Vice @ViceytheSS
The latest installment of our "Americans in the Bundesliga" deep-scout feature checks in with the latest top flight work of John Anthony Brooks, Joe Scally, and trainer Pellegrino Matarazzo.

We'll briefly address the absences of Kevin Paredes, Jordan Pefok, and Giovanni Reyna in the introductory paragraphs.

As always, there's plenty of interesting trends when it comes to this particular subset of German football.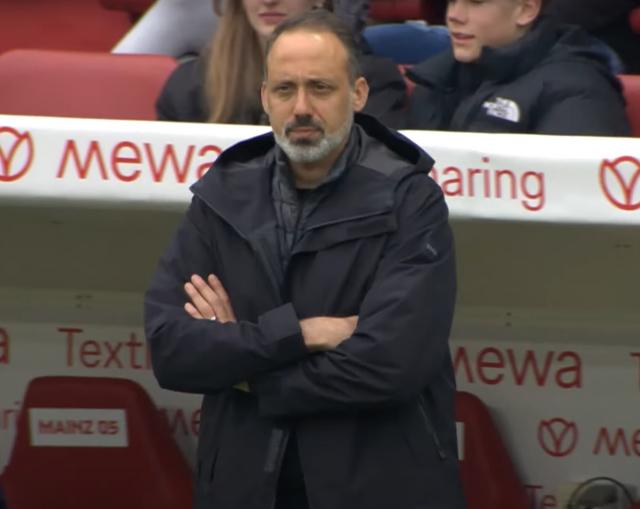 Our weekly check in with the American actors active in Germany's top footballing flight contains three graded sections this week. USMNT defenders John Anthony Brooks and Joe Scally receive detailed attention after going the full 90 for their respective clubs. Brooks' current American trainer - very much on his last legs in Sinsheim - joins the defensive duo.


Promising young attacker Kevin Paredes doesn't receive a section this week, but it should be noted that the VfL Wolfsburg attacker was involved in his squad's late equalizer against 1. FC Union Berlin on the last matchday. American striker Jordan Siebatcheu remained on Urs Fischer's bench throughout the duration of that match. Hence, his absence.

A player very much conspicuous in his absence this time around is Borussia Dortmund winger Giovanni Reyna. Projected for a start last week, Gio actually didn't make Edin Terzic's starting XI in the big "Revierderby" showdown against Schalke. BVB sporting director Sebastian Kehl admitted that the American phenom is having problems working his way into the lineup during a pre-match interview.

John Anthony Brooks, TSG 1899 Hoffenheim

Minutes played = 90/90, Positions played = CB

Grade = C+

If there is a semi-piece of good news this week, it's the fact that Jay Brooks at least furnished some useful play in his return to the Sinsheimer starting XI for the first time since receiving failing marks on matchday 21. The Berliner easily put in his best shift in a Hoffenheim tricot this past weekend. Note that such a statement counts as the faintest of praise. It truly has been a disastrous return to the Bundesliga for the former Hertha and Wolfsburg mainstay. Brooks enthusiasts - including and especially this one - remain heartbroken over the fall of their one-time idol.

Likely soon-to-be sacked TSG trainer Pellegrino Matarazzo accorded his U.S. compatriot maximum protection in a ultra safe and conservative 4-4-2. Wholesale personnel changes saw Brooks, Robert Skov, Angelo Stiller, Finn Ole Becker, Munus Dabbur, and Ihlas Bebou replace Christoph Baumgartner, Kasper Dolberg, Kevin Vogt, Thomas Delaney, Andre Kramaric, and Angelino. Matarazzo having already noted that the squad's set-pieces stood as a priority meant that Brooks had the dubious honor of taking a few ranged free-kicks.


Lineup—TSG Hoffenheim—Match 24 (4-4-2)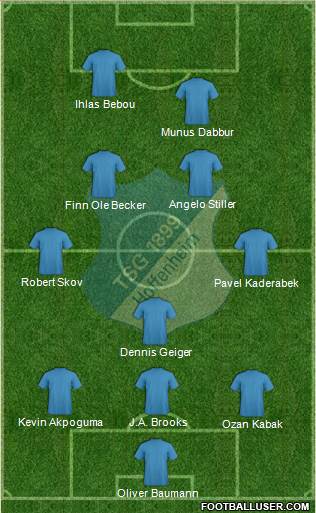 The downfield free-kicks (64th, 68th, 82nd) were among the weakest part of this American's game. That is, of course, after one takes into account the slapstick collision with keeper Oliver Baumann that enabled Maximilian Eggestein to open the scoring for Freiburg in the 5th. Huge defensive miscommunication there right at the beginning of the match. There were further foul ups with defensive colleagues in the 13th, 18th, 31st, and 68th. That's just how bad this team is at the moment.

There were nevertheless other aspects of Brooks' game that looked strong. The chronicler didn't see him outright lose a battle in the air all afternoon. Solid aerial wins can be found in the 1st, 2nd, 4th, 8th, 28th, 30th, 32nd, 61st, 63rd (probably the best of the whole bunch), 66th, 70th, and at 90+1. Quality ground wins came in the 54th, 72nd, and at 90+2. At times, the Berliner was able to help his team out in terms of forward impetus. He got a few advanced headers, decent verticals, and handy switches through in the 33rd, 34th, 45+2, 58th, and 84th.

Brooks - though certainly less so than expelled teammate Ozan Kabak - committed several bad fouls on the day. Cases in which he was all over the back of his opponent or blocking without any thought of tackling (24th, 44th, 73rd) could have seen him booked much earlier. The Berliner ultimately did earn a caution from referee Harm Osmers, seconds before Kabak was sent off for dissent in the 84th. There were also several bad clearances (14th, 15th, 28th, 60th) before he shanked an embarrassing hit straight up in the air in the 76th.

The deficiencies notwithstanding, Brooks was probably the best Kraichgauer actor on the pitch apart from goal-scorer Angelo Stiller. Our subject here - along with defensive fellows Angelino and Kevin Akpoguma - totally blew their marking on Ritsu Doan's 89th-minute match-winner. We'll chalk that up to Matarazzo's tactical mismanagement after Kabak's sending off; something addressed in greater detail below. The Berliner did well enough. He should maintain his starting place in what might be Matarazzo's final XI.

Joe Scally, Borussia Mönchengladbach

Minutes played = 90/90, Positions played = RB

Grade = D+

A much lighter duty day for the Long Island native, who regrettably couldn't ride his perfectly scored performance from last week into another high score this time around. As has unfortunately often been the case with poor Joe Scally, the CFG New Yorker falls victim to the lazy and borderline disinterested tactics of his unsuccessful trainer. In this latest case, one doesn't really wish to equate how Daniel Farke is handling the BMG with Adi Hütter's multiple fiasco's late last year. Scally isn't a complete victim this time

The latest on the Fohlenelf:

Lineup—Borussia Mönchengladbach—Match 24 (4-2-3-1)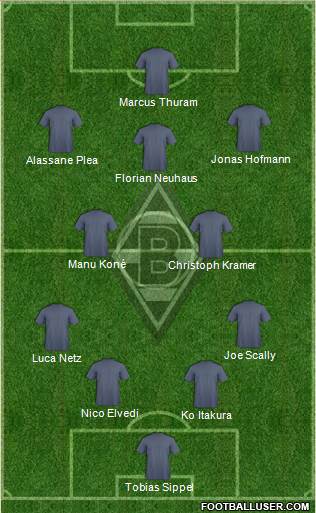 Simple enough, yet still problematic. As noted in the most recent tactics column, opponents Leipzig were very well drilled to close down Scally and Ramy Bensebaini replacement Luca Netz on the flanks. Scally only recorded 46 touches in the writer's notebook as a result. Farke continues to demonstrate that he has no feel for selecting the correct ten. Florian Neuhaus? No, it just didn't work.

Scally did okay sprinting wise and even recorded two assisted shots in the columnist's scout. Times in which the American tri-angled his team out of the back skillfully came in the 14th, 35th, and 50th. He got some decent runs in up his side in the 15th (crossing in for Thuram), 25th (before making some poor decisions), 60th (dribbling past Emil Forsberg), and 62nd (dribbling past Timo Werner).

The CFG New Yorker obviously had a difficult task squaring off directly against very hungry reinserted RB left-back David Raum. One is tempted to give Scally some leeway for missed marks on a very good player. Sadly, the instances (7th, 11th, 17th, 22nd, 28th, 29th, 32nd, 43rd, 45th, 48th, 49th, 54th, 70th) were simply too numerous. Joe also got toasted by Werner badly in the 33rd and was culpable in Leipzig's 71st and 77th minute goals.

Those interested in some examples of positive defensive play from Scally - including some nice work against Raum - can find them in the 8th, 13th (twice), 40th, 44th, 57th, 64th, 66th, 75th, and 79th. It remained a pretty bad day at the office, however. Passing and clearances in particular were wretched. Stray passes (3rd, 16th, 30th, 88th, 89th, 90+1) and failed clearances (21st, 41st, 42nd, 72nd) were legion.

None of this should affect Scally's starting prospects. He's obviously the preferred candidate over the tanking Stefan Lainer. Perhaps we'll witness another encouraging performance against Bremen this Friday. Hopefully he can get forward and work nice touches close the danger area, as he did here in the 67th, One definitely doesn't wish to watch him trip over his own feet, as made one wince last week in the 56th.

Pellegrino Matarazzo, TSG 1899 Hoffenheim (Trainer)

Matches = 1, Result = L

Grade = F

It's once again failing marks for the American trainer. The New Jersey "Malthe-magician" clearly has no idea what he wants to accomplish with this team. It's thus the case that we'll likely see both him and current TSG sporting director Alexander Rosen headed for the unemployment line after this week's projected loss against Hertha. Shades of 2013. Club owner Dietmar Hopp appears ready to execute one final thorough housecleaning before he gives up some of his shares.

Ihlas Bebou and his designated short-striker Munus Dabbur didn't perform all that poorly in Matarazzo's latest tactical set-up, drawn up in the John Anthony Brooks section above. That was something. One still had to wonder why Andrej Kramaric, despite his recent form slump, wasn't introduced at all in what was a put-win affair for the Sinsheimers. There are some reports that the Croat had a dust-up with his trainer after being subbed off last week. Hence, his trainer didn't consider subbing him on when Bebou's 74th minute injury problems called for another seasoned striker.

Matarazzo's current rocky relationship with what is still his team's joint-leading goal-scorer shall likely prove a contributing factor to his downfall. One can't let such things interfere when one's squad finds itself right in the thick of a tough relegation dogfight. According to at least one source (Kicker Magazine), Kramaric was supposed to be subbed-on late, but missed out on logging some minutes after Ozan Kabak's late red forced the American trainer into a re-think. Fisnik Asllani got the go in the late 5-3-1 instead.

Lineup—TSG Hoffenheim—88th minute (5-3-1)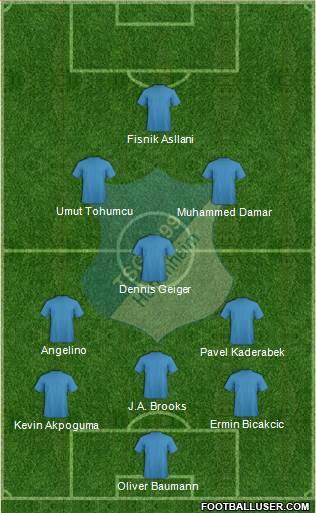 This writer isn't entirely sure there was any argument for Asllani over Kramaric in this particular case. What difference does it make who serves as lead striker in a shorthanded shell up? The young Kosovar notably missed a chance to equalize late on a ball Kramaric could have been expected to bury. Moreover, the 5-3-1 placed Geiger too far afield to help out the confused defensive ranks. Doan's late-winner had much to do with the fact that Angelino's forward drive threw everyone off. An all-too-easy late-winner for Freiburg.

Indeed, this looks to be the end. Even if one gives Matarazzo some grace concerning ideas that weren't necessarily of the half-baked variety, only some new blood capable of forging new relationships with the players and instilling a more regular system can save this side now. Even if the American trainer manages a draw against the capital city side this weekend, Hopp will consider that reason enough to utilize his itchy trigger-finger. When we bade farewell to Matarazzo earlier in the season, there was a strong sense that we would see him again soon.

Not this time.

This might be it for his Bundesliga career.

Thanks so much for reading! You can catch the release of all Peter's columns on twitter, @ViceytheSS.

Twitter DMs are open for football conversations, corrections, and (if you truly insist) general abuse. 

All columns debut on Bulinews before appearing on Peter's website as the season progresses.



Related stories