Bundesliga Tactics Talk: Round 24
By Peter Weis @PeterVicey
A momentous weekend of football in the Bundesrepublik delivered plenty of intriguing action and no shortage of surprises. The Bulinews comprehensive recap feature is here as always to break it down in full.

Amid the coverage of all nine fixtures, Bochum and Freiburg receive draw-ups this week. An expanded "tactical focus" section belongs to the earth-shattering result between Schalke and Dortmund.

The "Revierderby" is officially back! And we've got full coverage below!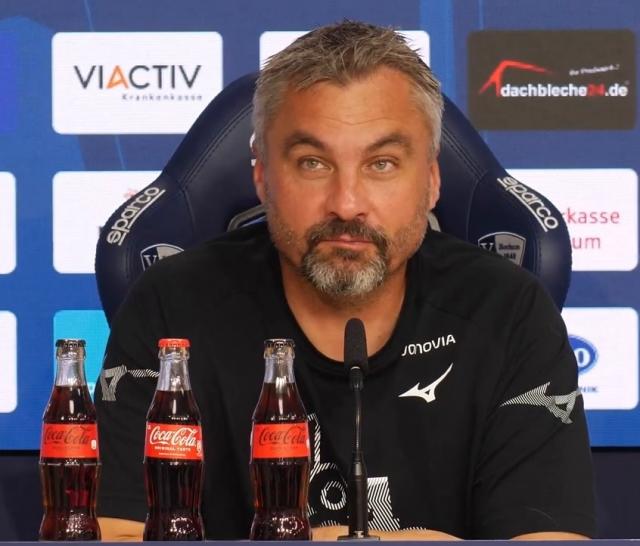 Bundesliga Tactical Banter: Round 24
Rotation madness in the City-State

After Leverkusen's tightly-contested Europa League battle at the BayArena on Thursday, one expected plenty of rotations from Bayer trainer Xabi Alonso in the trip to Bremen on Sunday. What one didn't necessarily expect, but remains normal for this time of year, was for illness to break out in the Bremen camp. It is the season for such things. Leipzig had to deal with the issue as well. Xabi made five changes to the XI from Thursday. SV trainer Ole Werner was forced to do without cold-stricken starters Marco Friedl, Christian Groß, and Leonardo Bittencourt on short notice.


One could tell that Bremen couldn't get the timing right on the long upfield balls over the course of the initial half-hour. Werner's crew thus failed to capitalize on the many opportunities that a ramshackle Leverkusen 3-4-3 with huge gaps between the top attacking and defensive midfield axes were giving them. Eventually, Niclas Füllkrug and Jens Stage got it right against a totally lost Exequiel Palacios and Marvin Ducksch scored the opener in the 30th. Mitchel Bakker promptly equalized and we had a fair first-half result between two sides about even in their "unevenness" of play.

The notion of a fair result went out the window during the second 45. Jeremie Frimpong's 2-1 in the 56th took an unlucky deflection off Niklas Stark. Amine Adli's cross over to Adam Hlozek on the 3-1 in the 83rd also benefitted from a random deflection. Bremen were by far the more compelling team, creating more chances and topping their opponents xG-wise. A pity that the Hanseaten were left to rue their luck once again. Perhaps karma bit back after the reverse fixture. One had the feeling that, with all these new actors on the pitch, nothing about this game would be even or fair.

Kovac douses the Iron

Another team coming off a grueling Europa League fixture on Thursday furnished just about what one might expect from a creatively exhausted team. Urs Fischer's "Eisern Union" were good for three goals three days ago. One didn't anticipate that they'd be good for more than one here. The Köpenickers spent an awful lot of time pinned back in their own half in their trip to the northern Autostadt. Not much going on in transition for the capital city guests. Counter charges looked totally lethargic.

VfL Wolfsburg trainer Niko Kovac put together a decent set of tactics to compensate for the absence of suspended squad captain Maximilian Arnold. Felix Nmecha and Joshua Guilavogui ran the midfield as double-sixes. Jonas Wind worked the ten-slot behind lone striker Omar Marmoush. While the 4-2-3-1 was imperiously secure on the ball, the soon-to-depart Marmoush proved the wrong choice to spearhead the attack. The Egyptian international missed a couple of good chances in the opening half, including a sitter right at the end.

Union nearly rode their luck straight out of the encounter when, after literally creating nothing all game long, they were gifted a penalty in the 72nd. After Josip Juranovic converted, die Eisernen got some more things going offensively. Kovac nevertheless proved to have the Midas Touch with a quadruple substitution in the 81st/82nd. Jakub Kaminski, Kevin Paredes, and Ridle Baku were all involved in Patrick Wimmer's late equalizer. Union's third straight draw in the league extends their league winless run to five. Title-chasing talk is completely over.

The "Spiegel Specials": Round 24
Köln-Bochum (1:1, 0:2)

Something had to give in - as one of our writers put it - a matchup between "two goal-shy teams". Bochum headed to the RheinEnergieStadion not having scored in four successive matches. Köln had only been blanked in their last three, but still maintained the horrible overall record of failing to score in five of their eight fixtures in the new calendar year. We've been tracking that disconcerting trend for the cathedral city side for some time in this column. It is, as predicted, only getting worse.

Which team would end up capitalizing on the other's psychological "crisis of confidence"? Many league watchers felt that the time for "secretly not bad Bochum" to wake up once again had come. The release of the Kölner team-sheet reinforced this hunch. Effzeh trainer Steffen Baumgart literally had no one to turn to. Baumgart kept the 4-2-3-1 from last week in place. The would-be "savior" of his goal-starved side was none other than Davie Selke, in for Steffen Tigges at lead striker.


Er....no. No, no, no. The most inherently frustrating thing about watching Köln matches these days remains the fact that the squad is still overly-reliant on crosses sent into the box; as if the long-departed Anthony Modeste is still there. Selke may have height, but he's never truly had heading quality. Moreover, the declining veteran has demonstrated skill on dribbles and baseline cutbacks for many years. The lineup had inefficiency scrawled all about it.

Meanwhile, after being out-maneuvered by Thomas Reis last round, VfL head-coach Thomas Letsch got his tactics right this time. Letsch went with three changes from the loss against Schalke. Getting the suspended skipper Anthony Losilla back was obviously huge. Losilla replaced Philipp Förster in midfield. Konstantinos Stafylidis and Ivan Ordets came on for Keven Schlotterbeck and Saidy Janko in the defensive chain. The formation remained a 4-2-3-1.

Lineup—VfL Bochum—Match 24 (4-2-3-1)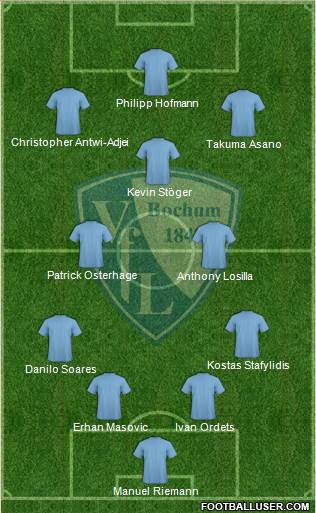 Throughout a first-half during which the two teams mostly neutralized one another, the visiting 1848ers maintained a slight edge in terms of cohesion, composure, and coherence. It should be noted that VfL keeper Manuel Riemann made two excellent saves against Köln's 2023 leading scorer Ellyes Skhiri and the sometimes dangerous Jeff Chabot.

The penalty awarded in the 8th (for a Timo Hübers challenge on Christopher Antwi-Adjei) also took place on the left-hand line of the box and could have gone either way. In the final analysis, it seems fair that Bochum got their chance from the spot as Antwi-Adjei was in the process of breaking into the box. Hübers - one can remark with some dark humor - did end up fulfilling his prophecy that "a goal will go in".

Danilo Soares' subbing off at the half has since been attributed to stomach cramps possibly related to indigestion. One couldn't figure out what to make of the move at first. Assuming Soares couldn't carry on, the natural move would be to bring on Janko to fill in at right back and move Stafylidis over to the left. Instead, on came former Köln, Freiburg, and Union man Dominique Heintz for his first competitive appearance since October.

Heintz settled right in on the left; a position this league watcher honestly never remembers seeing him play. Köln looked to be as confused as the rest of us. When Stafylidis himself succumbed to the same bug that reportedly left Soares' stomach churning, Janko did come in on the right. One could tell that the two flanking fullbacks were comfortable with one another. Letsch later revealed the duo had been training in those positions all week.

Bochum were set-up almost perfectly for rolling counterattacks. The higher up Köln would press in search of an equalizer, the more dangerous a deciding second goal became. It actually took some time for the cathedral city hosts to take more risks. Heintz, Ivan Ordets, and (the most active of VfL defenders) Erhan Masovic easily defused unimaginative crosses and poorly designed set-pieces.

Eventually, Baumgart's men had to take more chances. The game-deciding goal began with an Antwi-Adjei and Janko led counter in the 75th. Chabot was able to take the ball off Takuma Asano legally in the box, yet committed a foul just outside the area when his team immediately gave the ball away again. With a little luck, Masovic managed to score off of what was a creative dead-ball design.

2-0.

Up with the Revierklub!

Prognosis: The return of "Badass Bochumery"

We've noted it once. We've noted it twice. Though we may be only commemorating Bochum's third win since play resumed in the new calendar year, it's worth noting again that the basic spine of this gritty team possesses enough stability to take points off practically every opponent it meets. Losilla's absence - combined with some unsuccessful tinkering fro Letsch - has hindered this process. It can always start up again.

Bochum can take points. Period. Whether or not they can take the 35 or so needed to avoid relegation is another matter. It might be the case that the expanded relegation field this year means that a club can secure safety with 30 or less. Naturally, this would also require that one of the teams currently considered above the relegation fray must crack up.

Candidates for a prolonged losing streak? Why not Köln? Every week the dearth of quality on this roster becomes more apparent. Baumgart's options run thin. Broadcast cameras caught captain Jonas Hector letting out as big a sigh after this one as he did on that famous day back in April of 2021. Where will the goals come from as the team prepares to conclude the "ides of March" against Dortmund next week?

Bochum may not need to be all that "badass" to escape.

Leipzig-Gladbach (0:3, 3:0)

A perfect mirror! It actually seems hard to believe that there was actually a time when we were talking about how "confident" Gladbach were. Indeed, such a time did exist. Travel back to late September, just before the current campaign's first international break, and we were discussing a sixth-placed team that had only lost once in seven fixtures. Leipzig - still shaking of the confused tactics of the late Domenico Tedesco Era - continued to grapple with their identity under the first days of the Marco Rose regime. It was a very different time.

In recent weeks, Daniel Farke's foals have been steadily cementing their reputation as perhaps the least confident team in the entire top division. There's honestly only so many times one can bring up the subject of Farke's dead-wrong tactical calls or the matter that so many players headed for the exit have nothing more to play for here. As tired as such topics are, it looks like we're in line for re-hashes here as they factored into the most recent loss in a big way.

Beginning with Farke's tactics, the BMG trainer probably made the right call in leaving Joe Scally on the right while Luca Netz took over for the suspended Ramy Bensebaini on the left-hand side of the back-four. Given how horrible Stefan Lainer has looked recently, he really didn't have much of a choice. Leipzig were nevertheless prepared for the wholly predictable move. A very curious call to take Lars Stindl out of the lineup and let Florian Neuhaus direct final-third approaches from the ten-slot. That change didn't work at all.

The opening 45 at the Red Bull Arena was almost an exercise in disbelief. Leipzig gifted the visiting Westphalians two golden chances to score on the counter with sloppy build-up play inside the first ten minutes. Marcus Thuram - accused of everything from not caring to being a flagrant diver over the past week - miffed up both opportunities. Thuram screwed up two more highly promising counter chances in the 26th and 33rd. Former BMG keeper Janis Blaswich made some decent saves. RB attacker André Silva made a goal-saving-tackle on Jonas Hofmann in the box in the 43rd.

The last two points notwithstanding, one had to say that the Saxon hosts accorded their guests every damned last opportunity to take the lead. RB continued to do so after the restart. Alasanne Plea headed wide in the 50th, then missed a chance to score the opener from the penalty spot three minutes later. Ugh. Leipzig soon decided that they had expended their generosity quota. Plea would concede a penalty later on. Total garbage match from him. Thuram was awful too. Scally and Netz had no solutions Even frequent "diamond in the rough" Manu Koné played like rubbish.

Ugh, ugh, ugh.

Prognosis: Still a "two horse race"

Moving over to Leipzig for this portion of the section, it doesn't really look as if there's enough new evidence to contravene the thesis from last week's column that Leipzig are out of the title race. No shortage of shabby play from the German Red Bulls in this one as they did their level best to hand the opponents the match. General approach play looked wholly unconvincing, particularly in the lumbering and languid first half.

Part of that could be attributed to some targeted tactical changes. Rose got his team out of that uncomfortable looking "RB System" 4-2-2-2 that proved ineffective against Dortmund. Emil Forbserg moved central. Timo Werner and Dominik Szoboszlai hung tight as pseudo-flankers behind Silva. Konrad Laimer and Amadou Haidara clung about equally as tight as advanced sixes. It was kind of a crowded and jumbled mess.

Eventually, the players separated a bit and a 4-5-1 began to resemble (as Rose had perhaps intended) a smoother 4-2-3-1. It's serviceable, yet not exactly championship material. Rose still has problems at right-back. David Raum was the last RB actor to figure out how the spaces were supposed to work and nearly cost his team the game with that horrible hack-foul on Neuhaus. Problems abound.

No sense betting on this crew against Man City.

Bayern-Augsburg (0:1, 5:3)

A far cry from where we were in the round seven tactical focus. Even a heavily rotated Bayern had no problems dispatching their regional Bavarian Swabian rivals this time around. Mërgim Belisha's early goal for Augsburg gave us the brief feeling that something sensational might yet again be in store. Then came the standard "poke the bear" response from the German giants. Four first-half goals from Julian Nagelsmann's crew ensured that there would be no stunning upset on this day.

There's not a great deal on can say about Bayern's 5-3 victory over the Fuggerstädter. Even Nagelsmann's tactics feel into a familiar category we've seen before. The 3-1-4-2 already received a draw-up in the round 20 bulletin. Serge Gnabry and Sadio Mané acted as the twin strikers in the latest match. Joao Cancelo and Alphonso Davies served as the high deployed wingbacks working a slight split-stagger and engaging in regular rotations. Everyone played exceptionally well. Nothing much to report.

The Augsburg win-loss-win-loss pattern continues. Enrico Maaßen's 4-4-2 hasn't even changed all that much since the reverse fixture. Ermedin Demirovic and Arne Maier continue to play on the wings in what were once unfamiliar positions, but have now become rote. Whoever isn't injured works in a regular midfield double-six set-up. Whoever the FCA trainer feels like deploying pairs up front in an axially chained double striker set. Nothing much of interest to report there either.

Prognosis: Same story as last week

Basically, this match felt more or less the same as the Stuttgart encounter. A spritely underdog stood toe-to-toe with the record champions at the beginning.....for a period of time that effectively amounted to single-digit minutes. Then came the boom. Quality crushed spirit. The final scoreline and full-time xG stats (Bayern 2.85, Augsburg 2.6) deliver nothing more than bold-faced lies. This one was never close.

Nagelsmann himself didn't feel the need to berate his players or shifting down a few gears at certain points in the match. As the FCB trainer put it, they've quite the workload ahead of them. If there were every a time to take the foot off the gas pedal and conserve some energy, this would be it. When it comes time to settle in for the big Bayern-Dortmund re-match from round nine on April 1st, we might have something interesting to discuss.

Until then, it looks like FCB talk shall fade into the background for a bit.

The "Burning Questions": Round 24
How are Freiburg's tactics looking?

Do excuse the writer for being unable to resist taking yet another look here. Please excuse the writer further for slapping his hand against his forehead in dismay while we're at it. The fact is that Germans hold out a fairly misplaced sense of hope that Christian Streich's Breisgauer can pull off a miracle against Juventus at the Europa Park Stadion on Thursday. In all candor, we probably don't even have the right to possess this hope really. Didn't we just watch one of our representatives capture a European crown last year?

Yes, we're getting rapidly spoiled. We're also crazy. The two are not mutually exclusive. In any event, the basic prediction from last week that Streich would use zany tactics in the Bundesliga and something more sensible in Europe held. We witnessed the Breisguaer line up in a normal 3-4-2-1/3-4-3 hybrid in their trip to Turin a few days ago. Interestingly enough, the SCF gaffer didn't change any of the starting personnel from the Gladbach draw. Everyone stayed back during what was largely a nervy and cautious performance.

SCF net-minder Mark Flekken kept the Schwarzwaldverein in business longer than they had any earthly business hanging in there. One can't have too many complaints about Lucas Höler's disallowed goal given that Angel di Maria had his harshly chalked off in the early going. The better team won. Could we glean some lessons from Sunday's early kickoff? Many a German football lover's watch of this game began with the release of the team sheets. Manuel Gulde, Ritsu Doan, and Michael Gregoritisch in place of Kiliann Sildillia, Roland Sallai, and the injured Philipp Lienhart.

Hmmmm....

Lineup—SC Freiburg—Match 24 (3-3-2-2)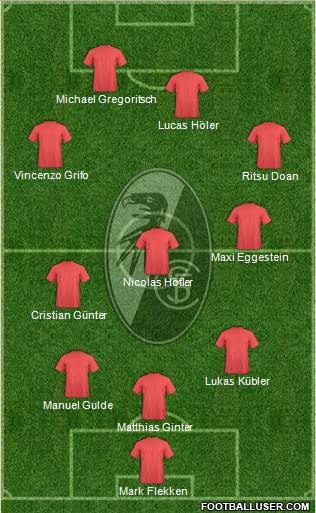 Oh, man. Not a single axially chained partnership here at all. Vincenzo Grifo and Ritsu Doan came close at time, but it did look as if the Japanese international was working way further out wide and a little behind the Italian from Pforzheim. When one sees something like this at this level, it can only mean one thing: Streich had no real plan. He told the lads to run out and do their best.

Naturally It got the job done against lowly Hoffenheim. Pellegrino Matarazzo's TSG didn't have to work especially hard to disrupt the Breisgauer build-up game. There wasn't really much of one. Luckily for the southern BaWü guests in Sinsheim, Oliver Baumann and John Anthony Brooks collided trying to reach a Grifo cross in the 5th. Eggestein polished off the slapstick for an easy 1-0.

Error-prone Hoffenheim managed to equalize against this courtesy of the fact that Freiburg kept making mistakes of their own. Not much of note here until the game picked up in the final ten minutes or so. Ritsu Doan finished off the 2-1 in the 89th. TSG sub Fisnik Asllani was too green to equalize again at 90+1. It got the job done alright....only just barely against the league's worst team.

German fans can hold onto some hope that the result itself will carry over to Thursday's proceedings. Despite not having clear positional assignments, looking awful on the ball, making horrible passing decisions, and some slow lumbering legs, one could say that the team put in enough solid hard work to deserve the win. They also wrap up the weekend tied for the final UCL slot with Union Berlin.

That's something.

What tripped Mainz up?

Bo Svensson's Rheinhessen saw a four-game winning-streak snapped over at the Olympiastadion in Charlottenburg. The hi-flying Pfälzer looked most mortal against Hertha indeed. One could even say that the Berliners were the far better team for long stretches. Sandro Schwarz's Hertha - not exactly explosive themselves - created the better chances and probably deserved the win on balance. Svensson's 3-4-3 most got stuck in its own gears and had serious trouble coping with the Hertha midfield press. The Hertha back-line (Marton Dardai, Marc Oliver Kempf, and Filip Uremovic) played very well.

One can bring up the officiating. Hertha were awarded a soft penalty in the 16th when a Lucas Tousart cross lightly grazed the hand of Leandro Barreiro. The contact didn't appear intentional and the FSV Luxemburger's touch didn't change the direction of the ball. A subjective and borderline scandalous decision sure to get another look by the DFB review committee. Die Nullfünfter nevertheless summarily failed to change the direction of the match with their play. Apart from Ludovic Ajorque's equalizer and a strong spell in three minutes following it, Mainz created too little.

Now that it's been exposed that Svensson's half-time subbing off of Dominik Kohr for Anton Stach against Hoffenheim was not (as previously stated), a brilliant tactical move, one can question some of Svensson's selections here. Kohr would have been the better choice to disrupt the Hertha press pattern. The Aaron Martin for Anthony Caci swap at the half had no real logic behind it. The subbing off of more tired looking players, like Danny da Costa, Jae-Sung Lee, and Marcus Ingvartsen came rather too late to make a difference.

A throwaway match for both sides it appears. The air went totally out of this one in the final half hour. It fizzled out far before it was finished. The two teams looked to be satisfied with the point and risked little going forward. The fact that the reverse fixture also finished 1-1 rendered it a "Spiegel Special" candidate. Alas, there wasn't enough lesson-laden football in it for us to figure out where we're headed. Mainz-Freiburg next week should be a good one. The same applies to Hertha-Hoffenheim.

What's wrong with Frankfurt?

Stuttgart-Eintracht was by far the more entertaining 1-1 draw, or at least that was the case after a horribly slow opening 45 that featured embarrassingly bad approach play on both sides. For whatever it's worth, Stuttgart presented themselves a bit better in the first-half. SGE trainer Oliver Glasner had to do without dynamic attacker Jesper Lindstrøm. He kept replacement Rafael Santos Borré in his usual 5-4-1/3-6-1 set-up to no avail. Glasner doesn't like to change things. Few of us believed he was seriously considering a shift even after he hinted at it in his presser.

The Rhein-Main Adler improved a little bit after the break. Sebastian Rode's 55th-minute deflected in opening goal was pure luck, of course. At least the squad came alive in the minutes thereafter. Mario Götze, Randal Kolo Muani, and Evan N'dicka got chances at the 2-0 in. The Hessen hosts also woke up in time for the tit-for-tat finish that left everyone on the edge of their seat. Veteran defensive anchor Makoto Hasebe - who has earned some criticisms in this column recently - made some monster defensive stops in his second consecutive ultra-strong match.

Hasebe's play brings us to an interesting point. Namely, that Frankfurt's less confident and more risk-averse style-of-play in the latest four-match winless-run seems to stem from confused play from actors with their head elsewhere. Gladbach are suffering the same problem, albeit on a more noticeable scale. Hasebe wants to be there. Daichi Kamada, Evan N'dicka, Djibril Sow and even Muani - as evidenced by their control and passing errors in recent fixtures - are ready to move on. Lindstrøm and Borré also seem distracted. A team soon to be broken up is breaking apart.

One had every right to expect more from this talented crew against Stuttgart. VfB attacker Silas answered the call of his coach this week with a cracking equalizer off the bench in the 75th. The play resulted from, as was the case for the rest of the afternoon, clumsy midfield turnovers that allowed the Swabians to count. The Congolese forward basically had way with the SGE midfield/defensive ranks after that. Certain Frankfurt actors just don't have their heads screwed on right. This has been especially apparent on set-pieces as of late. Training patterns aren't evident in execution.

SGE fans may wish to skip Naples, even if they're allowed to go.

Weekly Tactical Focus: It's back!

How long has it been since German footballing fanatics have been able to get legitimately excited about the famed "großes Revierderby"? One has to travel back aways; way back to well over three years ago; back to the year when this columnist first had the idea to begin writing a weekly Bundesliga review column. October of 2019. Pre-pandemic. Huub Stevens' FC Schalke 04 had just beaten Dortmund 4-2 the previous spring. Though they had just completed a rather disappointing 2018/19 campaign, die Königsblauen were considered Champions' League contenders under their new and exciting head-coach David Wagner.

Er...right. We all know how that turned out. A goalless draw between the two giants of the Ruhr spelled the beginning of the end for our most famous rivalry. The global COVID crisis meant that the next edition would be played behind closed doors during the world's infamous "Silent Spring". Schalke themselves were over leveraged and teetering on the brink of financial ruin when the pandemic struck. Deprived of the gate receipts they needed to keep operating, disaster could not be averted. Dortmund won the May 2020 round 26 encounter handily on the weekend the Bundesliga became the first major European league to return.

Nowhere to go but straight down for Schalke. The club couldn't afford reinforcements. Schalke's winless run carried through the delayed end of that season and the nightmarish "year of five head coaches" that followed. Relegation. For the first time in over three decades, German football fans had to prepare for a season without a "großes Revierderby" in the autumn of 2021. Even went die Knappen worked their way back up this year, there wasn't much buzz accompanying Schalke-Dortmund this past autumn. We all knew who would win. The reverse fixture got only a cursory mention in the round seven installment of this column.

Why did the hype return this time? The fact that trends in German football are changing played a big role. Dortmund themselves snapped a long winless run against Bayern with a 2-2 draw last October. The incredible winning streak of Edin Terzic's BVB since the turn of the calendar year proved that the title aspirants have a chance this time. Schalke - incredibly - entered this one undefeated in the current round's "Rückrunde". The increasingly confident S04 actors issued warnings to the heavy favorites this week. They believed in themselves. We believed in them. We were all vindicated. What a football match!

2-2

"Fußball Wende #2"

Oh yes! Let's dive straight in.

Lineup—Borussia Dortmund—Match 24 (4-3-3)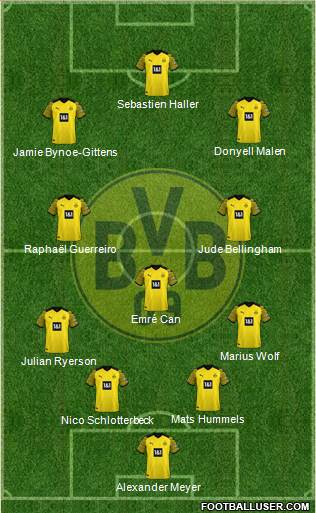 Very difficult - if not impossible - to figure out what Terzic had in mind once the team sheets were released. Marius Wolf can literally play on either flank as either a winger or fullback. As soon as this noticed Gio Reyna's unfortunate omission, he had Wolf up on the right wing on the pencil sheet. Julian Ryerson would be the right fullback. Raphaël Guerreiro, obviously, work work as the left-back.

Reality turned out to extremely complicated.

Base rotation right

One it became clear that Guerreiro would actually be working in midfield, it took forever to figure out precisely what the Portuguese international's role was. This was because Jude Bellingham and Emré Can kept shifting around in a clockwise position on a lot of the slower builds. Guerreiro would often pop up on the right, but there seemed to be some sort of plan involved.

After some time, it became apparent that Donyell Malen was meant to cut inside immediately whenever Guerreiro, Can or Bellingham moved forward in a promising fashion on the right. Guerriero would then cut across into space as part of a complicated match-plan that might have been in the works for months. This could potentially explain Reyna's absence. He might not have drilled well in it during recent weeks.

Losses of Brandt and Reus

An unfortunate hole got blown into this plan midweek. As gifted a player as Bellingham is, he couldn't quite compensate for the amount of creativity that the red-hot German international could have supplied on the right. Captain Marco Reus' untimely illness constituted a double whammy. One can only imagine how well this might have worked with the skipper occupying Jamie Bynoe-Gittens' place.

Schalke still had the deck stacked against them, even with the base-right-rotation thrown off and Guerreiro cleverly-thought-out midfield role disturbed. Huge games from the midfield tandem of Tom Krauß and Alex Kral, along with a gem of a performance from makeshift left-back Henning Matriciani caused a vastly technical superior side lots of problems.

Gregor Kobel vs. Alexander Meyer

A quick mention of Dortmund's loss of their first-choice keeper is merited. Kobel is unquestionably the more talented of the two net-minders, but Meyer's deployment actually counted as something that almost worked to the BVB's advantage. The back-up - as Terzic has publicly noted - is a tad quicker on his feet and can aid the short passing game out of the back.

Meyer's start likely directly influenced Terzic's decision to go with veteran Mats Hummels over Niklas Süle in central defense. Again, this seemed to make Dortmund stronger at the back. Hummels had a couple of howler moments, but also bailed his team out on several occasions. As the Schwarzgelben coaching team seeks to analyze this "defeat" of sorts, Hummels and Meyer can't really be pinned at all.

Reis' hand

The S04 trainer dropped his 4-1-4-1 from last week via the personnel switch of lightly injured sweeper Eder Alvarez Balanta for all purpose right-flanker Mehmet Aydin. Though it wasn't surprising to see Aydin settle in high on the Schalke right, one had serious concern for the squad's attack with him being there. It's entirely possible that Reis entertained no thoughts of maintaining much of an attack at all.

This constellation's job was merely to hold.

Lineup—FC Schalke 04—Match 24 (4-2-3-1)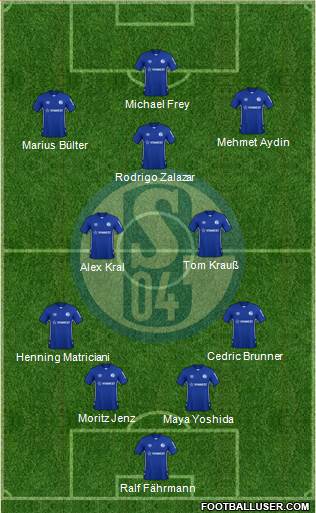 That it did. For the second consecutive round, we witnessed Reis make a brilliant late-match alteration that significantly improved the play of his team. Odd. Extremely odd. Reis can be said to be a trainer of many talents. Being a tactician was never really one of them. The gruff former Ruhrpott defender generally keeps things simple and straightforward. Here, he figured out just how he could hit Terzic where it hurt.

Match Flow: 1st to 25th minute

If one were designate a time-frame for just how long the hosts were able to hang with the "big boys", 25 minutes seems about right. Even during this initial phase with all their complex tactical directives, Dortmund could be largely described as the dominant team. Some chinks in the BVB armor were visible. At no time, however, did it look if as if Schalke possessed the quality to take advantage of it. Even if there were plenty of "feeling out" phases, the question as to which squad was better wasn't much of a question at all.

Nothing of consequence happened in a tense 1st. Maya Yoshida dropped a hint about what the S04 plan-of-attack would be with a searching long vertical for Michael Frey in the 2nd. The BVB defense ranks scooped it up. Emré Can nevertheless tried to move back up the field too quickly and ended up giving the ball away. Bellingham easily put the brakes on Aydin and went on a charge of his own down the left. After tricking past a pair of markers, the Englishman was able to send in a cross. Cedric Brunner was on point to clear.

The Schalke center broke up a Hummels-Malen-Guerreiro see--cycle in the 3rd. Bellingham hit Ryerson with a nice switch in the 4th. The Norwegian couldn't pick out a colleague and Kral collected. Kral and Jenz took care of the next BVB forward thrust in the same minute as Hummels, Malen, and Guerreiro tried again. A strong passing sequence involving Wolf, Bellingham, Haller, Guerreiro, and Haller in the 5th ultimately saw Haller tap back for Ryerson within range on the left. Ryerson screwed his shot wrong. Bynoe-Gittens committed an offensive foul on the attempted recovery.

Schalke didn't bother trying to cycle up their own left in the 6th. Matriciani simply tried to hit Marius Bülter with a straight vertical. Obviously, it didn't work. Moritz Jenz had to resort to a tactical foul to stop a Haller counter. The BVB defensive ranks had no real ideas about how to get out of the back throughout the 6th and 7th. The ball went back to Meyer several times. At one point, the Dortmund keeper even put the ball out of bounds to give the hosts a dangerously-placed throw-in. Brunner's subsequent 7th-minute diagonal into the box wasn't much good.

Terzic's men found themselves stymied on the left twice in the 8th. Bülter forced the BVB back in the 9th and earned a throw. Schlotterbeck cleared a Kral square out of the box and sent Guerreiro and Malen through on a counter. The play ended when Malen, executing his Terzic-instructed inside-cut, committed an offensive foul on a tight-marking Matriciani. A useful midfield ball win from Can nearly lead to a chance in the 10th. Haller, Bellingham, and Guerreiro worked the ball out wide to Ryerson. The Norwegian again crossed to no one and S04 keeper Fährmann collected.

With Ryerson not looking on, Dortmund went over to the right in the 11th. Wolf took down a switch nicely and went up with Bellingham on a give-and-go. Matriciani took the return ball off Wolf's foot with a gorgeous slide slide. The makeshift left-back earned his second thunderous round of applause from the Schalke crowd in as many minutes. Some danger emerged from the subsequent throw. Schlotterbeck and Ryerson sent Bynoe-Gittens into the box. Yoshida blocked the young Englishman's effort out for a corner.

Fährmann fisted away Wolf's 12th-minute service. Rodrigo Zalazar, after besting Bynoe-Gittens, went on a bright counter dribble. Hummels had to hustle back to straddle away just in time. A lurking Aydin nearly made something out of Dortmund's desperate attempts to get the ball clear. Meyer remained alert enough to defuse. After some midfield mayhem, Bellingham tried to reach Wolf with a nice through-ball in the 13th. It proved a tad overcooked and Fuahrmann was able to collect.

Meyer, Wolf, and Schlotterbeck found themselves pinned back by the first real menacing Schalke press of the night through the 14th. Meyer had to sit on the ball for awhile at the beginning of the 15th and survey the scene before launching. Yoshida beat Bellingham on the ensuing aerial duel. Frey still didn't stand much of a chance against Schlotterbeck when the Schalke striker attempted to penetrate central. The Gelsenkircheners at least maintained possession through much of the 16th on a semi-coherent build.

Krauß sent a ball just beyond Frey's reach. Hummels attempted to influence matters with a long carry at the end of the minute. Guerreiro, Bynoe-Gittens, and Ryerson then tried a left-ward triangulation. Brunner broke up the play and had a stab at hitting Frey with a long diagonal. Somehow (perhaps he teleported) Hummels was back in time to win the aerial duel as we entered the 17th. Bellingham, Malen, Wolf, Guerreiro, and Haller then got stuck central on a slow-rolling counter.

Bellingham ultimately sprung Malen and the BVB Dutchman put Haller through after out-deking Krauß. The goal-starved BVB striker shot wide. Dortmund picked up the pace and unleashed two charges in the 18th. Yoshida and Jenz closed ranks on Haller to close down the first one. Fährmann gave the ball straight back to the opponent off the ensuing goal-kick and Hummels, spotting a high gap in the S04 defensive ranks, played Guerreiro though in stride on the half-right. Fährmann atoned for his giveaway with a fine save on the Portuguese international.

Krauß required a brief treatment break in the 19th. Schalke got a respectable attack going on the right in the 20th. A switch over to the opened-up Bülter enabled the former Union professional to earn a corner off Hummels. The Königsblauen took the dead-ball quick and short. Aydin saw a cross cleared into the second ranks. Bynoe-Gittens intervened before Brunner could make much of it on the bal, however. Schalke again went up the right in the 21st. Hummels headed away a Brunner cross without too much fuss.

Malen had a little space on the subsequent counter. Bülter and Matriciani made it back in time to burden the BVB Dutchman. Can and Malen did much better just outside the danger area in the 22nd. Can was clearly lining up to fire a laser just outside the 18 at the conclusion of the sequence. The resurgent German international could only be stopped by a hard foul from Zalazar. Match official Marco Fritz could have easily brandished his first yellow, but opted to keep the book empty for the time being.

Dortmund were awarded a free kick well within Guerreiro's range. An interesting set of the dead ball saw Schalke line up their wall in front of Borussia's wall. Surprisingly, it worked. Guerreiro thumped a hard-struck ball off Bülter out for a corner. The S04 defensive ranks took care of Guerrero's quick corner-take very well. Brunner cleared the ball well out of danger. A heavy and disciplined press then forced Ryerson all the way back on the recycle.

The constant pressure forced Dortmund all the way back. Hummels - up to that point fantastic - gave the ball away after misjudging a panicky back-pass from Schlotterbeck. Zalazar found the ball directed right onto his leg in the 24th. Schalke's Uruguayan attacker had plenty of time to pick his corner and hammer home the 1-0. Unfortunately, he just didn't have the composure. Zalazar missed a sitter by shooting over.

Immediate amends would not be forthcoming. Some nice work on the left from Frey and Zalazar gave Matriciani a chance to whip in a cross once he arrived on the overlap. Hummels rose higher than both Frey and Aydin to clear away. Some "ohs", "ahs", and gasps from the Gelsenkirchen crowd after their side couldn't make the most of a big chance and a neat attack build. Everyone knew such chances wouldn't be common.

Match Flow: 25th to 38th minute

From this point forward, the hosts began to fray. Surely sensing that their competitor's had spurned their best chances, die Schwarzgelben took their next few approaches more calmly and methodically. We witnessed the first wide BVB bow-arcs in the 26th. Can finally stepped up in the 27th and played Malen in on the inside right. Yoshida cleared Malen's first cross, but the BVB Dutchman would get another chance seconds later. This time, Jenz was most fortunate not to score an own-goal whilst blindly deflecting a tracer bullet aimed at Haller.

Jenz got a chance to collect himself as the corner was delayed thanks to some pick-up work around the Fan-Kurve. It was Jenz who headed away Guerrero's 28th-minute service. Wolf put the second ball past Guerreiro for a goal kick. No success for Dortmund through the 29th despite uninterrupted possession. Frey and Aydin put in some spectacular work in on the press, forcing the BVB continually back. The most clear-cut chance for the guests would nevertheless come at the beginning of the 30th.

Wolf carried the ball upfield and furthered for Bellingham. The young Englishman played a cheeky ball off the outside of his boot towards Malen. The BVB Dutchman supplied some sparkle of his own, twisting and turning past Kral and Jenz before finishing off the turn. Fährmann had to make a world class safe to parry out for a corner. Guerreiro took it short over to Wolf. Too many switches between Bynoe-Gittens, Ryerson, and Schlotterbeck eventually saw the ball go out into touch in the 31st.

Dortmund took it slow and measured again on builds through the 32nd. Hummels' second major mistake nearly saw Matriciani spring Bülter. Hummels again proved that he can - in all seriousness - mimic someone with a teleporting device by tracking back in time. Two more charges through Malen's inside lane in the 33rd. Aydin stood tall in both cases. A quicker approach through Bellingham in the 34th ran straight into Brunner. Yoshida and Jenz then snuffed out a Guerreiro step-charge together.

Malen stopped deep to help out Schlotterbeck and Hummels when the central defensive pairing couldn't find a way out in the 35th. The Schalke press kept a medium temperature, not actively going for the strip, but rather lurking for the right mistake. Malen could come up with no better idea than a long switch for Bynoe-Gittens. Brunner had it covered. Aydin cleared Bynoe-Gittens again on the left in the 36th. Guerreiro stepped up again to make something happen. Krauß took the ball off the Portuguese international.

A hopeful counter aimed at Frey never looked like it was headed anywhere. Instead, it was Dortmund who rattled off their own counter at the beginning of the 37th. Bellingham and Wolf sent Malen through. Wolf rushed up for the return ball. Fährmann showed remarkable class in saving with his leg at full stretch. Reis' designated "anti-relegation" keeper only saw the low-driven shot at the last moment as he was screened. A remarkable stop! As if that craziness wasn't enough, Schalke got another counter off before the minute was out.

Zalazar came out the winner after Bülter and Schlotterbeck traded turnovers. The Uruguayan tried to weave his way into the box, but couldn't turn against Hummels. Bellingham and Malen took the ball quickly up the pitch back the other way. Guerreiro tagged along on the half right. The Portuguese international took a few touches to draw coverage, then cut back for an open and advancing Schlotterbeck. No hesitation from the high-profile summer signing from Freiburg. Schlotterbeck saw his chance and took it.

Schlotterbeck blasted past the diving Fährmann into the top right corner.

1-0 to the guests.

Match Flow: 38th minute to half-time

This really looked to be Schalke's undoing. The S04 defensive ranks had really fouled up here. No one picked up on Schlotterbeck. It should have been squad captain Yoshida that at least kept an eye on him. Jenz was loose on his mark to. The central defensive pairing some like to call "the best in the league" had suddenly slipped up on something simple. Fährmann's heroic saves now counted for naught. Uh-oh. Now it was a matter of ensuring that the deficit didn't grow before it was time to head into the tunnel.

Schlotterbeck's 38th minute tally was followed up by some prolonged celebrations, understandable from the point of view of the pent-up BVB. We were still rolling again by the 39th. Wolf, Hummels, and Ryerson got some leisurely touches in. A half-speed charge up through Bellingham and Malen wasn't difficult to handle. Zalazar - in a comical scene - decided that he had spotted Meyer off his line from afar. The only problem was that Meyer wasn't. Zalazar compounded his humiliation by sending a 60-meter effort at last 10 meters wide of Meyer's left goalpost.

Bellingham and a dep-dropping Haller handled the midfield traffic via semi-circles in the 40th. When Schalke finally got ahold of the ball in the 41st and tried to counter, a poor touch from Frey allowed Malen to get the ball back and unlock Bellingham on an improvised run left. Bellingham cooked off Brunner and fired a serviceable low drive at goal. Fährmann responded with a more than serviceable save. The S04 net-minder continued to do his bit in preservation of the low scoreline.

Matriciani did well to shut down a switch intended for Malen in the 42nd. After multiple midfield possessional swings in the 43rd, Dortmund got another look in. A clever give-and-go involving Malen and Wolf gave the former a chance from a tight angle near the baseline on the half-right. Malen's effort actually wasn't bad. Yoshida had to sprawl in order to block out for a corner. Fährmann punched Wolf's 44th-minute service out for a throw. Schalke had to absorb lots of pressure through the final and one added minute.

Schlotterbeck was definitely in the mood for more. Only blanket defending saved the Gelsenkircheners from full-throttle BVB rushes in the 45th and 45+1. Everyone was back in order to furnish a full forest of legs. Brunner was so desperate to give his colleagues a breather in the one minute of injury time that he came close to seeing himself booked for time wasting on a throw-in. At long last, the whistle blew after Frey milked the last few seconds with extra touches.

Half-time xG:

xG Dortmund--1.02, xG Schalke--0.40

Would the quality gap manifest itself further after the break?

Match Flow: 45th to 50th minute 

Always a pleasure when football doesn't follow the script. Schalke could have easily been expected to crumble here. A match in which Dortmund were exhibiting progressively greater dominance seemed destined for an early "lid". The chronicler stood by to declare one. We continued without changes at the Veltins Arena and, in the first few minutes at least, it looked as if we were in line for an orderly finish. Two long verticals aimed at Frey in the 46th stood little chance one connecting.

Dortmund were forced into retreats via Wolf on the right and Bellingham on the left in the 47th. Haller was also repelled central in the 48th, but the BVB held full control of the ball. After a Bynoe-Gittens effort got blocked, Wolf and Guerreiro circled around the midfield for a while in the 49th. Frei almost got Bülter up the S04 left after a nicely won aerial duel. Wolf won the direct duel with Bülter and it appeared time for yet another relaxed BVB build. That's when it happened.

Can gave the ball away to the pesky Kral in the 50th. Zalazar did his best to give the ball back to Dortmund with a misplaced pass straight at Bellingham. It was nevertheless Kral again who stripped Bellingham off the ball and pushed forward. Kral's midfield partner Krauß came in behind and, with a skillful one-touch-move, located Zalazar forward right. Zalazar spotted Frey ahead of him. Frey touched himself past Wolf and Schlotterbeck before smashing a beautiful cross over to Bülter on the opposite side of goal.

The unmarked Bülter had an easy finish over at the left corner. Bülter had a much less easier time skipping over the moving camera pole after scoring the equalizer. A funny scene to cap off the improbable 1-1. As we began this section with a detailed look at where and when all things went wrong for this particular derby, it seems an apt point to bring up an interesting factoid. Schalke had been shut out by Dortmund in five consecutive Revierderbys.

The last Schalke player to score a goal against Dortmund in the league?

Breel Embolo on April 27th, 2019?

Now we're getting somewhere.

Match Flow: 50th to 60th minute

Two full minutes of celebration (and a check to make sure that Bülter was okay) this time. Schalke generated the next chance once we got rolling again in the 52nd. A fantastic aerial win for Brunner enabled Frey to kick out to Kral on the left. In came Bülter again to win a corner against Hummels. Zalazar, Kral, and Krauß nearly prevailed on short-play design from the flag. Eventually, Hummels got the ball away. Guerreiro and Bynoe-Gittens were able to counter in the 53rd.

Zalazar was attentive in the box to pick up the final ball from Bynoe-Gittens, which was admittedly not the sleekest. The Schalke Uruguayan unleashed his own counter, stalled a bit by a slightly clumsy hold up from Frey in midfield. Matriciani still came forward in the 54th to get the play rolling again and switched over to Brunner on the right. No joke. Brunner destroyed Bynoe-Gittens with some filthy legwork. So much for the young English phenom. He got toasted by a Bundesliga grey-hair.

Hummels stepped in to save the day again. The Brunner-Bynoe Gittens battle replayed on the BVB left in the 55th. This time Brunner looked a little more like himself, taking the Englishman out with a nasty leg clog. Referee Fritz saw fit to award Brunner the first yellow card of the match. Guerreiro took the subsequent free-kick without much delay. He might have taken a few minutes to think about it as it turned out quite poor. The S04 ranks won the aerial battle. Bellingham still dug out a corner. Again, Guerrero's 56th-minute service left something to be desired.

Brunner nevertheless headed the ball into the path of Bynoe-Gittens. An ill-advised run from the Englishman led to a failed cutback. The ball fell kindly for Schalke and Jenz sent Zalazar through on a Schalke counter right. Ryerson - with finally a spot of good play - headed Zalazar's cross back to Meyer as we entered the 57th. Dortmund had real problems getting anything going over the next two minutes. Jenz twice closed down Bellingham on the BVB right in the 58th. Bellingham overextended himself on the latter play and required treatment that took us through the 59th.

The break might have influenced the S04 actors adversely as they were very loose on their marks when play resumed at the hour-mark. Can had little difficulty navigating his way through midfield in the 60th. In a flash, Can unlocked Guerreiro on the half left. The Portuguese international put the recent poor dead-ball services behind him with an astonishingly good finish from open play. Guerreiro made it look all too easy. A thunderstruck effort into the right-hand corner left Fährmann with no chance.

2-1 to the guests.

Match Flow: 60th to 69th minute

It could have been sewn up here, but the hosts obstinately refused to quit. Jenz's vertical past everyone on the left in the 61st wasn't necessarily the greatest start to proceedings. Matriciani still kept up his fine work against the BVB advance on his side in the 62nd, first earning a throw and then drawing a foul. Zalazar sent the 63rd-minute service - at least a pretty in swinger - into Meyer's arms. Matriciani and Brunner continued to make life hard for the Dortmund approach on their respective flanks in the 64th.

Eventually, Ryerson and Bynoe-Gittens crawled up the left via a series of throws in the 65th. Gittens worked a cross in that Yoshida could only half clear. Multiple BVB recycles outside the box saw the play rebuilt through Haller hold ups. Wolf finally spotted a through-ball opportunity for Bynoe-Gittens. The young Englishman, simply not up to snuff in this one, couldn't keep his nerve and shot past from close range on the right. That could have and absolutely should have been the game. The 18-year-old just couldn't cut it.

Terzic had seen enough. Mohammed Dahoud was sent over to the fourth official. The BVB trainer probably always wanted to sacrifice an attacker. The miss from Bynoe-Gittens likely solidified his choice of who that would be. Bülter and Matriciani worked a nice cycle up their side in the 66th. Kral crashed in for the ranged-finish, regrettably skying it into the Nordkurve. Schlotterbeck crept forward on the next BVB sortie in the 67th to try and replicate his earlier goal. The finish was too tame.

Dahaoud checked in for Bynoe-Gittens at the end of the 67th. Reis also took the opportunity to send Kenan Karaman on for the leggy and unpolished Zalazar in the 68th. It remained fairly clear that Reis wasn't prepared to re-format just yet even though the positional change wasn't a like-for-like. More bodies would come from him later. Terzic, on the other hand, wanted to begin the process of shutting things down. Maybe not the best idea to do that in the form of Dahoud; a player the club has already publicly stated they will be letting go.

Lineup—Borussia Dortmund—69th minute (4-3-3)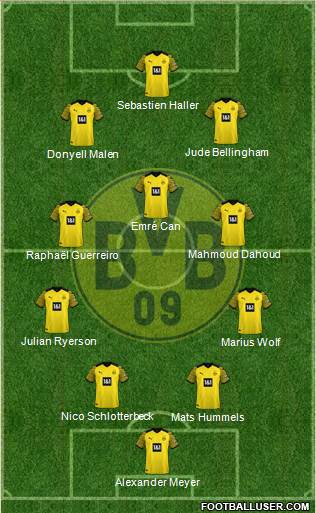 Malen - already looking exhausted from a nuanced positional assignment - switched sides. Can - looking somewhat tired himself - moved up to pivot. Guerreiro dropped back alongside Dahoud. While this wasn't exactly tantamount to a "switch off", it did accord the Königsblauen some spaces to exploit. One can debate whether or not Reis truly noticed them or it was just a matter of blind dumb luck. The column will go with the former based on what we saw over the next ten minutes.

Match Flow: 69th to 79th minute

Can had enough left in the tank to take a ball of Kral in the 69th. Wolf nevertheless switched over Malen out to Ryerson, but the Norwegian couldn't take it down with a heavy touch. Lots of midfield possession changes in the 70th as the BVB actors attempted to settle onto their new territory. Matriciani and Bülter got the ball up the left at the end of the 70th, with Bülter missing Frey's head on a cross. Malen had problems taking down a Bellingham switch on the next BVB charge in the 71st.

Hummels, Ryerson, and Schlotterbeck worked a fairly unconventional bow-arc in the 72nd. The weird passing scheme did have the effect of freeing up Wolf. Bülter had to haul down the BVB fullback with a jersey tug and was lucky not to see a yellow card. A very slow-roll build from Schalke in the 73rd enabled the S04 actors to maneuver into a different shape. To the eyes of this chronicler, Reis wanted his new constellation in place before he got his triple change off.

Once Schalke got the ball out, it came in the 74th. Eder Balanta, Simon Terodde, and Tobias Mohr entered for Krauß, Frey, and Aydin. Karaman immediately moved up to the right, strongly suggesting that Terodde would operate as a false nine. Balanta was obviously there to work as a pivoted "libero". How Mohr fit into all of this remained a mystery; one solved quickly enough when everything crystallized.

Lineup—FC Schalke 04—75th minute (4-3-3)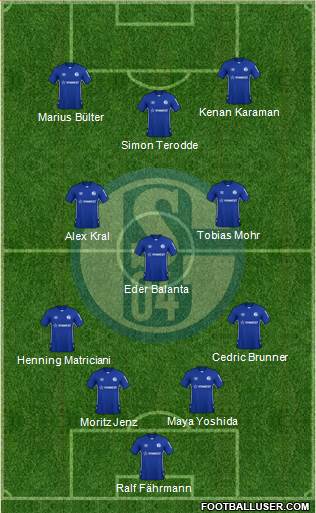 Did Reis notice the Can pivot and chose to fight it with a double-pivot? Who Knows? In any event, the move would make perfect sense. So too, however, would the notion that the Schalke trainer just wanted to throw more players forward as part of a late push. Only those with access to Reis' cranium know the answer.

Karaman influenced matters immediately from his new right-lane slot. An excellent bit of possessional play enabled him to earn a corner off Hummels in the 75th. Mohr took the quick service. After some pinballing off Bülter and Yoshida, the ball landed with Brunner. The Schalke left-back's lucky gift ended with a quality shot bouncing off teammate Jenz and out for a goal-kick.

Guerreiro, Wolf, and Dahoud had trouble advancing in unison in the 76th. Matriciani eventually took the ball off Wolf and, with impressive grace under fire, got the leather back to his keeper. Wolf tracked back in time to stop the eventual Schalke advance in the 77th. Dahoud and Bellingham still couldn't make much out of the possessional swing back.

Guerreiro got another pop off in the 78th after Bellingham and Malen worked the ball back into the area. Fährmann had the slow-developing play covered all the way. The hosts got caught offside on an attempted quick counter. Dortmund tried again through Malen in the 79th. Balanta was in the perfect position to stop it and get another counter rolling.

Balanta sent Mohr and Karaman up the right. Karaman initially couldn't find the right ball for the encroaching Terodde, but Wolf ended up giving the ball back to Bülter. Ryerson - ball watching this whole time - lost track of his mark on Karaman. Bülter crossed Bülter headed home. We were once again level!

Match Flow: 79th minute to full-time

An absolute gut-punch for Terzic's side. Fresh-legged subs were waiting in the wings. Gio Reyna and Anthony Modeste were meant to liven up the slightly altered 4-3-3 in place of Malen and Haller. The response was coming. The response almost came immediately after the subs came on and the match restarted.

Wolf weaved past Matriciani on the right in the 81st. The BVB fullback hit Guerreiro with an inch-perfect cutback. As it turned out, Guerreiro didn't have two inch-perfect finishes in him on this day. The Portuguese international struck the best chance Dortmund would get to retake the lead wide. Schlotterbeck and Dahoud got off two shots in the 90th. The amazing Matriciani blocked them both.

Apart from these instances, it really was all Schalke down the stretch. Balanta commanded virtually every midfield ball. Schlotterbeck had to shut down Brunner in the 84th. Mohr came very close after beating Hummels in the 85th. Hummels came to Wolf's rescue after Bülter beat the BVB fullback badly in the 86th.

Balanta forced Meyer into a save after a very nice cross from Mohr in the 88th. Reyna, Dahoud, Guerreiro, and Modeste all failed to come up with anything dangerous through three minutes of injury time. Match official Fritz blew the full time whistle. History was made. A profoundly negative series came to an end. Beautiful scenes at the Veltins Arena.

Full-time xG:

xG Dortmund--2.08, xG Schalke--1.68

A fair result.

We've a massive behemoth of a "tactical focus" section this week. In truth, a result of this magnitude demanded it. For the second time this season, we witnessed an immensely significant turning point in German football. Dortmund now know that they can draw or even beat Bayern. Schalke, in turn, now know that they can draw or beat Dortmund.

Anyone who feels as if Dortmund's point-drop here spells the end of the title-race misses the larger picture. This columnist doesn't happen to think the title-race is over by any stretch of the imagination. There were more than enough positives from a severely handicapped BVB side to suggest that they can compete with the mighty Bavarians in three weeks' time.

Even if the result leaves Dortmund playing catch up, one must take into account the ramifications of the "Return of the Revierderby". Yes, finally it's back! How awesome is it for the footballing scene in the Bundesrepublik that our footballing hotbed is once again hopping with the greatest rivalry in all of world football?

We began this section reminiscing a bit about how the pandemic exacerbated the financial disparity between Schalke and Dortmund, effectively killing off the Revierderby for potentially a very long time. So much was taken from us by COVID. During the dark days of "Geisterspiele" one wondered if it would take years or decades for that which was taken from us to be restored.

We got something very important back this weekend. German football lovers must admit that the return came far ahead of schedule too. "It's back". Let us all rejoice in that. The specter of a once-in-a-century pandemic got erased in the 100th Bundesliga Revierderby. Cool. Beyond cool. Long live football!

Thanks so much for reading! You can catch the release of all Peter's columns on twitter, @ViceytheSS.

Twitter DMs are open for football conversations, corrections, and (if you truly insist) general abuse. 

All columns debut on Bulinews before appearing on Peter's website as the season progresses.



Related stories