Americans in the Bundesliga:
Scally back on top level in week nine, Matarazzo's final tactics assessed
By Peter Weis @PeterVicey
This week's American's deep-scout column bids farewell (or l'arrivederci) to the league's first-ever American trainer Pellegrino Matarazzo.

We've also the latest breakdown of Joe Scally and "Jordan" Pefok; the two American starters in action for their clubs this weekend.

USMNT Emeritus footballer Timmy Chandler also makes a cameo appearance in the latest edition of our long-running feature here on Bulinews.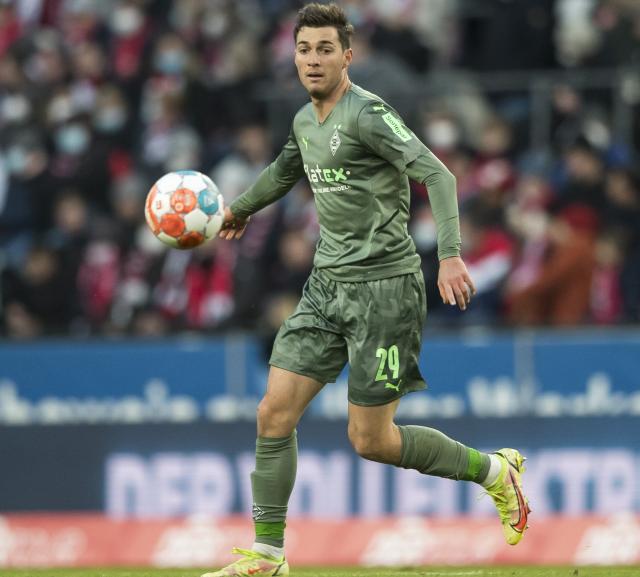 | | |
| --- | --- |
| Joe Scally. | Photo: Borussia Mönchengladbach |
The deep-scout column this week features four sections as we check in with our two regular Bundesliga starters, check in with our much beloved USMNT emeritus player, and even bid farewell (for now) to the practice of assessing the work of American trainers in Germany's top footballing flight. The Pellegrino Matarazzo regime at VfB Stuttgart is no more. The New Jersey native's final tactics are assessed.


In other "Americans in the Bundesliga" news, Kevin Paredes once again appeared off the bench for Wolfsburg this week. The 19-year-old continues to knock on the door of Niko Kovac's starting XI after another energetic performance in relief. Gio Reyna remained absent from Edin Terzic's bench squad due to injury once again. One hopes to see him soon.

Joe Scally, Borussia Mönchengladbach

Minutes played = 83/90, Positions played = RB

Grade = A

A shame that the Long Island native didn't get his name on the scoresheet during what was a particularly loud day for Gladbach. Scally quietly put in some very nice work in behind the scenes; unfortunately not factoring in significantly on any of the foals' five goals. Our subject here nevertheless - along with his team - turned in a very positive performance reminiscent of their impressive rout just before the international break. BMG trainer Daniel Farke, as a means of expressing confidence in his lads, stuck with the exact same tactics and personnel from last week's loss against Bremen.

On his way to racking up a recorded 72 touches, Scally did particularly well on the ball. Admittedly, a lot of these touches came after Lars Stindl sealed the 3-1 against shorthanded Köln. It's always easy to produce some serene passing work when the opponent lays off the press completely. When the affair remained a contest, one can check out this American moving his team forward skillfully up the right flank in the 19th, 21st, 26th, 42nd, and 43rd. Some of the later cases in the 53rd, 58th, 59th, 68th, 70th, and 80th at the very least deserve a mention.

Insofar as the columnist could tell, Scally kept a perfect record in the air. There's some great aerial wins (some of which counted as vital defensive clearances) on display in the 4th, 8th, 17th, 51st, 66th (twice), and 69th. Solid ground wins were secured in the 11th, 15th, 33rd, 61st, and 63rd. Scally's best dribble/overlap run work came in the 5th, 10th, 15th, 35th, 41st, and 60th. A few minor criticisms don't affect his grade that much. Stray passes (29th, 46th, 51st), a few slack marks/bypasses (9th, 16th, 19th), and a couple of ball losses (20th and 79th) can't take his grade down from "A-Level".

Jordan Siebatcheu, 1. FC Union Berlin

Minutes played = 65/90, Positions played = CF


Grade = B+

A day without a single shot on target or even an assisted effort can hardly be considered a success for a striker. Union had great difficulty getting the offensive engine on this particular day. As touched upon in the tactics bulletin, Urs Fischer's FCU really had an exhausted look about them for much of th day against Stuttgart. Jordan - visibly drenched in sweat before 20 minutes had gone by - still looked largely sharp, yet was only able to accrue a total of 26 touches in this writer's book. Some of them (8th, 46th, 55th) were pretty enervated.

Apart from a less than stellar day on direct duels (losses in the 10th, 25th, 31st, 36th, 45+2, 45+2, 54th, 59th), however, there was plenty of good stuff from the D.C. native on this day. One can check out a killer strip of the ball off Dan-Axel Zagadou in the 4th (sadly with a lousy square for Sheraldo Becker to finish off the sequence) and some great aerial wins/flick-ons in the 1st, 3rd, 15th, 28th (twice), 30th (also twice), 56th, and 65th.

Coordination wasn't fully together for die Eisernen in general on Sunday. As such, some good work from Jordan got wasted. Great ball hold ups and forward touches can be found in the 1st, 18th, 22nd, 44th, and 58th. The American striker absolutely performed better than the vast majority of his teammates. Whilst others were off in Fischer's "muscle memory" tactics, the 26-year-old made a good case for himself. He didn't get a shot off. No one else on the squad really did either. Just six efforts (one of them dangerous) from the FCU.

Timothy Chandler, Eintracht Frankfurt

Minutes played = 45/90, Positions played = RB

Grade = B-

A pleasure to see the USMNT emeritus actor back in action for a full half against Bochum on Saturday! Timmy came on to work his right-back role during the second 45 after Kristijan Jakic succumbed to injury. A 0-3 scoreline notwithstanding, Eintracht as a whole didn't play badly against the league's tail light at all. Oliver Glasner's devised 4-4-2 constellation held up fairly well.

Lineup—Eintracht Frankfurt—46th minute (4-4-2)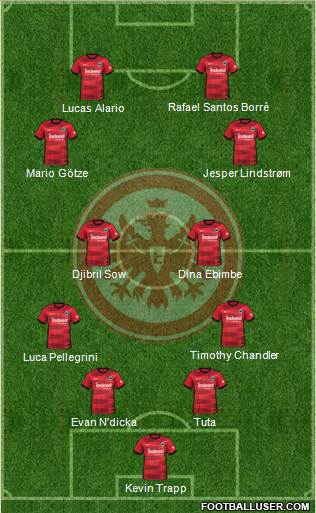 Perhaps there isn't much of a reason for throwing the graphic up apart from letting SGE enthusiasts know that this set-up can actually work rather well. The two striker-set manufactured their fair share of chances. Die Adler didn't phone it in. Neither did Chandler. He ran constantly and racked up 34 recorded touches on the day. Quality touches forward can be found in the 50th, 53rd, 57th, 60th, 68th, 80th, 84th, and 90+4.

Timmy would have gotten a great deal of credit on Daichi Kamada's late disallowed goal. He might have even looked a greater hero had the team managed to do more with his aerial wins forward, throw-ins,  and crosses into the box in the 52nd, 66th, 75th, 77th, 83rd, 85th, 89th, and at 90+2. Naturally there were some bad duel losses and marks (51st, 62nd, 63rd, 70th) as well.

Glasner surely called a team meeting to discuss everyone's set-piece defending after the loss. Practically everyone looked awful on Bochum's tallies in the 71st and 87th. Our subject here proved no exception. A high number of stray passes from Chandler (eight in 45 minutes) doesn't affect his grade much as none of them were terribly egregious.

Pellegrino Matarazzo, VfB Stuttgart (Trainer)

Matches = 1, Result = L

Grade = C

....And then there were none. Wow. Pellegrino Matarazzo's sacking counts as both huge news for this column and all of us German football lovers with American links. It's worth reiterating that the New Jersey native was actually the first ever American trainer to coach a team in our top footballing flight. For a brief fleeting moment, we thought that Jesse Marsch's appointment would signal a trend.

Alas it wasn't to be. The Bundesliga's first-ever two top flight American trainers only faced one another once. Some night in Leipzig that was. The columnist still recalls all the American flags decked out across the Red Bull Arena. No telling when, if ever, we'll get something like that again.

Getting back on tangent, it's no surprise that the axe got lowered after the latest loss. What would be Matarazzo's final press conference essentially made clear that he was resorting to rather silly measures to motivate the team. Furthermore, the "pillow" or "pyramid" shape constellation isn't one that us tactics-heads generally see work.

Lineup—VfB Stuttgart—Match Nine (5-2-3)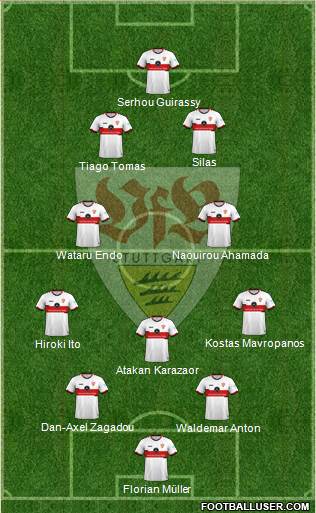 This must be the twelfth different position that Silas has played in this season through only nine rounds. The Congolese spark-plug, along with the rest of the team didn't do all that poorly with it either. The five-back-set put together some very innovative attack builds during the first half and should have definitely been rewarded with a goal. Dan Axel-Zagadou struck the post and Serhou Guirassy only missed by inches,

Konstantinos Mavropanos was another one who hit the aluminum during the second 45. Both he and Hiroki Ito were very well drilled on both open play and set-pieces this week. The new gaffer might wish to consider retaining those two as outside wingbacks. Skipper Wataru Endo and Naouirou Ahamada worked the rotations well on the charge, sometimes overdoing it a tad. That pair to continue to play well together.

No in-match adjustments from the Columbia University man on his final matchday in charge. The soon-to-depart Matarazzo appeared resigned to his fate after Union snatched the opening goal. He knew what awaited him. Those of us following the Bundesliga expect to see him at the helm of another team soon, however. The American's command of the German language remains impressive.

It may be "l'arrivederci" for now, but the 44-year-old will be back.

Thanks so much for reading! You can occasionally catch Peter goofing off while watching non-Bundesliga football on twitter, @ViceytheSS.

Twitter DMs are open for football conversations, corrections, and (if you truly insist) general abuse. 

All columns debut on Bulinews before appearing on Peter's website as the season progresses.




Related stories