Americans in the Bundesliga:
Brooks, Scally, Paredes, and Matarazzo receive sections in week 27
By Peter Weis @PeterVicey
Our "Americans in the Bundesliga" deep-scout feature returns with plenty of time to catch up ahead of the coming matchday.

We've four graded sections in the latest installment with grades ranging from "A-Level" to "D-Level".

As always, absentees are addressed in the opening introductory paragraphs.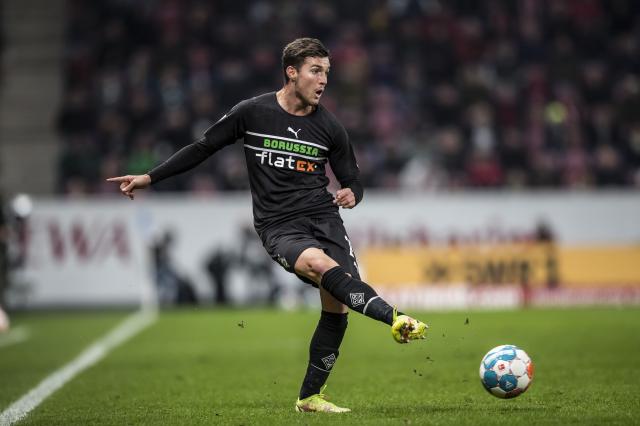 | | |
| --- | --- |
| Joe Scally. | Photo: Borussia Mönchengladbach |
Our matchday 27 installment of the "Americans in the Bundesliga" column for the 2022/23 campaign features four graded sections. John Anthony Brooks of TSG 1899 Hoffenheim and his American trainer are both on "A-Level" following their club's third consecutive win. Joe Scally receives average marks while Kevin Paredes is down on "D-Level" after a poor day off the bench.


Jordan Pefok played only six minutes as a sub in Union Berlin's 1-2 defeat to Borussia Dortmund; far too little to merit a graded section. Paxten Aaronson went unused on the Eintracht Frankfurt bench. Giovanni Reyna and Caden Clark ended up not making the bench squads of their respective teams. Justin Che continues to feature only for TSG 1899 Hoffenheim II.

John Anthony Brooks, TSG 1899 Hoffenheim

Minutes played = 90/90, Positions played = CB

Grade = A

Jay returns to top level marks thanks to his work in Hoffenheim's third consecutive league victory. The Berliner put in an excellent shift in a set of tactics well tweaked by TSG trainer Pellegrino Matarazzo from last week. The exact same personnel lined up in a modified 3-3-2-2 that proved quite capable in dismantling relegation rivals FC Schalke 04. Brooks' basic assignment (on an inverted pivot) essentially remained the same. He racked up fewer touches (46), but was nonetheless quite effective.

Lineup—TSG Hoffenheim—Match 27 (3-3-2-2)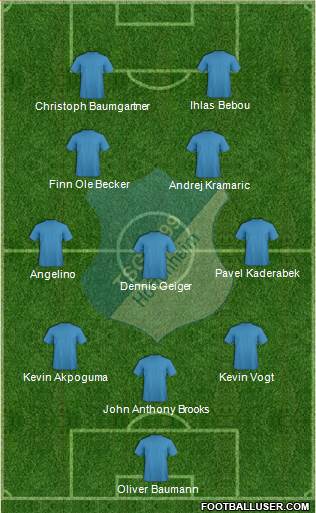 No shortage of awesome aerial wins from Brooks on display. Quality headers on both sides of the ball can be found in the 16th, 17th, 18th, 30th, 32nd,  45th, 48th, 60th, 61st, 62nd, 74th, and 82nd. There were some unfortunate lapses/losses in the air (1st, 10th, 11th, 35th, 38th, 52nd), but those were easily offset by great ground wins in the 21st, 39th, 41st, 47th, 49th, 67th, 83rd, at 90+5, and at 90+6. One can also locate some gorgeous switch passes in the 37th, 46th, 59th, and 80th.

Nearly all of the switches came off of dead balls. Matarazzo trusts Brooks to take the free-kicks whenever the team earns fouls deep. This is for good reason. The former Hertha and Wolfsburg professional has the confidence back to boot practical upfield balls on this level. Such confidence was also evident on very strong clearances in the 4th, 8th, 16th, and 63rd. True, there were some less-than-stellar clearances and marks in the 14th, 24th, 58th,  66th, 73rd, 86th, and at 90+1. Not really a big deal.

Brooks continues to round himself into form and shall, in all likelihood, be very important for the Sinsheimers in their quest to avoid the drop. In addition to taking dead-balls out of the back, he's increasingly figuring into the squad's set piece designs. Noting how some of Matarazzo's plays have him built in as a target (26th, 28th, 56th, 77th), it might not be long before he heads home his first league goal since matchday 32 of last season. Germans will naturally be over-the-moon to watch one of their favorites get on the scoresheet again.

Pellegrino Matarazzo, TSG 1899 Hoffenheim (Trainer)

Matches = 1, Result = W

Grade = A

Little to add when it comes to Brooks' American trainer, who fully deserves top-level marks this time as well. Insofar as the columnist could discern, Matarazzo made no tactical changes to the 3-3-2-2 in the win over Schalke. Ozan Kabak came on for Kevin Vogt at the half in a like-for-like substitution. This counted as a smart move from the New Jersey gaffer. He enabled his best defender to get a full 45 minutes of match practice in following his form dup/suspension. Kabak might start alongside Brooks on the right in the future.

Sebastian Rudy and Tom Bischof later entered for Andrej Kramaric and Dennis Geiger on straight-swaps. Both players performed well as the team held its shape with discipline. Finn Ole Becker and Angelino found a lot of joy on the left. Well done from Matarazzo to keep Becker on the pitch for the full 90. The Kraichgauer maintained control of their latest fixture throughout and may even be poised to give disgraced Bayern a test this coming weekend. Don't be surprising if Matarazzo's troops pull off an upset reminiscent of the round two win in September of 2020.

Joe Scally, Borussia Mönchengladbach

Minutes played = 76/90, Positions played = RB/CB

Grade = C

A muscular injury prevented the CFG New Yorker from going the full 90 minutes against Wolfsburg last Sunday. Initial reports actually had some worry attached to them. BMG trainer Daniel Farke feared that Scally might have to sit out a few matches. Such fears have since proved unfounded and Scally rejoined training on schedule this week. He should be available for the weekend encounter against Frankfurt.

The Long Island native turned in a fairly bang average day in his sides win over the Lower Saxon German Wolves. This in itself constitutes good news considering the form he's been in as of late. In the columnists notes, Scally broke even on both ground and aerial duels. The best wins came in the 14th, 16th, 60th, and 70th. The worse losses occurred in the 9th, 43rd, 46th, and 50th.

Scally - as part of the collective lack of confidence permeating the team - had trouble catching up with the attack in the 13th, 47th, and 62nd. Poor forward passes/giveaways came in the 1st, 3rd, 5th, 26th, and 38th. There were also some very poor slack marks in the 21st, 25th, 28th, 29th, 31st, 44th, 47th, and 73rd.

The grade ultimately gets pulled up by some useful offensive work in the 10th, 35th, 38th, and 67th. Our subject here supplied some nice forward touches outside the box on the sequence preceding the second Fohlenelf goal in the 63rd. "C-Level" marks seem fitting enough considering Scally's contribution there.

The writer divined something of interest tactically with regard to Gladbach shortly after the restart. While what looked to be a clear cameo for Farke's recently deployed back-three/back-five winked in and out of existence about as fast as the Higs-Boson, the columnist swears he saw this for a brief period of time between the 46th and 53rd.

Lineup—Gladbach—46th minute (5-4-1)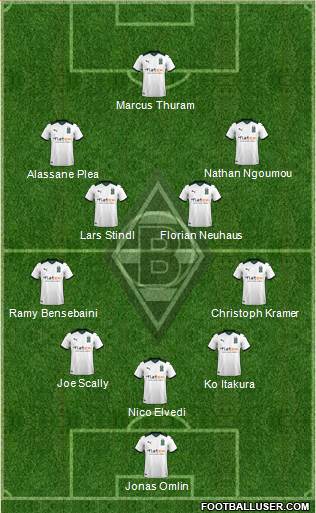 Perhaps Farke has something in mind apart fro his regular 4-2-3-1 in the near future. Hopefully it ends up working better than the similar constellation Adi Hütter gave us last spring. Scally hasn't - apart from this - worked a left-slant under Farke. Considering this was the side from which Scally scored his famous Bundesliga goal back in October of 2021, this could serve as a tantalizing prospect.

Kevin Paredes, VfL Wolfsburg

Minutes played = 31/90, Positions played = RW

Grade = D

As alluded to in the tactics column, there was some serious tactical mismanagement from VfL trainer Niko Kovac in this week's loss to Gladbach. In a way, one could even see it coming when the coach discussed how he would handle the absences of suspended players Ridle Baku and Patrick Wimmer during a pre-match presser. Kovac made the inexplicable decision to start Mattias Svanberg out on the right wing. Even if our American subject here didn't exactly recommend himself for a starting XI spot earlier this year, Kovac could have moved Yannick Gerhardt out or given Luca Waldschmidt a go on the right flank.

Interestingly enough, Kovac even explained his decision not to start Paredes with an odd choice of words during a post-match presser. Paredes, in Kovac's own words, had "the misfortune of being one of my go-to substitutes". After emphasizing that he wished to keep the teenage American talent in reserve, the gaffer then expressed sympathy for Paredes in a substitute appearance that "just didn't work out this time". Strange. At least Kovac took some responsibility.

The 31 minutes of action definitely didn't work out at all.

Lineup—VfL Wolfsburg—60th minute (4-2-4)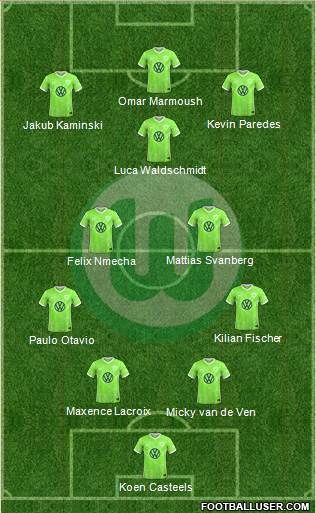 Paredes struggled to work in useful balls to his attacking colleagues in the box. Deliveries in the 70th, 72nd, 86th, and 88th didn't come close to connecting. The 19-year-old also ended up losing the ball even after getting some quality touches in during sequences in the 62nd, 77th, 79th, and 86th. The Virginian did okay on longer switches out to colleagues and some direct verticals in the 68th, 81st, 84th, and 86th.

Defensive marking errors in the 60th, 74th, and 79th rendered it a poor day on track-back work for the youngster. He did well on press wins in the 80th and 83rd. Poor hits and touches - all of them coming in injury time - nevertheless preclude us from giving him "D+" marks for this shift. It truly wasn't a good day. Again, we'll have to emphasize that Kovac didn't have his best day tactically either.

Lineup—VfL Wolfsburg—82nd minute (4-4-2)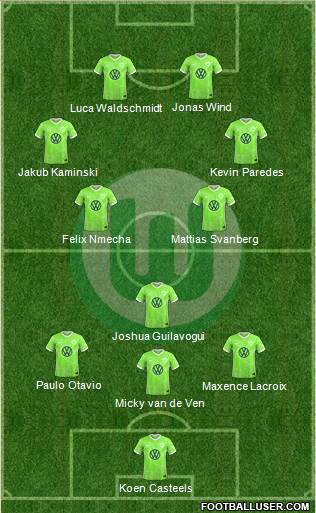 Phrew. Too complicated. It's not an exaggeration at all to say that Germany's green company team have a poor functional tactician at the helm. There will almost surely be some more rants on this subject before the campaign draws to a close. Kovac might do better himself to favor Paredes with a start in a straightforward constellation in the coming weeks. The lad has more than earned a chance to shine in something of a helpful set-up. We shall see.

Thanks so much for reading! You can catch the release of all Peter's columns on twitter, @ViceytheSS.

Twitter DMs are open for football conversations, corrections, and (if you truly insist) general abuse. 

All columns debut on Bulinews before appearing on Peter's website as the season progresses.



Related stories