Rostock fans appear to flout rules, local officials still satisfied
By Peter Vice @ViceytheSS
A national debate as to whether the German Bundesrepublik needs federal standards for the re-opening of its sports venues has thus far largely been avoided. Proponents of stricter national rules got some ammunition on Sunday. What will happen in Dresden?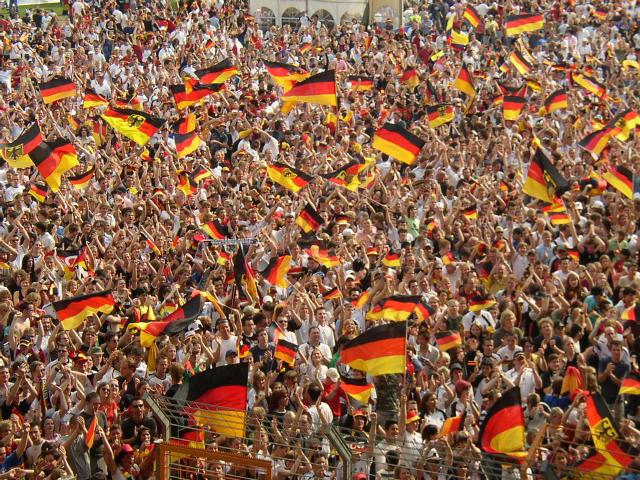 | | |
| --- | --- |
| German fans celebrating. | © Arne Müseler / arne-mueseler.de / CC-BY-SA-3.0 |
Third tier German Bundesliga side Hansa Rostock definitely had a hygiene concept in place. That much is indisputable. What appears to have been an, at the very least, an incomplete execution of the plan currently sparks debate in Bundesrepublik. Rostock hosted VfB Stuttgart, losing 0-1 in the opening round of the DFB-Pokal.


Photos from the Ostseestadion confirm that 7,500 mostly stood shoulder-to-shoulder. Singing and shouting took place within close proximity. Masks were rarely observed. Local media also repeats clashes with the police involving pyrotechnics both pre-and-post match.

Nothing indicates that a ban on alcohol sales within the stadium was improperly executed. Some of the fan-law enforcement confrontations did involve beer bottles, suggesting that plenty of fans brought their own. Similar pictures and reports, though not nearly as many, emerged from Madgeburg and Cheminitz, who also allowed in thousands of fans.

Pictures making the rounds on social media notwithstanding, Hansa CEO Robert Marien declared himself satisfied with the crowd management inside the stadium. The executive also reported positive reviews from the local health department.

Mecklenburg-Vorpommern minister-president Manuela Schwesig, who actually attended the match in person, spoke positively as well. "I witnessed a big step for these corona times," she is quoted as saying by Germany's Der Spiegel.

In principle, the mask-requirement did not apply to spectators so long as they were in their assigned seat. Fans were questioned outside the stadium as to their recent contacts, had their temperatures taken before they were allowed in, and could only enter with personalized tickets that clearly identified them.


If these aspects of the plan were executed properly, any outbreak cluster resulting from the match could presumably be traced. Many eyes in the Bundesrepublik now focus on Dresden, where as many as 10,000 fans could attend a DFB Pokal fixture this evening.



Related stories