David Raum in pole position for Germany's left-back spot at the World Cup
By Rafael Garrido Reinoso @RGarrido2210
Hoffenheim's David Raum looks like the favorite to play on the left side of Hansi Flick's 4-2-3-1.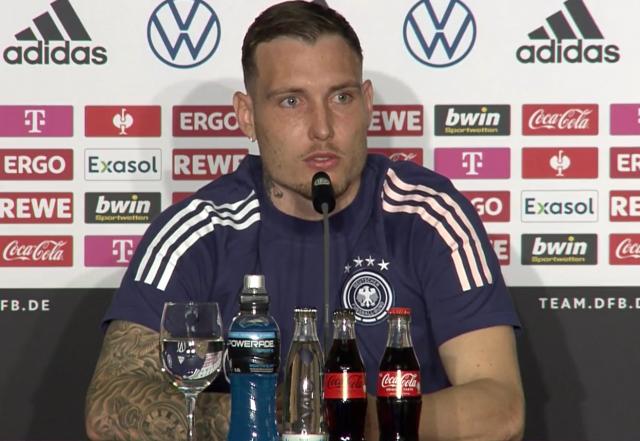 Just in case his performances with Hoffenheim were not enough, 23-year-old David Raum made sure to take advantage of Germany's recent two friendlies to confirm to head coach Hansi Flick that he is the man for the starting spot at left-back.




With his ticket to the World Cup secured, especially if the WC list expands from 23 to 26 players, both friendlies against Israel and the Netherlands were the perfect stage for him to earn the starting place, at least for the Nations League fixtures in June.

David Raum proved he fits really good into Hansi Flick's 4-2-3-1 that turns into a 3-4-2-1 when attacking, as Tilo Kehrer does not act as a fullback.

When Kimmich returns, the lineup is likely to be a more classical 3-4-3 or 3-4-2-1, with Bayern's player acting as a right wing-back.

In both games, the 23-year-old was able to showcase the characteristics that makes him the best left back/wide-back in the Bundesliga.

Providing width, depth and being constantly an offensive option, overlapping every time he got the chance and accompanying the plays, thus allowing Die Mannschaft to stretch both rivals' defensive lines.




Hoffenheim's wing-back got to crossing positions constantly throughout both matches and showed why he is statistically one of the best crossers in the world.

The player from Nürnberg got an assist against Israel from a corner kick, but could have had one or two more in both friendlies. He even had a shot on goal against the Netherlands that went just over the bar.

Raum's offensive traits were not much of a doubt, comparing them to the defensive ones. His defensive performances were good enough to return to his club on a high note, but he wasn't tested much against Israel while Netherlands' goal came after he didn't manage to either clear the ball or avoid Dumfries from winning the header.

His positioning was good throughout both matches, being constantly aware from his back as well as to close the line to cover for the center-backs, but he could still become stronger and more determined in 50-50 and one-versus-one situations.

If the World Cup was played in summer, as it should, there would be no doubt whatsoever that Hoffenheim's most influential player this season would play the first minute of the starting match.

But there is still room for change and for Raum's main competitor, Robin Gosens, to return to the peak form that made him one of the best German players of the EURO 2020.

Inter's wide back has almost half a season to change Flick's mind. Both will be in the squad unless they are hit by injury.

After his great EURO, this season has not been kind to Gosens, not only due to his injuries, but the transfer rumors surrounding his future surely played a part on his form.

However, if we compare their characteristics, the Bundesliga player still has the edge, although not by much.

Both players are very good attacking the spaces and providing width and depth, but there are some key differences in the way they do it.

Raum is a better on-ball player and passer, as well as a far better crosser, which is why he mainly focuses on trying to cross and does not look out much for scoring positions, preferring to stay a bit wider; which could fit better for Die Mannschaft as there will be times when up to four players will be near the channels and the half-spaces.

Gosens instead has the spirit of a center-forward. As shown both when playing for Atalanta and the national team, whenever he has the chance of getting into the area to finish, he will be there.

He can also make the same move to the inside either dribbling or associating with passes, looking for shooting options as he is the better shooter of the two.

They also provide different ways of physical presence. Both are able to run up and down the pitch for the whole 90 minutes, David Raum poses as the faster one, but the Inter wing-back provides a stronger presence.

Hoffenheim's man has lead in sprints in the entire Bundesliga, and he's also near the top in intensive runs, and even has registered top 10 for distance covered, proving he can fulfill with ease the physical demands of the role.

On the defensive side things are very square, with neither one excelling at this phase.

Gosens is a harder defender due to his physicality, but Raum has a better understanding of the defensive movements of the back line and the spaces.

David Raum's value increases with what his set-pieces bring to the table. His prolific left foot is a threat with every free kick, either to shoot it or cross it, and with every corner. In these types of short tournaments and KO phases, set-pieces are key to break the deadlock.

From what Flick has showed, Raum holds all the traits that the ex-Bayern coach wants to see from a full-back.

But it will definitely be a race until October to see who comes up top, with Raum currently in the pole position.



More about David Raum