Bundesliga Fan Scene:
The nationwide "plans for fans" ahead of matchday 28
By Peter Weis @PeterVicey
A historic weekend for German football lies ahead as, for the first time in over two years, all stadiums across the Bundesrepublik will be permitted to operate at full capacity.

Is there still a chance to be a part of this landmark occaision?

We'll be pleased to help inform you with our "Weekend Spectator Report" feature here on Bulinews.

Union Berlin, Freiburg, and Dortmund may already be sold out, but the remaining six hosting locales still have space.

All three clubs with sold-out stadiums have also opened up their secondary exchanges.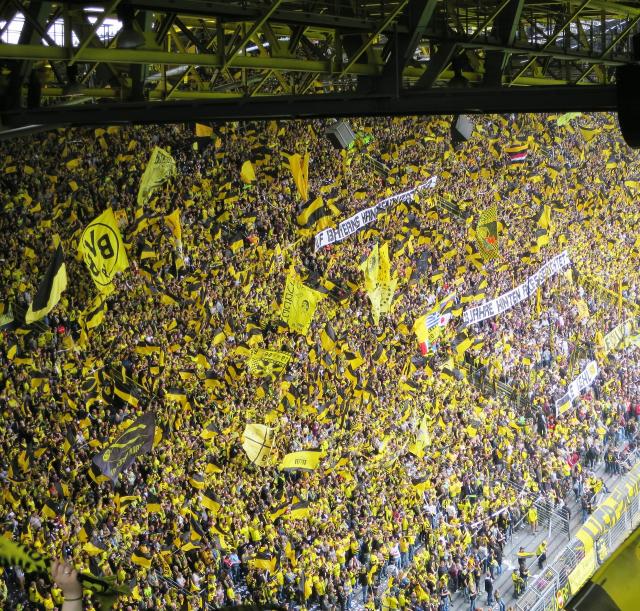 The time has fully arrived. As many of the German footballing ultra groups have been so kind to remind all in recent weeks, "Fußball für alle" ("Football for all") reigns in the Bundesrepublik. Packed stadiums. Recommended, but not required, masking requirements. Entry permitted for most everyone without a negative COVID PCR test.


Practically all of the COVID restrictions in the Bundesrepublik are history. Documentation of one's vaccination/recovery/tested status remains a requirement. All this means for footballing patrons is that they should arrive at the stadium early, something our column advises anyway so that one can meet the locals and participate in civic engagement projects.

After two long years, the best of German footballing fandom should be on display. One should also mention that--thanks to newly dropped restrictions on alcohol sales within the stadium--we will almost surely get some repeats of the Bochum incident in round 27. It happens. Hopefully we won't see anything too egregious. Hopefully, we can also manage to look past some unfortunate discretions and enjoy the larger picture.


---


FC Köln (at) FC Union Berlin

Planned capacity = 22,012 (full house) (sold out)


With the Berlin Infection Protection Ordinance now fully lifted, we can all look forward to a splendid evening at the Stadion An der Alten Försterei. Former Eisernen squad captain Steffen Baumgart can tell you exactly precisely what to expect from a full house in Köpenick. It shall be epic.

Season ticket holders snatched up all the available passes almost immediately before a public sale could even be conceived of. Fair enough. This day belongs to the Eisernen Ultras, who will be signing in full force thanks to a non-mandatory mask requirement. Those looking for some tickets left on the secondary exchange may still get lucky.

Get your weekend started off right!


#Infotweet Das Restkartenkontingent für #FCUKOE ist ausgeschöpft. Für abzugebende Karten ist ab sofort der Zweitmarkt geöffnet.#fcunion https://t.co/IQup2DvEtX

— 1. FC Union Berlin (@fcunion) March 28, 2022
---


SpVgg Greuther Fürth (at) Eintracht Frankfurt

Planned capacity = 51,500 (full house)

There remain a handful of tickets available (though it should be noted that all of them are in the "nosebleed section") for those interested in living the "Adler experience" in what's sure to be a sold-out Deutsche Bank Park. If one doesn't mind fighting off some atmospheric jet-streams, one can watch Oliver Glasner's (hopefully not too tired) various national team stars in person.


"Das wird richtig geil." ❤️‍🔥

Die Vorfreude auf #SGESGF ist riesig! Wer von euch ist dabei? Es gibt übrigens noch ein paar Resttickets ✌#SGE pic.twitter.com/iciCbutyMJ

— Eintracht Frankfurt (@Eintracht) April 1, 2022
---


Hertha BSC (at) Bayer 04 Leverkusen

Planned capacity = 30,210 (full house)

Germany's red company team has a few more passes up for grabs via a late public sale and the secondary market organized for members and season-ticket holders. Those in NRW interested in a little day trip can still gain accesss; perhaps just in time to watch Czech super-striker Patrik Schick score a goal off the bench.


Noch 04x #Bundesliga in der #BayArena! 🔥🏟️
Alle zusammen 🤝 ⚫🔴!

Tickets gibt's schon ab 15€ 👉 https://t.co/O9CpvgRTqi#Werkself | #Bayer04
🔜 #B04BSC | #B04RBL | #B04SGE | #B04SCF pic.twitter.com/nOHO0oReKV

— Bayer 04 Leverkusen (@bayer04fussball) March 30, 2022
---


FC Bayern München (at) SC Freiburg

Planned capacity = 34,700 (full house) (sold out)

The Breisgauer opted to forgo public sale for what shall be their very first chance to pack the new Europa Park Stadion to the brim. Understandable. It also came as no surprise to see this fixture sell-out almost immediately after passes went on sale last week. The German giants are coming to town!

What a treat this one shall be!

Don't forget to bring your bike-lock on the way to the stadium!


Frelo-Station am Europa-Park Stadion 🚲 https://t.co/EJF2qf6FmH

— SC Freiburg (@scfreiburg) March 29, 2022
---


VfL Bochum (at) TSG 1899 Hoffenheim

Planned capacity = 30,150 (full house)

Anyone close to the Rhein-Neckar region should have no problems finding tickets in Sinsheim. The atmosphere at the PreZero Arena may not be the greatest, but there are some special commemorations planned for the club's "Africa Day" charitable fund-raising drive.


Mit EUCH gegen Bochum 🙌

Sichert Euch jetzt Tickets für #TSGBOC ⤵️

— TSG Hoffenheim (@tsghoffenheim) March 29, 2022


Anyone interested in attending can at least watch the Kraichgauer compete in some spiffy special tricots, also available for purchase from the club. All proceeds go to TSG's civil service projects down south on the "grand continent".


#WallpaperWednesday 📱 pic.twitter.com/AjW8ZRTgHb

— TSG Hoffenheim EN (@tsghoffenheimEN) March 30, 2022
---


VfB Stuttgart (at) DSC Arminia Bielefeld

Planned capacity = 27,300 (full house)

By the time you're reading this, it's entirely possible that the very few tickets left for Saturday's match at the old Bielefelder Alm are already gone. No worries, however. If you'd really like to attend a football fixture at one of Germany's loveliest old sporting temples, you can check out the German Women's national team next week.


Super coole Aktion! 👏 #GERPOR https://t.co/VXmXxjDe3h

— DFB-Frauenfußball (@DFB_Frauen) April 1, 2022


Yes, we never miss an opportunity to plug the "Mädels" here on Bulinews. Congratulations to the VfL Wolfsburg Frauen on making the semi-finals of the 2021/22 Women's Champions League yesterday. Wir bleiben stolz auf euch!


Überragend! 🤩 https://t.co/ReEFYpUodS

— VfL Wolfsburg (@VfL_Wolfsburg) March 31, 2022
---


RB Leipzig (at) Borussia Dortmund

Planned capacity = 81,365 (full house) (sold out)

Some Saturday evening "Top-Spiel" this should be! Prepare yourself for some energizing scenes. After 763 long days, Signal Iduna will once again be filled to capacity. Over 40,000 passes sold out in a few short hours after the club's scheduled public sale on Monday.

Get ready for goosebumps. Masks are "optional"!


🙌 Samstag, volles Haus! Endlich wieder. Das wollen wir zum Anlass nehmen und zeigen Euch in unserer heutigen Top 5 die besten Jubler mit Fans! pic.twitter.com/YEsLAfqGku

— Borussia Dortmund (@BVB) April 1, 2022
---


VfL Wolfsburg (at) FC Augsburg

Planned capacity = 30,660 (full house)

For a little while, there was some question as to whether Bavarian authorities would (like the rest of the country) allow COVID spectator-restrictions to fully fall. Augsburg, Bayern, and Fürth only got the complete green light earlier this week. The Fuggerstädter will be pleased to welcome you. Members and season ticket holders snatched up over 20,000 seats earlier in the week. There's nevertheless still plenty of space available.


Rückkehr zur Normalität in der #WWKARENA! 😍

👉 Keine Maskenpflicht, keine Zugangsbeschränkungen, uneingeschränkter Ausschank von alkoholischen Getränken! ✅

🚩 Gefällt Euch? Dann sichert Euch Tickets für die Heimspiele gegen Wolfsburg, Mainz und Hertha! ✊

— FC Augsburg (@FCAugsburg) March 30, 2022
---


FSV Mainz 05 (at) Borussia Mönchengladbach

Planned capacity = 54,057 (full house)

Thanks to the fact that this is a Sunday (and we're dealing with a team engendering less than great enthusiasm locally), one can still have one's pick of seats just about anywhere in the stadium if one wishes to watch these West Prussians live. Do note that as the weekend progresses, thousands of tickets will go by the hour.


Erstmals seit über zwei Jahren gibt es keine Kapazitätsbeschränkungen mehr. Damit lockt gegen den @1FSVMainz05 am Sonntag die Aussicht auf eine volle Hütte. 🏟🤩

Tickets findet ihr hier ➡ https://t.co/rLTsmyPWdJ

— Borussia (@borussia) March 31, 2022
---
Thanks so much for reading!
You can occasionally catch Peter on twitter, @ViceytheSS.
Twitter DMs are open for football conversations, corrections, and (if you truly insist) general abuse. 
All columns debut on Bulinews before appearing on Peter's website later in the week.
Related stories