Bundesliga Tactics Talk: Round 21
By Peter Weis @PeterVicey
Another thrilling weekend on the German Bundesliga beat is in the books!

A highly significant round for Europe's best current title race wraps with three teams tied for first place at the top of the table on 43 points. Our comprehensive matchday recap feature truly has much to discuss this week!

We'll be getting into all the most salient talking points from all nine fixtures as usual. This week's installment contains draw-ups for Dortmund, Freiburg, and Leipzig.

For the second time this season, the "tactical focus" feature takes on what was German football's original "Klassiker".

Gladbach's immensely significant win over Bayern gets the deep-dive!
| | |
| --- | --- |
| Julian Nagelsmann. | Photo: GEPA Pictures/PICTURE POINT/Sven Sonntag/Pool via PICTURE POINT |
Bundesliga Tactical Banter: Round 21
A Swabian Surprise

One must admit that few of us saw this one coming. Bruno Labbadia's VfB Stuttgart unexpectedly earn some breathing room in the relegation battle after earning a 3-0 win over visiting 1. FC Köln at the Mercedes Benz Arena. What surprises the most here concerns just how dominant Labbadia's seemingly inept squad appeared in the totally lopsided victory. The new trainer's new 4-1-4-1 clicked throughout the course of virtually the entire 90 minutes. The double-eight set up of captain Wataru Endo and the newly-acquired Genki Haraguchi generated chance after chance. New signing Gil Dias scored a scorcher of a goal whilst returnee Borna Sosa announced his presence with a masterful tally off a set-piece.


A team most all Bundesliga watchers had long written off now enjoy a wholly different status. In all honesty, the VfB crew haven't displayed this much spirit and fight since they last hosted Köln during the famous relegation escape on the last matchday of the previous season. Enthusiastic and energetic performances from the likes of Endo, Haraguchi, Sosa and Dias count as only the beginning of the good news. Konstantinos Mavropanos (returning from a short burn-out break), Waldemar Anton (the much-maligned makeshift right back), and Silas (back from an injury timeout and some emotionally draining legal matters) also all played well. Chris Führich continues to look very strong.

Stuttgart - albeit somewhat slower than one might have hoped - wrested the game away from Köln with a steadily increasing amount of confidence. Hopes of taking another three points off Schalke should remain high. A tougher stretch thereafter - Bayern, Eintracht, Wolfsburg, and Union - certainly dampens expectations a bit, but there's much more to think on now that Labbadia has the right actors in place and thriving in the basic tactical framework he's been trying to run in the new calendar year. The designated "Feuerwehrman" head-coach finally has this rusty tanker turned around and pointed in the right direction. The plot thickens.

Eintracht signal intent

We received a fairly strong statement from Oliver Glasner's Rhein-Main Adler in Saturday evening's "Top-Spiel". Frankfurt were, like Stuttgart, unequivocally dominant in their own shut-out win. Eintracht shrugged off their own blanking at the hands of Köln last week and put guests SV Werder Bremen to bed fairly easily with a 2-0 dismantling. The Hessen hosts racked up an impressive xG total of 2.07 whilst the Hanseaten mustered up a paltry 0.24. Bremen actually only got above the 0.0 mark until Niclas Füllkrug managed a shot and disallowed goal in second-half injury time. This one never had a competitive feel about it. SGE keeper Kevin Trapp enjoyed a completely uneventful day at the office.

Are Eintracht, as Trapp suggested, now back up-and-running ahead of the crucial Champions' League showdown with Napoli? One can still hold some reservations about this. Direct buttressing support attacker Jesper Lindstrøm didn't exactly break out of his current form slump. There were several heavy touches and poor finishes from the Dane. Daichi Kamada turned in an uncommonly quiet performance in midfield. The new provisional back-three - anchored by midfielder Kristijan Jakic - wasn't tested at all by a Bremen side wholly incompetent at every last position. Everyone clad in the SV alternate pink jerseys plain sucked. Ole Werner's charges delivered one of the worst collective acts we've seen all season.

As we reflect upon an affair that almost seemed like the total inverse of the seven-goal reverse-fixture, tangible lessons remain few and far between. Vigorous efforts up the flanks from wingbacks Philipp Max and Ansgar Knauff probably serve as the most significant takeaway. Both Max and Knauff were involved in the 2-0 goal that ultimately made Randal Kolo Muani the first SGE player to reach double digits in both the goals and assists category since detailed data collection began. Having strung together three games of steadily improving play, we can surely say that Max has settled back into German football properly. Some players on this über talented side are undoubtedly dipping, but there are enough risers to indicate a strong form-run.

Union miss the chance

Dammit. Dammit, dammit, dammit. About the last thing any Bundesliga lover wanted to see this weekend was a fourth consecutive 0-0 draw involving FC Schalke 04. There nevertheless existed a nagging suspicion that the not-exactly-explosive 1. FC Union Berlin - predictably tired from their Europa League away match in Amsterdam on Thursday - just weren't going to be able to muster enough to find the back of the net against Thomas Reis' largely solid defensive. We got about what we expected at the Stadion an der Alten Försterei. Reis' Königsblauen blocked the middle. Urs Fischer's Eisernen couldn't find enough imagination in their creatively depleted brains to work the wings.

Apart from Danilho Doekhi's sparkling effort in the 23rd minute, the Köpenickers didn't manage anything worth note offensively at all over the course of the full 90 minutes. The writer of an "Americans in the Bundesliga" column had to watch with a wince as substitute Jordan put a short-range effort over the bar eight minutes from time. We had two instances in which the hosts might have attained the 1-0. Otherwise, the second-placed FCU played a fantastically boring, low-risk game of football. We could be talking about Bayern being overtaken in the title race this weekend. Alas, we are not. Dammit, dammit, dammit.


Not much one can say about Schalke after this 0-0 either. One had next to zero hope that Reis' Knappen would bring anything offensively to the game itself with the more promising wingers Soichiro Kozuki and Tim Skarke out injured. Replacements  Marius Bülter and Dominick Drexler generally make better contributions from other patches of pitch. One can perhaps congratulate the recently elevated Ralf Fährmann on his fourth consecutive clean sheet. The fact that the 34-year-old hasn't been scored upon in 360 minutes of football is, frankly, a hilarious development. Köln, Gladbach, Wolfsburg, and now Union haven't forced him to work too hard on it, but what the hell? Kudos, Ralf!

The "Spiegel Specials": Round 21
Dortmund-Hertha (1:0, 4:1)

How far Edin Terzic's Schwarzgelben have come! From eking out a narrow win against one of the worst German football teams in years via a brute-force Anthony Modeste goal to completely blowing their inferior opponents away this time. It's actually hugely significant that Dortmund can take care of business against the relegation-threatened sides. As the great German tactical writer Tobias Escher has pointed out no fewer than 5,000 times, it's usually the weakest teams in the league that typically trip the BVB's title-hopes up.

Case in point? Dortmund just lost to Hertha last year on the final matchday before the Christmas break last season. They fell to Gladbach and Bochum last year too in addition to failing to take three points off Augsburg and struggling against Bielefeld. The old Lucien Favre coaching regime was infamous for always screwing up against the relegation candidates. The BVB's old trainer got sacked after blowing it against Augsburg, Köln, and Stuttgart before December 2020 was out.

Favre's supposedly "temporary" replacement - back after ceding his place to Marco Rose last year - happens to be a very effective coach. Case in point for this statement? Why don't we take a look at Terzic's latest tactics? Needing to revamp a 4-1-4-1 that had been steadily running out of steam, the BVB trainer put together something quite inventive and effective. Emré Can displayed some signs of needing a little extra help in midfield. He got it in the form of the actor he initiatively displaced.

Lineup—Borussia Dortmund—Match 21 (4-1-4-1)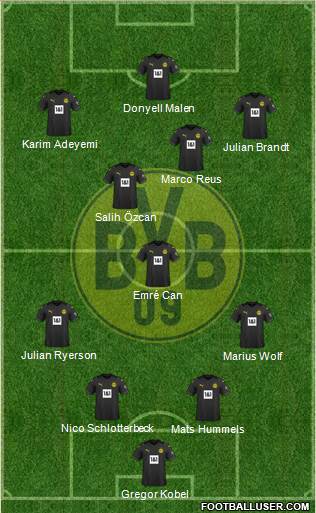 A "six-even-eight" stepson. Why not? Lend the benched Donyell Malen a little direct assistance via a competent trio. Can and Özcan can work a useful stagger in midfield. The former still needs to track back to help the defense out and the latter can really support both the attack and and the fullbacks with roving lateral coverage. The strategy carried with it some inherent risks and Sandro Schwarz's 3-5-2 did force some early mistakes out of Terzic's crew.

The pace of the red hot Karim Adeyemi, along with some very well run counters through Reus, ensured that the superior side was well established before the half-time break. Adeyemi's injury meant little with Jamie-Bynoe Gittens available off the bench. Hertha couldn't match that kind of quality at all. As well as the Charlottenburgers played at times, they never really looked like a threat without players possessing a clinical edge on the pitch. Reus and the still streaking Julian Brandt ultimately had to show their capital city guests how it's done.

Prognosis: Title aspirants and relegation favorites

Not much beyond the obvious to add here. Insofar as Dortmund are concerned, it's worth noting that they played a controlled and convincing game without Jude Bellingham in the starting lineup. To think that so many actors performed so well absent their box-to-box midfield "flight director" is truly something to comprehend. No one, not even the maligned center-halves, played badly. The NRW club deserves to be in this title-race.

As for Hertha, there's some things Schwarz can use from this one to build upon. The 3-5-2 actually took on a slightly different shape from last week. Buttressing attackers Lucas Tousart and Suat Serdar - who combined on the team's lone goal - were given greater prominence while Marvin Plattenhardt and Marco Richter functioned more like wingbacks. It had something, but we still need proven finishers if this team is to escape the drop.

Wolfsburg-Leipzig (0:2, 0:3)

Over-and-out for VfL trainer Niko Kovac courtesy of double clean-sheets handed to him from a direct rival. The air gets noticeably thinner for the man tasked with coaching the northern "Autostädter". Wolfsburg's strong start to the new calendar year is now completely wiped amid a string of five competitive matches without a win. This meeting of two teams who concluded 2022 on strong unbeaten runs effectively proves that, for the losing side, some elements of luck were at play.

Kovac practically finds right back where he was the last time Leipzig humbled his squad. Though the round four loss to the German Red Bulls marked the beginning of the end of a series of perplexing tactical decisions from Kovac, most of us league watchers felt as if Wolfsburg's later nine-game-unbeaten-run featured far too much tepid and uninspiring football to really justify the results. This applied especially to the attack, which all-too-often seemed totally devoid of ideas.

Such was the case here for the second consecutive week. Kovac called out his team for playing their worst two halves of football all season in last week's 0-0 draw against Schalke. The limp attack didn't improve at all here. The Lower Saxons remained essentially harmless from start to finish. Missing Jakub Kaminski and lukewarm on the prospect of giving the disaffected Omar Marmoush a start, Kovac tried giving Patrick Wimmer a go on his unnatural left-hand side. Luca Waldschmidt began the game on the right in the regular 4-1-4-1.

When this led to nothing short of an embarrassing and error-riddled opening 45, Kovac went for a double change at the break. Maxence Lacroix entered for Paulo Otavio, sliding into central defense whilst Micky van de Ven moved out to work as the left-back. Marmoush also came on for Waldschmidt. Wimmer switched to his natural side on the right flank. Results? None to speak of, really. Felix Nmecha forced a save out of RB keeper Janis Blaswich five minutes after the restart. That was it.

Marco Rose's Saxons had the game completely under control. Blaswich only had to intervene once more to stop one of VfL skipper Maximilian Arnold's set-piece gems. In stark contrast to last week, Rose's RB looked secure in a 4-2-3-1. Double-sixes Xaver Schlager and Amadou Haidara closed down space in front of the back-four easily. Willi Orban's return to the defensive ranks, of course, didn't hurt either. One should note that the RB attack - even with David Raum and Emil Forsberg back in the XI - didn't run terribly hot either.

Leipzig were finally able to punish Wolfsburg for all the limp builds and endless ball losses by switching to a 4-4-2 later on. The game took on a different tone after German football's most highly anticipated returnee took to the pitch. Oh, yes. Onto what we're truly curious about. Namely, how do Leipzig shape up with Christopher Nkunku back on the pitch? There's a question of monumental importance. We have ourselves an interesting answer as well:

Lineup—RB Leipzig—76th minute (4-4-2)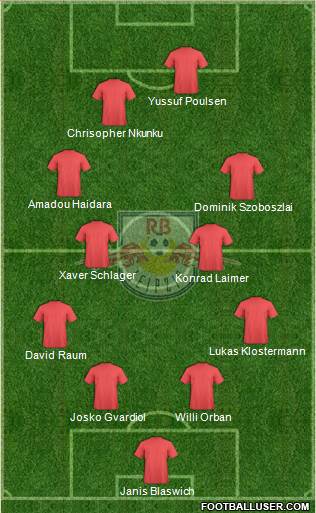 Nkunku initially relieved André Silva and served at the top of the 4-2-3-1. When Yussuf Poulsen and Konrad Laimer entered on behalf of Forsberg and Haidara, we saw Nkunku fall into a service striker role. German football purists may consider themselves in big trouble here as it didn't take long for this constellation to get good and lethal. Nkunku and Poulsen immediately got chances. Laimer and Szoboszlai then turned WOB mistakes into quick counter goals.

Prognosis: Top four and mid-table

The finishing positions of these two clubs begin to take shape. Last week's blip that snapped Leipzig's 18-match-unbeaten run means contextually little following the latest result. Nkunku shifts the entire dynamic. While it is certainly true that Rose's Red Bulls have a tough stretch - Man City, Eintracht, and Dortmund - ahead, the league opponents from mid March onward are decidedly soft. Not much stands in the way of UCL qualification for next year.

As for Germany's green company team, the upcoming fixture list proves wholly immaterial. Kovac's 4-1-4-1 has gone completely stale. That translates to a total rebuild, which in turn augurs awkward tactics and clumsy play for the foreseeable future. A loss against Köln next week beckons unless Kovac can pull a rabbit out of this un-magical hat. At least five rivals emerge for the UEFA Europa Conference League playoff spot. Should the VfL gaffer fail to attain that, he'll be done

The "Burning Questions": Round 21
Can Freiburg get rolling again?

Christian Streich's Breisgauer have followed up their debacle away at Dortmund with three consecutive victories. Moreover, the southern Badeners have looked progressively more convincing in wins over SV Sandhausen, VfB Stuttgart, and now VfL Bochum. Naturally, the strength of that field plays a role. Streich still has his lads looking noticeably more comfortable in their latest tactical set-up. After the disastrous start to the new calendar year forced the SCF gaffer to stabilize the squad in an unplanned back-three, the BaWü boys are back in a four-man-chain again.

Lineup—SC Freiburg—Match 21 (4-4-2)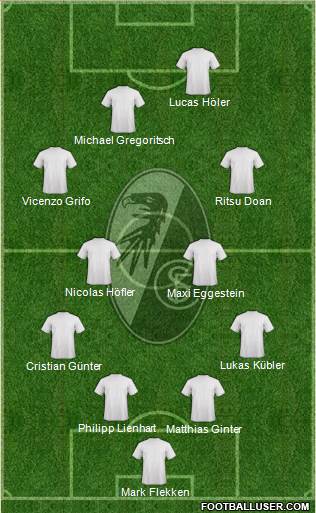 Not unlike what we see with Leipzig above. Michael Gregoritsch now works as a short-striker behind returnee Lucas Höler. Vincenzo Grifo and Ritsu Doan fall back as pseudo-wingers. All the actors behind them have clearly defined roles along with a implicitly guaranteed spot in the starting XI. It took some time for this to get rolling, but once it did both Gregoritisch and Höler were able to score goals in the latest 2-0 win. Grifo and Christian Günter capped overall positive involvement by registering assists.

The problems that remain

Not for the first (and certainly not for the last) time in this column, one must remark that the double-six pairing of Nicolas Höfler and Maximilian Eggestein seem for to error prone on the attack builds. Yannick Keitel probably needs to take Höfler's spot at this point. Far too many retreats from this in the opening 45. Höfler barely put a foot right on the approach. The 1-0 came, yet again, off a dead-ball situation. In this case, Bochum's Philipp Hofmann committed a marking error on a Grifo corner service.

The signs of encouragement

The team furnished much better rushes from open play in the second half. In particular, one can have no complaints about the manner in which Günter and Grifo coordinated on under-and-overlaps. One also has to like the fact that - after Bochum lost captain Anthony Losilla to a red card just after the hour-mark - the Breisgauer didn't fold up and enter in protective managerial mode. Streich's men still went forward with playful and creative confidence. Substitute Woo-Yeong Jeong was unlucky not to net the 3-0 late with a strike off the crossbar.

The conclusion 

One can easily tip this team to get positive results over the coming weeks against Leverkusen, Gladbach, Hoffenheim, Mainz, and Hertha. A favorable schedule, not to mention the bye weeks clinched by their near-perfect Europa League group stage campaign, accord Streich with plenty of time to sort out some of the squad deficiencies on the training pitch. Ideally, he'll leave the current constellation alone. How interesting that we now have another top-four contender in this wide-open 2022/23 field; one that most of us had long written off no less.

Welcome back, Breisgauer!

Can Hoffenheim really get relegated?

Bundesliga diehards will surely be pleased to examine this query. Might it actually happen this time? Can we conclude the season with the eminently satisfying shed of a non-50+1 club no one cares particularly much about? Will a fairy-tale season featuring the likes of Union Berlin contending for the title also deliver us this precious gift? Oh, we're certainly hoping so. Hoffenheim continue to look truly terrible. Those of us watching the 0-1 defeat away at Augsburg on Friday night had to concede that die Kraichgauer came nowhere close to resembling a real football team in their latest abject failure.

We'll begin with tactics. The new TSG trainer, having opted only to take a light hand he inherited from predecessor André Breitenreiter in his first match in charge, debuted his own new system this week. Kasper Dolberg and Ihlas Bebou spearheaded a 3-4-2-1 anchored by Christoph Baumgartner at the ten. Umut Tohumcu was preferred to Dennis Geiger as Thomas Delaney's partner in midfield. John Anthony Brooks moved to the left side of the back-three in order to allow Kevin Vogt a chance to run the chain on a straight pivot. Pavel Kaderabek also took over for Kevin Akpoguma at the right wingback position.

One could fairly say that the Sinsheimers got into the game better than they did against Leverkusen last week, for whatever that's worth. Akpoguma and axial partner Angelino engineered a pair of half-chances in the opening 45. In a match more defined by officiating controversies than football, Matarazzo's later match 3-4-2-1 re-format quietly going a few things going under the radar in the final ten minute. The new TSG gaffer being a USA actor means that we'll discuss Matarazzo's tactics in greater depth in the next edition of the "Americans in the Bundesliga" column. For now, some will be pleased to know, there are two arguments in favor of relegation.

Argument #1: Unready youngsters under an unsteady aegis

If one cares to think back to Matarazzo's days at Stuttgart, there exist a myriad of examples supporting the case that the American gaffer isn't the greatest at dealing with impetuous young talent. The likes of Tanguy Coulibaly, Mohamed Sankoh, Matteo Klimowicz, Ömer Beyaz, Enzo Millot, Lilian Egloff, Wahid Faghir, and (most memorably) Alexis Tibidi were all called up into action too soon. When their form caught up with their inexperience, the American gaffer had serious problems managing their bruised young egos.

Matarazzo encounters a similar problem here. Breitenreiter promoted the likes of Tohumcu, Tom Bischof, Fisnik Asllani, Justin Che, and Muhammed Damar too early. How will these players deal with the fact that they'll be placed under enormous pressure one week, then relegated to the bench once some preferred actors such as Robert Skov and Grischa Prömel return? What about the cries of Jacob Bruun Larsen, Angelo Stiller, and possibly Munus Dabbur for more playing time? Signs point to an unhappy and generally unified camp.

Argument #2: Already making the wrong selections 

Leaving Dabbur, Stiller, and Sebastian Rudy out of Friday's match left many of us wondering exactly how well Matarazzo knows his team. While this remains excusable for someone only on the job for ten days and the decision to bench Andrej Kramaric is completely understandable at this point, one does expect a newly appointed trainer to shake things up without delay by giving those who had fallen out of favor with the previous coaching regime an immediate chance. This is why new coaches are brought in midseason to begin with.

When sporting director Alexander Rosen spoke ill of his own performance following Breitenreiter's final defeat, many of us thought this club was in for a full housecleaning in the vein of what owner Dietmar Hopp did with the dual sacking of head-coach Marco Kurz and manager Andreas Müller during the relegation-threaten 2012/13 campaign. Hopp and the higher ups went for the more subtle tinker here and it is showing. One can see how Matarazzo already loses time with a more gradual and safe approach to change. Time will eventually run short.

Can Mainz contend for Europe?

Picking up on one of the more under-the-radar threads we've been following for some weeks, we'll want to say a few words about Bo Svensson's Rheinhessen after their second straight big league win. Nice little sly game of poker from the Mainzer trainer. After strongly suggesting that he would rotate some returnees back into the XI, the Danish gaffer sent the exact same lineup out against Germany's red company team in this Sunday's capper. It worked. The Pfälzer knocked off a highly favored opponent.

To be fair, Leverkusen did win the xG battle (2.78 to 2.01). The match would have likely turned out very differently had Finn Dahmen not saved Edmond Tapsoba's spot-kick in the 23rd. Yowza. One truly feels for Bayer's Burkinabé defender there. Less than a month after he broke the Leverkusen penalty curse, Tapsoba finds himself potentially starting a new one. Poor lad. Bayer were certainly by far the better team throughout the second half, pushing harder than Mainz even after Amine Adli's red card put them behind and shorthanded.

All the same, we once again must criticize Xabi Alonso for his tactical/personnel selections. Florian Wirtz began the game on the bench again. Tapsoba - nervy after his missed penalty - should have been yanked alongside the mistake-prone Odilon Kossounou at the half. Wirtz and Patrick Schick were introduced far too late. The attempted shift from a 4-3-3 to a 4-2-3-1 over to a 4-4-2 made matters needlessly complicated. Svensson put forth the more stable and well-drilled squad.

All of this translates to a big shift in the "Race for Seventh" we were discussing last week. The writer tentatively selected Leverkusen for the UEFA Europa Conference League playoff berth last time. No more. After what we saw from Wolfsburg and Leverkusen this weekend, Svensson's crew look to be the new top contenders for that slot. Gladbach are technically competing for the spot as well after their win over Bayern this weekend. That's a different matter entirely. We'll get to that below.

Weekly Tactical Focus: Bayern defeat Bayern

Time to take the deep dive into the most thoroughly unexpected result of the weekend. As this columnist has repeatedly stated in this space, the "Bogey Team Theory" amounts to pure hogwash when it comes to sports. No professional athlete or coach enters a contest worrying about how past defeats will affect the result of the forthcoming fixture. It simply doesn't work that way. If anything, stronger sides tend to feel as if the odds will eventually crash in their favor whenever facing an opponent who has recently enjoyed flattering results.

Some used the "Bogey Team" Hypothesis to tip an upset win for Gladbach over Bayern this weekend. After all, Gladbach did knock off a corona-ravaged Bayern squad on the first day of the 2021/22 "Rück-Runde" last year. There's also that not irrelevant matter of the 5-0 thrashing in the second 2021/22 DFB Pokal when Bayern visited Borussia Park not so long ago. Bayern haven't actually won away at Gladbach since a June match at the tail end of the 2019/20 Corona Campaign. Some allowed these recent events to influence them and went with a gut pick.

The writer himself tipped a 4-0 "cruise control" victory for Bayern. This was based largely on the current shaky state of Gladbach. Additionally, it seemed nigh on impossible for FCB defender Dayot Upamecano to have a worse night than he did during that Pokal debacle on that October Eve back in 2021. Surely he couldn't mess up more this time? Er....well....in turns out that's precisely what happened. Wow. Perhaps there is such a thing as a "Bogey Team" in the mind of certain players. Or perhaps it was just a soft call and a coincidence.

Something that definitely can't be labelled a coincidence this week concerns Julian Nagelsmann's latest set of personnel rotations and tactics. The FCB young gun finds himself sabotaging his own team yet again. After being out-maneuvered by Steffen Baumgart, Oliver Glasner, and even Niko Kovac since play resumed, Daniel Farke got the better off the supposed avant-garde master on Saturday afternoon. We've a soft starting XI and several questionable in-match reformats to get to this week.

Full time xG first.

xG Gladbach--1.95, xG Bayern--1.31

Not stats indicative of a team playing shorthanded for 82 minutes at all. Nagelsmann made his fair share of mistakes, as did those in FCB colors. Anyone tempted to jump on the "Fohlenelf Bandwagon" at this point should know that Farke's foals remain strewn with problems. At the very least, one can give Farke credit for sticking with a stable 4-2-3-1 throughout. The opening hand (due to Joe Scally and Marcus Thuram both struggling with calf problems) was one of necessity. Keeping it in place whilst Bayern tripped over their own feet was smart.

Lineup—Gladbach—Match 21 (4-2-3-1)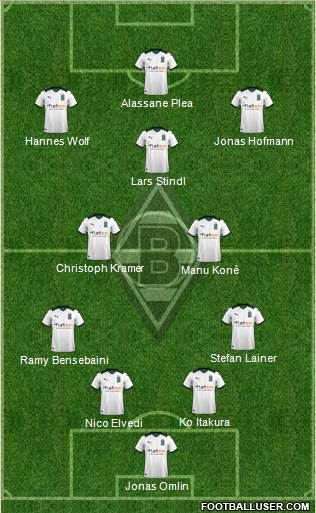 Admittedly, this lineup didn't inspire early confidence. Manu Koné has been improving since Christoph Kramer moved back to serve as his axial partner in midfield, but the forward BMG triangles remained far from crisp. Hannes Wolf and Stefan Lainer haven't played a comprehensively solid match in as long as this chronicler can remember.

Alassane Plea operates so much better as an assist-supplier on the wings. The same can be said of skipper. What was needed here was a glittering performance from someone in this set-up. As it turned out we got just that from German international Jonas Hofmann. The flexible German attacker turned in a beast of a performance here.

More than anyone else in white, Hofmann deserves credit for the result.

The beginning of Nagelsmann's self-subversion

Five personnel rotations from the FCB trainer from the midweek UCL fixture against PSG. Yes, that's correct. Five. Really? Apart from Kingsley Coman (unavailable with injury), this counted as complete overkill. Jamal Musiala, Leroy Sané, Joao Cancelo. and Matthijs de Ligt all began the game on the bench. Thomas Müller, Serge Gnabry, and Alphonso Davies all rotated in while Ryan Gravenberch and Daley Blind received their starting XI debuts.

Lineup—Bayern München—Match 21 (3-4-3)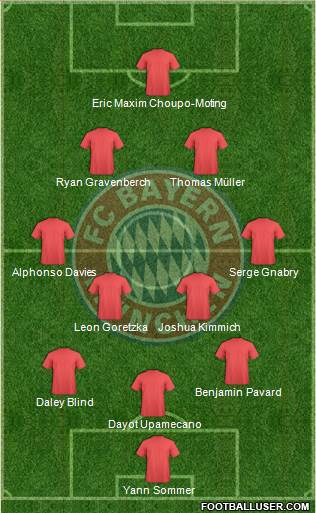 Yikes. This had a haphazard and half-assed feel to it from the very start. Blind and Gravenberch both performed poorly in their first Bundesliga start. The forward link up play never looked coherent even in the early minutes. With no midweek match to worry about, one truly must question why Nagelsmann chose to rotate so heavily. The squad didn't need this. They needed to safeguard their place in the league above all.

Onto how and why they didn't.

Match Flow: 1st to 8th minute

Plea got upfield on the first two BMG charges. The French international regrettably gave the ball away easily on the first rise. Davies took care of Plea on the half-right lane at the end of the 1st. There was a brief treatment break for Gladbach's makeshift lead-striker. Bayern got their first attack rolling in the 2nd. Kimmich circles out of the back impressively despite pressure from Nico Elvedi and Ko Itakura. The sequence went forward via Müller and Choupo. An out swinger for Davies on the left gave the Canadian some space. The Canadian ended up missing everyone with a poor cross.

Davies got the ball back courtesy of a turnover from Kramer, but there were white shirts all around four FCB players the Canadian could have considered targets. Davies went for the retreat and the ball cycled over to Gnabry's side via a bow-arc. Gnabry retreated too and the cycle went back to Davies. This time Choupo and Müller helped the ball onto Gravenberch with some deeper touches. The Dutch attacker saw a 3rd-minute effort blocked. Davies tried to work the ball back in for Müller, who in turn couldn't get the timing right on an artistic attempt at a bicycle kick.

A Koné carry in the 4th finally saw Gladbach get out of their own area after a measured series of back-passes. An attempt to hit Ramy Bensebaini failed when the Algerian took a heavy touch and sent in a soft square that was easily blocked. Kimmich circled out impressively again, drawing a foul from Stindl on what shaped up to be a promising Bayern counter. The Bavarians went backwards on the quick-free kick. The next charge toward the box, in the 5th, concluded with Choupo flicking on to no one in particular.

Gladbach cycles back out left with Itakura, Lainer, and Kramer. A long vertical came nowhere close to reaching Plea. Bayern got a quick counter off. Gnabry was the next FCB actor to have a shot blocked. After Müller, Choupo, Blind, and Davies couldn't figure out a way to move forward in the 6th, the hosting Westphalians got their own counter off thanks to a turnover from Leon Goretzka. Hofmann had a decent chance to punch through on the right, but Davies recovered in time. Match official Tobias Welz judged Davies' final tackle to be a foul.

Hofmann connected with Itakura on the the long, inswinging 7th-minute delivery. The Japanese international nevertheless headed wide of the mark for a goal kick. Farke's foals found no success cycling up with Wolf at the beginning of the 8th. Goretzka and Müller ran a threatening counter after Wolf was stopped. Bensebaini put the brakes on Müller with some splendid defending, then immediately sprung Plea with a gorgeous ball. We arrive at the scene that would define the match.

Match Flow: 8th to 13th minute

One could immediately tell that referee Welz's decision would elicit curses, condemnation, and even a booking later in the match from Nagelsmann. In all fairness, it looked as if Upamecano exercised as much caution in his attempt to catch up with Plea. The FCB Frenchman carefully avoided any contact below the belt-line. There was only a slight tug on Plea's shoulder from Upamecano; something Plea clearly embellished a bit by going to ground long after the pull took place.

Welz still had to consider the light yank an action that impeded a clear goal-scoring opportunity. The card shown to Upamecano was thus red. Welz remained in contact with the VAR team in the Kölner Keller for a full three minutes after his initial decision. The review took us through the 11th. There remained some doubt as to whether the ruling on the pitch would stand. In the end it did. Play resumed with the awarded Gladbach free-kick in the 12th. Stindl did a marvelous job with the service.

In his return to his old stomping ground, long-time Gladbach keeper Yann Sommer had to strut his stuff early. Sommer deflected Stindl's 12th-minute service to the side with an equally fabulous full-stretch sprawl save. The foals were nevertheless awarded another free-kick in a dangerous area less than a minute later when Davies handled the ball in a direct duel with Wolf. This time the hosts would make it count and leave their former net-minder without a chance.

On what was without a doubt an excellent dead-ball design practiced multiple times on the training pitch this week, Hofmann sent a direct square over to the onrushing Stindl approximately 18 meters outside the box central. The BMG captain slammed home a magnificent first-time finish that kissed in off the far right post. Before Nagelsmann could even make the requisite tactical adjustments, the foals had made their man-advantage count with a special construct involving their two best players.

1-0.

Match Flow: 13th to 35th minute 

Bayern are naturally expected to go all-out even when shorthanded. The record champions aren't allowed to fall back on any excuses at this point. so it was that the Bavarians got the next major chance off before Nagelsmann could get his intended sub on. Goretzka, Müller, and Davies cycled up the pitch as soon as play resumed in the 14th. Davies dribbled his way past the hapless Lainer in an inside cut. The Canadian hit Choupo central. A poor touch from the FCB striker enabled Kramer to clear.

Blind reset the play from the back quickly and Gnabry was through on the right by the 15th. After a crisp one-two with Gravenberch, Gnabry got a stinging effort in on the half-right just inside the 18. Plenty of BMG bodies were on hand to block the shot. Davies came forward again to try and head in the rebound. There ultimately wasn't enough power behind the second effort and Jonas Omlin was able to collect easily. The Gladbach keeper tried to quick start a counter. Bensebaini switched over to Koné. Lainer, Kramer, and Hofmann then couldn't make the cycle work.

After Hofmann retreated, Kramer and Lainer moved the ball all the way back and out into touch for a throw. The break in the action allowed Nagelsmann to get his sub on. Joao Cancelo entered for Müller. Surprisingly enough, German football's most legendary competitor took his early exit in stride. One knew that this would mean a major tactical reformat. It didn't take long at all for the new constellation to crystalize. One could also immediately tell that Nagelsmann had no intention of shelling up.

Lineup—Bayern München—16th minute (2-4-3)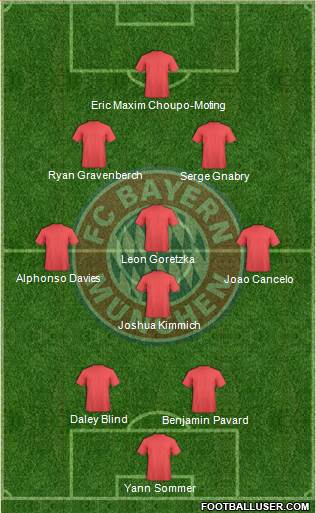 Not exactly what you might call a protective set-up, but we are talking about the German giants here. Cancelo was immediately active on the right, earning a pair of throw-ins as he tried to move forward in the 17th. When the ball moved back to Sommer, the new FCB keeper went straight for Goretzka with a long launch. Bensebaini had to break up a quick Bayern charge central before the 17th was out. The Bavarian guests wouldn't relinquish possession through the 18th.

Blind, Davies, Kimmich, and Cancelo all got touches in during an uninterrupted passing sequence. Gravenberch dropped back as part of it while Blind even moved forward to affect play. The line-breaking ball went down Davies' side again. The Canadian's attempt to return Davies unfortunately came in a little behind the onrushing Dutchman. A desperate BMG clearance gave the ball straight back to Cancelo. Elvedi had to be on hand to clear a dangerous quick diagonal from the Portuguese international.

A Gladbach counter via Hofmann fizzled out when Hofmann lost the ball. The next two FCB charges in the 19th were pretty wild and erratic. Despite all the disorganization, the shorthanded guests still held onto the ball. Kimmich tried to slow things down at the end of the minute, yet ultimately lost out to a vociferously pressing Stindl. The BMG captain promptly tried to test his old teammate with a hopeful launch. Sommer remained on his line and had no trouble with it.

Multiple Bayern recycles through Kimmich in the 20th kept the ball behind the halfway line until the attack again went through Davies. Lainer was forced to foul. A quickly taken free-kick proved too quick for Choupo to sort his positioning out. The FCB striker got flagged for being miles offside. Incredibly enough, Bayern still kept the attacking waves coming through the 21st. Gladbach pressure remained adequate enough to force retreats, but there really wasn't any clear sign that Bayern were outnumbered.

Davies punched through on the left again in the 22nd. Itakura did a good job breaking up a pass intended for Choupo. Another quality build from Bayern in the same minute ended with Choupo being caught offside again. After a very prolonged possession spell, Bayern finally turned the ball over in the 23rd. Plea couldn't quite get his touches right off a Gravenberch ball loss, but Koné charged forward to pick up the ball when Cancelo's risky clearance presented him with an opportunity.

The Toulouse academy man slalomed into the box with purpose and completed a beautiful layoff for Stindl. The BMG captain came within a har's breadth of bagging a brace for himself and giving his side a 2-0 advantage with a sharp drive at the beginning of the 24th. He only narrowly missed the right post he had previously befriended. Koné again drove the BMG attack in the 25th, shaking off Choupo sleekly after a Goretzka turnover. The confident Frenchman sent Lainer through on the left. Blind caught up in time to tackle away.

Koné refused to give up, rushing in to keep the play alive. Goretzka could only brake Koné with a foul. A 26th-minute free-kick design involving Wolf and Bensebaini proved a tad too complicated this time. Blind turned away the final product easily. A way too obvious triangle off a throw-in in the same minute gave Gravenberch ample time to tackle away from Bensebaini. Gladbach at least held possession through the 27th, albeit while being comfortably beaten back by Bayern multiple times.

The Müncheners got themselves organized again by the 28th, playing through the middle in the manner that their head-coach had been urging them to. Choupo executed a neat touch back for Gnabry just outside the area. The ball found its way back to Choupo after some nice work from Gnabry, Gravenberch, and Cancelo. The FCB lead-striker unfortunately couldn't find the finish off the turn, missing by a wide margin from about 19 meters out wide left.

Omlin took his time setting up the 29th-minute goal-kick. Goretzka immediately won the ball back into midfield. A rearward pass for Blind then didn't work as the Dutchman succumbed to the BMG press. Lainer and Kimmich traded broken charges in the 30th. Plea failed to reach Stindl on the tail end of the Gladbach drive. A Goretzka-Davies-Choupo cycle up the left in the 31st ended with Itakura fouling Choupo. Blind's subsequent free-kick came in well over Benjamin Pavard's head.

Blind did step forward to cancel out a tepid BMG build in the 32nd. The sequence ended with Kimmich overcooking a ball intended for Gnabry in the penalty area. Kimmich also furnished a useless fee-kick service one minute later when Koné fouled Pavard in the 33rd. Hofmann deftly unlocked Plea on the next Gladbach charge in the 34th. Plea appeared horribly slow in chasing after the long ball. Pavard had all the time in the world to formulate and execute a perfectly timed slide tackle away.

Hofmann's ensuring 34th-minute corner service connected with Bensebaini. The Algerian saw his header blocked. Elvedi took out Kimmich on the attempted FCB counter. This set up the play that would deliver the equalizer. Davies belatedly found some success in an afternoon of truly hard work. The Canadian juked past Lainer with ankle-breaking pace. A scintillating solo run down the left flank went all the way to the touchline. Once there, Davies cut back perfectly for Choupo.

The German-Cameroonian conveniently had free-range for an emphatic finish from the half-right.

Koné's valiant slide behind Choupo stood no chance.

1-1.

Match Flow: 35th minute to half-time

Not too terribly much doing in the final ten minutes of the half. Gladbach honestly didn't exhibit a significant amount of intent when it came to potentially restoring the lead. Farke's men rather appeared content to take a deadlock into the dressing room. That was sensible enough as they could refresh and use the advantage better in the second 45. Wolf, Koné, and Bensebaini got it all wrong on a slow leftward cycle in the 36th. Hofmann screwed an effort horribly wide after another slow build in the 37th. Goretzka got retroactively booked for a foul in the lead-up.

Kramer managed to take a ball off Kimmich for a quicker counter in the 38th. Hofmann nevertheless took a little too much time in the box. The layoff for Plea produced a shot; one which Sommer saw all the way. A Stindl-led BMG counter in the 39th gave Hofmann another chance right away. Blind blocked the man-of-the-match's shot out for a corner. Hofmann again reached his intended target man with his service. Itakura headed onto the roof of the net this time.

Wolf and Bensebaini put Plea through in the 40th. Cancelo didn't have much trouble deflecting the BMG Frenchman's faint effort out for another corner. Hofmann's 41st-minute service squirted out for Koné. Sommer saved low Kone's effort. Choupo took no chances with the rebound, clearing out for yet another corner. The 42nd-minute service ended up with Bensebaini, who proved far too meticulous on the ball. After a Bayern build involving Kimmich and Blind went nowhere, Bensebaini, Itakura, Koné, and Lainer got stuck in their own cycle in the 43rd.

Koné eventually drew a foul from Gnabry in the 44th. Hofmann really didn't have any ideas left on the free-kick take. Gravenberch cleared the service away from Bensebaini. An Elvedi long-carry in the 45th achieved some penetration before Lainer, Hofmann, and Kramer cycled back in the wrong direction. Gladbach conceded their own foul after bow-arcing away much of 45+1. Cancelo's free-kick proved pointless. Koné played Hofmann through at 45+2. Hofmann had neither support nor ideas. A final ball to the in-crashing Bensebaini failed.

Some controversy at the end of the half. Kimmich might have fouled Koné in the box after losing a running duel at 45+3. Welz kept his lips off the whistle whilst play continued. The Gladbach players, busy demanding a penalty, nearly allowed Goretzka to take the lead shortly before half-time. The German national team midfielder narrowly missed wide left on a completely undefended Bayern counter. That's how close the decimated Bavarians actually came to earning a half-time lead.

Half-time xG:

xG Gladbach--0.98, xG Bayern--0.58

Enough to suggest that Bayern still stood a chance.

Match Flow: 46th to 55th minute

Nagelsmann - in light of the fact that it had been succeeding - stuck with the formation. The FCB trainer freshen up the support behind Choupo in the form of Jamal Musiala and Leroy Sané, who came on for Gnabry and Gravenberch. A bit of a slow start notwithstanding, one could say that the opening phase of the second-half essentially belonged to the shorthanded team. Blind, Musiala, and Davies all executed terrible touches on the first Bayern drive in the 46th. Sané looked out-of-sync on a subsequent sortie. Cancelo had to go back to Pavard after Sané shuffled out to him.

Elvedi required some treatment in the 47th following an accidental collision with colleague Kramer. The next Bayern charge ended in retreat once play resumed. Blind couldn't seem to figure a way out of the back in the 48th. Kimmich and Sané had to come back to help the Dutchman locate the way forward. Choupo dropped deep too in order to get a ball out to Cancelo. A cross-square from the Portuguese wingback came in woefully behind Davies.

Cancelo did better on a recycle in the 49th. Kimmich stepped forward to claim a cutback and, after cycling up further with Cancelo and Sané, got off an effort of his own. Kimmich's quality try grazed the crossbar. For a brief moment, one thought that the German national team midfielder had successfully executed another distance wonder akin to his matchday 17 strike. The warning shot certainly had the effect of rattling the hosts. They looked extremely shaky trying to hold Bayern back in the 50th.

Blind intercepted an uninspired Stindl vertical and immediately sent Musiala forward. Davies and Choupo came along. The former couldn't replicate his assist at the beginning of the 51st. There was simply too much traffic in the penalty area. Hannes Wolf ended up batting away Davies' attempted chip-back. Some BMG retreats ate up much of the 52nd. Itakura made an effort to influence the play with a long carry at the end of the minute. Koné ran out of ideas once Itakura laid back for him.

Koné struggled still more on the approach during some more languid Gladbach charges in the 53rd. Hofmann eventually took command and picked up the ball in an attempt to make something happen. Some decent penetration from Hofmann saw Lainer (in on the overlap) earn a throw-in. Stindl snapped in a quick shot from a tight angle. Sommer had it covered. Koné missed Stindl with a thread pass in the 54th. There were some audible groans from the Borussia Park Fan-Kurve.

Just as the Gladbach supporters were appearing to lose patience with their team for not capitalizing, the second goal came. There was some more sloppiness on both sides (Choupo and Lainer) at the end of the 54th and the beginning of the 55th. Musiala was the next player to make a miscue and the hosts made him pay. The determined Hofmann pushed through on the counter, sending Plea into the penalty area on the half-right. Hofmann perfectly maneuvered himself into position for the return ball.

Hofmann took advantage of totally confused marking from Kimmich, Pavard, and Blind to blast in from right next to the penalty spot. The Fan-Kurve did a complete 180 and erupted in jubilation. Almost totally against the run-of-play, the hosts had restored their lead. They had the 2-1. They had the man-advantage. Farke even managed to get Julian Weigl on for Kramer during the goal celebrations. They had some fresh legs on the pitch. How would Nagelsmann worm his way out of this one?

Match Flow: 55th to 84th minute

Evidently, not quickly enough. Stung by the surprise goal, the FCB trainer had to scramble to get subs he likely hadn't planned on introducing until much later ready on the touchline. Mathys Tel and Matthijs de Ligt had only just begun their warm-up sprints. Now they had to be ready to check in. The foals went all out to keep the ball moving through their ranks and ride the momentum in an effort to delay the changes. After Sané and Davies got caught in the "paint the corner trap" outside the area left in the 57th, Plea got sent though on another counter.

Wolf tagged along in support. Although Plea and Wolf couldn't make the most of their 2-on-1 breakaway, Bensebaini came crashing in on the trail to pile-drive a vicious effort that thumped off the crossbar. Bayern obviously wished to calm matters down a bit with a slower build in the 58th. Choupo and Sané couldn't find their way past a collapsed BMG midfield triangle of Weigl, Koné, and Stindl. Weigl moved over to shut Davies down after a wide switch out as well. Davies fouled the former German national team midfielder in retaliation.

Taking their time with the consequent free-kick and subsequent approaches, the foals then proceeded to eat up the rest of the 58th and maintained possession through the 61st. Nagelsmann's men simply couldn't get a tackle in. Triangles and backpedals proved too crisp. At long last, Goretzka and Sané were able to close ranks on Stindl. Sané found himself without support on the attempted 61st minute counter. Elvedi stopped the German and tried to send Koné upfield. Koné managed to draw a foul from Cancelo in the 62nd.

Naglesmann finally got his needed stoppage. De Ligt and Tel - waiting for quite some time by this point - rushed on for Goretzka and Choupo. The addition of an extra defender - who can actually serve as an emergency striker - left us tactics-heads guessing as to what precisely the FCB trainer had in mind. De Ligt could either serve up front or buckle-belt the defensive ranks for a more unified press. The latter option settled relatively quickly on the overhead.

Lineup—Bayern München—63rd minute (5-1-3)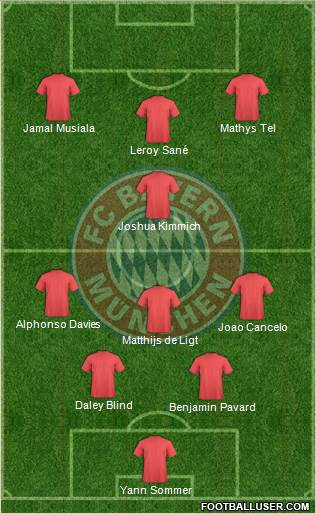 Something like this actually is rather smart in its own right. De Ligt can affect play on both sides of the ball. The Dutchman contributed his defensive bit without delay. Wolf got sprung on the BMG left in the 63rd. De Ligt and the blanket press had the Austrian covered even after Wolf executed a sharp inside cut. Kimmich picked up a ball after several midfield possession changes in the 64th.

Sané had space off a Kimmich vertical and got an effort off following a give-and-go with Tel. Omlin handled the unfocused effort, which wouldn't have counted as Tel was offside anyway. Blind went for Musiala with a diagonal on the next Bayern sortie in the 65th. The young German phenom couldn't scurry away effectively enough to manage anything other than a tight-angle shot. Omlin grabbed the deflected effort.

Musiala, Davies, Cancelo, Sané, Kimmich and Pavard got bogged down in another "paint the corner" trap before the minute was out. The Bavarians were quickly on the front foot again in the 66th after Pavard's whip-in was repelled. Davies tried down the right. A helped along switch via Kimmich gave Cancelo the ball. Itakura took care of Cancel's cross with a strong header away.

Davies returned to the left on the FCB rush in the 67th. Sané and Blind located the Canadian, who had Cancelo on his half-left on some more creative support. The Portuguese international rifled a finish from the left outside the penalty area into the side-netting. For a moment it looked as if the ball had gone in.

Wolf wriggled his way through on the BMG left on a 68th-minute counter charge. Blind, who to his credit did wake up late in this one, separated Bensebaini from the ball. Wolf conducted the next Gladbach attack up the left in the 69th after Koné killed some vital time in midfield. An attempted chip into the box by Wolf caromed off Pavard and Sané received a propitious chance to break.

Kimmich, Tel, and Blind joined Sané, who slowed up with his teammates in support. The brake-pumping led to Davies getting stuck outside the 18 at the end of the 69th. Both teams behind in desperate need of a breather meant that Bayern were content to lay off the press and allow the foals to bow-arc away the 70th and 71st.

The Bavarian guests finally got the ball back in the 72nd. Admittedly, the Nagelsmann XI were looking fairly tired at this point. The Westphalian foals soaked up the pressure, calmly handling a Blind diagonal at the end of the minute. Weigl and Koné took some more time off with a slow build in the 73rd. The sequence ended with Pavard clearing a Koné square.

A double change from Farke took care of the portion of the 74th not taken care of by choppy midfield play. Marcus Thuram and Florian Neuhaus came on for Stindl and Plea. The shape remained the same. Musiala had Davies through in the 75th. The Canadian (for the nth time) slipped past the genuinely horrible Lainer, yet scuffed an easy finish that absolutely should have produced the equalizer.

Neuhaus provided his first positive involvement on a BMG sortie in the 76th. Neuhaus and Koné initially had some trouble getting past de Ligt, but ultimately reached Hofmann out wide right. The goalscorer and assist-provided spurned his own gilt-edged chance at the other end by lacing it past the post! Whew! This match obstinately refused to calm down!

Cancelo ended up losing the ball on the next FCB build in the 77th. Tel had to hack down Wolf in order to stop the BMG counter. Tel somehow escaped a booking for his action, perhaps partially because referee Welz was a little more focused on disciplining the animated Nagelsmann on the touchline. Reports indicate Nagelsmann went for the highly German taboo insult involving male potency.

After Nagelsmann's booking, play degenerated a bit. Turnover city in the midfield throughout the rest of the 78th and 79th. Kimmich sent Sané forward in the 80th. A powerful Sané effort from about 18 meters out got blocked by Itakura. De Ligt barely stopped a Neuhaus-led counter with a precision tackle. The midfield stalemate resumed through the 81st.

Sané, Cancelo, and Musítala found the BMG center too strong on a run up-the-gut in the 82nd. The Bavarians found themselves similarly stymied on more tired looking centralized charges in the 83rd. The collective exhaustion of a shorthanded team forced to run more finally manifested itself in the 84th.

Practically no one in red was paying attention as Hofmann moseyed through on the right on what was not even a particularly fast or dangerous looking approach. Hofmann located Thuram totally unmarked right around the penalty spot. The slumping BMG attacker was gifted about as easy a finish as it gets.

3-1 to the hosts.

Game Over.

Match Flow: 84th minute to full-time 

It became even more apparent that the decision had been reached when it took the VAR team two additional minutes to review and confirm the goal. Farke still had two more subs with four minutes to go. A treatment break for Weigl ate up some more clock. Mathys Tel did pull a goal back for Bayern at 90+3, but it came off a freak accident involving the awful, awful, awful Stefan Lainer.

Joe Scally's now confirmed back-up headed a Kimmich cross he simply needed to let through directly into the path of Davies. The Canadian earned his second assist of the night without too much effort at all. Bayern were barely trying to score a goal, yet somehow netted a tally anyway. Irrelevant to these proceedings.

To bookend with full-time xG:

xG Gladbach--1.95, xG Bayern--1.31

There's some relevance in that, even if it's only results that matter in the end. Nagelsmann's tactical trickery didn't end up working this time. In point of fact, we'll go ahead and re-emphasize that it actually ended up taking the edge off a more talented team that could have won this match even after being decimated down to ten.

Though the "paint the corner" slogs weren't anywhere near as they were in the reverse fixture against Gladbach, they did exist in this one. Moreover, they had Nagelsmann's fingerprints all over them. Recall that it was the late August draw that kicked off Bayern's "mini-crisis" winless streak last autumn. Deja Vu - previously only lurking - now knocks the cranium with full force.

Sigh. If only the big match against Union Berlin next weekend afforded us with more hope. After what we saw from Urs Fischer's Eisernen today, it's tough to expect all that much from one would-be challenger after another Europa League short week. After what we saw from Dortmund today, there is very much cause to look forward to the BVB-FCB rematch from matchday nine.

Alas, that won't come for another five weeks. With all due respect to the performances of Hofmann, Koné, Stindl, and even Wolf this weekend, we have a case here of "Bayern defeating Bayern". Nagelsmann has plenty of time to right this ship before directly facing the nearest challengers. The foals won this one in spite of very suspect games from Lainer, Plea, and Kramer.

An absolute cracker of a match!

More concrete lessons must wait for the games to come.

Thanks so much for reading! You can catch the release of all Peter's columns on twitter, @ViceytheSS.

Twitter DMs are open for football conversations, corrections, and (if you truly insist) general abuse. 

All columns debut on Bulinews before appearing on Peter's website as the season progresses.



Related stories