Bundesliga Tactics Talk: Round 17
By Peter Weis @PeterVicey
And with the conclusion of a third fantastic Bundesliga round in ten short days, German football's pre-Holiday "Blitz Phase" draws to a close.

There's much to reflect upon as we reach the official halfway mark of the 2021/22 campaign. The title-race begins to look like a runaway for FC Bayern München en route to the tenth consecutive title that shall secure a decade of dominance.

That naturally doesn't mean that there aren't many other incredible surprises and intriguing storylines to unpack. We'll have a look at all of them in our weekly column that sifts the stories out of all nine fixtures.

In this our final "Tactics Talk" column of 2021, you'll find extra draw ups for Bielefeld, Leipzig, and Wolfsburg amongst the rest of the analysis.

If one were to pick the most interesting squad of this year's Hin-runde, it's definitely the rise of the new Eintracht Frankfurt.

Accordingly, Frankfurt-Mainz gets the final "focus" section of the year.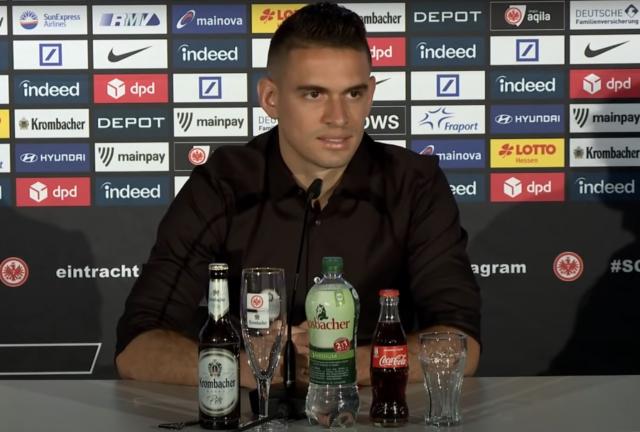 Bundesliga Tactical Banter: Round 17
"Kruse control"

Max Kruse's strike proved enough for Eisern Union to defeat a hard-working and spirited VfL Bochum side over on the Castropher. The tally ensures that the capital city's smaller side finishes the first half of the season in 7th place. That seems a fitting place for the Köpenickers, who very much deserve to be on the edge of the European places halfway through the campaign. It's also fitting that Kruse's first league goal in five rounds made the difference. We definitely wanted to hear from the 33-year-old before the break.


Hear from him we did. In addition to handling the fact that he got repeatedly pelted with plastic beer mugs at the Ruhrstadion with considerable class, Kruse expressed irritation that head-coach Urs Fischer didn't bring start him or bring him on as a sub during Wednesday's 0-0 draw at home against Freiburg. Evidently, Kruse's trainer didn't feel it prudent to tire him out too much on the day before his wedding. Kruse disagreed. He wanted to play. He "always wants to play". These were the post-match words of one of the Bundesliga's most reliable characters.

Union seem to be in good hands. They will lose lead scorer Taiwo Awoniyi to the Africa cup of Nations next month, but the famous interchangeability of the attacking options on the roster likely means they'll still be able to manufacture goals. The Nigerian was slumping a bit anyway. Kruse will be there, as will at least five other potential scores fit for the 3-5-2 double-stack. The Europa Conference League elimination may be a blessing in disguise for this team during the season's second half.

One less distraction leaves them well poised to contend for the UECL place again. Whenever Kruse shows signs of being a positive distraction, that usually bodes well too. An early forecast sees them potentially finishing in 7th after the "Rück-runde" concludes.

"Breisgauer brilliance"

Speaking of where teams sit in the table at the season's halfway mark, did anyone (besides possibly this hopeless romantic) have Freiburg in 3rd place at the end of the "Hin-runde"? To be sure, Christian Streich's Schwarzwaldverein have had their stumbles. The three-match losing streak prior to the 6-0 defeat of Gladbach meant that we all had to write them off as potential contenders of any sort. With their backs to the wall, however, they managed to respond.

They did it again here. Facing their third straight home defeat, they outright denied Leverkusen the chance to begin 2022 in 3rd place and took that honor for themselves. A great initial XI selection from Streich, who seamlessly moves his team from a back-three to a back-four like no other coach in the league, built a great 4-2-3-1 that kept Leverkusen and their streaking striker Patrik Schick out of the match for the entire first half. Despite the dominance, Die Werkself snatched a very flattering equalizer at 45+2 and threatened to use their luck to hammer the hosts down.

It worked for a time, but Streich's substitutes came to the rescue. Ermedin Demirovic and rising German youth star Kevin Schade combined for the 2-1 winner six minutes from time. Wow. Freiburg in third. Twenty-eight-goals scored in the Hin-Runde from 12 different players. Only 16 goals conceded; that's the same amount as league-leaders Bayern. Virtually no hope left for a title race this season, but we've at least got this great team to gush over.

"Surprises from two Red-Whites"

Stuttgart and Köln. Two teams sporting the same colors headed in two different directions. Köln get to spend Christmas and New Year's in 8th place. Amazing. Relegation candidates at the beginning of the season knocking at Europe's door. Baumgart dusted off the old 4-1-3-2 to make it work against visiting Stuttgart. That isn't to say that it (and the striking tandem of Sebastian Andersson) should have worked a lot better against what is rapidly becoming the most pathetic excuse for a Bundesliga team outside of Fürth.


Just as he did midweek against Wolfsburg, Modeste missed far too many golden opportunities before finally converting the winner late. No matter. The three points is all that counts. Four losses for Köln halfway will not have been predicted by many in their pre-season handicaps. Die Geißböcke have lost fewer league fixtures than Dortmund, Hoffenheim, and Leverkusen. One saw in Sunday's narrow 1-0 win over the VfB (and indeed many other matches this season) that their current place in the table probably isn't sustainable. One can tip both Freiburg and Union to stay around where they are. Not the Domstädter. They'll slip a bit.

As for Stuttgart, call that one big Hin-Runde surprise. They were tipped for the relegation race, but certainly not the relegation playoff place at Christmas. Hit hard by injuries, they should probably rise up an out of the fray once they get Silas and Sasa Kalajdzic back into form. How high remains debatable There's still quite a bit of ground to make up and absolutely no one on a roster which features center back Konstantinos Mavropanos as the leading goal-scorer who has been able to step it up. Horribly ugly football from this team. Take it from a poor soul forced to watch them twice every week. Yikes

The Burning Questions: Round 17
Does Bielefeld's win mean anything?

Aha! A recycled question, that's even been recycled once before. In the interest of being fair, we need to concede that calling for DSC trainer Frank Kramer's head in the round 10 tactics bulletin proved to be somewhat hyperbolic. We were wrong. Sort of of. The writer sadly doesn't get to relish in the joy being entirely wrong. That would make for better copy.

DSC sporting director Samir Arabi, who earned his fair share of plaudits in the latest administrative piece, remains the real hero here. The executive who-- thanks to Christian Keller--will hopefully be remaining in East Westphalia for a spell rebuilt and retooled this team to compete for survival.

Kramer deserves some credit for shifting towards Arabi's acquisitions, though that was probably self-understood after Arabi sent Uwe Neuhaus to the rocking chair last February. Kramer still builds a decent team even if he still refuses to shave off that irritating "Robert Mugabe Soul Patch" below his lip.

Lineup—Arminia Bielefeld—Match 17 (4-2-3-1)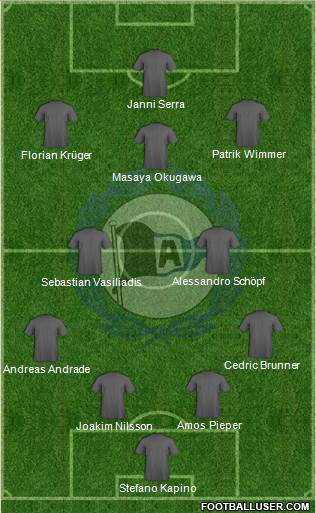 This may look like something that Uwe Neuhaus would have conjured up, but the columnist assures you that it's a dynamic, young team. Just about every postion here earned upgrades with the specific long-term aim of whipping this squad into shape for a competitive year in the top flight.

Let's "meet some peeps" shall we?

"Ohne Klos ist viel los"

Regular lead striker and "club legend" Fabian Klos remains a player that every German football lover consistently roots for. We were quick to commemorate the 34-year-old's first ever Bundesliga goal in this very column a little over a year ago. Nothing quite like the story of a 2. Bundesliga veteran who finally breaks through at the top level.

There nevertheless remains a sizable gap between the Germany's first and second footballing divisions. Sometimes prolific strikers from the lower division need to be removed from the main equation, irrespective of how popular thus may be. Call it the "Simon Terrode Law of diminishing returns" if one must.

Bielefeld have won two straight. Klos began the game on the bench in both instances. Florian Krüger (€1 million from Aue), Janni-Luc Serra (free transfer from Kiel), and Bryan Lasme (€800,000 from Sochaux) all settle into their new roles now. Lasme and Serra have celebrated their first Bundesliga goals. A new striking corps gets off the mark and, with their "zero to hero" moments behind them, will surely continue to improve.

Klos forfeits his starting place, but still can be effective off the bench if he keeps himself out of the book. Some ways to go before we can begin to consider this a real Bundesliga side. One can still answer the rhetorical rhythmic rhymes of the German headline writers. "Ohne Klos ist nicht viel los"? Incorrect. There's plenty going on without him.

Okugawa and Wimmer

Here we have a pair of "gold-star" singings from the offseason. Masaya Okugawa--a.k.a the Japanese international that didn't come with a €5 million asking price this summer--was purchased for reportedly less than half that when Arminia turned his loan from RB Salzburg into a permanent deal. Some budget appropriate nab this has been. The 25-year-old leads the squad with five goals. Okugawa has six tallies and two assists across all competitions.

Okugawa can play ten (as one sees above), but also thrives in a short striker role as well as the left wing. Austrian winger Patrick Wimmer (€700,000 from Vienna) generally stays on the right; producing numbers all the same. The 20-year-old--who has quite often found recognition within these pages--has racked up seven assists in addition to his two goals across all competitions.

In Wimmer, the Teutoburg "Graue Maus" possess a mini-Thomas Müller in their ranks. There's a lot more that works on this team's "micro-level". Alessandro Schöpf (Schalke), Sebastian Vasiliadis (Paderborn), and Stefanos Kapino (Werder Bremen) count as some quality veteran pick-ups that really came in handy when it came time for Kramer to reach down the depth chart. There should even be another option soon.

In terms of solid pick-ups of experienced players, only Edimilson Fernandes has been something of a flop. Everyone else has played their part.There's even a potentially exciting future waiting in the wings in the form of Andres Andrade, Guilherme Ramos, Lennart Czyborra and Robin Hack. Assuming they manage to keep the class, one could see competent managerial decisions parlaying the DSC's Bundesliga stay to 3-5 seasons.

And does it mean anything?

Can they keep the class? Meh. A pleasure to spend a little extra time with the Teutoborgs this week. It still may be some time before we get a chance to do so again. A look-in at the town that may or may not exist never fails to disappoint. There isn't a genuinely worse team above them. Now that we have the fans firmly on their way back and a properly spaced-out schedule with no more "English weeks" for the duration of the season, the odds that another team undergoes a complete meltdown decrease significantly.

We'll also have to address the DSC's opponents on this particular day. New RB Leipzig trainer Domenico Tedesco put it aptly enough. His squad play without even the slightest instinct for goal. Something the recently appointed gaffer neglected to mention concerns the fact that he's done practically nothing to infuse them with a creative spark. Granted, Tedesco likely had something else in mind before the early Forsberg injury and it is early yet.

This remains a pretty tired constellation:

Lineup—RB Leipzig—8th minute (3-4-3)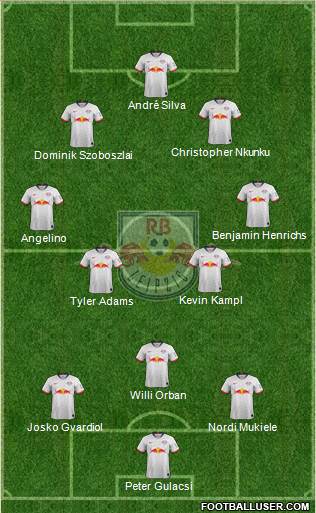 So much for a new look. Small wonder that the team's inspiration well runs dry. Endless bow-arc possession cycles around the middle axes. No one can think of a novel permutation when it's time to enter the final third. The repeated insistence that Jesse Marsch would be given more time to sort things out serves as one thesis this column can unreservedly admit it got completely wrong.

That notwithstanding, what really was the point of a change in a coaching regime if Tedesco simply orders the actors in the same fashion and barks at them from a safe distance? Marsch could have done that until the players sorted themselves out. Tedesco doing precisely the same thing doesn't truly constitute much of a shift.

Perhaps we can blame the Marsch sacking on Jason Sudeikis. It's all his fault. Had there not been a new season of "Ted Lasso" on the air, people wouldn't of viewed Marsch as some sort of naive Ingénue. Poor guy. At least the pointless coaching change looks to keep Leipzig out of Europe next season.

How did Wolfsburg surrender?

After Wednesday's loss, Florian Kohfeldt & Co. travelled to Bavaria on a mission. The one remaining task of the calendar year called for this complete organizational mess of a club to play a certain loss of a fixture. The best Germany's green company team could hope for was damage control; reasonable mitigation of the total embarrassment they've become.

Here's how Kohfeldt tried, and ultimately failed.

Lineup—VfL Wolfsburg—Match 17 (5-4-1)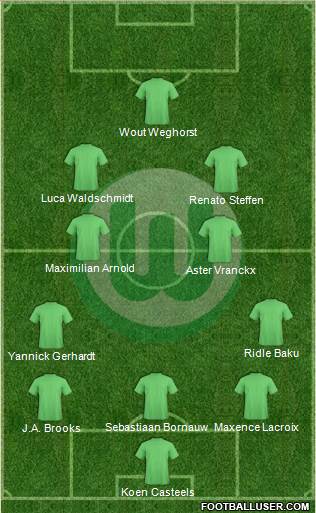 Ugh. Wolfsburg-Bayern didn't even meet the definition of a football match. This is what happens when you open your big mouth and commit to doing something sensationally stupid. Kohfedlt backed a shaky Sebastiaan Bornuaw against Köln. The inchoate center halve pairing of Bornauw and Maxence Lacroix predictably crumbled, looking especially lost on Anthony Modeste's game-winning goal.

So now what? Having already gotten the senseless commitment out there, all one can do is double down. The WOB gaffer inserted Bornauw directly into the middle of perhaps the only real partnership of promise in this team. Surely it would all work out with those extra layers of protection? Surely not. In took all of seven minutes for both Thomas Müller and Robert Lewandowski to sneak in behind this disorganized rabble on the opening goal.

Wolfsburg sat so deep throughout the remaining 83 minutes that not even Wout Weghorst's average position graphic pitted the Dutch striker above the halfway line. The two counters we saw took so long to develop that Bayern could have caught up to them on tennis-ball walkers. Loads of personnel mismanagement instances from Kohfeldt in this one too.

Joshua Guilavogui didn't start at sweeper precisely because Kohfeldt stuck his foot in his mouth. Luca Waldschmidt and Renato Steffen didn't have set sides or routes, meaning both ambled about completely lost with zero chance of getting into the game. Kohfeldt didn't set up the bench squad properly with a back-up midfielder. As a result, Maximilian Arnold had to limp on injured for the final half hour,.

This club looks headed straight for a relegation scare. The columnist advises the players who have the option to consider getting off this sinking ship. Paging Hertha BSC: Won't you please bring John Anthony Brooks home? A great move that would benefit both sides!

What's really wrong with Dortmund?

No need for this column to spell everything out for the reader. Everyone knows what's wrong with this club. The Schwarzgelben roster remains so pitifully stocked for entirely foreseeable injuries and suspensions. Poor squad balance. Paltry squad depth. It all falls apart to quickly when Mats Hummels, Manuel Akanji, Raphaël Guerreiro, Jude Bellingham, Marco Reus, or Thorgan Hazard have to miss a match. If some combination of these players is unavailable, it completely falls apart.

In the interest of coming up with something semi-original to say in this space, why don't we pick on something other than the low hanging fruit? How about some of the so-called "good players" that aren't available? In this day-and-age, the fact that certain players happen to be more injury-prone than others enjoys plenty of scientific backing. While no medical staff possesses a crystal ball, detailed contingency plans need to be drawn up in the likely event that some squad components go missing.

Guerreiro and Hazard absolutely count as two of these players. The Portuguese fullback has missed significant chunks of time in all six of his seasons with the BVB. The Belgian winger's constant injury woes have only cropped up in the last two years, but he's been out with such alarmingly regularity that it's long past time to begin playing around him. Hummels is at that age where it begins to get touch-and-go every week. As is always the case with center backs, clubs should prepare for the fact that if injuries don't take them, disciplinary suspensions will. No excuse for being so thin at this position.

Now comes the time to really pay attention. Listen well. No one will dare deny that Erling Haaland shall be football's next big thing.....if those extendable bionic legs of his don't give out from underneath him. The Norwegian über-phenom had to bow out with injury during crucial stretches both this season and last. The body can always fail the inherent talent, leading the could have/should haves down the "Michael Owen Career Trajectory".

One can only hope that this won't be the case with either Haaland or exciting young BVB phenoms behind him such as Giovanni Reyna and Youssoufa Moukoko. As painful as it is to think of a general footballing future that doesn't include these sprouters, one must nevertheless plan for it. Dortmund haven't done so. They didn't really even attempt to do so.

Saturday's loss also made evident the complete lack of serviceable back-up option should Jude Bellingham not be available for midfield deployment. Honestly. Centering one's strategy around a bunch of young talents leaves one open to something like this. A vicious circle completes when, as a result of fewer titles, the young talents opt to pursue their career goals elsewhere sooner rather than later.

Now the BVB recruitment engine gets stuck as replacements can't be procured as easily. Uh-oh. Looks like Michael Zorc won't be wearing a constant grin at January training camp this year. The departing chief personnel executive has only himself to blame. The slot for the Bundesliga's second best team opens back up again.

Are Gladbach in real danger?

The "run-of-form" statistics definitely aren't too pretty. Eight loses and 32 goals against together constitute the worst Hin-runde since the 1998/99 relegation year. People tend to forget that North-Rhine Westphalia's "other West Prussian club" haven't been regular top-four hunters for very long. The foals were relegated to the 2. Bundesliga as recently as 2006/07 and had to contest the relegation playoff as recently as 2010/11. A 14th placed finish at the halfway mark is also the worst finish since that 16th placed 2010/11 season.

Sporting director Max Eberl never denied that a lack of funds post COVID would cause this team to lose players and miss out on signings during this conceded "Regression Year". The team seems to have regressed deeper and quicker than both Eberl and German football watchers would have expected. This could lead to an exacerbated sell-off in the January window and still more performance problems in the second half of this year's campaign. Hütter's crew continued to look shell-shocked in the 1-1 draw with Hoffenheim this weekend, particularly in the first 30 and last 20 minutes. Breel Embolo only scored courtesy of a Munus Dabbur defection.

It can happen. We'll still aver that the probability remains fairly low. A cash-strapped BMG in the days since they constructed their new stadium doesn't correlate to the financing problems these Borussen faced over a decade ago. Eberl and the front office should get enough in gate revenue back before the end of the season to extend an important contract or two. They can also leverage a lien with this improved status in mind. A mid-table finish seems the likelier scenario, though it's worth keeping an eye out for a snowball-style crisis.

A prediction for Fürth's Rückrunde points haul?

Now this should be fun. Having now played the entire Bundesliga field, the hopelessly overmatched Kleeblätter have drawn twice and won once. Stefan Leitl's Shamrocks plied points away from fellow relegation candidates Bielefeld and Augsburg, earning their lone win of the season in an upset victory over FC Union Berlin. The first two occurrences stand a chance of repeated while the third definitely counts as more of a fluke. In the final three rounds of the season, we still saw what Fürth can accomplish when defensively focused. They've gone two matches (Union and Augsburg) without conceding at home.

So it is that we begin our thought experiment. At least two more points via two more draws. We've talked at length before about how many raw offensive weapons this team has. At present, Leitl has focused so much energy on shoring up the defensive ranks that the surfeit of attackers have all been brought back. If there was one important takeaway from the fixtures against Union, Dortmund, and Augsburg, it concerns the fact that concentrating on defensive stability handcuffs this attack. The balance isn't there yet, but a happy medium between courageous offensive play and rearward discipline could be within reach.

Taking an optimistic view of things, this columnist tips a surprise victory over Stuttgart in the round one rematch when league play resumes in January. This momentum carries over to another draw with Bielefeld (already factored in above) and still another draw with Mainz (newly accounted for point) to close out the first month of January 2022. We're now at six points. The team then loses all of its February fixtures, draws Bochum in March, and snatches two late season wins against Hoffenheim and Dortmund B-sides with nothing to play for. Thirteen Rück-runde points to add to the five from the Hin-runde.

Eighteen points in 18th place. A shade better than Schalke last season, but still significantly worse than the 2012/13 SpVgg Greuther Fürth side that we all agreed was the worst ever until Schalke last year. That was also the season during which Bayern München kicked off their current run of nine consecutive titles by beating up on one of the weakest fields ever and topping the table by a 25-point-gap. Feels a lot like that year. That could be where we're headed.

Weekly Tactical Focus: "Das Wagenheber"

Time to discuss another great footballing spectacle involving a pair of teams that both got a draw-up in the most recent column. No shortage of good offerings on hand in this final Bundesliga round of 2021. From a "form-run" perspective, however, Mainz-Frankfurt was the one that simply couldn't be denied. It didn't disappoint either. The minutes flew by at Deutsche Bank Park on Saturday afternoon. Oliver Glasner's amazingly good German Eagles, now in full flight, kept the affair engaging from start to finish. It felt like a 30-minute pick-up match.

Bundesliga lovers will surely agree that the award for the "most intriguing 2021 Hin-runde journey" belongs to "die Adler". The SGE has earned more draw-ups than any other Bundesliga club through the first half season of "Tactics Talk". The team has also appeared in the tactical focus section more so than any other; six times to be precise. We had quite the journey to track. From the debacle in round one, through the continued struggles in round six, over to that massively lucky break in round ten, another Kevin Trapp-inspired escape in round 12, and finally up to that highly impressive midweek "click victory."

Tuta's last-second equalizer against Leipzig in round ten served as the turning point for this team's evolution. Glasner's SGE have picked up 18 league points since and pulled themselves up from 15th-place to 6th-place in the table. While the initial spark that lit the flame came with random luck attached, the team's evolution has proceeded apace thanks in large part to plenty of hard work on the training pitch. One can see that Glasner, having settled upon set positions for his many new arrivals a few rounds back, drills them well.

Independent of anything Glasner actively tries to do, there's an enormous organic improvement in terms of muscle memory all over the pitch. Virtually no one on this team enters the Winterpause in poor form. This actually presented the column with its own special problem. Namely, who's picture would we use this time? Can't use Kevin Trapp's picture. Can't use Jesper Lindstrøm's picture. A big decision, but ultimately one the columnist feels pretty good about. Rafael Santos Borré put in a monster shift this weekend. The Colombian richly deserves to lead this edition.

When it comes to this improved SGE, the local press now has to figure out what to dub this now officially awesome front-three. Oh, to be a fly on the wall in the newsrooms of the Rundschau or the FAZ at this juncture. After "die Büffelherde" (Ante Rebic, Luka Jovic, and Sebastian Haller) and the "das Krokodil" (Andre Silva, Bas Dost, and Gonçalo Paciencia) what do we call Borré-Lindstrøm-Daichi Kamada?

The Jungs in the newsroom will surely earn their paychecks by devising something soon. It comes as something of a surprise that something hasn't already popped up in the glowing review articles. Despite the fact that it's well beyond his pay grade, this columnist will recommend "das Wagenheber" (an auto mechanic's hydraulic lift) based on how they line up.

Lineup—Eintracht Frankfurt—Match 17 (3-6-1)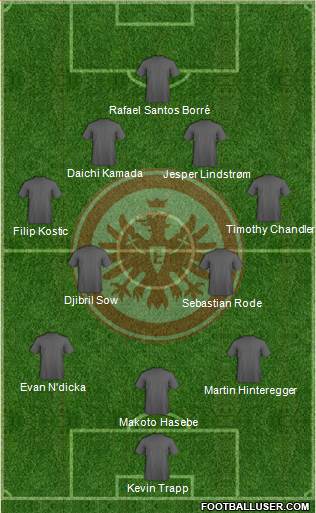 Note that we're still classifying this as a 3-6-1. Labelling it a 3-4-3 remains perfectly acceptable too, but the manner in which the second, third, and even fourth axes operate leave the author more partial to the former. Filip Kostic and whoever his lateral partner happens to be generally keep very close to the second axis buttressing attackers. The midfielders don't stray too far behind either.

The manner in which Borré sinks in on ball hold ups--just as crucially important in this round as in the midweek one--also contributes to the overall feeling of a 3-6-1. Whenever Glasner orders some later-match tweaks to set the team up for a push, the shape becomes more apparent. One can see this a little better in the mid-match diagram to appear below.

"Enter the Methusalehs"

Only three personnel changes to report on. Tuta's suspension meant that Makoto Hasebe's services were once again required in the starting XI. Glasner learned his lessons as pertained to the limitations of the 37-year-old, and thus put the Japanese international on an inverted pivot with Martin Hinteregger swinging out wide right.

This constituted an upgrade, as did the deployment of Glasner's anointed squad captain Sebastian Rode over the injured Kristijan Jakic in central midfield. The six-pairing of Jakic and Djibril Sow always was a serviceable, though not especially dazzling, axial partnership. The Croatian's injury is almost serendipitously timed in that Glasner can return to the pairing that worked much better for predecessor Adi Hütter.

That leaves us with Timmy Chandler over Danny da Costa at that weak right wingback position. Timmy surely wasn't the SGE trainer's first choice here, but he had to do something after da Costa too faltered in midweek. As it turned out, this proved to be the day big fans of the German American Chandler were waiting for. Great match from him!

Bo Svensson's aggravation

Mainz's Danish trainer seems to have lost his "internal Hygge compass" as of late. The 42-year-old understandably finds the up-and-down form of his current squad to be annoying. After going winless in three on the trot in November, the Rheinhessen have gone win-lose-win-lose in December. Inconsistency from the Pfälzer despite Svennsson's very consistent tactics and generous gift of some extra time off during the international break.

As is almost always the case, there were no personnel or tactical changes for the Pfälzer. The FSV trainer has come to expect his lads to perform within his chosen system. It was a simple matter of executing one-on-one. The constellation stood a good chance of doing so. In ruminating on why they didn't, Svensson blamed himself.

Lineup—FSV Mainz 05—Match 17 (3-3-2-2)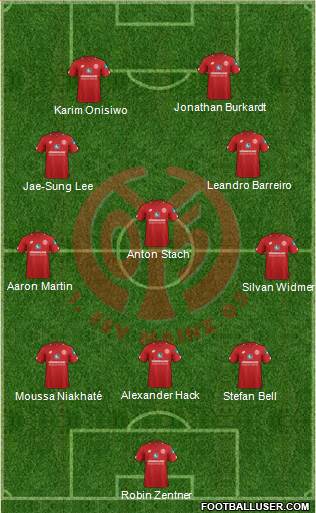 This wide-coverage construct doesn't run the risk of growing stale in the same matter that others do because there's a great deal of individual freedom built-in. Moreover, as the graphic perhaps helps a few more better envision, a ball-win anywhere on the pitch carries with it a unique opportunity to find a colleague in a quick-lane-cut (and very possibly novel) position.

The irritated trainer didn't like how his side shirked away from challenging Eintracht's flow in the first half. We'll get to that. The other source of Svensson's frustration (though not explicitly stated) almost surely stems from his dislike of his own tactical adjustments later on. They weren't particularly good. We'll get to that too.

Match Flow: 1st to 12th minute

By the standards of the rest of the match, the opening phase featured some restraint from both teams. Nothing much of note occurred beyond foul stoppages and balls sent out into touch during the first two minutes. Eintracht's first legitimate move forward in the 3rd came from Kamada and Kostic, with the final ball being way out of Borré's reach. The Pfälzer guests found themselves way offside win the ensuing counter. Neither side seemed sharp at first.

Tons of possession changes between the 4th and 5th. Kamada couldn't make much out of a nice ball win in the first mentioned minute. At the other end, Stefan Bell sent in a chip well past Karim Onisiwo. Sow, Kostic, Rode, and Kamada were all involved in much better looking SGE leftward cycles in the 6th. A few notable Mainzer wins on ground challenges--along with a very nice aerial aerial victory from Leandro Barreiro over Evan N'dicka--got Svensson's men more active on the rush in the 7th and 8th. N'dicka, Hinteregger, and Hasebe still prevented any real incursions.

A Kostic run down the SGE left in the 9th enabled the Hessen hosts to earn their first corner. FSV keeper Robin Zentner punched only a clear as Rode, who whipped in a fabulous cross for N'dicka. Eintracht's impressive aerial man headed just wide. Hasebe then stonewalled Onisiwo on the next Mainz advance in the 10th. Employing the long throw in the 11th, Silvan Widmer managed to fight his way past direct opponent Kostic (great duels from those two all afternoon) and Onisiwo eventually dug out a good cross.

Johnny Burkardt missed the delivery and Chandler sparked an excellent counter. The American worked the ball up the pitch quickly. End target Lindstrøm might have scored immediately were it not for recoveries from Anton Stach and Aaron Martin. Barreiro and Widmer had to be on hand to stop Kostic together on the opposite flank one minute later. The second stop would lead to a series of corners that enabled the hosts to take control of the match.

Match Flow: 12th to 30th minute

The dominant phase to come reminded one much of the punishing bombardment Frankfurt were able to unleash on Gladbach midweek. Just wonderfully relentless free-flowing football from the SGE here. The first corner squirted out to Rode. Burkardt put it out with a beastly block. The second corner required another beastly dive block of a point-blank-range Kamada effort. Chandler pounced on the rebound to sting Zentner's gloves. The FSV net-minder could only deflect for another corner.

Chandler managed to direct another effort on target with a header on the third corner. This led to still another corner, which Bell and Barreiro were only able to get away from the lurking Borré with inch-perfect tackles. Chandler collected Bell's clearance and sent Lindstrøm through again. The Dane tried to switch for Kostic, Alexander Hack just managed to get it away. Endless midfield head tennis in the 14th/15th showed just how fast-paced and physical this contest was about to get.

Eintracht emerged the better from it and pulled off a series of drives in the 15th/16th. Kostic saw a cross blocked and Rode a shot obstructed during a flurry of attacking waves. After a Chandler foul on Moussa Niakhaté gave Mainz the opportunity to slow things down a bit, the Hessen hosts quickly intercepted the set-piece service and sent Lindstrøm through again in the 17th. With incredible pace, Lindstrøm caught up with a Rode through. The Dane again only narrowly missed out on a sure-fire opening goal with a heavy first touch past Aaron.

Kamada and Borré ran the next SGE charge with a nifty give-and-go down the left in the 18th. Lindstrøm and Chandler nevertheless quickly upped it with their gorgeous cycle on the right in the 19th. Lindstrøm saw a very worthy final effort blocked this time. Getting nice and desperate at being out-chanced 5-0, Barreiro fired a rather sorry effort well over in the 20th. Eintracht were back on the march in the 21st.

Hack got a boot in and (after Jae-Sung Lee beat Rode to the second ball), Mainz were able to engineer at least something resembling a counter punch. Hasebe nevertheless disrupted Lee's final cross, laying off deftly to Sow for the well-executed clearance. After a bit of midfield roving, Kostic opted to have a go himself from distance in the 23rd. The Serb rifled off a diamond cutter from nearly 40 meters out that nearly cut Zenter's arm off.

It took the entire Nullfünfter back line to hassle Borré away from the rebound after nearly lost his wrist to the fluttering and swerving ball. Chandler arrived on the scene just a millisecond too late to make his own claim. Hinteregger ensured that the pressure play wouldn't die with a gorgeous piece of footwork against a pressing Lee. Rode sent another quality ball forward before the 23rd was out.

Somehow, Svensson's defenders kept enough of their wits about them to prevent a goal. A rusty and dusty cycle from the Rheinhessen on their next build in the 25th was easily dealt with. Kevin Trapp also had no problems collecting an Onisiwo header off a long Widmer throw in the 26th. The SGE keeper initiated a quick counter. Chandler had Borré beautifully set up with a marvelous chip. Zenter won the footrace with the Colombian striker by a hair.

Just like Barreiro had attempted in the 20th, Hack went for the spectacular in the 27th. Another rather outrageous distance effort from the FSV sailed well wide. "Hinti", Hasebe, and N'dicka handled a more composed build attempt from the guests one minute later. Widmer managed to fend of Kostic on a drive in the 29th, with the inevitable SGE goal still looming.

Match Flow: 30th to 35th minute

As imposing as all of this momentum was, the scoreline still stood 0-0. In theory, anything could still happen. Svensson's Pfälzer did their utmost to take advantage of this with a push of their own. Onisiwo put in some great individual work on the right at the half hour mark, bravely taking on both Hasebe and N'dicka. In the end, he found himself outmuscled by two quality defenders, but did win a corner kick.

Trapp lived up to his magnificent recent form by punching away the initial service, then calmly collecting a Bell header after Aaron swung the ball back in. Hasebe alertly boxed Burkardt out on the next M05 rush in the 31st. An offside Onisiwo then fired wide on the next one in the 32nd. The guests failed to turn a bad Rode giveaway into anything on the next chance in the same minute. Onisiwo got caught offside in transition.

It looked like all 20 outfielders converged on the left touchline for a massive two-team battle in the 33rd. Rode came away with the ball cleanly before Lee stripped him and went on a sparkling individual run. Hasebe--playing like a man possessed--cancelled out Lee's magic by once again standing tall. Then came the counter that finally put the SGE on the board.

Hasebe intercepted another pass in the 34th, reading Burkardt perfectly as he aimed for Barreiro. The 37-year-old got the counter rolling immediately through Rode. The SGE captain immediately had eyes for Borré. Niakhaté tried to get in front of a lethal pass towards the Colombian. The Mainzer captain's slide simply wasn't as good as the Frankfurt's captain and Borré was through on goal all alone.

In an absolutely brilliant piece of technical execution, Borré stayed with the ball and kept touching long enough to draw Zentner out of goal. All that was left to do was shuffle off to the wide-open Lindstrøm on the left so that the Dane could easily slot into the empty net. A goal emblematic of the rise of those two players. 1-0 to the hosts in Hessen.

Match Flow: 35th minute to half-time

Fairly back-breaking stuff for the visiting Rheinhessen, who saw their best efforts at establishing a foothold in the match immediately refuted. Kamada and Sow showed some willingness to let up before the half with a plodding back build in the 36th. Mainz tried to prod the soft centralized underbelly, but Hasebe again proved equal to Lee in the 37th. Eintracht remained stuck in when it came to the direct duels. Rode pulled off another brilliant win against Barreiro in the 38th.

In the 39th, it was Lindstrøm nearly returning the favor for Borré with a set-up. The Dane didn't miss his Colombian colleague by much. After a frustration foul from Onisiwo on Hinteregger in the 40th, we got a brief treatment break for the SGE's Austrian stalwart. Action resumed in the 42nd, with Kostic and N'dicka putting the breaks on a legitimate Onisiwo run. N'dicka would again to well to cut out Onisiwo's angle in the 44th; to the point that the M05 Austrian attacker couldn't see that he was crossing to no one.

Kostic, Kamada, and Lindstrøm worked things a little slower on a pair of builds before Dr. Felix Brych felt his one added minute of stoppage time had been fulfilled. The half-time xG stats told the true tale. Mainz had really managed nothing in front of goal. The Nullfünfter were quite fortunate not to be down by a much larger margin.

xG Frankfurt--1.6, xG Mainz--0.2

Svensson would make one half-time change. Jean-Paul Boetius replaced Barreiro on a straight like-for-like. This constitutes a default move of sorts for the FSV trainer. One had the sense that the change would only lead to a brief resurgence. The real story both entering and exiting the tunnel had to be the relentlessly cheering Frankfurt crowd and Oliver Glasner keeping his arm firmly around the beaming Lindstrøm's shoulder.

Match Flow: 46th to 53rd minute

We didn't get any more goals in this one. That seemed immaterial as we did get plenty more quality football from Glasner's "hydraulic press". We even got a clear tactical win from the SGE trainer in the battle of second-half adjustments. The time continued to flow by. Glasner's first swap counted as a more offensive-minded change and boosted the hosts even further up.

Burkardt and Onisiwo began the half with a renewed commitment. The Austrian half of the "Johnny-si-wo" tandem dribbled into the box nicely in the 47th and set his German counterpart up beautifully. Burkardt landed a nice intent-signaling punch with a quality effort that tested Trapp. Needless to say, Eintracht's keeper passed with flying colors.

After a couple minutes of strained builds from their guests, Frankfurt were back on the front foot by the 53rd. Kostic took care off an Onsiwo switch for Widmer in the 48th. Hack and Anton won some meaningful duels, but got quickly shut down. Hinteregger gifted the Mainzer a good opportunity with a giveaway in the 51st. N'dicka was right there behind him to stop Onisiwo again.

Trapp had no problems handling the ensuing corner. On the whole, Svensson's set plays were very poor on the day. This was definitely something the M05 head-coach found frustration with himself over. Chandler remained with a Lee diagonal after Bell carried the ball out in the 52nd. This led to the first Frankfurt breakaway of the half. The hosts weren't in much of a mood to look back after that.

Match Flow: 53rd to 64th minute 

Chandler tailed the break all the way on the 53rd minute counter. When Borré only just missed out on the perfect touch, the American crashed in from the back to earn a corner off Niakhaté. When the set-piece found its way back the SGE back ranks, Hasebe spotted Zentner off his line a nearly caught the keeper flat-footed. An interestingly floated effort from the 37-year-old ended up resting on the room of the net.

Eintracht got their next waves going. Boetius tracked back well enough to halt Lindstrøm in the 54th. Widmer applied the brakes on a Hinteregger charge in the 55th. Chandler refused to lose on another one in the 56th, but Bell eventually got the better of him on the third try. Not wanting to push his still recovering captain too far, Glasner let Rode exit to a round of applause in the 56th. The likely soon-to-be-sold Ajdin Hrustic came on for a cameo.

Lineup—Eintracht Frankfurt—57th minute (3-6-1)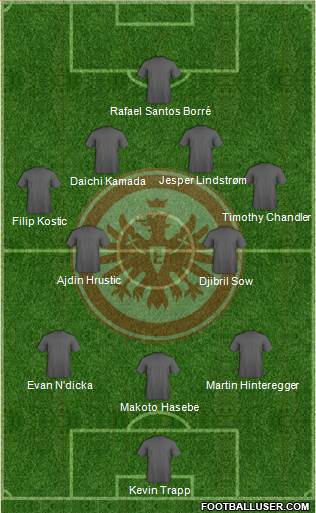 Whether by design or by an organically intuitive feel, the SGE shape tightened up to something resembling even more of a 3-6-1. Here we have the graphic promised in the introductory section; the one offering the second part of the author's thought process in keeping this a 3-6-1 designation. An educated guess holds that Glasner wants these six actors grouped together so that they can execute quick one-touch football.

They can all move up in concert whenever Borré draws coverage with one of his skillful holds. We saw that immediately in the 57th. Sow nearly found Borré with a fabulous return ball after a hold. Sometimes the Colombian's forward touch still isn't as slick as his holds. We saw that here too. It cost him another sure-fire goal.

Kostic nearly located Lindstrøm with a dream cross in the same minute. This time Zentner did infinitely better with his position and managed to clear the danger. Mainz pulled off a halfway decent counter in the 58th. Sow and N'dicka nevertheless made sure that the space in front of Widmer closed up quickly. Lindstrøm was back impressing at the other end with some slick tricks off a Chandler throw in the 59th.

Hrustic decided to give anyone watching him a nice taste of his ability with an absolute laser beam from 30 meters out at the hour mark. Zentner was back out of position again and the M05 backstop found himself saved by the crossbar. Borré was in the perfect position to claim the rebound, but Hack scrambled away. Hrustic got another good look in on the subsequent corner.

Chandler put Lindstrøm though again in the 62nd when open played resumed. Bell had to touch out this time. Borré had Hrustic set up again with a lovely little touch back in the 63d. The Australian was blocked, as was Kostic in the 64th. Credit Svensson with picking the right moment for a double change. Old hat Kevin Stöger and young gun Niklas Tauer came on for Lee and Hack in what would be Mainz's first re-order.

Match Flow: 64th to 75th minute 

First came a wasted set-play in the 65th. Trapp actually totally missed an Aaron corner and Stöger beat Sow on the follow up. Entering on the second wave, Onisiwo made poor use of lane made available to him. The Mainz striker probably should have scored instead of sacrificing his own angle and ultimately screwing wide. A pity.

In any event, here's what we got back in open play.

Lineup—FSV Mainz 05—66th minute (4-2-2-2)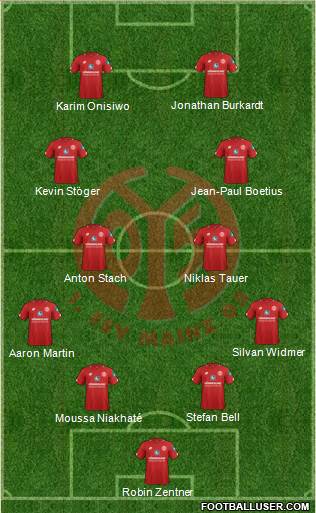 This very attack-oriented contemporary set up made good use of both Stöger and Tauer. Unfortunately, the former touched down his next opportunity in the 67th with his hand. Lindstrøm had Borré all set up again in the same minute. The totally erratic Zentner produced a solid, barrel-chested save. Kamada and Hasebe then played through for Hrustic on a nice cycle in the 68th. The Australian sadly didn't continue his run.

The hosts began pouring it on again. Chandler switched well for Lindstrøm in the same minute. The Dane's was just a little bit behind Borré with his latest attempt to get the Colombian a goal. Hinteregger then got his timing for Kostic a bit off on another great service chance in the 69th. Makoto Hasebe had us all scraping our jaws off the floor with a ridiculous cut out of both Burkardt and Onisiwo in the 70th.

Sure. Why not? The 37-year-old just decided to handle the league's most promising young striking tandem all by himself in the box. The hell? Hasebe even initiated a fine counter off the play by sending Kostic right though unmarked. It ended up petering out when Tauer (who was fantastic in relief) caught up in time to cut the cross out.

Glasner made sure that Lindstrøm got his standing ovation as well in the 72nd. The Dane exited to a great round of applause when Ragnar Ache came on for him. Possibly sensing that this would be their last moment to mount a push, Mainz truly went for it in the three final minutes leading up to the final quarter of an hour.

Burkardt's 72nd minute effort off the turn had some real venom to it. Trapp made the parry look easy. Stöger did everything right with three great midfield ball wins in the 73rd/74th; everything save his final finish, which sailed well over. Referee Brych wasn't interested in Stöger's false shouts for a corner. At least the guests showed some fight.

Match Flow: 75th minute to full-time

The Mainz spurt found a quick answer from the ruthlessly determined hosts. Sow picked off Stach and Stöger's next attempted connection in the 76th and delivered an incredible ball for Kostic. Niakhaté made the heroic tackle to persevere the scoreline. Zentner managed to step forward and cancel out some more fancy footwork from Kostic in the 77th. Chandler completely blew by everyone on another SGE charge in the 78th before Niakhaté again intervened.

One last role of the dice from Svensson saw striker Marcus Ingvartsen replace defender Bell in the 77th. Tauer would move back to the center back position for the final push. A solid 4-3-3 crystallized rather quickly. It would make for an entertaining end to proceedings.

Lineup—FSV Mainz 05—78th minute (4-3-3)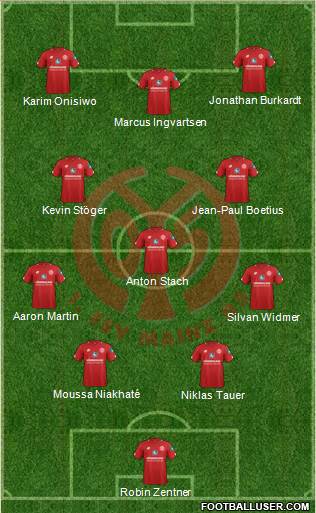 A great job from Tauer, Aaron, Niakhaté and Widmer (later replaced by Brosinski on a like-for-like in the 82nd. After Chandler pulled off another great win and forwarded for Hrustic in the 79th, the M05 were back up pressuring for their own chances. Burkardt tried to square into the box. Aaron tried to square too. Hasebe cleared both times. Stach finally got an effort in from the outside ranks. Trapp saved. The ensuing corner was useless.

Kamada (81st) and Chandler (82nd) ran the two next SGE waves. Both were pretty nifty on the ball in both cases. Onisiwo tried again on the left in the 84th. He found no way through. Borré came oh so close to getting his goal in the 85th when he stripped Niakhaté of the ball and charged toward goal. Tauer somehow recovered. Borré still got his standing ovation when Paciencia came on for him in the 85th. What a shift from the Cafetero!

Stefan Ilsanker entered alongside Paciencia as the hosts moved to close up shop. They had to fend off promising opportunities towards the end. Aaron (87th), Brosinski (also 87th), Aaron again (90th), Stöger (90+1) and Niakhaté (90+3) just weren't good enough. Hasebe and Hinteregger did very well down the stretch. Tauer had to be better to stop the better chances from the SGE in the 89th and 90+1.

On the absolute final play of the game at 90+4, the entire Nullfünfter squad (including Zentner) were up for a Mainz corner. Ingvartsen unfortunately ended up flattening Hinteregger on an offensive foul in the air. So it was that the affair ended.

xG Frankfurt--2.1, xG Mainz--0.8

No arguing with that really, even if the plot points might have understated some of Mainz's chances. The first half of the season could not have come to a better conclusion for the Eagles of Germany's financial and commercial capital. It took some time for this club gutted of their head-coach, sporting director, and leading goal-scorer to turn it around, but the Rhein-Main gang got it done.

Three straight league victories, capped off with a win against regional rivals. A place in the Europa League round-of-16. The league's hottest commodities all exiting to standing ovations before a ceaselessly cheering group of home supporters. After all the heartbreak of missing out on that historic Champions' League berth last season, it looks like the new ragtag SGE group is well ahead of schedule to finish in the top four this year.

Watch out, Dortmund. When the league resumes, you'll be facing a very different Eintracht side then the embryonic mess you opened the season against.  That'll be some match. Isn't Bundesliga football great? One can hardly wait for the league to resume after this short break.

With all the offseason shifting around, it seems fitting that we should conclude 2021 with some rhetorical questions. We all know how Frankfurt are doing heading into the Winterpause. How about some of the other clubs jockeying for UCL qualification.

Glasner's old club Wolfsburg? Right. Markus Krösche's old club and André Silva's new one Leipzig? Understood. Adi Hütter's new club Gladbach? Hmmm. Looks like we have a winner in the coaching carousel, the front office shifts, and the summer transfer window.

Now all we need is a nickname for the new Frankfurt attacking corps.

Ahem. "das Wagenheber".

There's the choice of this columnist.

Has a nice ring to it.

Thanks so much for reading! You can occasionally catch Peter goofing off while watching the lower German football divisions on twitter, @ViceytheSS.

Twitter DMs are open for football conversations, corrections, and (if you truly insist) general abuse. 

All columns debut on Bulinews before appearing on Peter's website later in the week.



Related stories