Matarazzo speaks on Kramaric and addresses scene involving Vogt
By Peter Weis @PeterVicey
TSG 1899 Hoffenheim trainer Pellegrino Matarazzo spoke on the state of his team and a curious scene involving defender Kevin Vogt following Friday night's defeat away at Augsburg.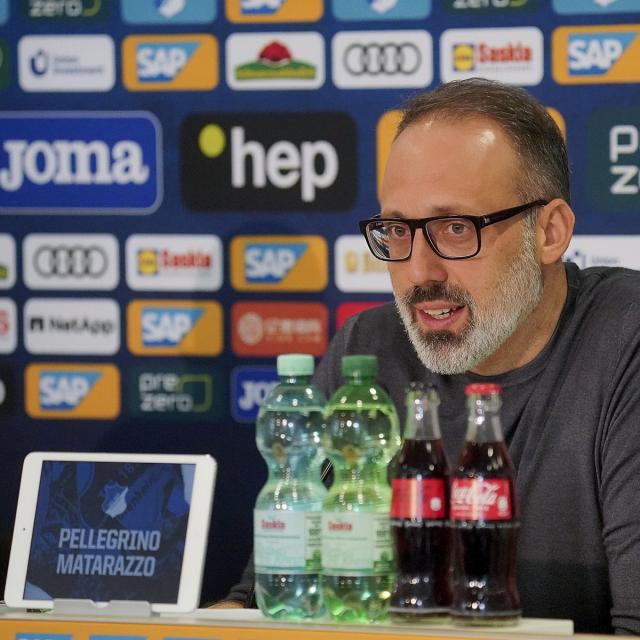 | | |
| --- | --- |
| Pellegrino Matarazzo | TSG 1899 Hoffenheim |
Things aren't exactly on the upswing for Pellegrino Matarazzo two matches into his new assignment with TSG 1899 Hoffenheim. Since taking over for the sacked André Breitenreiter some ten days ago, his new team has lost their first two fixtures under his stewardship. A 0-1 loss to Augsburg on Friday night could leave Matarazzo's Kraichgauer in the relegation places at the the end of the weekend.


Matters don't get any easier in the weeks ahead either. Dortmund, Mainz, and Freiburg lie ahead. TSG attacker Christoph Baumgarter nevertheless tried to put a positive spin on matters in his post-match interview. The Austrian praised Matarazzo's preparation during the week and expressed some optimism moving forward.

"It may sound stupid, but we just completed oneof the best training weeks in a long time," Baumgartner noted, ""Maybe [Dortmund] will be exactly what we need: an opponent who actually seems a lot better than us and against whom we can then fight back."

Matarazzo had some positive worlds for the manner in which his team "fought until the end", yet still insisted that "20 minutes of good football simply isn't enough for me."

The positive stretch Matarazzo alluded to (the last 20 minutes contained the only really scoring chance his team was able to generate all night. Substitutes Fisnik Asllani and Andrej Kramaric combined to test FCA keeper Rafal Gikiewicz in the 82nd. The former cutback deftly for the latter. Kramaric unleashed a decent drive.

Matarazzo explained why Kramaric began the game on the bench afterwards.


"We knew how the game would look, it was important to me to play with two strikers who can hold up the ball and work on deep drops," Matarazzo told German broadcaster DAZN, "That's why we wanted to start with Kasper Dolberg and Ihlas Bebou with two top players, and Christoph Baumgartner on the ten is also someone who can work deep and provide some aggressiveness on the press. My thought was that in the course of the game the spaces open up, in a phase where Andrej can come in and decide the game for us, if it is still 0-0. Andrej took it well, everything is fine."

One player who did not take his role in the match particularly well was central defender Kevin Vogt. A curious scene took place in the 51st. Vogt had to receive treatment after taking an inadvertent elbow to the face from Augsburg's Kelvin Yeboah on an goal that was ultimately disallowed in the 49th. The veteran German defender stood on the sidelines waiting to rejoin the match.

Matarazzo ultimately had to confront Vogt and tell him that he would not be allowed back on. The 31-year-old argued vociferously with his trainer. Shortly after Ermin Bickakcic officially entered on Vogt's behalf, the subbed-off player tore off his jersey in frustrated rage and dumped it in front of the Hoffenheim bench.

"He wanted to go in, I wanted him to go in," Matarazzo explained afterwards, "but then we got the information late on from our doctor that he couldn't play anymore. That had already been communicated to the referee, and then it was pretty clear that he wasn't allowed to go in. Because of a potential concussion and it was decided that it was a danger to send him back in."

Hoffenheim have now lost five straight on-the-trot and are still awaiting their first win of the new calendar year. Dating back to last autumn, they are now winless in 11 on-the-spin. Matarazzo noted that the trends were worrisome, but promised he and his staff would invest a lot "in the long work week" before facing Dortmund next Saturday.



More about the match
More about the teams