Stieler thanks VAR team for double diving overrule: "A lifesaver!"
By Peter Weis @PeterVicey
Speaking to German broadcaster DAZN after last night's Leverkusen-Bayern fixture, match official Tobias Stieler thanked the VAR team in Germany's Kölner Keller for helping him reverse two diving calls against Bayer's Amine Adli.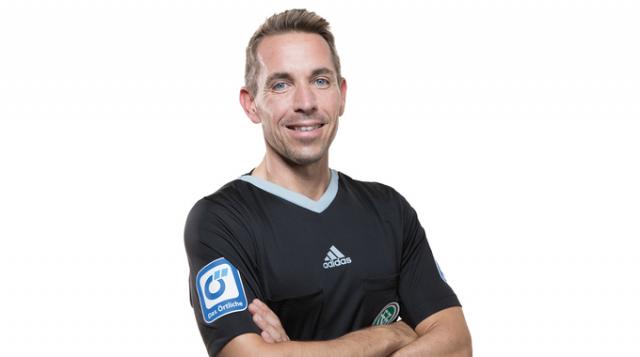 The Bayer Leverkusen ultras certainly picked an odd evening to unfurl a protest-banner yesterday. In the BayArena's famed "Nordkurve", some of the club's most ardent supporters had prepared banner reading "Eliminate Video-Review" for use as soon as VAR was called upon in their Sunday match against Bayern. As it turned out, the first major VAR review of the match ended up helping their team immensely.


Match official Tobias Stieler initially booked Leverkusen's Amine Adli for a supposed dive within the box in the 53rd minute. Called upon to take another look at the scene by the VAR team operating in Germany's "Kölner Keller", Stieler then saw on the replay that Bayern defender Benjamin Pavard had indeed stamped on Adli's heel as he entered the area. The yellow card was taken back and Leverkusen were awarded a penalty.

As Exequiel Palacios strode to the penalty spot, the banner was still visible:


Adli kurz vor der 5. Gelben - in einem Spiel. #B04FCB pic.twitter.com/QAjBYmjYdQ

— FUMS (@fums_magazin) March 19, 2023


The scene actually ended up repeating itself in last night's weird and wild affair. Stieler again booked Adli for diving in the box in the 70th minute, this time against Bayern defender Dayot Upamecano. Once again, the VAR team compelled the match official to take another look. Once again, Stieler revered his decision. Adli's yellow card was taken back. A penalty was awarded. Palacios converted.

Stieler explained himself in a post-match interview with German broadcaster DAZN afterwards.


"In the first case, I don't see the contact," Stieler admitted, "I only saw the fall, which was so atypical that I decided upon a dive. I was allowed to observe the contact [from Upamecano] in the second case as well."

"Twice wrong on the pitch," Stieler noted without a hint of shame, "Two big thanks to the Kölner Keller for their excellent support. This is a fine argument for the working together with the Video Assist Team.

"They were a lifesaver," Stielder concluded, "and they saved the match. Both teams were pleased that the correct decision was made."

The 41-year-old Stieler has officiated over 140 Bundesliga matches since calling his first top-flight fixture in 2012. The experienced ref - who also has extensive experience in the 2. Bundesliga, European club cup competitions, and international matches - said that he and Adli had dealt with the situation with a mixture of both humor and professionalism.

"All one can do is have a sense of humor about it," the man once tapped to ref the 2018/19 DFB Pokal Final noted, "We exchanged hugs both during and after the match. He also said he'd give me his jersey. We'll see if he does."


🟨🟨 Amine #Adli 😂✌️#B04FCB 2:1 | #Bayer04 | #Werkself pic.twitter.com/Kuf8ZyxMxd

— Bayer 04 Leverkusen (@bayer04fussball) March 19, 2023
More about the match
More about the teams