Bundesliga Tactics Talk: Round One
By Peter Weis @PeterVicey
The Bundesliga officially returns! Round one supplied no shortage of talking points.

In the debut of a new Bulinews column, we'll unpack all the essentials, take a closer look at the weekend's most intriguing tactical fixture and hazard a guess as to what the table may look like come Christmas.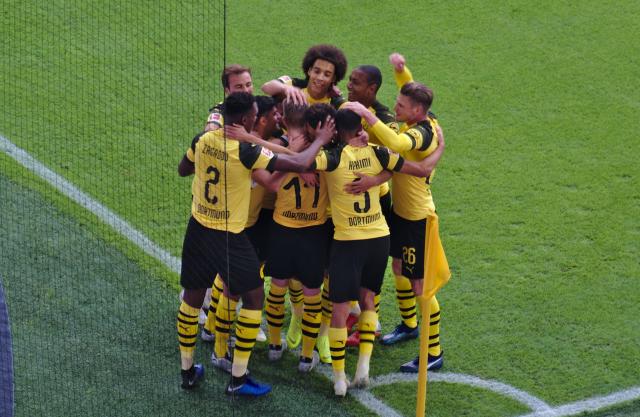 Photo: Steffen Flor, Creative Commons, CC BY-SA 4.0
League-wide Talking Points: Round One
Matarazzo's Mix

Rookie Bundesliga trainer Pellegrino Matarazzo presides over the Bundesliga's youngest side. That fact won't be apparent for many as his opening day XI was anchored and captained by 33-year-old Gonzalo Castro, a veteran of 16 Bundesliga seasons. Thirty-year-old Daniel Didavi and 29-year-old Hamadi Al-Ghaddiouri also featured.


Matarazzo's established ability to bring out the best in seasoned players whilst simultaneously grooming young talent served as the primary reason Thomas Hitzlsperger jumped at the chance to give him the head-coaching job last December. The Italian American did just that in the nearly sensational comeback against Freiburg in the Baden-Württemberg Derby this weekend.

Castro took a seat in favor of fellow old-pro Philipp Klement in the 69th and youngsters Sasa Kalajdzic and Silas Wamangituka moved forward to spearhead the attack. Both tyros ended up scoring and an amazingly smooth Klement came so close to leading the Schwaben back from a 0-3 deficit. Matarazzo looks to make for plenty of fascinating storylines with his mix this season.

Streich's next "Escape Plan"

Another developing story arc emerges from the thrilling Baden Derby. Christian Streich and SC Freiburg should play strongly again this season once they finish bringing in their replacement transfers. Streich played a 4-1-4-1 with Nicolas Höfler and Lucas Höler clearly filling the yawning midfield gap that Baptiste Santamaria and, ideally, Race Krunic will soon occupy.

Once the new players arrive, Höler can move up front to pair with a strong rotating set of strikers. For the nth time, it appears as if Freiburg will somehow procure the personnel to avoid relegation despite losing virtually all of their best players over the summer. Streich may defy expectations yet again.

This will please the roughly 75 percent of German forecasters who have tipped Freiburg to go down for the fifth consecutive year. The Breisgauer enjoy a great deal of support among German football watchers, who don't truly wish to see the club go down. At the beginning of every season, however, it just seems impossible to see how they'll remain afloat.

Bielefeld's "Play to Stay"

From one club that might fight to remain in the division to another. Sixty-year-old Arminia coach Uwe Neuhaus may be the oldest Bundesliga rookie trainer ever. His two decades of experience managing reserve squads and lower division sides nevertheless shines through.

Neuhaus constructed a highly competent 4-5-1 to keep Eintracht Frankfurt at bay in a 1-1 draw. For large stretches of the second half, his team even looked far better organized than their more talented opponents. Though offensive chances were lacking, the ability to disrupt the SGE's rhythm and dictate a slow pace to the game was most impressive.


Another promoted club shows early promise.

Köln and the Coordination Issue

With all of the personnel moves at 1. FC Köln, it will take some time to figure out just what exactly Markus Gisdol plans to do with his revamped roster. The Geißböcke coach started two of his new arrivals immediately and it would be fair to say that both Sebastian Andersson and Ondrej Duda both played well.

Meanwhile, some very interesting battles in the defensive corps unfold. Noah Katterbach, Kingsley Ehizibue, Jannes Horn, Christian Clemens, and Marco Höger are all competing for the fullback positions. Benno Schmitz will once again join the contest when healthy.

Much depends on which one gels best with captain Jonas Hector, whom it is now clear Gisdol wants running the midfield. Höger and Horn really struggled to coordinate their movements with the captain in Saturday's 2-3 loss to Hoffenheim, meaning Gisdol might have to start from scratch.

The Hertha BSC "Baustelle"

A metaphor utilized by German footballing magazine Kicker following Hertha BSC's shock defeat to Braunschweig in the DFB Pokal went completely viral in German footballing circles. The magazine described state of the capital city club, newly infused with hundreds of millions of Euros by billionaire investor Lars Windhorst, as a "scaffolded construction site".

In order to understand the metaphor properly, envision the plastic-rigging that protects workers as they try to erect a skyscraper. Now picture the plastic sheathing being suddenly blown away to reveal the lonesome frames of incomplete progress.

"Die Alte Dame" looked closer to completion in a tight 4-4-2 with Matheus Cunha buttressing Dodi Lukebakio and Krzysztof Piatek. Jhon Cordoba also scored in his club debut. By contrast, newly acquired midfielder Lucas Toursart was rather quiet in his first league match.

Vladamir Darida appears to have carried his incredible ability to cover every blade of grass on the pitch over from the previous campaign. He supplied the assists on two of Hertha's goals in the convincing 4-1 defeat of SV Werder Bremen. Any talk of the richer capital club making a play for Europe must still be shelved as Bremen were simply atrocious.

The Burning Questions: Round One
Are Augsburg a stable mid-table club?

It came as something of a surprise to see the Fuggerstädter pop up so often as a relegation pick for many Bundesliga experts. The Philipp Max departure likely guides a lot of this thinking. Head-coach Heiko Herrlich's inane inability to understand quarantine rules probably doesn't help either.

The league's smaller Bavarian side appeared defiant and even ruthless at times in this weekend's 3-1 defeat of 1. FC Union Berlin. A 4-4-2 with the returning Michael Gregoritsch serving as an anchoring striker worked surprisingly well. Even 32-year-old Daniel Caligiuri exhibited a long lost spring in his step.

In Florian Niederlechner, Augsburg still possess perhaps the Bundesliga's fifth or sixth best striker. One senses that they will be well poised to secure their 11th consecutive top tier season.

Will Leverkusen or Leipzig regress this season?

This is a dominant question for many Bundesliga watchers. Julian Nagelsmann must make do without a combined total of 60 "scorer points" following the departures of Patrik Schick and Timo Werner. The young coach still has Yussuf Poulsen, Christopher Nkunku, and even gets Jean Kevin Augustin back from loan. Hwang Hee-Chan has been brought in and more help is, reportedly, on the way in the form of Alexander Sørloth.

That transfer will take more time, as will Nagelsmann's restructuring of his striking corps. Over at Leverkusen, one similarly encounters the issue of time. Peter Bosz will need time to successfully integrate Patrik Schick into a starting XI construct and the additional assistance the Dutch coach has been so vocal about procuring hasn't even arrived yet. Bosz must contend with a combined loss of 37 "scorer points" after the departures of Kai Havertz and Kevin Volland.

Both squads are in danger of sliding out of the top four thanks to the condensed schedule this year. The shortest Bundesliga campaign ever runs smack into the shortest UEFA Champions League season ever. Taken together with the Pokal, this means an unprecedented total of 27 "English Weeks", in which Bundesliga clubs must play a minimum of two matches in seven day.

Neither side appears to have the depth yet to meet these demands. Neither side looked particularly good this weekend either. Leipzig's finishing was lacking against lowly Mainz despite their 3-1 victory. Die Werkself could barely muster any shots in a 0-0 draw with Wolfsburg. Neither coach built an especially menacing 4-3-3 in their opening round fixtures. Both shapes seemed wobbly.

Based solely on Nagelsmann's over-tinkering, one could probably tap Leipzig as the early candidate to regress.

How Much trouble are Schalke in?

Quite a lot, one must report. Die Königsblauen played far worse than even the 0-8 scoreline might suggest. Everything David Wagner tried turned out to be a monumental failure. The deployment of Sebastian Rudy at right back was a disaster. Nabil Bentaleb's re-integration into the team went about as poorly as it could.

One expects that the striking tandem will improve. Returning Mark Uth and the newly-acquired Goncalo Paciencia are not untalented players by any stretch of the imagination. The fact that they possess such radically different styles can only lead one to the conclusion that it will take many fixtures for them to figure out their spacing. This process could stretch out until November

By that time, it's doubtful that Wagner will still be at the helm. A publicly enraged administrative apparatus can't keep accepting a surfeit of more lopsided results. Axing Wagner then compounds the problem. What respectable trainer would wish to take over a club that, €200 million in debt, can't afford to purchase even some basic assistance?

Weekly Tactical Focus: "BVB vs. BMG"

The weekend's "Saturday Night Special" definitely lived up to its billing. A Pokal meeting last year meant that German football fans were treated to three "Battles of the Borussen" in the previous campaign. All three fixtures were extremely entertaining. This one didn't disappoint either.

Though neither side managed to engineer a clear-cut chance in the opening twenty minutes, the initial stalemate revealed plenty of interesting tactical details. Dortmund trainer Lucien Favre's game-plan, inherent in how he had his players line up, was itself quite telling.

Lineup—Borussia Dortmund—Match One (3-4-3)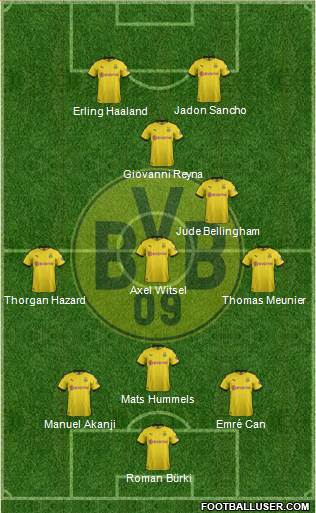 Favre made no personnel changes to the squad that defeated MSV Duisburg 5-0 last week in the DFB Pokal. Keeper Roman Bürki returned from injury, but the ten outfielders remained unchanged. Unlike the tactical construct observed in the cup round, the BVB coach played it less cagey with respect to the system he expects to mount a title challenge with.

Three intriguing points emerge from the implementation of this strategy.

Does Jude Bellingham have a Midfield Partner in this set-up?

An excellent question that different sets of eyes will have different answers for. Subjectively speaking, it didn't appear so. One rarely observed Bellingham holding a line alongside Axel Witsel. Favre's key cog evidently has the freedom to operate in his own flexible pocket of space.

The 17-year-old Englishman neither rotates with Giovanni Reyna at the ten-spot, nor possesses any discernible distributive duties. His role suggests that pre-match tactical draw ups aren't part of his preparation. A surging phenom receives free-reign to be creative rather than industrious.

Such a placement does imply that Bellingham will eventually be expected to aggressively choke out opposition attacks and generate counters. A clear assignment to do so was nevertheless not apparent.

How do the wingbacks function?

The short answer is "very well indeed". Note that this construct differs greatly from the Achraf Hakimi/Raphaël Guerreiro 3-4-3 in that the wingbacks are deployed much further back. Hence, Thomas Menuier and Thorgan Hazard were not directly part of the plan-of-attack.

Both hustled back to help far more frequently than they moved forward in the opening stages. Hazard very much feels like a "place-holder" in this scheme as it's awkward to watch him play so deep. Favre may have, almost inadvertently, found a more fitting solution when Hazard succumbed to injury early on.

Little-known fullback Felix Passlack came on and did a marvelous job despite being stationed on his unnatural side. The more defensively minded 22-year-old prospect, absent from the BVB roster following three years spent on loan, might get a few more looks after a splendid performance.

Does the back-three execute a high press?

Oh yes. Mats Hummels' skill at running pivot leads many to describe him as the "BVB Quarterback". Emré Can's work in this match upped the number of BVB actors capable of leading charges out of the back to two. The 26-year-old German national team star also plowed forward on his flank to participate in some great sequences and was very solid defensively.

One wouldn't have expected such a command performance from Can. He looked completely lost playing the exact same position for Joachim Löw's Nationalelf less than two weeks ago. In this approach it appears as if he can come forward and manage traffic more effectively.

The midfield construct aids Can, and indeed the entire back-three, immensely. Not tethered to a specific partner, Axel Witsel often drops back to serve on the defending axes whenever the trio press up.

Marco Rose's Counter-construct: An flatter 3-4-3

When these two teams last met in 2019/20's 25th round, Gladbach trainer Marco Rose built a practically efficient 3-4-3 with Denis Zakaria running pivot. Sixes Christoph Kramer and Florian Neuhaus took up more advanced positions with Rami Bensebaini working as a highly mobile left fullback.

Zakaria's unavailability and the precarious recovery of several Gladbach players obviously necessitated some change to this approach. The opening constellation in this fixture nevertheless struck one as uninspired.

Lineup—Borussia Mönchengladbach—Match One (3-4-3)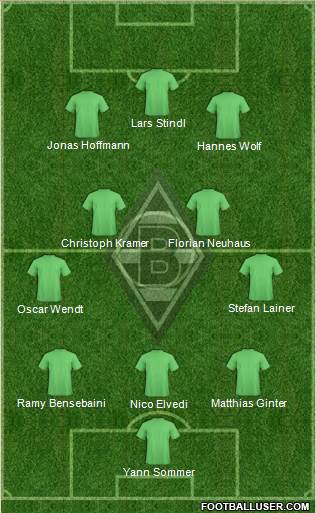 Candidly, there are several questionable decisions here. It was only a matter of time before such a flat back-three would get stretched out by the BVB speedsters. Burying Bensebaini behind Wendt seemed a tragic waste. It was unreasonable to expect the Algerian to get much done on the overlap from so far back.

The double-six combo of Christoph Kramer and Florian Neuhaus remains a solid one. Jonas Hofmann's carry-over form from last weekend's 8-0 Pokal thrashing of FC Oberneuland, combined with that of Patrik Hermann, nevertheless raises the legitimate question as to whether it might have been more prudent to start Hermann on the flank and move Homann back to pair with Kramer.

At the very least, Rose likely needs to get Hannes Wolf off the wing, where he continues to look uncomfortable.

Match Flow: 1st to 21st minute

Chances were at a premium for both sides early on. Early attempts by the foals to locate Wolf ended up being unsuccessful. With respect to the Schwarzgelben, possession cycling often got stuck on the left. Jadon Sancho migrated to the opposite flank to unlock the gears on a couple of occasions, while Meunier did his part to open up the right with a nice forward run and interchange with Bellingham on the right in the 10th.

Gladbach were able to put together two good counters in the 11th and 14th. Wendt snuck in behind the committed Meunier on the former. Manuel Akanji and Emré Can did well to shut down organic Gladbach attacks in the 18th and 20th. Haaland met a long Sancho set piece delivery with a strong header straight at Yann Sommer for the fixture's first shot on target.

Match Flow: 21st to 35th minute

After Haaland earned a corner with another shot, then tried to get a bit too tricky on the ensuing corner, several sustained possession spells for Gladbach led the match to tilt ever-so-slightly in favor of the foals. The attacking trident of Wolf, Hofmann, and Lars Stindl got a few things rolling, finally forcing a save out of Bürki in the 32nd.

The BVB wingbacks played a vitally important role in ensuring that, for the most part, there would no genuine chances at the end of slow BMG build-ups. Stindl managed to pick Can's pocket once in the 27th, but Meunier and Passlack had plenty of time to track back and close down space.

Bellingham executed a couple of nifty turns, but couldn't find his way through on the other side.

Match Flow: 35th minute to half-time

Giovanni Reyna's historic first Bundesliga goal began with something of a lucky bounce back. That is ultimately immaterial as Bellingham demonstrated magnificent awareness to deftly lay-off for his fellow teenager. The young phenoms displayed the muscle memory of veterans on both the assist and finish. Terrific quick thinking from the pair.

On an outstanding read of a developing play, Can came all the way forward and served up Sancho with a glittering cross in the 40th. A fantastic header from the 20-year-old would then rattle the bar. Hummels ran his own impressive counter three minutes later and Sancho treated everyone to a dazzling dribble before it was time to head into the tunnel.

Match Flow: 46th to 55th minute

More excellent work from Can, Reyna, and Meunier in the 49th kept up the Dortmund momentum after the restart. Stefan Laimer and Kramer had a decent idea thwarted by Witsel, who had adroitly dropped back when his colleagues moved forward, one minute later.

Many will find Reyna's penalty draw in the 53rd somewhat controversial, even if it was a VAR-awarded spot kick. More controversial officiating followed Haaland's penalty conversion in the 54th. The onrushing Schwarzgelben saw two monster chances cancelled out by a suspect offside call shortly after going up 2-0.

Match Flow: 55th to 70th minute

Rose employed a double substitution in the 57th, yet didn't appear to make any major changes to his tactical constellation. Marcus Thuram and Alassane Plea replaced Stindl and Wolf. Both Frenchman worked as like-for-like subs. Thuram took over the left wing with Hofmann shifting left to replace Wolf. Plea served as the center forward in Stindl's place.

Play almost exclusively favored Dortmund. Favre's men assumed a more defensive posture, rather easily absorbing Gladbach sorties and unleashing wave after wave of counters. Rose did shift his shape with his third substitution.

Lineup—Borussia Mönchengladbach—70th minute (4-2-2-2)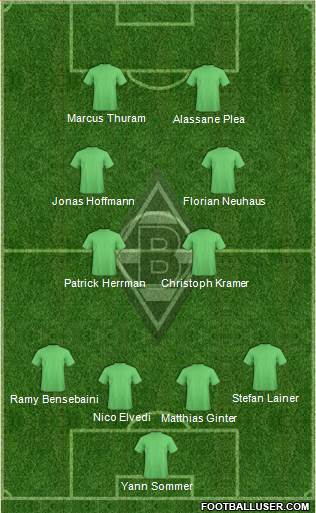 It remains perfectly acceptable to read this as a 4-4-2. The assumption that Rose wished to craft more centralized assaults is based largely on the fact that Witsel stopped roving around the 67th. Favre had subbed on Thomas Delaney and the long-time BVB began a somewhat clumsy attempt to form a static block.

Whether or not Rose sought to take advantage of this in some way can be classified as a subjective interpretation. In any event, it does seem logical that this constitutes something closer to what Rose and Rene Maric wish to use as a basic blueprint this season.

Match Flow: 70th minute to full-time

One can argue that the match was settled long before Sancho and Haaland combined for Dortmund's electrifying third goal in the 78th. The foals weren't up to much and looked to have largely conceded for the evening. Moreover, Favre was preparing a double substitution long before the goal. Reyna and Sancho were called off so the the BVB could assume their "holding pattern."

Lineup—Borussia Dortmund—80th minute (3-4-3)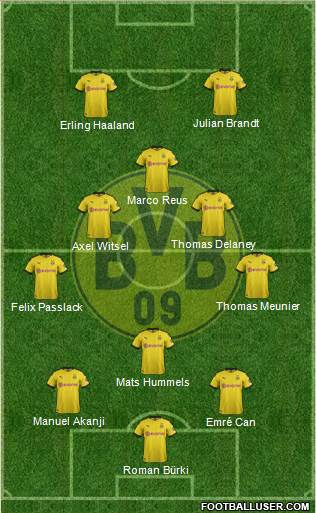 A more familiar look characterizes the "holding pattern". Witsel and Delaney pair in midfield, just as they did for much of last season's first half. Marco Reus plays as a conservatively deep ten. Julian Brandt, to affirm recent speculation, is now more or less a confirmed back-up winger.

Concluding Thoughts: A mid-season Table Projection

Naturally, it's far too early too draw any major conclusions. That notwithstanding, what fun would the start of a campaign be without prognostications? Based on all the personnel activity this summer and the events this weekend, one can at least make an educated guess.

Bayern are, simply stated, the best team in the world at this point. Dortmund's youngsters storm out of the gate, but will invariably have their "off matches". As noted above, last year's "Herbstmeister" appear the early candidates to experience an early dip and some growing pains under the reshuffling.

Hertha will experience some inconsistency as well, but should be firmly in the European places by Christmas. Stuttgart appears the most likely  team to ride an overachieving surge after promotion, though Bielefeld should punch above their weight as well. Schalke and Werder actually square off next weekend. Expect a 0-0 draw from these two woeful teams. They look to both be on the precipice of a slide.

One expects Mainz will engage in a fire sale of their best assets, then begin to tank rather precipitously.



FC Bayern München


Borussia Dortmund


Bayer 04 Leverkusen


Borussia Mönchengladbach


---



RasenBallSport Leipzig


Hertha BSC


TSG 1899 Hoffenheim


---



Eintracht Frankfurt


VfB Stuttgart


FC Augsburg


1. FC Köln


VfL Wolfsburg


Arminia Bielefeld


SC Freiburg


1. FC Union Berlin


---



FC Schalke 04


---



SV Werder Bremen


FSV Mainz 05


Related stories