Bayern wunderkind still eligible to play for Germany
By Peter Vice @ViceytheSS
With one Bundesliga goal already under his belt, 17-year-old FCB youngster prepares for what might be an eventful career in Germany's top flight.

Germany's FA confirm that they still touch base with the German-born teenager about the possibility of suiting up for the Nationalmannschaft.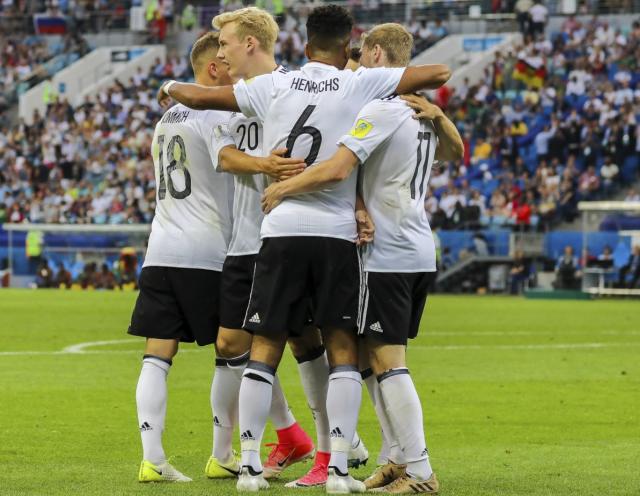 Photo: Эдгар Брещанов, Soccer.ru, CC BY-SA 3.0

Bayern prodigy Jamal Musiala would appear to have made his choice. Raised largely in London, the 17-year-old talent has already made a combined 22 appearances for the England U15, U16, and U17 squads. It remains worth noting, however, that the Stuttgart-born Musiala also earned two caps for the Germany U16 side. 


Musiala's journey began in the Baden-Württemberg capital. Born to a Nigerian father and German mother, the FCB's now youngest ever Bundesliga goal-scorer lived in the Bundesrepublik until the age of seven. 

Merkel Schönweitz, who oversees of the German national youth teams, confirmed that he had an active role in recruiting Musiala to play for the land of his birth. "We've been focused on him for a long time now," Schönweitz recently told Germany's Bild Zeitung, "We traveled to London back in 2018, when he was still in the Chelsea youth academy, to talk with him and his family about his prospects with the German national teams."

Schönweitz conceded that the youngster appeared more drawn to the Three Lions, but emphasized that the DFB had no plans on giving up their recruitment efforts. The director indicated that there exists a strong camaraderie within the German U18 team at the moment under former HSV trainer Hannes Wolf.

Teenagers can often form important bonds within the ranks of the youth squads. Since it appears as if Musiala's professional career will blossom in Germany, anything remains possible.

Schönweitz lauded Musiala as "an indisputably great talent" and noted that the DFB keeps in regular contact with him. "Last year, citing his 'strong ties' to his England U15 teammates, he told us he wanted to qualify for the U17 European Championship with England," Schwönweitz said, "We accept this position". 



More about Jamal Musiala