Rode discusses Frankfurt departures, team focus, and the UCL race: "One can't chase more than one pig through the village"
By Peter Weis @PeterVicey
In the Thursday print edition of German footballing magazine Kicker, SGE midfielder Sebastian Rode offered more thoughts on his team's epic frittering away of their 2021/22 UEFA Champions' League spot. 

While Rode conjured up some optimism for next year's campaign, the 30-year-old veteran still had plenty of candid frustrations to let out. 

In the process of doing so, Rode got about as German as it gets with his allegorical reasoning.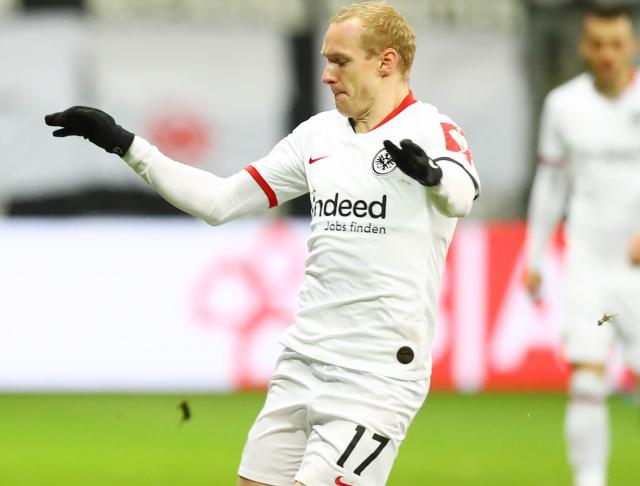 | | |
| --- | --- |
| Sebastian Rode. | Photo: GEPA Pictures/Roger Petzsche |
Former Dortmund player Sebastian Rode was the first to admit that a wonderful opportunity had been completely wasted after his team lost to Schalke last weekend. In a post-match-interview, the Eintracht midfielder even conceded that the impending departure of head-coach Adi Hütter and top executives Bruno Hübner/Fredi Bobic played a role in the team's dipping form.


Rode reiterated this in an interview with German footballing magazine Kicker midweek.

"In the beginning, you really think that it doesn't affect you and you shake it off to show some strength to the outside world," Rode told the magazine, "But, when the entire sporting management breaks away, it's only human for players to wonder: What's actually going on? We're playing the best season in Eintracht history and everyone is leaving. What does the future hold?"

"These factors play a subconscious role. You try to suppress that, but you can't manage to keep it completely out of your mind," he continued, "one can't chase more than one pig through the village."

The idiomatic expression Rode used easily competes with Julian Nagelsmann's use of the pony farm metaphor when discussing Dominik Szoboszlai's playing prospects as the most distinctly German football quote of the season. The man from rural Hessen referred to a unique, albeit somewhat archaic, pastoral phrase that highlights the difficulty of pursuing a new objective when the current one is so demanding.

Nothing renders an exigent goal more difficult than uncertainty. Rode specifically mentioned the squad's 0-4 defeat against Gladbach; a complete meltdown that took place the same week Frankfurt's head-coach announced that he would be leaving to coach the foals next season.


Uncertainty continues to surround the club, even after the SGE at least confirmed that they had found replacements for Hübner and Bobic in Markus Krösche and Ben Manga. A new head coach has not yet been named and as many as five players may be headed toward the exit.

Rode was asked about the potential departure of key figures André Silva, Filip Kostic, and Daichi Kamada.

"It would be a real shame if it turned out that way," Rode glumly noted, "The Champions' League would been a great argument to keep such players, but I have no idea what drives those guys."

Rode optimistically declared that he was at least looking forward to the return to the Europa League next season and said he remained hopeful that Krösche and Manga maintained the type of professional edge to compensate for personnel losses.

When it came to his current mood about the last few fixtures, however, Rode was in mood to disguise his state-of-mind.

"I could kick my own ass," he divulged, "but that feeling will be gone come autumn."




Related stories