Youssoufa Moukoko opens up on age rumors and publicity: "I wanted to quit."
By Peter Vice @ViceytheSS
The expectations remain high for a teenager who last year became both the youngest player to ever feature in the Bundesliga and the youngest one ever to score a goal. 

In a weekend interview with Germany's Westdeutscher Allgemeine Zeitung, Youssoufa Moukoko opened up on the controversy surrounding his age and adjusting to the limelight.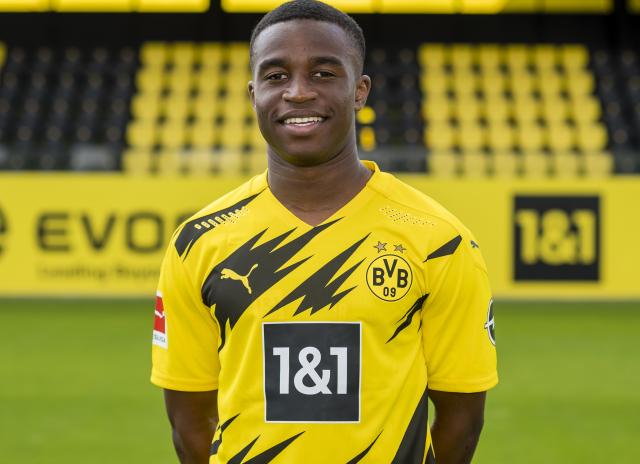 | | |
| --- | --- |
| Youssoufa Moukoko. | Photo: Borussia Dortmund |
There are phenoms. There are Wunderkinds. Then there is Youssoufa Moukoko. The Cameroonian-born striker moved to Hamburg as a young boy to live with his father. His immediately apparent talent for the game led to Borussia Dortmund snatching him up from the FC St. Pauli developmental program shortly before his 12th birthday.


After less than three years in the BVB Juniors program, the Schwarzgelben simply had to promote him to the senior level. He's already scored three Bundesliga goals and might have tallied more were it not for a late season injury.

Given that his early life in West Africa is shrouded in a bit of mystery, there has been speculation as to his age. It is not uncommon at all for there to be some guesswork or even outright fudging when it comes to the birth certificates of African players.

Speaking with one of Germany's highest circulation newspapers over the weekend, Moukoko made clear that such speculation had hurt him.

"At the beginning, those reports were a real burden for me," he told the paper, "especially when my age was discussed. I didn't want to do that to myself anymore. I wanted to quit."

Despite the fact that Moukoko is widely heralded to potentially be the German national team's next big star, the teenager has suffered racial abuse on German footballing pitches. The most notable of these came when Schalke fans harassed and harangued him during a youth derby fixture last autumn.


For Moukoko, reports suggesting that he was in fact older, compounded the problem of being an African in Germany. Had he had a different heritage, such speculation would not have surfaced. He credited BVB youth team coach Sebastian Geppert with helping him cope with all the extra public attention and keeping him on his career path.

"I do miss being able to go out in public and not being recognized," Moukoko nevertheless divulged, "and things like eating in peace. There are moments when you want your peace and quiet."

Although Moukoko can by no means be considered a normal teenager, he still looks forward to things that an ordinary person of his age does.

"I'm awaiting my 17th birthday," he noted, "Then I'll be happy when I can get my drivers license. Having freedom and being independent is important to me."



More about Youssoufa Moukoko
More about Dortmund