Germany's brightest talents have been named – but who are they?
By Rune Gjerulff @runegjerulff
Learn more about the German wonderkids who were named the best of their age group by the German Football Association during the summer.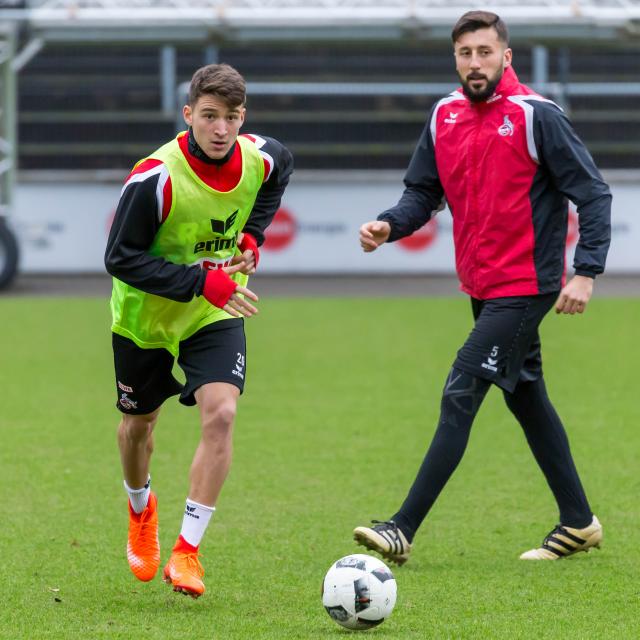 FC Köln's Salih Özcan (to the left) and Dominic Maroh.

Since 2005, the German Football Association has each year been handing out so-called Fritz Walter Medals to the young talents that according to the DFB shine brightest in the country. The name of the award is in honor of Fritz Walter who captained Germany to World Cup glory in 1954.


Star players such as Manuel Neuer, Jerome Boateng and Julian Draxler have previously been handed the award, which since 2015 has been divided into two age groups for male players, Under-17 and Under-19, while the female players compete in one age group. In each of these categories, the medals are further divided into gold, silver and bronze with their worth logically in that order.

The winners of this year's medals were named in the end of July. In the category for Under-17 players, Bayern München's Lukas Mai was handed the bronze medal, Manuel Mbom from Werder Bremen received the silver medal while Hamburger SV's Jann-Fiete Arp took the gold.

In the Under-19 group, the bronze medal went to Fortuna Düsseldorf's Gökhan Gül, Eintracht Frankfurt's Aymen Barkok was handed the silver medal and finally FC Köln's Salih Özcan was honored with the gold medal.

You can read more about this year's winners below.

Under-17:


Bronze:
Lukas Mai, Bayern München

In 17-year-old Lars Lukas Mai, usually just known as Lukas Mai, Bayern München has a defensive leader coming through the ranks. The gifted central defender was discovered and headhunted by Bayern scouts while playing for Dynamo Dresden in 2014, and has since been making his way through the youth ranks of the Bavarian club.

Mai was the captain of the Bayern Under-17 team that last season won the B-Junioren-Bundesliga after beating Werder Bremen 2-0 and was promoted to Bayern München's Under-19 team before the start of this season. In the summer, he was a pivotal part of the German Under-17 squad that reached the semifinals of the UEFA European Under-17 Championship in Croatia.

This season, he has taken the natural step up and has been starting regularly for the A-Junioren team.

Silver:
Jean-Manuel Mbom, Werder Bremen

While Lukas Mai captained the Bayern München team that won the B-Junioren-Bundesliga last season, Jean-Manuel Mbom was captain of the Werder Bremen team that the Bavarians defeated in the final. However, the 17-year-old central midfielder didn't participate in the final due to an injury. A huge blow for Werder as Mbom was arguably the team's most important player having scored 18 goals in 20 matches from his position in the centre of the pitch.

The same injury kept Mbom, who was moved to Werder's Under-19 squad before this season, out of the UEFA European Under-17 Championship in Croatia and it is still keeping him out to this day. Sport Bild has described Mbom, who has a Camerounese father, as a calm player with great vision and a natural ability to foresee situations on the pitch.

Gold:
Jann-Fiete Arp, Hamburger SV

The gold medal was awarded to 17-year-old Jann-Fiete Arp, a natural born goalscorer. Last season, the striker scored 26 goals in just 21 matches for Hamburger SV's Under-17 team and in the end of the season, he was moved to the Under-19 squad. This season, he has been promoted to the first team and scored his first Bundesliga goal when HSV lost 1-2 to Hertha Berlin in the end of October.

Arp doesn't just score goals for Hamburger SV, but also in a German national team shirt. After his debut for the Under-17 national team in September last year, he has netted 15 times in 17 matches, including seven goals at the UEFA European Under-17 Championship where he came in second on the topscorer list.

After the tournament, Germany Under-17 manager Christian Wück spoke very highly of the young striker:

"He's performing well on the field, but also off it. In terms of his intellect and his character, he is very far ahead in comparison to others of the same age. He stands out in that way," he said to sports magazine Kicker.

Arp's many goals haven't gone unnoticed, but so far, he's sticking with Hamburger SV and during the summer he signed a new contract with the Bundesliga clubs that runs until 2019.

Under-19:

Bronze:
Gökhan Gül, Fortuna Düsseldorf

Gökhan Gül, 19, has played nearly 50 matches for various German national youth teams and was granted his bronze medal after captaining the Under-19 team at the UEFA European Under-19 Championship in Georgia during the summer. However, the composed central defender, who can also play as a defensive midfielder, is still striving for his breakthrough in the 2. Bundesliga after switching from Bochum to Fortuna Düsseldorf in January.

Gül made his debut in the second German tier last season, but has started this season with the reserves. Therefore, for now, it seems the 19-year old defender must remain patient and keep fighting to establish himself in the first team.

Silver:
Aymen Barkok, Eintracht Frankfurt

19-year old Aymen Barkok is surely no stranger to those who watched the Bundesliga last season. The skillful attacking midfielder, who is of Moroccan descent, seemed to come out of nowhere at Eintracht Frankfurt to impress with his entertaining playstyle and youthful energy. In total, he played 18 games and produced two goals as well as two assists in the Bundesliga last season.

Frankfurt coach Niko Kovac has described the young midfielder as a "gem":

"You can tell he has a lot of great attributes. He is a dream footballer, a great guy. If you look at his qualities, it is fair to say Frankfurt have a gem in their ranks," he said in an interview with FIFA.com earlier this year.

Barkok has so far been limited to two appearences this season and his clearly still raw and unpolished, but with the right guidance, he has the potential to be a top player.

Gold
Salih Özcan, FC Köln

Salih Özcan may not have caught the eye of as many people in the Bundesliga as Aymen Barkok has yet, but it only seems to be a matter of time before he really shines in Germany's top league. Last season, he was involved in 13 Bundesliga matches, in most cases coming in from the bench, but lately he has been playing a bigger role for a FC Köln team that has been struggling in this season.

The 19-year old can be described as a creative midfielder with a natural talent to pick out the right pass. Özcan can play at the central midfield as he has mostly done for FC Köln so far, but he can also be pushed further ahead on the pitch in a more attacking role. The midfielder is eligible to play for Turkey, but has so far chosen to play for Germany and has just under 40 caps for the German national youth teams under his belt.