Nagelsmann makes clear Sabitzer not at fault for loss
By Peter Weis @PeterVicey
There were many newsworthy quotes from FC Bayern München actors as the record champions sorted through the wreckage of Friday's upset loss. 

Trainer Julian Nagelsmann declared that he was "for the first time as Bayern head-coach, genuinely pissed". Team Talisman Thomas Müller called the loss "a bitter setback for our team identity". Captain Manuel Neuer railed that the attack "displayed too little courage."

Despite all of these strong words, Nagelsmann made clear that he didn't want the blame for the loss to be pinned on Joshua Kimmich's replacement in midfield.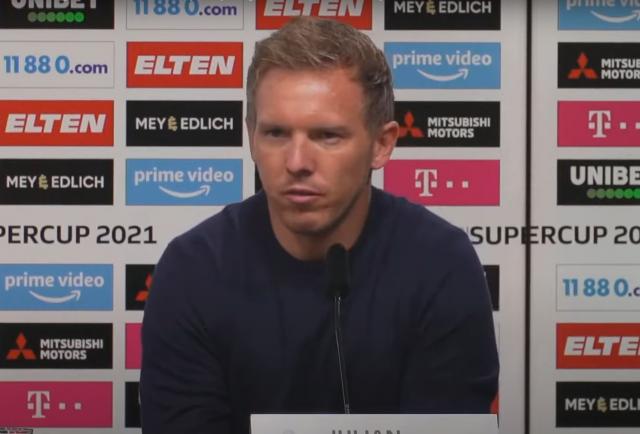 Thomas Müller didn't mince words when discussing his team's performance in the shock 1-2 loss away at Augsburg on Friday night.


"For us, this serves as a bitter setback for our team identity," the 32-year-old said afterwards, "[it's a setback] for the way we wish to play football. We must confirm every game that we wish to dictate and dominate. The first half was really bad. We just didn't earn it."

Head-coach Julian Nagelsmann began his own post-match interview by declaring that he was "genuinely pissed" for the first time since he took up his new job before launching into specifics.

"The opponent didn't have any brilliant moments, and yet scored two goals in identical fashion," Nagelsmann began, "We discussed this once again two  days ago, yet made the same defensive mistakes."

"Offensively, there were so many back-passes," the young trainer continued, "No breakthroughs on the wings. I think every other move in the six-yard-area was a back-pass. So many back passes. We made horrible use of space."

Nagelsmann reiterated these grievances at the post-match-press conference, but got visibly annoyed when reporters asked if the replacement for the controversially locked-down Joshua Kimmich shouldered the blame for the loss.


Star summer acquisition Marcel Sabitzer played a very suspect match. The Austrian international, Nagelsmann's team captain at previous club Leipzig, could be held responsible for Augsburg's second goal following a bad giveaway in midfield.

The former Leipzig trainer wasn't having any of it when it came to discussions on the slow-to-take-off player.

"For me that's too shallow an assessment," Nagelsmann said, "It's too obvious to take that ball loss as the reason for conceding a goal. One can always lose a ball. It's more of a question of how one reacts to it and we didn't react to it well."

Pressed about his complaints about back-passes, Nagelsmann did concede that Sabitzer "could have used some instances of space better". He nevertheless insisted that he was satisfied with the Austrian's performance."

"Sabi hasn't hit his stride yet," Nagelsmann noted, "but it was actually a top match from him, and he's produced several top matches from that position against an opponent with similar tactics at Leipzig."



More about the match
More about the teams