Scouting Jonas Wind, Wolfsburg's latest addition
By Toke Theilade
Toke Theilade takes a look at VfL Wolfsburg's new forward, 23-year-old Jonas Wind.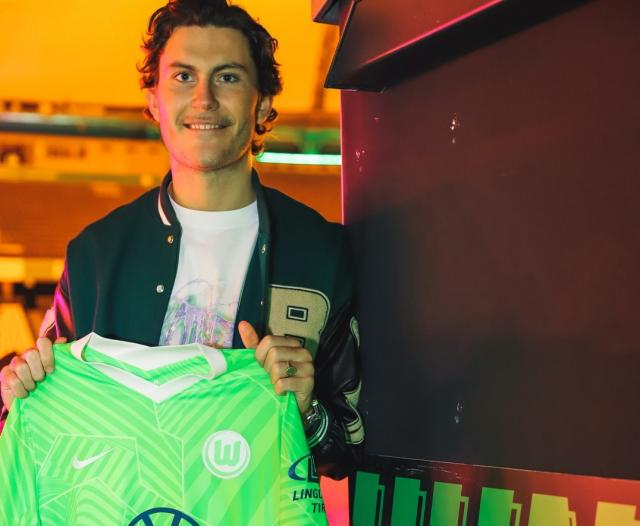 | | |
| --- | --- |
| Jonas Wind. | Photo: VfL Wolfsburg |
On the last day of the transfer window, Wolfsburg finalized the signing of Jonas Wind from FC Copenhagen. The young Dane was acquired for the hefty sum of €12 million, and he is signed to rekindle the stagnant and disappointing forward line of Wolfsburg.


Since his debut for Copenhagen in the spring of 2018, Wind developed into one of the most promising young strikers seen in recent years in the Danish Superliga and a fan favorite at his club. But who is the new Wolfsburg striker, and does he have what it takes to shoot his new team above the relegation line?




A Copenhagen Royalty
Few names are tied closer together with FC Copenhagen than Wind, and Jonas has added quite a few chapters to that himself with his performances on the pitch and the title as Copenhagen's most expensive sale ever, according to Transfermarkt.

However, the ties between the Wind family, and FC Copenhagen goes further back – to his father, Per Wind. He joined FC Copenhagen as goalkeeper coach in 1999 and has been with the club ever since in various positions, most recently as Team Manager.

Per Wind himself was also a prolific football player, earning almost 600 games over a 20-year stint with BK Frem, with whom he won the Danish Cup in 1978. Football is thus in the blood of the Wind family.


However, what could have been a beautiful story of the love between a football club and a devoted family, has gotten somewhat of an ugly ending. In the autumn, FC Copenhagen fired Per Wind, and only massive fan protest made the club keep him on the books until the end of the season.

Asked about the dismissal of his father, Jonas Wind expressed his unhappiness criticizing the way the club handled the case and the communication.

"It is unfortunate that it happens after so many loyal years in the club," Jonas Wind told Danish TV-station TV3+. "It should have been handled better. But it is not my decision, so I can't do much about it. Of course, it influences me, I can't stand here and lie about it."

Whether the dismissal affected Wind on the pitch or not is tough to say, but he did slow down towards the end of the season with just three goals in the last ten games after the sacking.

Nevertheless, Wind leaves Copenhagen as one of the absolute fan favorites, and it is not hard to understand why. At the age of 22, he has scored 36 goals in just 88 matches, he has scored derby winners, played European football, and of course won the Danish championship with the club. The great performances made him a regular on the national team even, a feat not often accomplished by Superliga players.

Wind is ready for the next step
There was never any doubt that Jonas Wind has outgrown FC Copenhagen. He was playing in the white and blue kit on borrowed time. Most did however expect that he would play out the season with Copenhagen and then leave in the summer. But Wolfsburg's bid on €12 million changed that plan and saved the young striker for spending an unnecessary six extra month in home soil.

Outside of Copenhagen and Wolfsburg though, it wasn't a signing that made the football news many places. Most pundits had expected Wolfsburg to bring in a bigger name considering their goal scoring problems this season. Nevertheless, Wind has the tools to succeed, which he also proved in the 4-1 victory over Greuter Fürth last week.




Although FC Copenhagen hasn't met the high expectations of the fans over the past couple of years, Jonas Wind has been a constant bright spot on the team. He has been one of the most reliable performers in the league, and many questioned why he didn't go to a stronger club than Wolfsburg.

Wind is an intriguing package of a striker. He is physically strong with his 190 cm, making him capable at playing as the lone striker. He can hold off defenders while controlling the ball with his back towards the goal to set up his teammates. He is furthermore technically gifted and posses both a great first touch as well as a dangerous right foot that can be used on set pieces.

Because of his rather complete playing style, Wind is also a versatile player. He has played both as the number ten, as winger and of course as striker for Copenhagen. He is however best, when playing as the front man and preferably with skilled wingers who can cross the ball to him from wide.

Unlike many other strikers, Wind is a rather unselfish player. This season, he has created 19 chances for his teammates and has three assists to his name in the league. Last season, he totaled 35 created chances, nine of them open, and eight assists in 28 games. Only three players created more chances and made more assists. One of them, Jesper Lindstrøm, who joined Eintracht Frankfurt from Brøndby before this season.

While Wind is one of the greatest Danish talents in recent years, he is obviously not without weaknesses. The main criticism remains that he doesn't score enough goals. Despite Copenhagen's shortcomings in recent years, they are still one of the strongest teams in the league. Yet, Wind hasn't been near the top of the top scorer list.

Last season, his goal tally was 15, but a large part of the story is that nine of the goals were from penalty kicks. He needs to improve his positioning in the box and use his physicality to create more room and opportunities for himself. If he manages that, he should be able to increase his tally substantially because he is a good finisher. He has outscored his xG in two of the last three seasons, which proves this.

Wind is a good striker with a toolbox of skills that makes him challenging to play against for most defenders. However, he is not the kind of selfish striker that poaches 25 goals per season in the mold of previous Wolfsburg favourites such as Bas Dost, Wout Weghorst, Grafite or Edin Dzeko, and fans will be disappointed if that is what they expect from him. If they, however, are looking for a team player with an immense talent, Wind could quickly become a fan favorite.



More about Jonas Wind
More about Wolfsburg