Nagelsmann criticizes Freiburg appeal: "Points not won in sporting terms."
By Peter Weis @PeterVicey
At a Tuesday press conference, FC Bayern München head-coach Julian Nagelsmann criticized SC Freiburg's decision to appeal the result of his club's victory over the weekend. 

Nagelsmann also answered questions about midfielder Corentin Tolisso's new injury and confirmed that the Frenchman had left the club.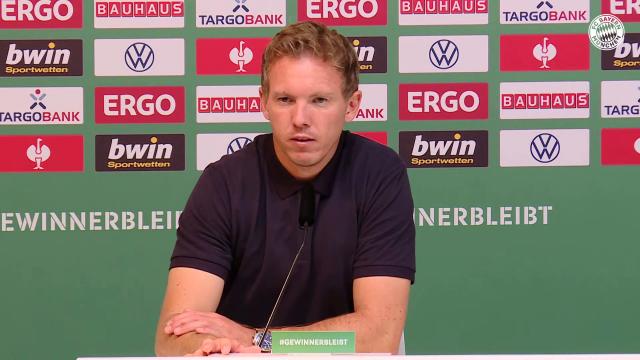 Photo: Bayern München/OneFootball

The Initial Bayern reaction to SC Freiburg's decision to appeal a loss over the weekend based on a substitution error was fairly relaxed. FCB Chairmen Oliver Kahn merely expressed confidence that the DFB judiciary committee would make the right decision. Bayern's Vice President of sporting operations Michael Gerlinger voiced similar sentiments.


Speaking for the matter for the first time at a Tuesday presser, club head-coach Julian Nagelsmann wasn't so gracious.

"I'm not as relaxed as the chairman-of-the-board [Kahn]," Nagelsmann remarked, "from a personal point of view, I can't understand Freiburg doing that. I don't think they would have scored two goals in those 17 seconds."

"I wouldn't have done it," Nagelsmann continued, "to take advantage of a mistake by a third party to get points for yourself isn't right."

The 34-year-trainer emphasized that, as a coach, he would have made clear to his superiors that an appeal shouldn't have been filed.

"You can't pat yourself on the back in November if you're playing internationally with three points you didn't win in sporting terms," he unequivocally stated, "I wouldn't be happy if I were in that situation. That's why I would have clearly told the club that we shouldn't appeal."


Nagelsmann went on to note that he didn't expect the appeal, but ultimately wasn't surprised. He then cut off further questioning on the matter curtly and fielded other queries.

With respect to the new injury suffered by French midfielder Corentin Tolisso, Nagelsmann confirmed earlier reports and noted that the "devastated" 27-year-old was back in France trying to cope with the matter.

"He walked out on his own because he's just finished with everything at this point," Nagelsmann reported, "That's understandable. So many injuries and an expiring contract. I feel very bad for him. He's back in France trying to get his mind off things a bit and then find new strength and courage."



More about Corentin Tolisso