Baumgart reprimands Modeste for goal celebration
By Peter Weis @PeterVicey
For the second time this season, 1. FC Köln head-coach Steffen Baumgart didn't quite care for one of his lead striker's goal celebrations. 

As Anthony Modeste's time with the club comes to a close, there will surely be a stern discussion between the Frenchman and coaching staff seeking to qualify for European football next year.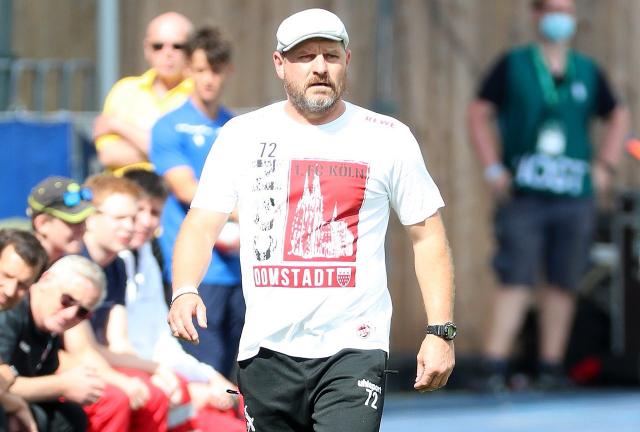 | | |
| --- | --- |
| Steffen Baumgart. | Photo: Sandro Halank, Wikimedia Commons, CC-BY-SA 3.0 |
When Köln striker Anthony Modeste scored a vital equalizer against 1. FC Union Berlin in round 11 of the current campaign, Effzeh head-coach Steffen Baumgart didn't exactly care for the manner in which his star attacker swiped his trademark flat-cap and engaged in a mocking carnival dance. After Saturday's home win over Bielefeld, there's once again tension between the player most responsible for Köln's surprisingly successful season and his gaffer.


When Modeste scored his 17th league goal (20th across all competitions) for the club in the 43rd minute of Köln's 3-1 win, the Frenchman held up a packet of his self-produced coffee brand before the cameras before giving it away to one of the supporters in the stands. Baumgart expressed his dislike for the commercial, and haughty, gesture afterwards.

"Football's a razor-thin game," Baumgart remarked, "and you can't overdo it. In my experience, if you overdo it, you usually get punched in the face. That's all I want to say about it."

In his own post-match interview, Modeste acknowledged that Baumgart was angry during his halftime team talk. The Frenchman indicated that, even though he had given the team a 2-1 lead, his coach thought the team had no cause to be celebrating what had been a subpar match for them.

"The coach was a bit angry at halftime because we didn't do what he wanted," Modeste noted, "The second half was a bit better, but still not perfect. That's normal though against an opponent fighting to stay in the league."

Explaining his action, Modeste emphasized that he felt justified in the display of showmanship.


"I never forget where I came from," Modeste said, "The action was a 'thank you' to all those who have always supported me. It was simply a gift as I couldn't give away my jersey [yet]."

How Modeste will ultimately be judged be the German footballing public remains to be seen. Despite his frequently brusque manner, Modeste enjoys immense popularity among German football fans. His unlikely comeback this year has been among the most enjoyable storylines this season who those who love the Bundesliga.

Modeste's hawking of his own coffee brand surely runs afoul of some of the club's marketing contracts. Modeste will likely receive sanction from the club for violating existing rules that only allow for the advertising of certain coffee brands within the stadium.

German football fans may still not care. Without Modeste, Köln would definitely not be making a push for Europe. New Köln sporting director Christian Keller's strict cost control measures with regard to salaries effectively means that Modeste won't be playing for the Geißböcke next year.

Köln may qualify for Europe.

The man who helped them get there won't be around to enjoy it.

Accordingly, few many begrudge Modeste for seizing a moment for himself.



More about the match
More about the teams
More about Anthony Modeste