Leipzig "problem child" Augustin moves to Switzerland
By Peter Vice @ViceytheSS
Former Bundesliga spot-lighter Jean-Kevin Augustin now moves just south of the German border in his latest attempt to rehabilitate his career.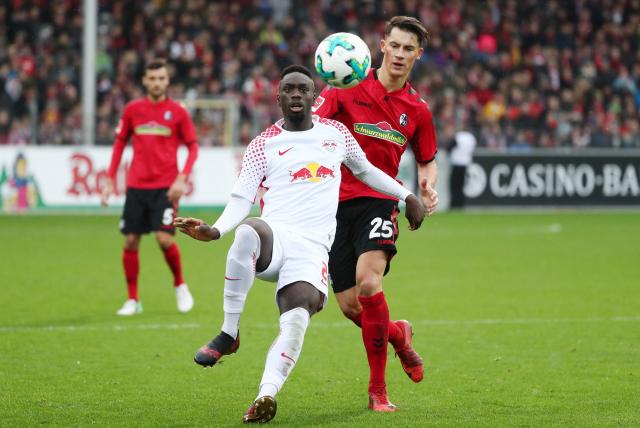 Photo: GEPA Pictures/Roger Petzsche

One-time Borussia Dortmund striker Alexander Frei has seen fit to take a chance on the shattered career of the 25-year-old Bundesliga striker who once couldn't stay out of German footballing headlines. Frei, a legendary former Swiss national team forward, returns to the sidelines next season to coach his youth academy club FC Basel.


Joining him shall be former Leipzig striker Jean-Kevin Augustin, who remains the subject of a transfer dispute between RB and English side Leeds United. Leipzig still attempt to recoup some funds for the player they once payed PSG €16 million for. Augustin--with a current market value of a party €1.5 million--moves to Switzerland on a free.

"I am enormously pleased that Jean-Kévin is with us," Frei said when commenting on the deal, "He maintains both incredible qualities. Our task now will be to bring him back to the level where he was and where he belongs. He's aware of the expectations of the coaching staff and knows that we have a lot of work to do."

"I had many good conversations the trainer," Augustin noted, "Alex Frei explained how he wished to work with me and outlined a plan. have a very good feeling. He was a great striker and I'm looking forward to working with him and learning from him."

Augustin's transfer dispute remains unsettled in large part because of the sheer amount of money involved. The German Red Bulls are still seeking €21 million for their club coffers. Some sort of compromise between Leipzig and Leeds seems inevitable, but the details could still take a long time to sort out.


🎤 La première interview avec @33_augustin 🇫🇷#SaliJeanKévin 🗣️ «Ich habe dank Alex Frei ein sehr gutes Gefühl. Er war ein grosser Stürmer und ich freue mich darauf, mit ihm zusammenzuarbeiten.»#FCBasel1893 #MirSinBasel #IWB #rotblaulive 🤝 @IWB_Basel bringt neue Energie 🔋 pic.twitter.com/AcyUn96pF1

— FC Basel 1893 (@FCBasel1893) June 18, 2022
More about Jean-Kévin Augustin