Glasner speaks on new arrivals, potential departures, and Hinteregger shocker
By Peter Vice @ViceytheSS
Eintracht Frankfurt head-coach Oliver Glasner held his first press-conference of pre-season training camp on Monday. Among other things, the SGE trainer answered questions about new acquisitions Mario Götze and Lucas Alario, the Evan N'dicka/Filip Kostic departure situations, and the surprise retirement of Martin Hinteregger. 

Moritz Kreilinger of German footballing magazine Kicker was on hand in the lightly populated press room to transcribe Glasner's responses. Bulinews' Peter Vice supplies the translation.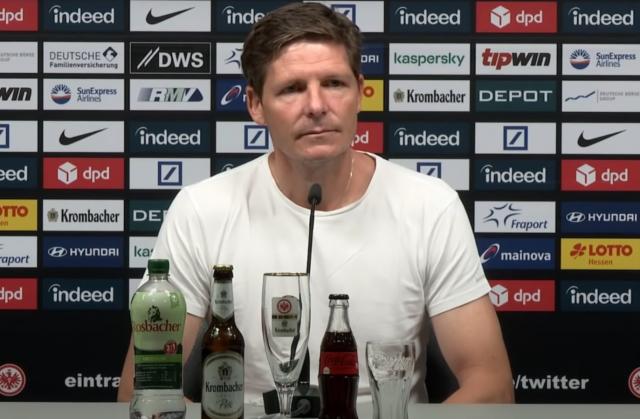 Europa League Champions Eintracht Frankfurt being the team most Germans wish to discuss ahead of the upcoming season meant that, despite the fact that only a handful of SGE players reported in for performance tests on Monday, there were plenty of reporters on hand to attend SGE head-coach Oliver Glasner's largely informal presser.


Moritz Kreilinger of Germany's preeminent footballing publication recored Glasner's answers to various topics. Bulinews' Peter Vice translates from the German,

On top transfer Mario Götze:

"I'm very pleased to work together with Mario and that we we able to get him excited about our [team] project. For Mario, just as is the case with any other player, it's important for him to get to know the group and our tactical system. We will attempt to integrate his strengths into the functionality of our system. That's important. We will not base our style of play on Mario Götze or any other player."

On new striker Lucas Alario:

"He's proven over the course of years in the Bundesliga that he can score goals, that he's very clever in the penalty area, that his finishing quality is amazingly good, and that he has a good feel for how to initiate attacks and get into dangerous spaces. He's voraciously hungry for goals. In that sense, he's prepared to work with our intricate style against the ball. That's something his trainers at Leverkusen demanded of him as well."


On Evan N'dicka's future:

"That's not something for me to decide. One's sporting wish is one thing whilst what is economically feasible is another. From a purely sporting standpoint I could naturally say that Evan should extend his contract and remain here. But we can't force his hand to put pen to paper on the signature line.

"As far as I know, there has been no concrete offer and that's why he'll be on the training pitch tomorrow. So long as I don't hear otherwise, we'll plan to have him with us this season. Should something else transpire, we'll do a re-think on how to compensate."

On Filip Kostic's potential departure:

"I've been in regular contact with Filip. Naturally, we talk about it every couple of days. That notwithstanding, the squad will be set when the transfer window closes on September 1st. I assume that Filip will rejoin the squad on July 7th [when players who had international duty are scheduled to report in after a granted extended vacation break."

On Martin Hinteregger's surprise retirement:

"I think it's a great shame. I always found him to be a relatively free personality. If the Martin Hinteregger the person is more comfortable with this decision, then it is the correct decision. If I look at it from the perspective of the head-coach of Eintracht Frankfurt, I must say that he shaped the rise of Eintracht over three-and-a-half years; as both a player and a personality."

"Sporting-wise, it's a shame to lose a player like that. He's always welcome here; to the point that he even stopped by today. Something like that shows what makes Eintracht what it is. People who have shaped and influenced the club are always welcome here. It will be the same with Martin."



Related stories